Hi everyone! It's Danelle from Let's Dish Recipes. I'm so excited to be a contributor here at Eighteen25 this year, and I can't wait to share some amazing recipes with you. I don't know about you, but I'm ready for Spring, so I thought I'd start things off with a fun, no-bake dessert that will remind you that warmer weather is just around the corner.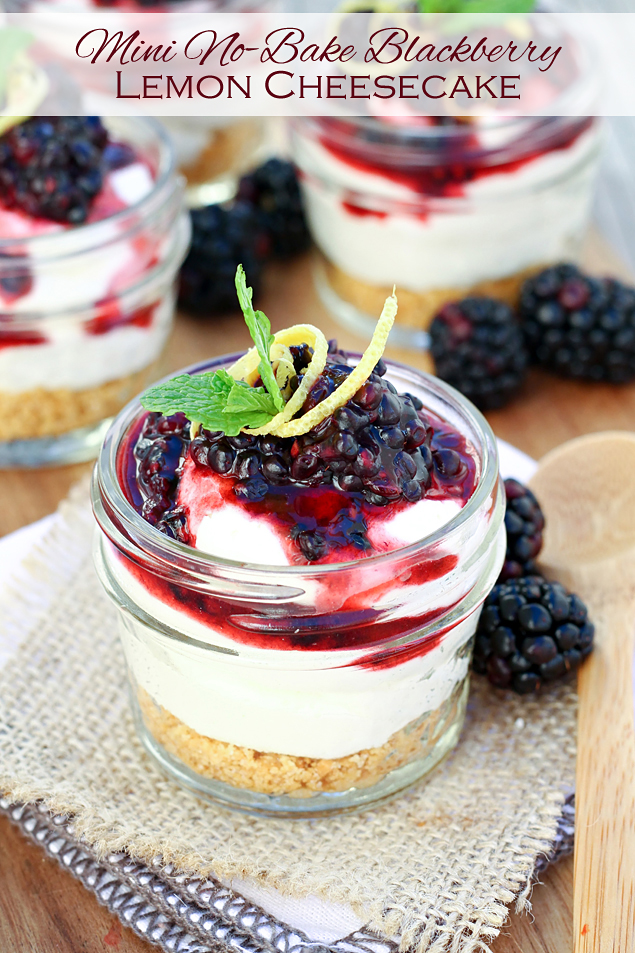 I'm a huge fan of individual sized desserts. First of all, they're just so cute, and the mini size really does help with portion control (as long as you just eat one, that is!). For these cheesecakes, you'll want to use dishes that are about four ounces. Mini Mason jars are one of my favorite "dessert dishes" because they're inexpensive and just the right size.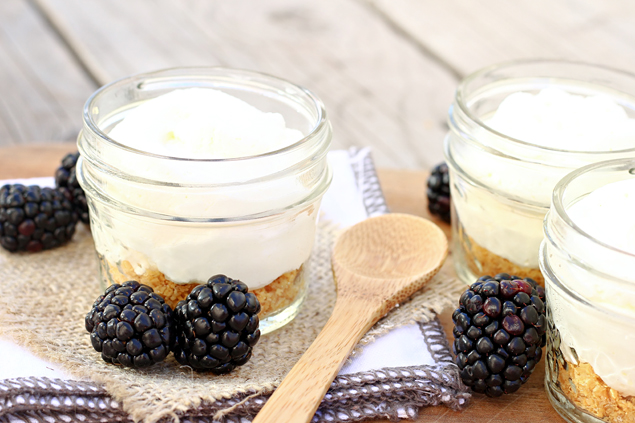 I like to start with a graham cracker crumb base, but gingersnaps, vanilla wafers and chocolate cookies work well too. It really depends on what kind of topping you'll be using. And the recipe for the super fluffy no-bake cheesecake filling is one you'll use again and again!
To put me in a spring-time mood, I decided to top my cheesecakes with a simple blackberry lemon sauce.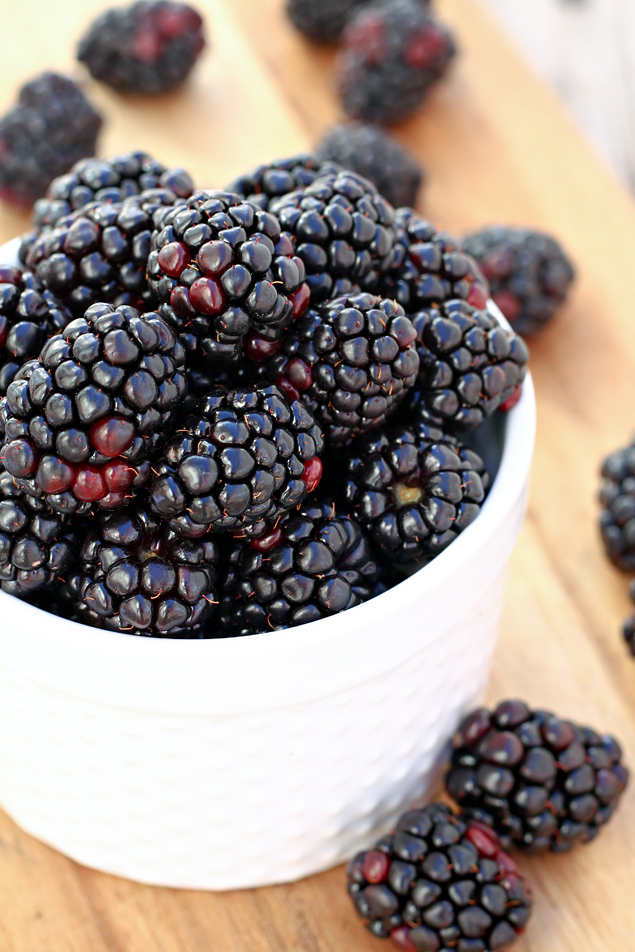 This delicious topping was so easy. I gently mashed some fresh blackberries (not too much!) then mixed that with a bit of lemon curd. I get a lot of questions on my blog about lemon curd and where to get it. Look for it in near the canned pie filling in your grocery store. It usually comes in a glass jar and looks a lot like the filling you'd find in a lemon meringue pie. And it is SO good! Luckily I only needed a tablespoon or two for this recipe, because I think I ate half the jar with a spoon!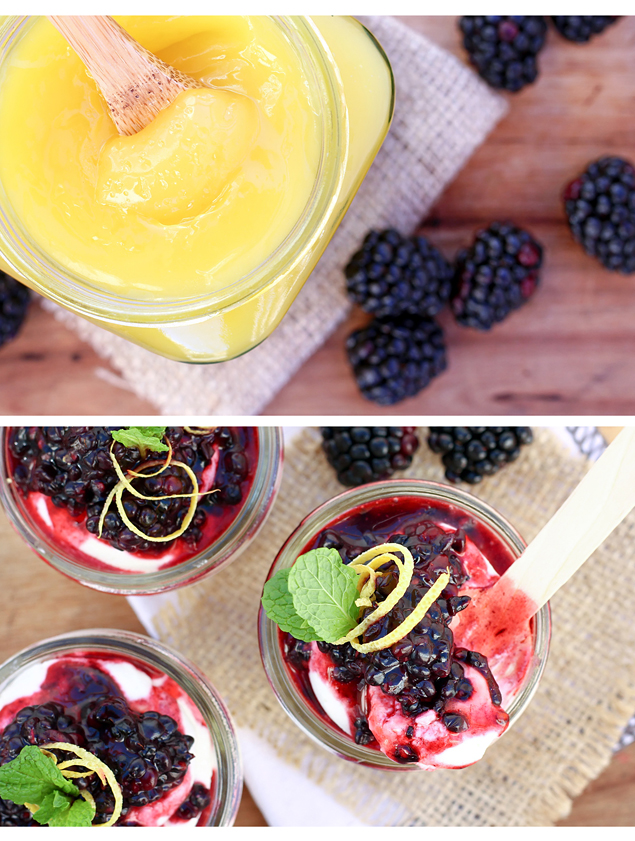 After my husband saw these little cheesecakes sitting in the refrigerator, he must have asked me ten times, "When can we eat those?" I hope you love them as much as my family and I did!
Mini No-Bake Blackberry Lemon Cheesecakes
Author:
Danelle at Let's Dish Recipes
Serves: 12
Ingredients
--For the crust:
¾ cup graham cracker crumbs
1 tablespoon sugar
3 tablespoons melted butter
--For the cheesecake filling:
1 (8 ounce) package cream cheese, softened
1 teaspoon lemon juice
¾ cup sugar, divided
2 cups heavy cream
--For the blackberry topping:
8-10 ounces fresh blackberries
2 tablespoons lemon curd
1 teaspoon lemon zest
Fresh mint, for garnish (optional)
Instructions
In a medium bowl, stir together the ingredients for the crust. Place about one tablespoon of the crust mixture into the bottoms of 12 small dessert dishes or jars. Press the crumbs lightly into the bottoms of the dishes.
Prepare the filling by beating the cream cheese, lemon juice and ½ cup of the sugar with an electric mixer on high speed until fluffy. In a separate bowl, beat the heavy cream and ¼ cup sugar on high speed until stiff peaks form. Fold the whipped cream into the cream cheese mixture.
Spoon or pipe the cheesecake filling into the dessert dishes, filling about ¾ full. Refrigerate.
In a small bowl, gently mash the blackberries, leaving some larger pieces. Stir in the lemon curd and lemon zest. Just before serving, spoon the blackberry filling over the cheesecakes. Garnish with fresh mint, if desired.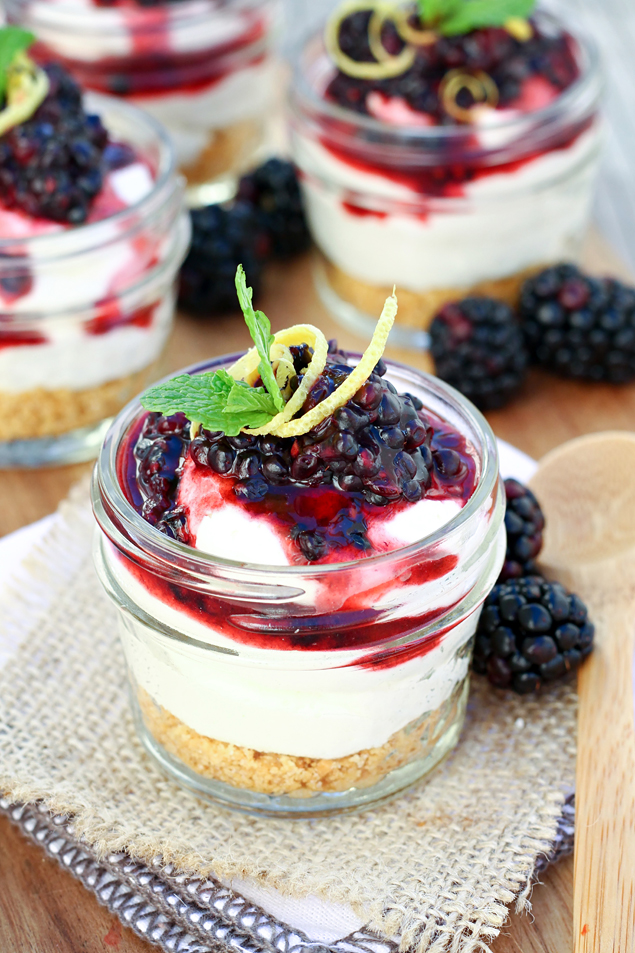 ---
Visit Danelle on her Blog : Facebook : Instagram : Pinterest. And check out these other delicious recipes from her…
Key Lime Pie Mousse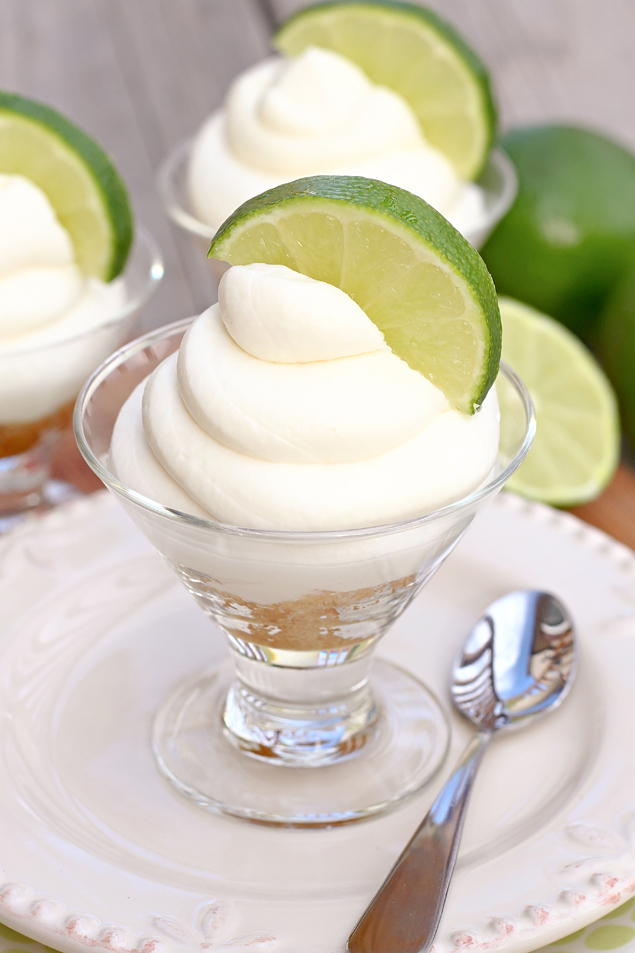 Easy Pineapple Orange Layer Cake