You know I honestly and willfully tried not to do another yarn craft. I truly did.  But yarn is in my crafty DNA makeup and if I can wrap something with yarn I am just gonna. And honestly, I thought this was not going to make my heart as happy as yarn usually does because I don't typically associate yarn with summer…but THIS SO WORKS.  I needed something for the little wall area next to my front door since I can't possible leave a spot un-decorated.  I am thankful for a husband that lets me do this each holiday without flinching.
All you need is red, white and blue yarn, 5 pieces of wood (mine are 1.5 ft long), small wooden stars, white acrylic paint, paint brush, hot glue gun, hammer and some nails.
The first step is to take your five pieces of wood and arrange them into a star shape.  Then I marked off where I wanted the blue yarn to start for the blue background and white stars. I wrapped the blue yarn first and alternated red and white yarn the rest of the way hot gluing the end piece on the back.
You will end up with 4 wood pieces with blue on the ends with red and white stripes. The 5th piece will just alternate red and white.
Once you are done, arrange them back in your star shape ensuring that all your blue pieces form the 2 left points.  Using a hammer, nail all 5 points of the star together as well as some of the middle parts that intersect if you want it to be extra sturdy. Try to hammer each nail between the yarn strands so you can lift the yarn to cover up the nails underneath. If the nail is too long, bang it flat on the back.  Like I did after realizing I nailed it to my craft table. 😐
Stellar.
Now for the little wood stars. I grabbed a bag of these at Joann's and chose the smallest stars in the bag.  The kids and I painted them white and hot glued them on.
Obviously, it's not 50 but just enough to cover the blue yarn portion of my star.
Now hang it somewhere where it makes you happy. Hope y'all yarn it up with your 4th of July projects and other summer fun stuff. It works…I'm telling ya. Oh and I'm officially declaring yarn a year round craft medium. 
Not that I'm anybody but still.
🙂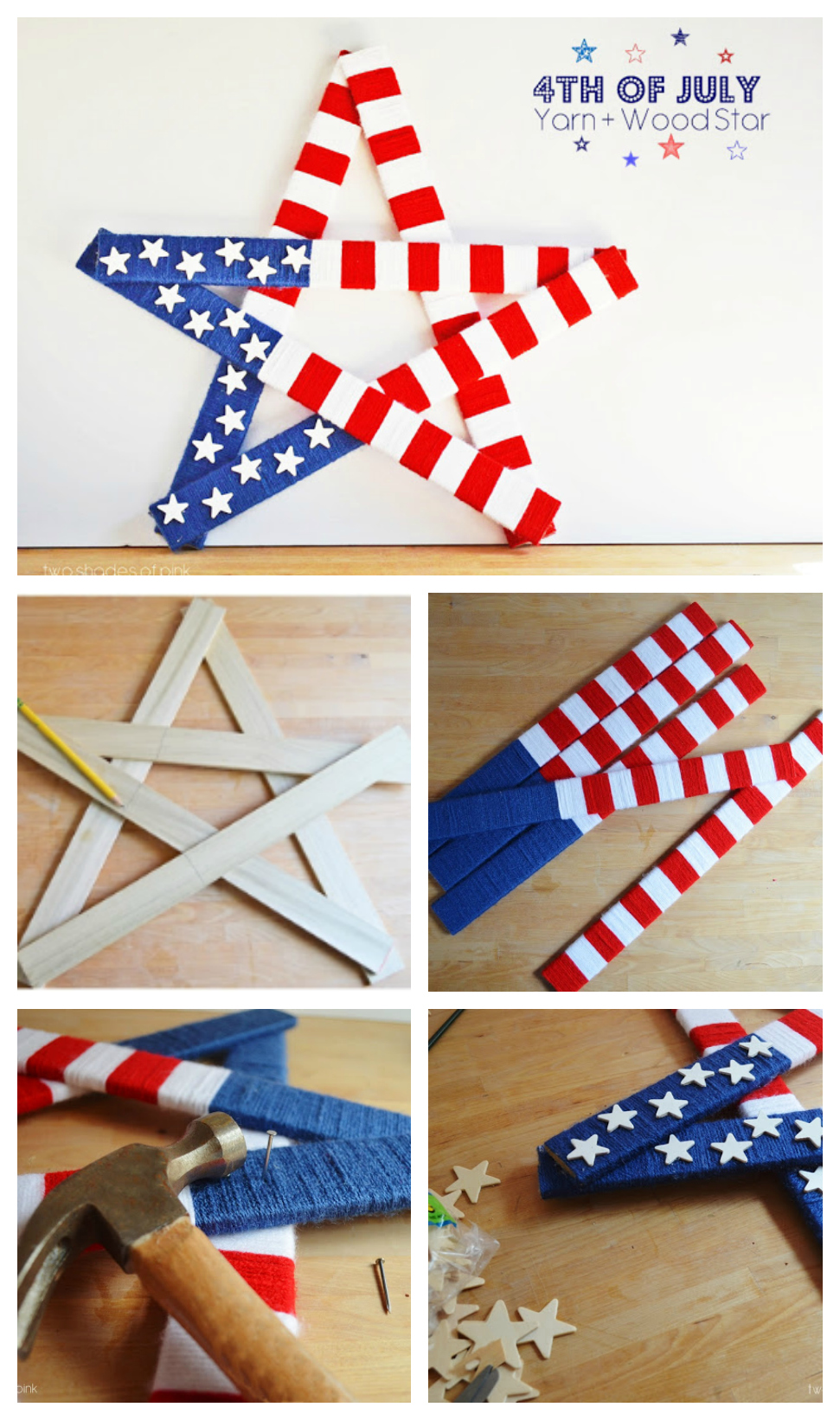 Visit Jessica at her Blog | Instagram | Facebook | Pinterest | and check out these other great posts of hers…