So excited to have Jessica from
Two Shades of Pink
back contributing for us for another year. All I have to do is think about her and my heart is happy. She's so extremely creative and constantly spreading love and kindness. She's definitely one of a kind and we are so lucky to have her as part of the eighteen25 team!
__________________________________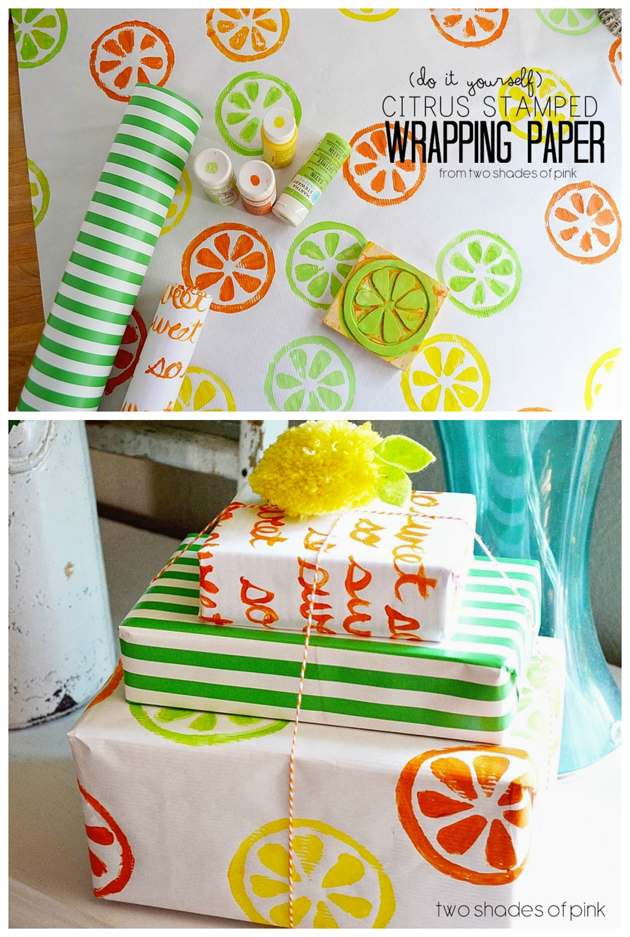 I know what you're thinking. It's February and I have this summery, citrus themed diy to share today. But my reasoning is this…winter has been hard on so many and I think we could use some glimpses of summertime right about now. And I honestly have warm weather stuff on the brain since I live in Florida and the worst winter weather we experienced was last Thursday when I finally had to turn on the heat because it was 34 degrees outside. For like one day. I'm such a wimp. That's cold for us year round flip flop wearers. Yesterday it was 81. But I digress before you start wanting to hurt me for rubbing it in. 🙂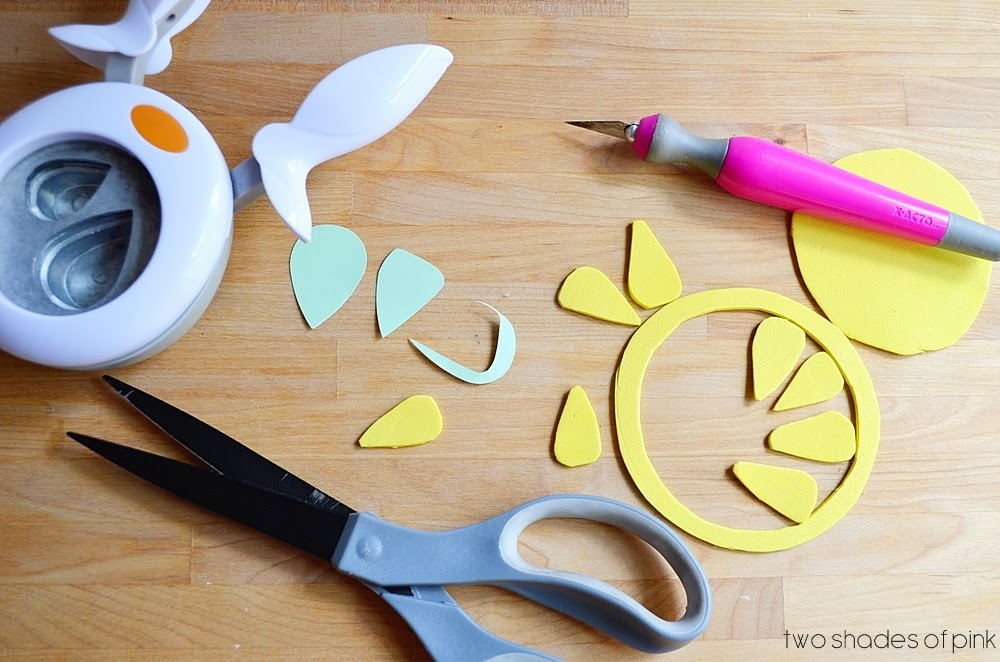 So. I have this thing for citrus. I have a particular affection for all things lemon. I thought it would be fun to make some happy wrapping paper since packaging is my heart. I planned on going to the craft stores to hunt down a ready made stamp but it never happened. I'm lazy. I figured I could make my own and wing it. I'm actually excited about how it turned out.
Materials: craft foam, scrap cardstock, a piece of wood to create your stamp, scissors, hot glue gun, paint (orange, yellow, and lime green), paint brush, a petal paper punch (optional), and white kraft paper. I found mine at Michael's where the packaging and wrapping supplies are.
(See photo above) I cut out a circle from craft foam and then cut out the inside to make the outer edge of the stamp. You could trace a cup but I wasn't looking for perfection so I free handed the circle.
Next I used a petal shaped paper punch with scrap card stock to use as a template for the inside of my citrus slice. I wanted it to look imperfect so I cut the petals into irregular, rounded triangle shapes.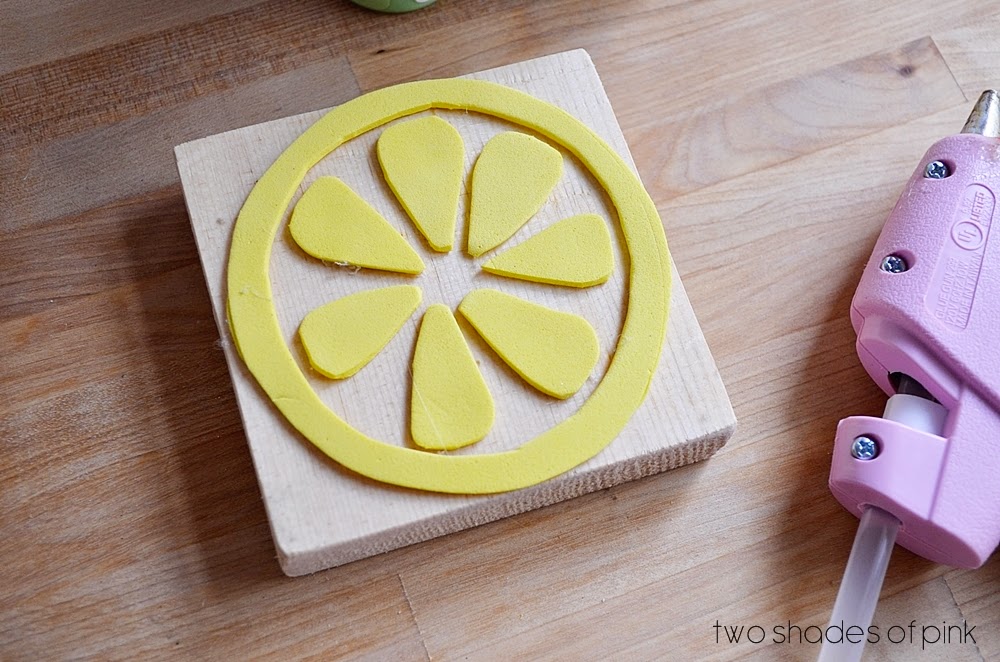 My hubby cut some scrap wood and I hot glued my shape to it creating a custom stamp for my project.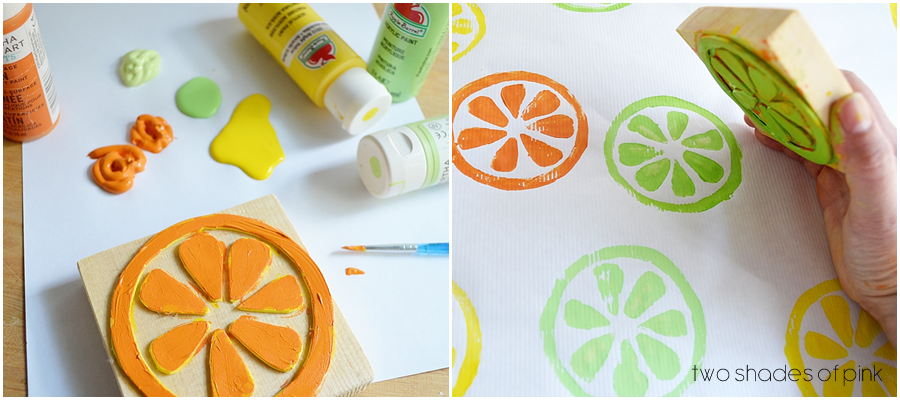 I unrolled the white kraft paper on the floor and anchored it on both ends so it would lay flat. Using a paintbrush and paint (instead of ink), I painted the stamp first and then randomly stamped all over the paper. I started with yellow, then orange, then green. I am kicking myself for not adding pink (duh!) to have pretty grapefruit in the mix. Next time.
I experimented with different shades of the colors too and gently washed the stamps in between colors. When you have filled the paper, let it dry, roll it up and you have made custom wrapping paper! My kids got into it too and I love that you could make this for any holiday or event. Letting your kids get creative would make it so special for grandparents and friend's birthday parties too.
For some extra cuteness, I painted "so sweet" over and over on a basic sheet of white paper. (Great for tiny boxes!) I coordinated the handmade paper with green striped paper and it looks perfect together. Add some orange twine and you have adorably coordinated packages.
Of course, I couldn't resist adding a pom pom lemon with little felt leaves as a topper. 🙂
Thanks for letting me share some more crafty fun with you this month. Everyone stay warm and dream of sunny days filled with lazy, hammock swinging, flip flops, and a glass of lemonade in your hand. It's coming soon!
______________________
and check out these other great posts of hers…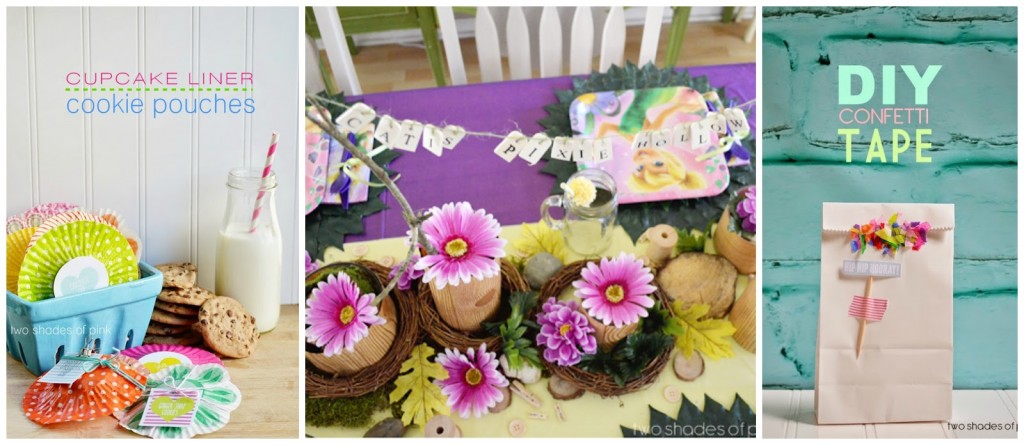 Cupcake Liner Cookie Pouches || Tinkerbell Party + DIY Ideas || DIY Confetti Tape