Want to know what to bring in your Disneyland Backpack? We spend enough time at Disneyland that we feel like we have MOST things figured out and that we can offer others some pretty good Disneyland tips. Today we want to talk specifically about what to bring in your Disneyland backpack. We usually bring one backpack per family and it's easy enough and light enough for even the younger kids to carry around. Sometimes they even fight over who gets to carry it because…  A. they like to fight over everything and B. easy access to the snacks. haha.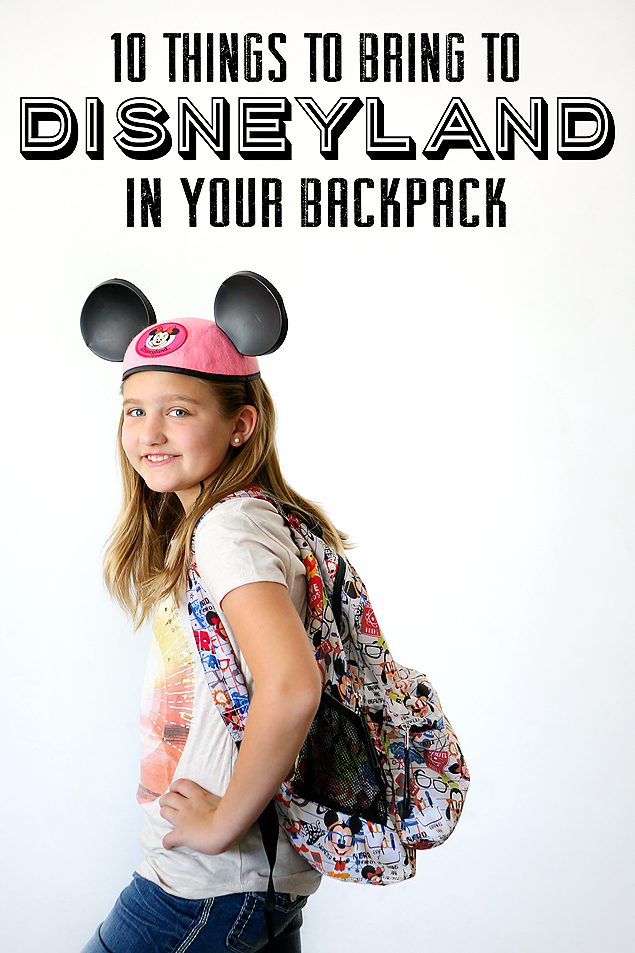 Can you bring a backpack into Disneyland? YES!
You most definitely can bring a backpack into Disneyland and you totally should! Here's our list of things that are always in our backpacks before we even get to the park. Some of these things may not apply to you for one reason or another. Just read through it and take the tips that you need and can use. We hope this helps make your trip a bit smoother and saves you some money too!
[affiliate links included below]
What to bring to Disneyland:
1| Wet Wipes.  Even if you don't have a little one in diapers, these are a must on the list of things to bring to Disneyland.  All it takes is a Churro, Caramel Dipped Apple, Matterhorn Macaroon or a Dole Whip to get a cute face and fingers all messy.
Here are some fun Disney Flip-Top Packs.
2| Pain Reliever.  Even though Disneyland is the happiest place on earth, it can still bring on a headache from time to time.  I usually pack the liquid stuff too, you just never know!
3| Flip Flops.  They don't take up too much room and one round of Splash Mountain can soak those tennies.  You'll be happy you brought them.
Can you bring water into Disneyland? YES!
4| Frozen Bottled Water or a Reusable Water Bottle. You can get free ice water from any of the eateries that serve fountain drinks, but it's nice to have a few cold drinks with you. We like to freeze a few bottles of water in our little freezer at the hotel. Then we have cold drinks all day long.
You can also bring a Reusable Water Bottle. There are a few places throughout the park that you can refill them. Or just ask for a few free ice waters to fill up your bottle. Keep in mind, no glass containers are allowed.
5| Ponytail Holders. After a ride or two your cute hair-do can get a bit crazy and sometimes it's just way too hot to have long hair down. It's always nice to have a few hair elastics so you can throw your hair up if you want.
Can you bring food into Disneyland? YES!
6| Snacks.  We like to have a good variety of snacks.  Crackers, disney fruit snacks, fruit, granola bars and whatever else the kids enjoy. When they are hungry or have the munchies they can just reach in the backpack and grab a snack. It'll save you a lot of money!
You can even take in a cooler if you'd like. They just can't be larger than 24″ long x 15″ wide x 18″ high. Loose and dry ice is not permitted though so be sure to bring reusable ice packs.
7| Small Toys.  Waiting in lines or sitting to wait for the parades can be rough on the little ones.  Pack some of their favorite small toys.  It helps keep them distracted and they are easy enough to carry around.
8| Chapstick.  Being outside all day always makes for dry lips.
9| Sunscreen.  We always cover everyone with sunscreen before leaving for a day at Disney but most likely, you'll need to reapply.  We like to pick up a couple travel size sunscreen tubes. Then we just take one a day and it helps to keep the backpack light.
10| Portable Battery Charger.  We take most of our vacation photos on our phones and the battery just does not make it till the end of the day.  So, a charged portable battery charger is a must.
You can find our favorite Portable Charger HERE.
If you forget your charger, Disneyland now has some to buy. You can even swap it for a fully charged replacement at the kiosk at no extra charge.
Hope you can put these ideas to good use and that they help make your Disney trip magical!!
You'll also enjoy this post about The Best Places To Stay When Visiting Disneyland...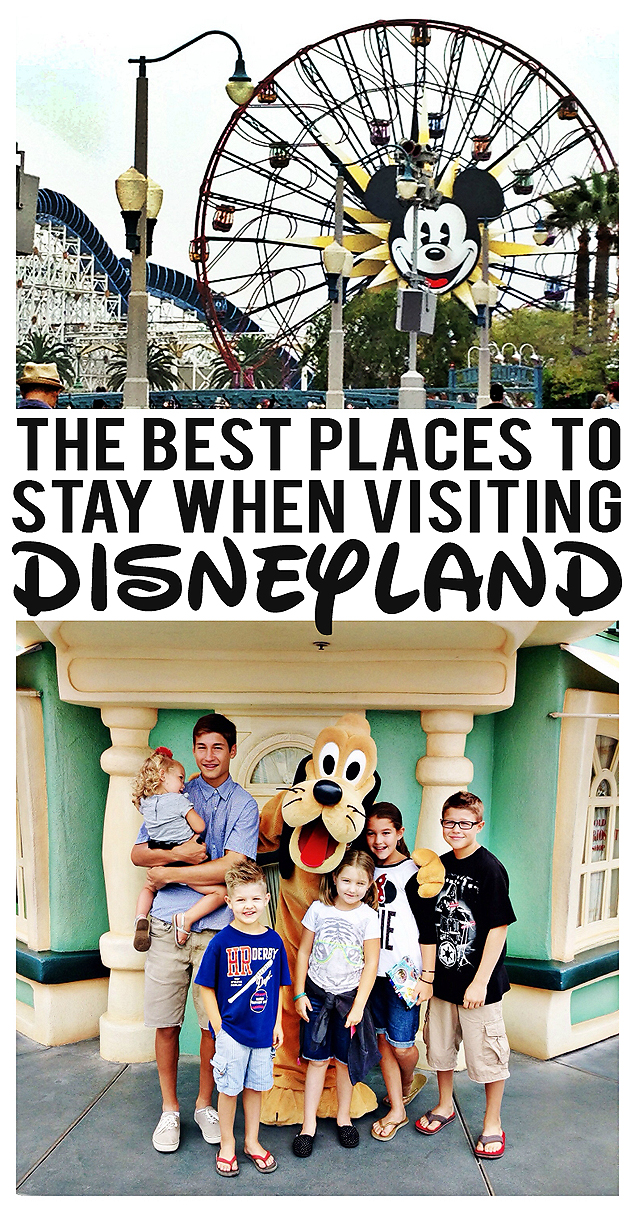 Here are some more great Disney posts you will enjoy:
---
Use Promo Code: Eighteen25 at Get Away Today to receive $10 off any southern California Vacation that includes at least 2 nights hotel stay and 2 tickets.