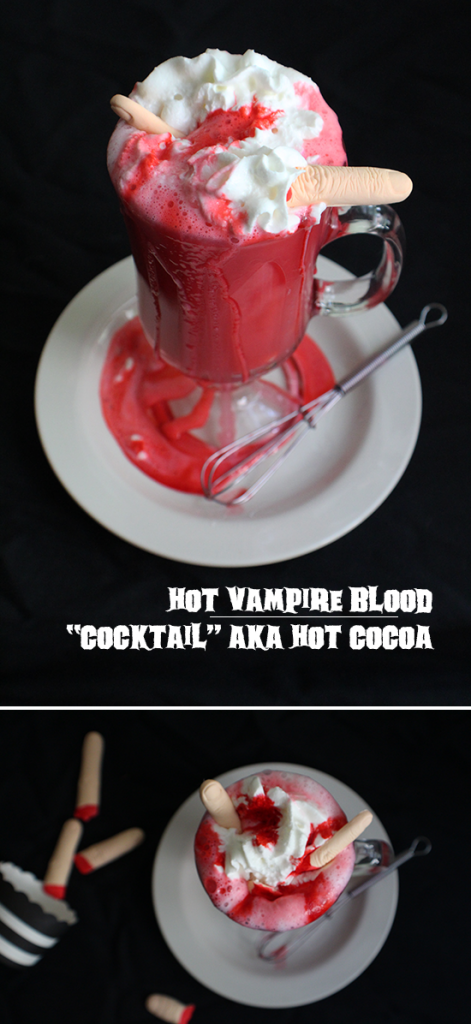 [affiliate links included]
It's finally time! I've been waiting for this for over a month. It's time. IT'S TIME. It's time for Halloween!
It's my favorite time of year. And this year, I've been watching a lot of creepy stuff on TV and Netflix. I love creepy stuff. I AM creepy, really, so I watch creepy stuff all year 'round. And I've also been watching my old favorites: Beetlejuice, Interview with the Vampire, Frankenstein, etc. I'm such a horror movie fan anyway… but this time of year it's even better.
I got inspiration for this because I saw these delightful creepy little candy fingers made by Wilton and I thought, "Oh my god I know exactly what to do with those!"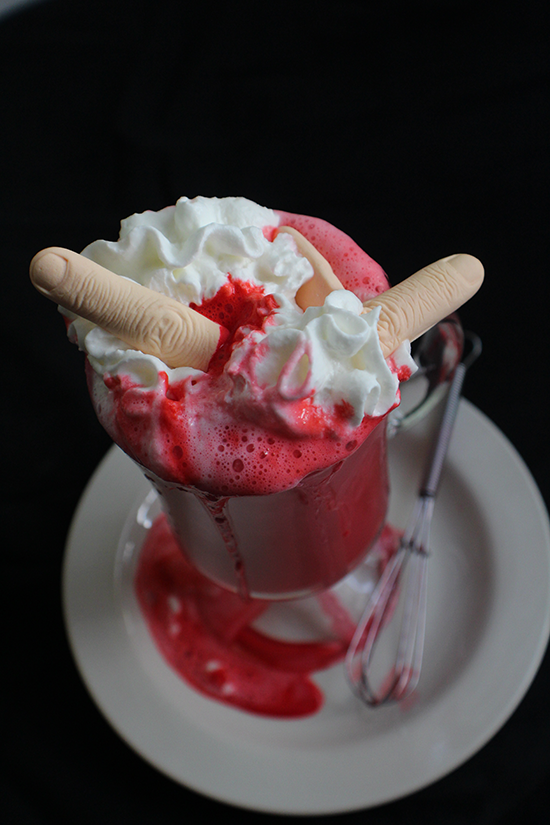 This is just white hot cocoa dyed red. Topped with whipped cream and some candy fingers. It's so incredibly easy- but it will also dye your fingers and clothes and face so make sure you save it for a Halloween party. It's only appropriate to have red teeth, lips and fingers when you're dressed up as a vampire or some strange sexy witch/vampire combo.
HOT VAMPIRE'S BLOOD COCKTAIL, AKA RED HOT COCOA
MAKES ABOUT 3 – 3 1/2 CUPS
Ingredients:
1/2 cup chopped white chocolate
2 cups light cream or whole milk
1 teaspoon pure vanilla extract or 1/2 teaspoon extract of your choice (cherry, strawberry, peppermint…)
highly pigmented red food coloring
whipped cream & sprinkles for topping
Directions
Combine milk/cream, vanilla and white chocolate in a medium saucepan. Stir with a wooden spoon as you cook over medium-low heat.
When it comes to a spooky simmer, remove from heat and give it a violent whisk (not too violent).
Add food coloring and whisk again. Pour into mugs, top with wicked whipped cream and recently removed appendages, and enjoy!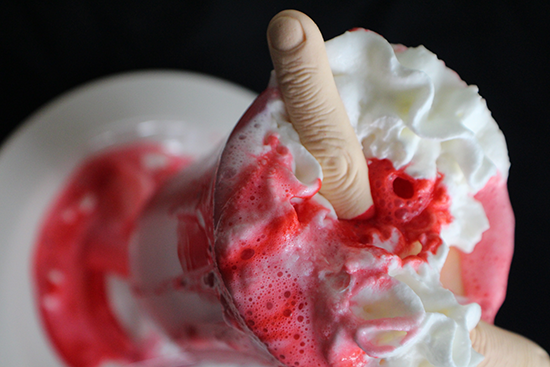 100% spooky, 200% fun, and a little bit gross too, because hey… it's Halloween after all. If you're drinking a vampire's blood cocktail, why wouldn't you stir it with a finger?
I also recommend a highly pigmented red food coloring such as AmeriColor. You don't need to use as much, which cuts down on the watered-down effect liquid food coloring would have. Also, you won't taste it. Even a gel-paste good coloring is a good idea. Stay away from the traditional liquids, though, please.
You can buy some amazing flavor extracts online, so if you want to make it cherry, apple, strawberry or whatever flavor, all you have to do is find a website like Layer Cake Shop. They have tons of flavor oils!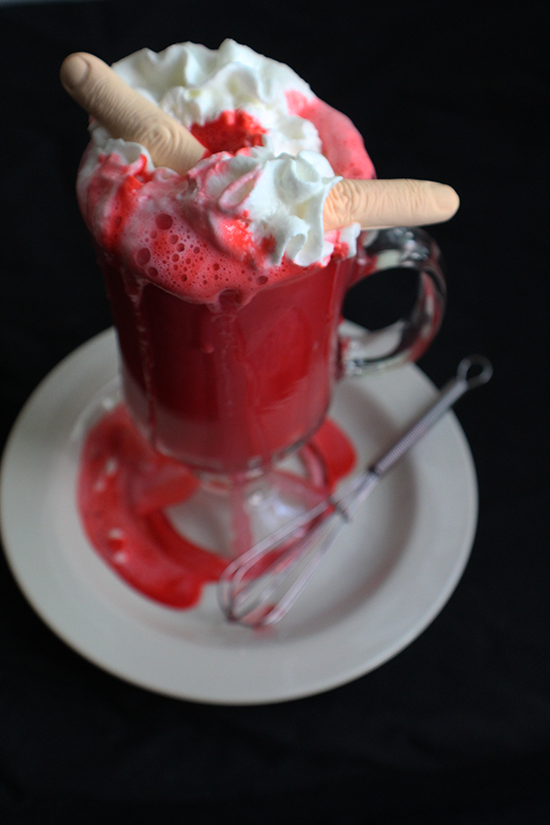 This can also be adapted for many holidays. Green for St. Patrick's Day, blue for a summer party (add some cookie fish on top and crushed grahams for sand maybe?), pink for Valentine's Day… you name it. It's very easy and very cute.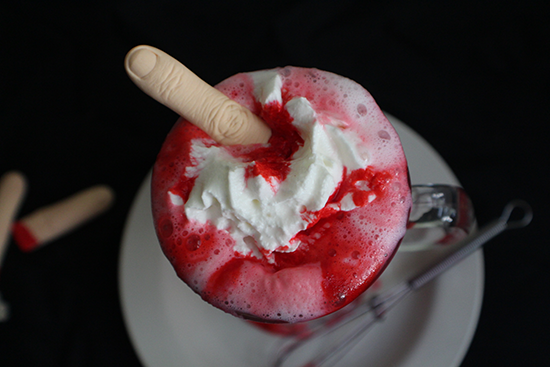 Enjoy these other spooky treats…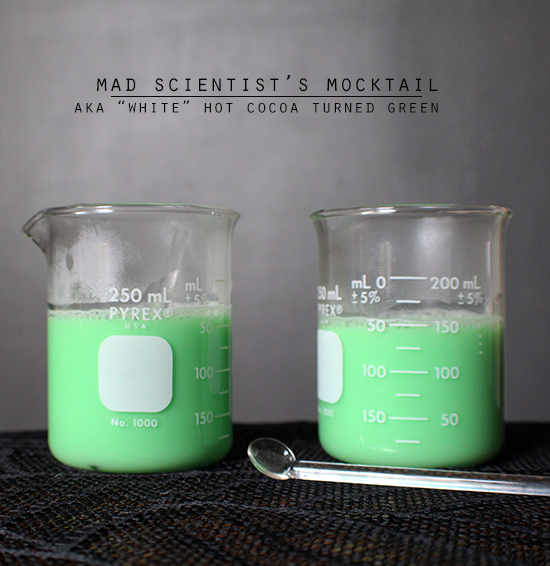 Dark Chocolate Raspberry Zombie Brainy Cakes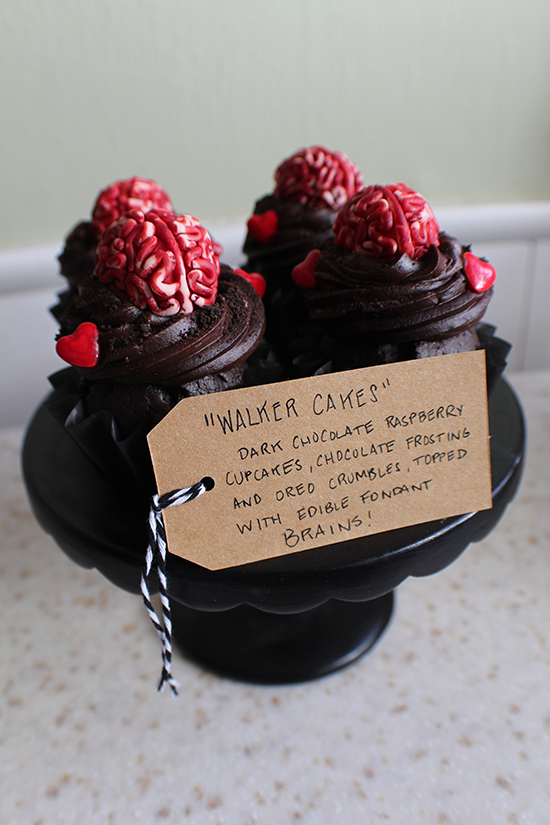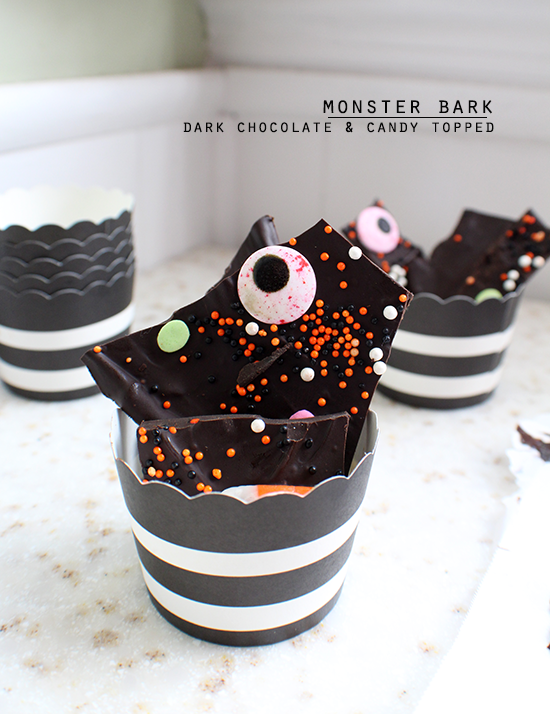 Visit Marilla on her Blog || Facebook || Instagram || Pinterest || Twitter
Here are a few more Halloween posts you can find on Eighteen25: