Is it too early for Christmas? I mean, if we ask the retail establishments it isn't. But I think being that Thanksgiving is only a little over a week away, its safe to start thinking about it. And its never too early for gingerbread! Gingerbread is one of my favorite holiday treats. I love the cookies, I love it in a spicier form like pfeffernusse and I love gingerbread cake. I don't make it nearly enough, though, even around the holidays. I have a favorite gingerbread cookie recipe & a favorite Guinness ginger cake recipe, but that doesn't mean I don't enjoy trying others. So I thought that this year, I'd make a plain gingerbread cake- no Guinness, no chocolate- and top it with some fluffy white snow.

And trees. Gotta have trees. For the trees, I got the how-to from The Cake Blog. Pretty self-explanatory, but still. It's a fun & easy way to make cupcake or cake toppers.
It's so retro-looking, isn't it? I think it's just the cutest idea. It also reminds me of the Grinch for some reason.
The little elves are from Tiny Things are Cute. And these are indeed cute.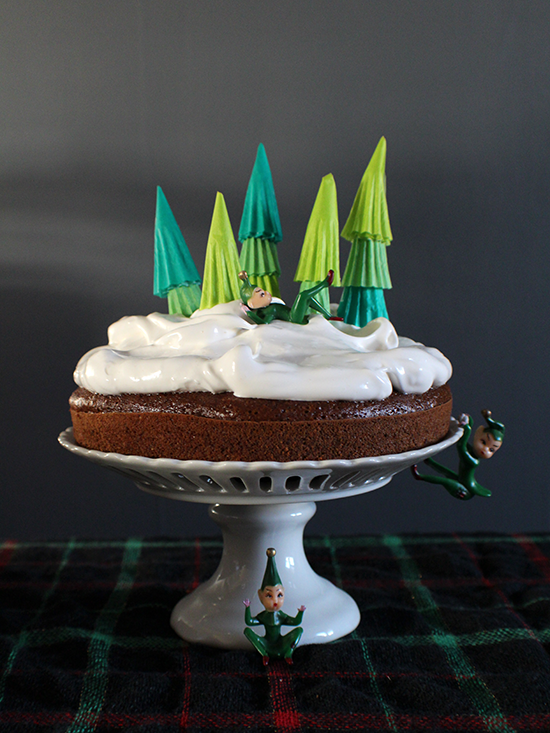 Gingerbread Cake
Author:
Marilla from Cupcake Rehab
Ingredients
2 cups all-purpose flour
1 teaspoon baking soda
¼ teaspoon salt
1½ teaspoons ground cinnamon
1 teaspoon ground ginger
⅛ teaspoon ground cloves
½ cup unsalted butter, room temperature
½ cup light brown sugar
2 large eggs
Zest of 1 lemon
½ cup unsulphured molasses
1 cup whole milk
Instructions
Preheat oven to 350° degrees F and place rack in center of oven. Butter and flour an 8″ round or square cake pan with 2″ sides.
In a medium bowl, whisk together the flour, baking soda, salt, ground cinnamon, ginger and cloves.
In bowl of your electric mixer (or in a large bowl with a hand mixer), beat the butter and sugar until light and fluffy (about 3 minutes). Add the eggs, one at a time, beating well after each addition. Add the lemon zest and molasses and beat to combine. Scrape down the sides of the bowl as needed. Add the dry ingredients and milk, alternately, beginning and ending with the dry ingredients. Beat just until incorporated.
Pour the batter into the prepared pan and smooth the top with an offset spatula. Bake for 40 – 45 minutes or until a toothpick inserted into the center of the cake comes out clean. Remove from oven and let cool on a wire rack for 10 minutes before removing cake from pan. Let cool completely and then frost with 7-minute frosting (below).
This cake will keep for several days at room temperature. 7-minute frosting will get hard the longer it's out, but it's still edible.
(adapted from
Joy of Baking
)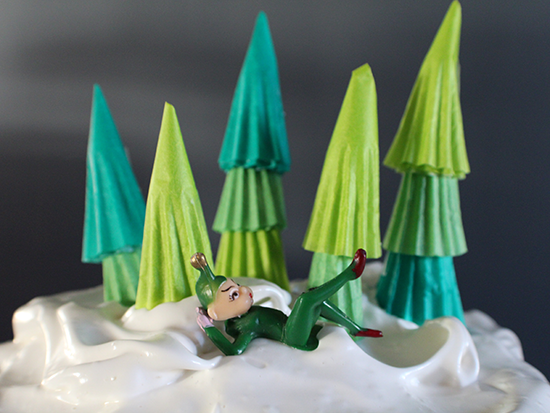 So, I said it's a marshmallow Fluff frosting. But it really isn't. Yes you can use that for sure… it's quick and easy. But I actually used a 7-minute frosting. This frosting is very similar to a marshmallow-y type texture, but it's not exactly the same. I'm going to give you the recipe in case you'd like to use it as well. No pressure.
7-MINUTE FROSTING AKA "SNOW"
Ingredients:
3/4 cups plus 1 tablespoon sugar
1/3 cup water
1 tablespoon light corn syrup
3 large egg whites, room temperature
Directions:
Combine 3/4 cup sugar with the water and corn syrup in a small saucepan; clip a candy thermometer to side of pan. Bring to a boil over medium heat, stirring occasionally, until sugar dissolves. Continue boiling, without stirring, until syrup reaches 230° degrees.
Meanwhile, in the bowl of a standing electric mixer fitted with the whisk attachment, whisk egg whites on medium-high speed until soft peaks form. With mixer running, add remaining tablespoon sugar, beating to combine.
As soon as sugar syrup reaches 230° degrees, remove from heat. With mixer on medium-low speed, pour syrup down side of bowl in a slow, steady stream. Raise speed to medium-high; whisk until mixture is completely cool (test by touching the bottom of the bowl) and stiff (but not dry) peaks form, about 7 minutes (hence the name). Use immediately.
WARNING: Do NOT get any egg yolk in the egg whites. But mistakes happen… so if you do, try & scoop it out as much as possible with a broken egg shell, then add a bit of cream of tartar to the whites. It'll help them get closer to where they need to be in spite of the yolk. And if you're scared, then yeah sure. Use the marshmallow Fluff, you big wuss.
If it were me, & I was making the 7-minute frosting for this cake on Christmas Eve/Christmas Day/the day of a celebration, I'd make the cake in advance & frost it just before serving, or at least the day of. The cake is easy enough to make the day of, though. However this frosting does get hard so you want it to be as fresh as possible. You could also frost this cake with fresh whipped cream, lemon cream cheese frosting or just sprinkle some confectioner's sugar on it.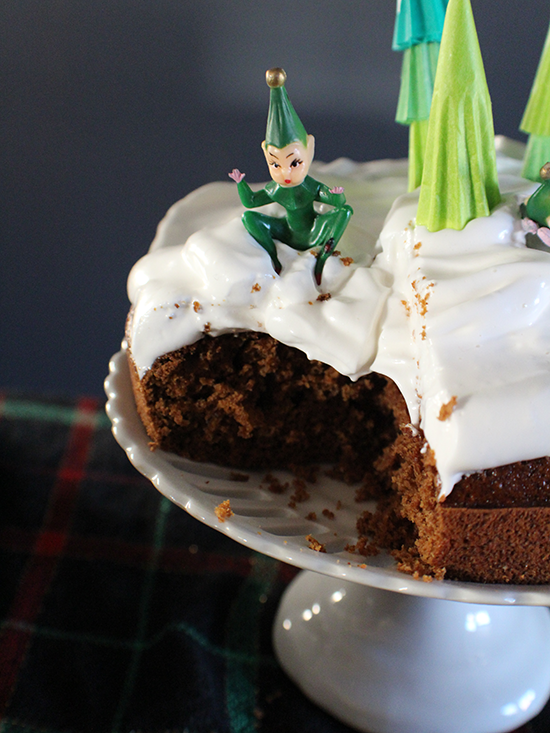 And watch out for those elves!
---
Visit Marilla on her Blog || Facebook || Instagram || Pinterest || Twitter
and check out these other great posts of hers…
Christmas Jam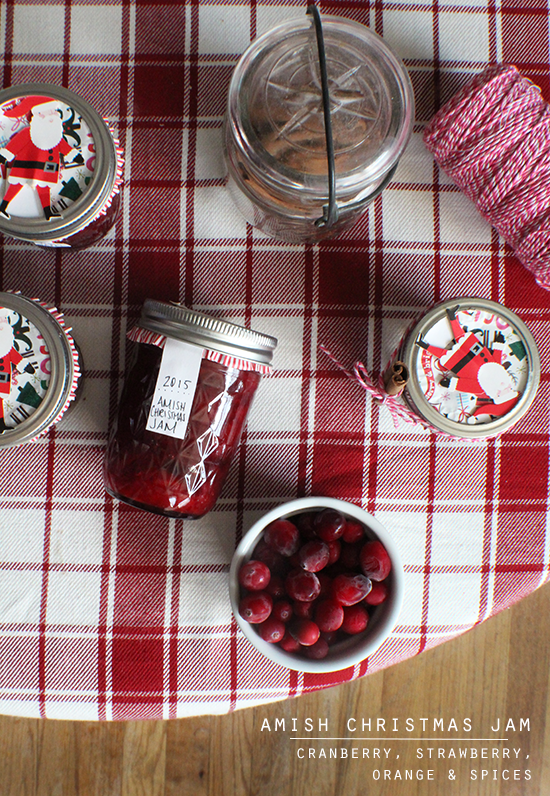 Butterscotch Pie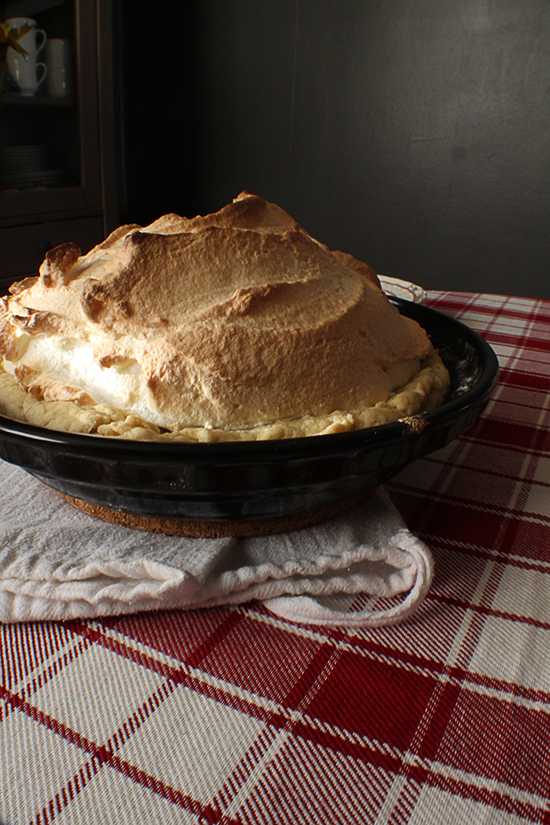 Here are a few more Christmas recipes you can find on Eighteen25: