Hello, Eighteen25 Readers! I've been a faithful reader and fan for years, so you can imagine I am beyond excited to be here sharing a free printable with you today!
Let me introduce myself first… my name is Colette and I'm the font addict and printables junkie behind
My Computer is My Canvas
! When I'm not on my computer creating or working on orders for my
Etsy Shop
, you'll find me running my four kids around, practicing math facts and spelling words, maybe folding a bit of laundry and definitely caring for my brave, cancer-fighting husband. I've been a digital diva for years, but at the moment, designing and blogging is a creative outlet that keeps me sane during the chaos. It helps me decompress and it keeps me refueled. In our family, we believe in miracles and in finding joy each day. So what can I say… cute fonts, mason jars and gift tags bring me joy, so let's get to it!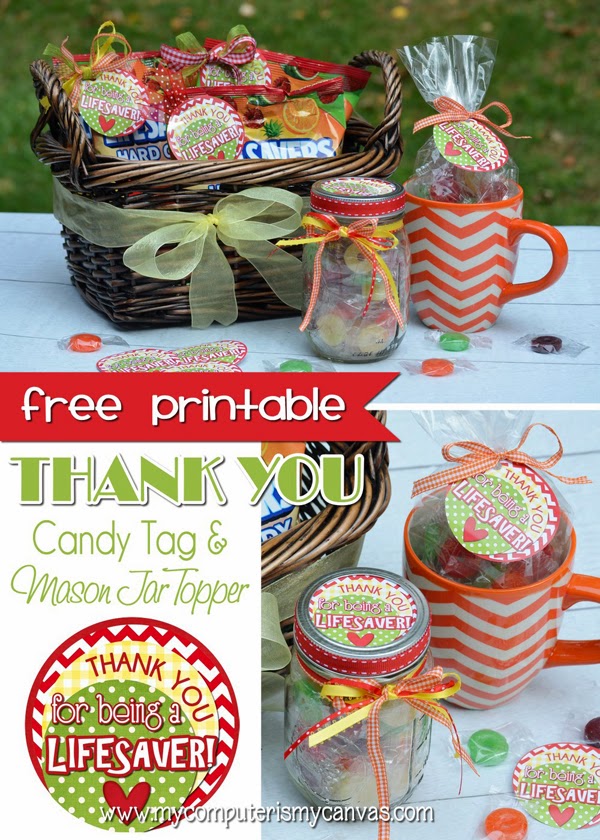 As you can probably guess… we get a lot of help from friends, family and neighbors; from meals to helping with kids, from care packages to amazing acts of love and service. My "thank you" note list grows and grows every week – and sometimes it's easy to get behind and get overwhelmed. So when I started thinking about what I could share here today, I thought making some kind of a thank you gift would be super helpful for me (and hopefully very useful for you, too)!
To get my inspiration for this project, I went to one of my most favorite thinking spots (the candy aisle at the grocery store). I'm tellin' ya… there are some seriously brilliant ideas born in that part of the store! When it hit me, I cleared out their stash and ran home to design. Choosing the colors was easy and I knew immediately I wanted the tag to double as a mason jar lid topper as well.
I know. The cuteness kills me, I love how the colors are so bright and happy!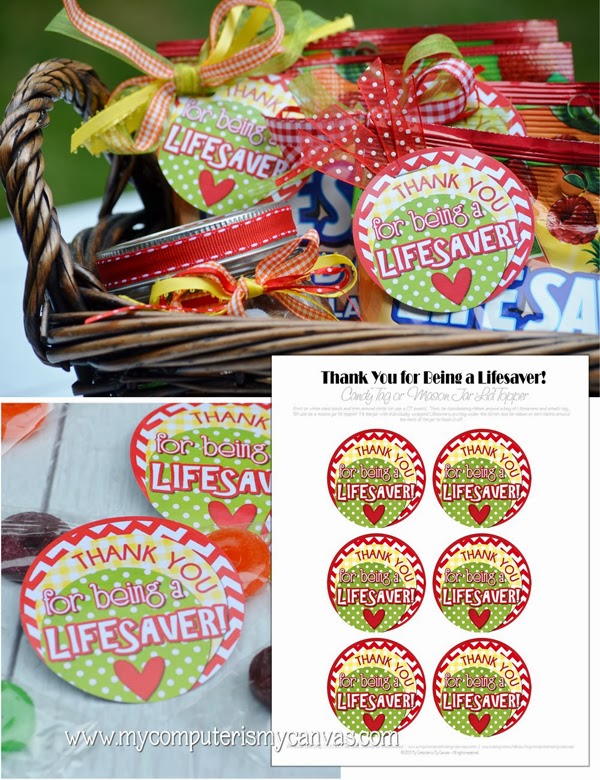 I designed the tag to be a 2.5″ circle – so when trimming, you can either cut around with scissors or use a 2.5″ craft punch. I also love that because of it's shape and size, this printable is simple – but can be used lots of ways. As you can see from my basket, you can tie or staple the tag to a bag of Lifesavers, fill a mason jar with individually wrapped Lifesavers and use as a lid topper, or fill a cello baggie with Lifesavers and tie with ribbon. When printing, choose a thick white card stock or for best (most shiny results) use photo or glossy paper. A quick paper tip… I buy all of my photo paper at the Dollar Store! I typically print on my inkjet at home, but you can also take printables to a copy shop for stellar color and ink quality.
If you like this thank you tag, I have two other thank you freebies that I've shared on my blog recently.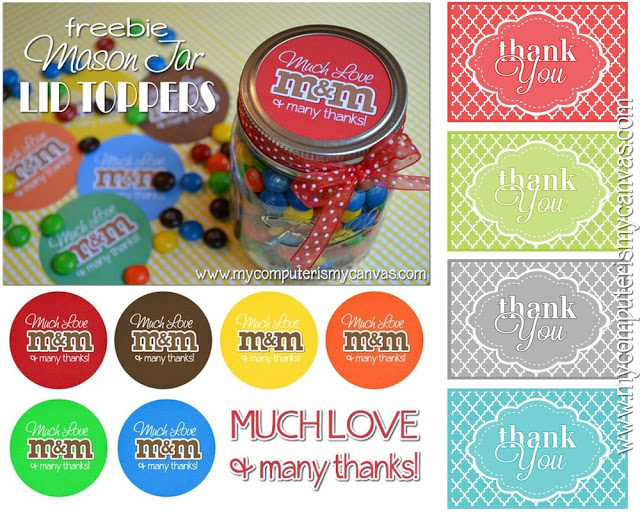 There are always people in our lives that we need to thank – whether it's a teacher, a friend, a neighbor or someone in your family… it's just nice to have a set of easy ideas and tags ready to go. Simply print, trim attach to a goodie or small gift and deliver. One thing my mother taught me was to be generous in appreciation and to always pass along a sincere spirit of thanks to those that lend you a hand.

DOWNLOAD LINKS: