I love when company comes to stay!  Recently my aunt and uncle came for a week long visit and totally spoiled my boys.  One of the things they got was their very own box of sugary cereal!  To little kids (and I'm sure to some big kids) that is a huge deal.  Especially in our house where I only buy Cheerios and Life cereal.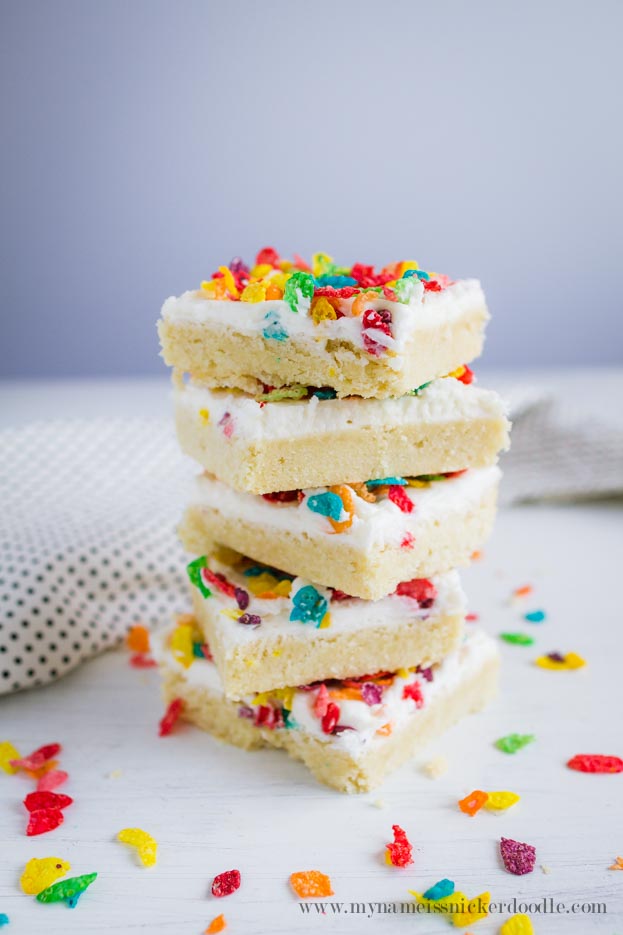 My littlest picked out Fruity Pebbles and enjoyed every bowl he got to eat.  Even though it seemed like a lot, it didn't really make a dent in the box.  While it's not my favorite cereal, I'm totally enamored by the bright and bold rainbow colored flakes!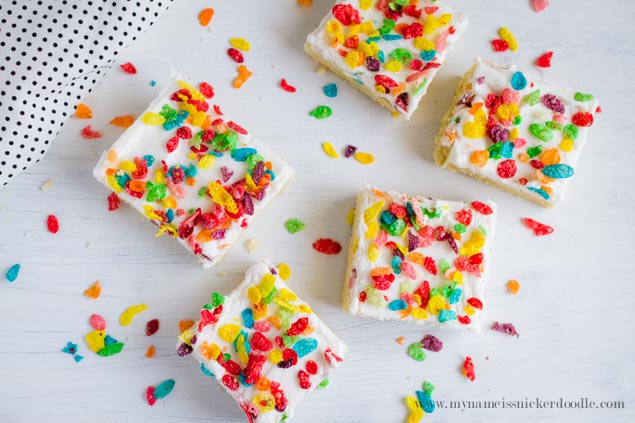 I knew the box would get stale before he could finish it off so I pulled out one of my favorite recipes and used those colorful flakes as sprinkles for my Sugar Cookie Bars.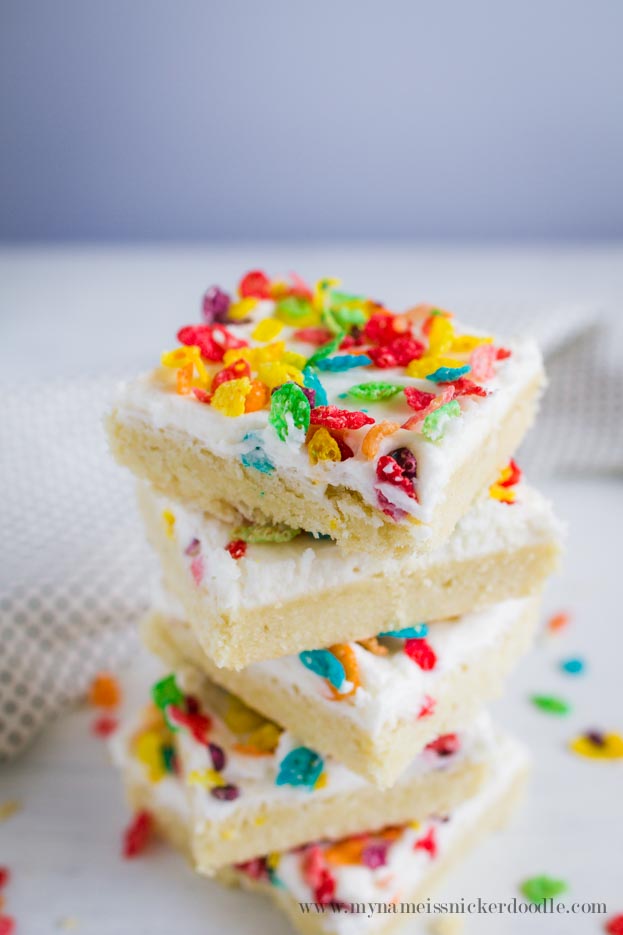 And there is a hidden secret to the frosting.  I added orange extract instead of vanilla and it tasted incredible with all the fruity flavors of the cereal!  These were a huge hit in my house and with the friends we shared them with.  I mean, it does make a whole sheet pan's worth of adorable and happy sugar cookie bars!
Fruity Pebble Sugar Cookie Bars
Author:
My Name is Snickerdoodle
Recipe type:
Sugar Cookie Bars
Prep time:
Cook time:
Total time:
Ingredients
For Sugar Cookie Bars :
1 cup butter, softened
¾ cup vegetable oil
1 cup granulated sugar
1 cup powdered sugar
2 TBSP milk
2 large eggs
½ tsp baking powder
½ tsp cream of tartar
½ tsp salt
4 cups all purpose flour
For Frosting:
5 TBSP butter, softened
½ cup sour cream
1 tsp pure orange extract
4 cups powdered sugar
⅘ TBSP milk
2 - 2½ cups Fruity Pebbles Cereal
Instructions
For Bars:
Preheat oven to 350 degrees.
In a standing mixer or large bowl, cream together butter, oil,
granulated sugar and powdered sugar for 2 minutes on medium speed.
Add in milk and eggs and mix until well combined.
In a separate medium bowl whisk together baking powder, cream of tartar salt and flour.
Slowly add in a little flour mixture while beating and mix until just combined.  Do not over beat.
Lightly spray a standard baking sheet with oil.
Pour batter into the baking sheet and evenly spread out.
Bake for 12-15 minutes and an inserted toothpick comes out clean.
Cool 20 minutes before frosting.
For Frosting:
In a standing mixer or large bowl cream together butter and sour cream until smooth.
Add in orange extract.
Slowly add in the powdered sugar until completely incorporated.
Pour in 1 TBSP at a time of milk until consistency is about the same as cake batter.  Not too runny, but pourable.
Evenly spread frosting over dough and immediately sprinkle with Fruity Pebbles Cereal.
Gently press the cereal into the frosting to make sure it sticks.
Best served chilled until ready to serve.
___________________________________________________
Visit Amy on her BLOG | INSTAGRAM | FACEBOOK | PINTEREST | GOOGLE+
and check out these other yummy recipes of hers…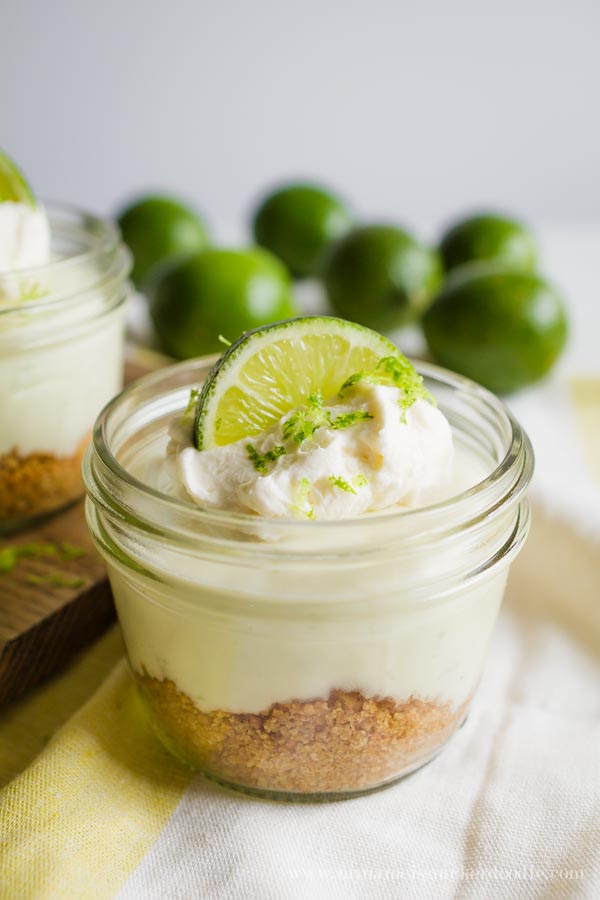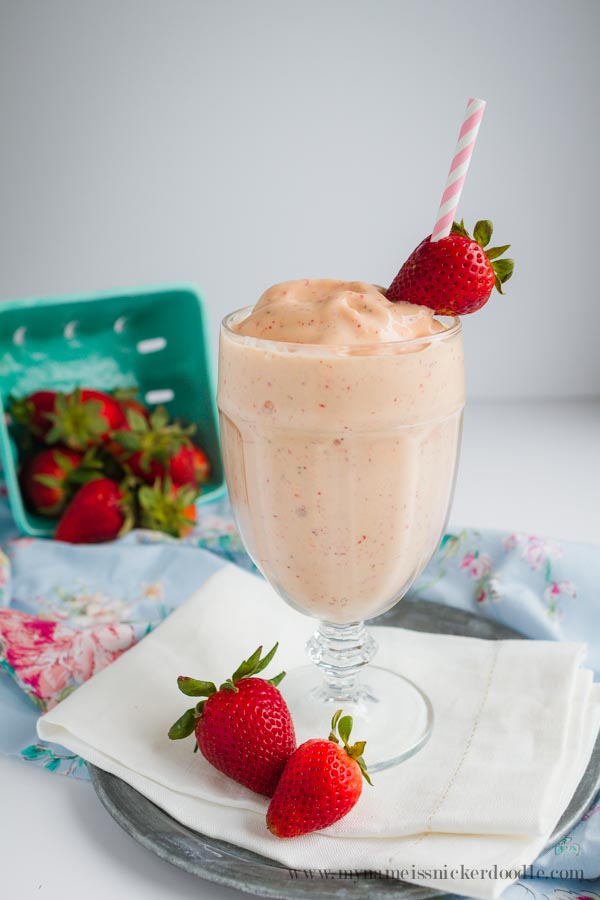 Here are a few more posts you can find on Eighteen25 from Amy: