Dinnertime at my house does not guarantee that you will actually have a dinner type meal. My family really loves having breakfast for dinner and I love to make breakfast-y foods at night more than I do in the morning!  I seem to have more time in the evening.  I guess I could wake up extra early, but with having three young boys, I need all the sleep I can get!
There are two things my boys will request on a frequent basis.  My perfect Buttermilk Pancakes and this Nutella Stuffed Croissant French Toast Casserole.  It looks complicated, but your kiddos can totally help and can be made ahead of time if needed!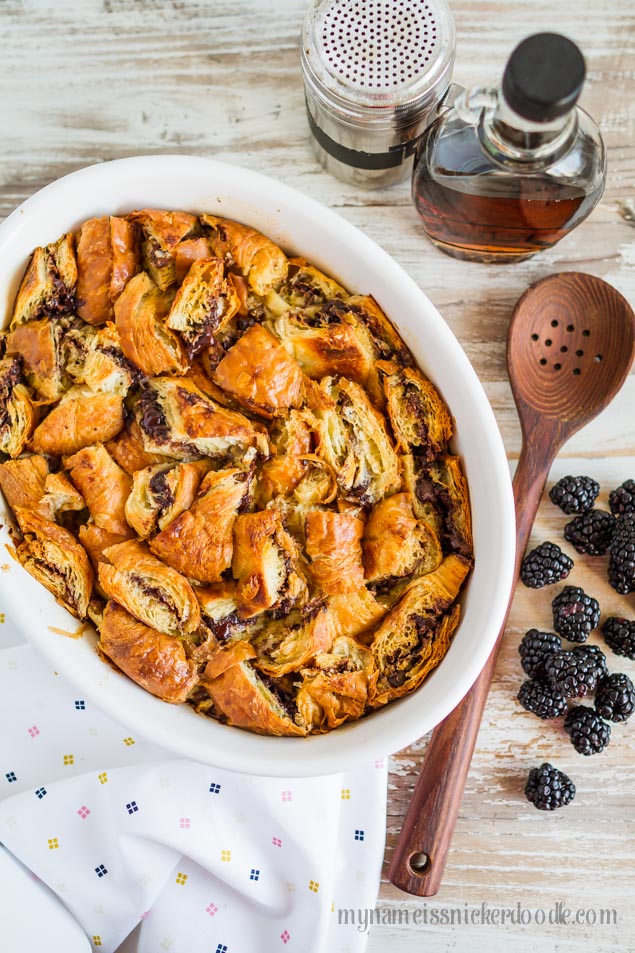 I love to make my favorite Chicken Salad Sandwiches for lunch and every now and then I'll indulge and use croissants instead of bread.  I buy them from costco, (because they are so good!), but I typically will end up only using half of them for my family.  I could just eat them, but after a few days they tend to dry out a bit and just aren't as buttery and tender as I prefer.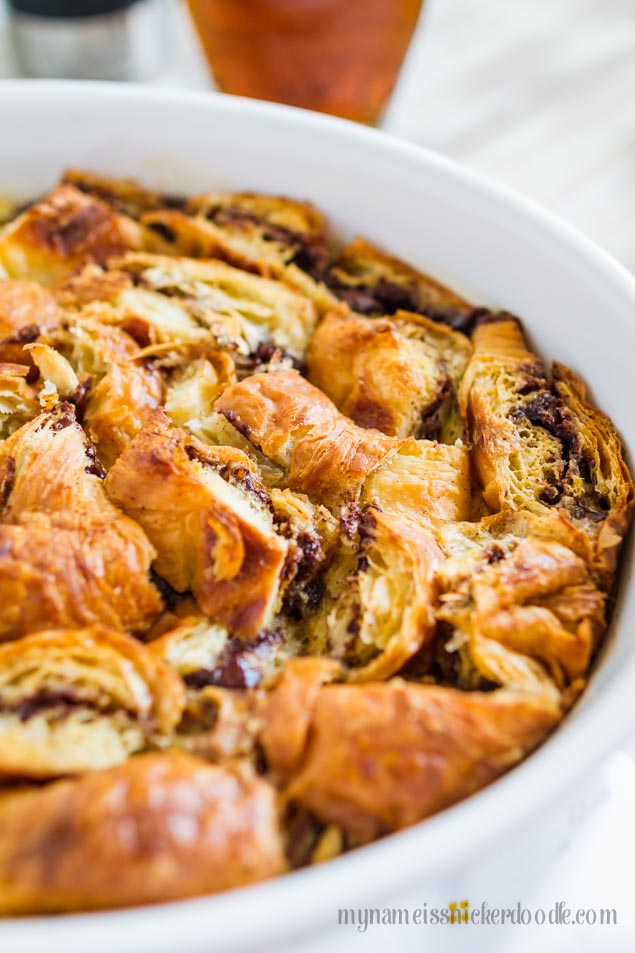 That's how this recipe came about because I wanted to use them up in something.  Every single person in my family loves Nutella so we usually have some on hand at all times.  I have a friend who makes Chocolate French Toast where she stuffs each croissant with chocolate chips, dips it in eggs and milk then fries them individually.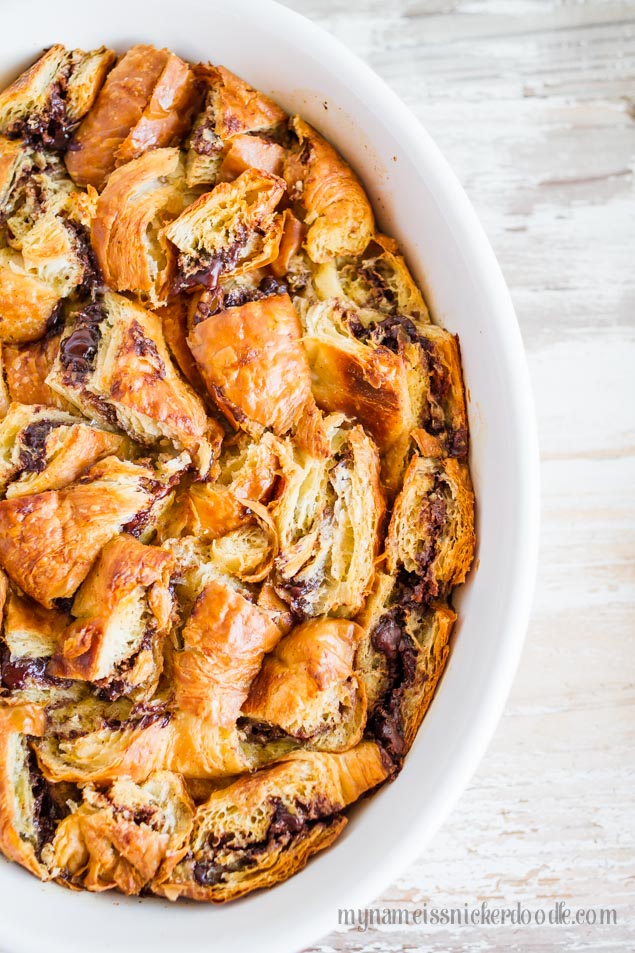 I didn't want to fuss with it so I decided to make a whole casserole out of it.  I have to say it turned out perfectly the first time!  We like to serve ours with a little maple syrup and a sprinkling of powdered sugar.  It would be equally as good with some fresh berries or sliced bananas and maybe a few nuts to top it off with.
You can make this the night before.  Cover it with plastic wrap and place it in the refrigerate unbaked.  Pull it out about 15 minutes before you want to bake it to let it come to room temperature a bit.  Then bake as directed.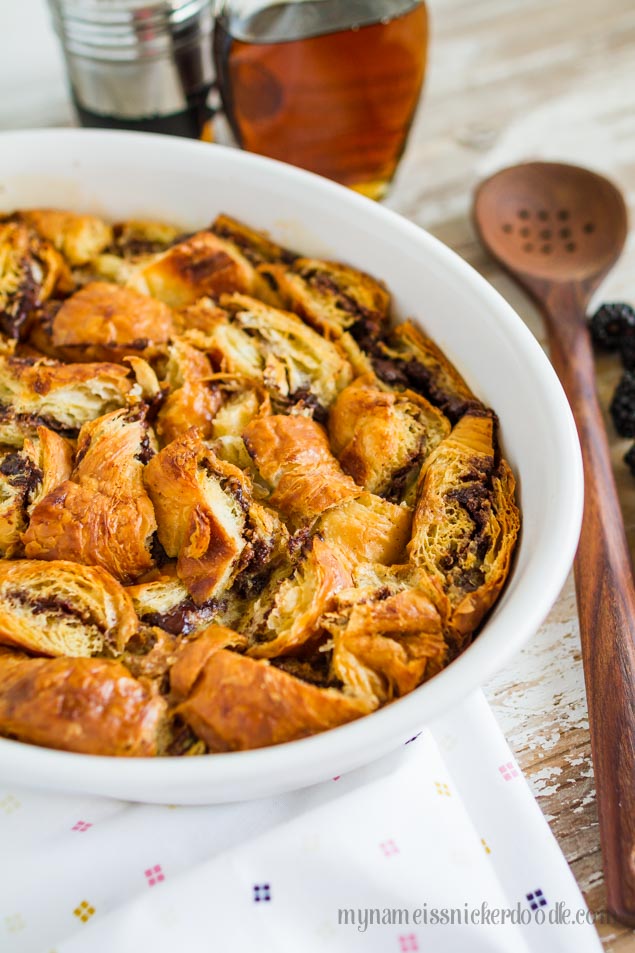 Nutella Stuffed Croissant French Toast Casserole
Author:
Amy from My Name Is Snickerdoodle
Serves 6
Ingredients
6-8 Large Croissants
Nutella
10 Eggs
1 Cup Half and Half
¼ tsp Cinnamon
Instructions
Preheat oven to 350 degrees.
Butter a 9x13 baking dish and set aside.
Cut each croissant almost all the way through lengthwise (like you would do for a sandwich) and open.
Spread Nutella on one side of each croissant and fold over the top.
Using a serrated knife cut the croissant into 6-8 pieces.
Place cut pieces into the baking dish and press down slightly.
In a large bowl whisk together eggs, half and half and cinnamon until well blended.
Slowly pour over croissants.
With a spatula, press the croissants down to help soak up the mixture.
Cover with foil and bake for 25 minutes.
Uncover and bake another 15 minutes to let the top get a little crispy.
Serve warm.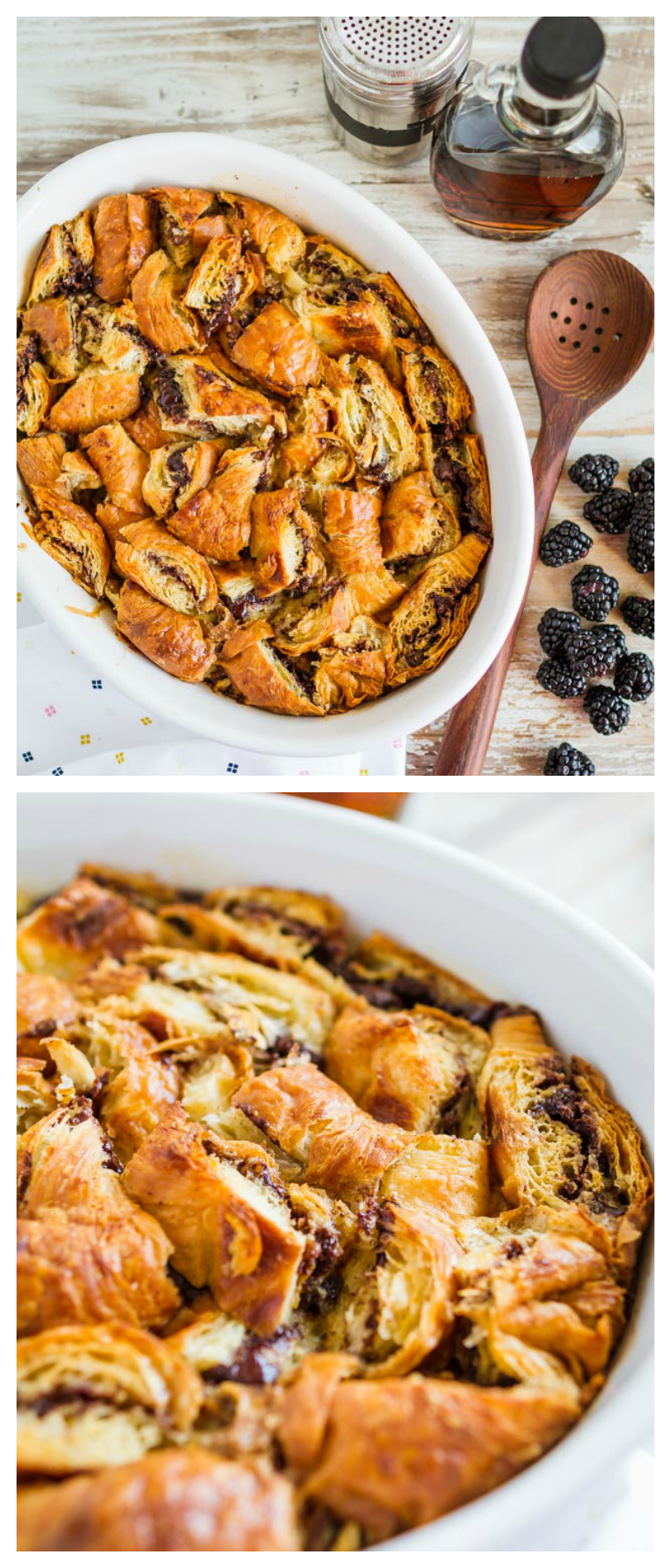 ---
and check out these other great recipes from My Name Is Snickerdoodle!
Sauteed Corn and Zucchini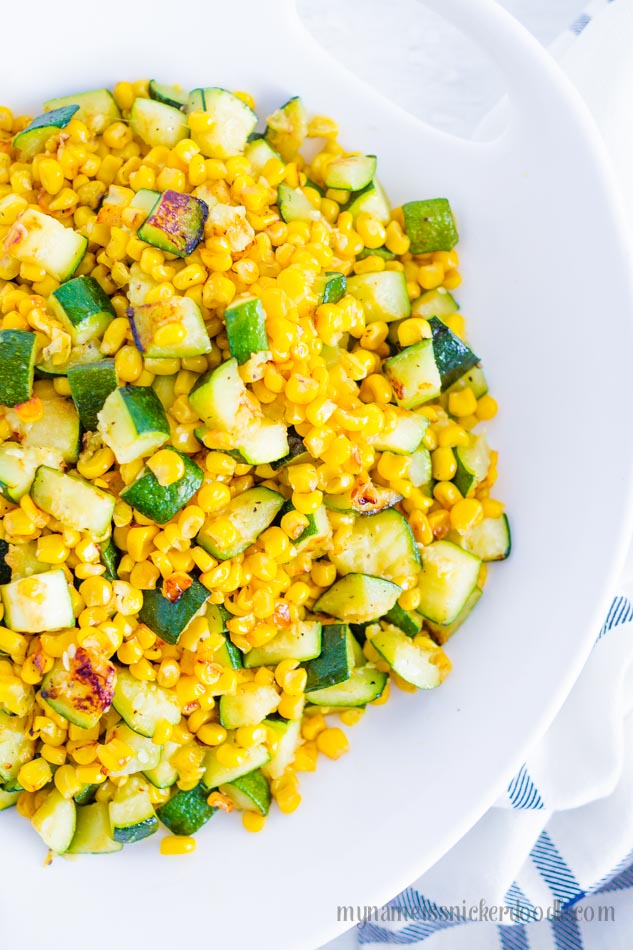 The Perfect Sunday Rolls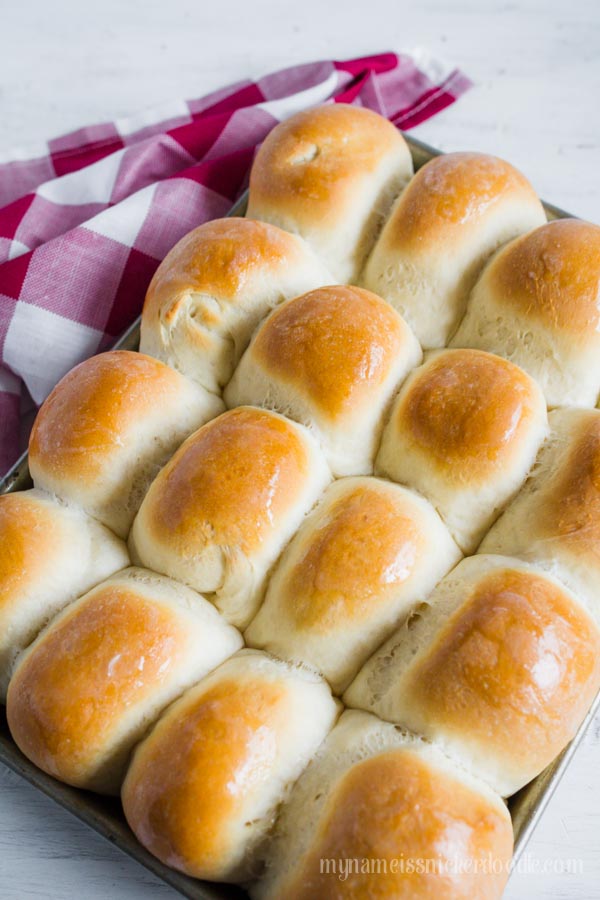 Here are a few more delicious breakfast recipes you can find on Eighteen25: