Hey Eighteen25 readers! It's Nat again, from My Sister's Suitcase. I'm excited to share some of my favorite tips for keeping your kids busy (and you sane) while traveling on long road trips this summer!
My family of 5, including our newest addition that's almost 6 months, have been traveling quite a bit this summer already and it's been really fun. I'm sure any parent will agree that it's exhausting at the same time! Here is an easy Road Trip Kit I put together for my kiddos.
You just have to start with snacks. It's really what road trips are all about, right? Well after much trial and error, we have a few ideas of what works and what definitely doesn't.
Bring 'em:
individually wrapped snacks or snacks pre-portioned in ziploc baggies
nuts or dried fruit (as long as it's not too sticky)
fresh fruit that doesn't have to be cut like apples, bananas or grapes
pouches of applesauce, etc
water. If it spills it's no biggie.
Leave 'em at home:
anything that MELTS – including chocolate (even chocolate chips in granola bars can be a huge mess!) and gummy candy
gum. Trust me on this one.
anything cheezy. See how I spelled that? You know what I'm talking about. Anything that will leave your kids hands a nice bright orange is a no-go.
anything that requires a spoon to eat – because you know that's going to spill eventually!
sugary drinks
Some of our favorites are cocoa roasted almonds, applesauce pouches, and dried mango.
My kids really got into these little divided containers we grabbed at the Target Dollar Spot. The lids don't snap tight, so we added a long strip of masking tape over the top and they did just fine with them. Plus you can easily add a name with a permanent marker to prevent any…do I even need to explain? Each kid also got a water bottle ($1) that's wide enough to fill with ice that we refill at gas station stops to keep the water cold.
Now let's talk activities. In our minivan we have a built-in DVD player that usually takes up most of the time our kids spend in the car. I don't love that, but we get there without hating each other! On our most recent trip, we had a rental car that had no DVD player so I knew we needed to be extra prepared!
Bring 'em:
Dry-erase boards or activity books
Sticker books
Color Wonder by Crayola (our most favorite road-trip activity by far. The kids don't get to use them everyday so it makes it more special. I got this kit on clearance at the grocery store for $1.50!)
Something NEW! I try to surprise the kids with some small NEW toy or book that will be a surprise "when we get to ____" The activity packets pictured also came from the Target Dollar Spot.
Leave 'em at home:
anything with small pieces
crayons. They can melt if you haven't already experienced that fun.
regular markers and pens. With younger kids you're just asking for trouble!
My last tip is for traveling with kids in diapers! I started doing this several years ago when we took our then 2 year old and 6 month old on a long flight. In a quart size Ziploc bag, I put 1 (or 2) diapers, a smaller ziploc with 3-4 wipes and an extra onesie. You can also get boxes of cheap disposable changing pads which are awesome! Then when we stop and we have to change a baby in a gas station bathroom in the middle of nowhere, I don't have to take in my whole diaper bag. It's simple but so helpful.
I hope you got a few new ideas for road-tripping with the family this summer! Travel safely!
Visit Nat & Holly on their Blog : Facebook : Instagram : Pinterest and check out these other great posts of theirs…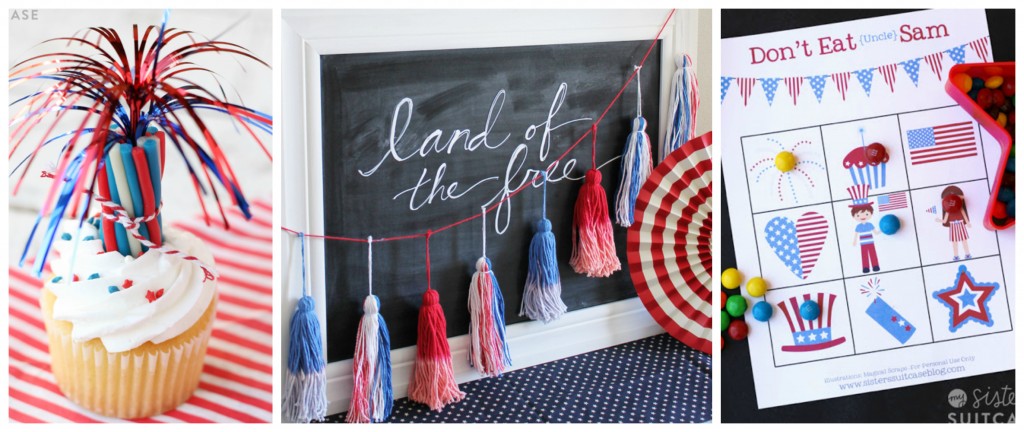 Fourth of July Cupcake Toppers | Red White & Blue Tassels | Don't Eat Sam Printable Game
---
[affiliate links included below]
Headed to Disneyland on your roadtrip? Use Promo Code: Eighteen25 at Get Away Today to receive $10 off any southern California Vacation that includes at least 2 nights hotel stay and 2 tickets.