Hi eighteen25 readers! I am SO excited to be here today sharing one of my favorite summer recipes! I just love these three girls and am honored to have the opportunity to be here visiting today on their AMAZING blog!
First, I will tell you a little bit about me…
My name is Nikki, and I blog over at Chef in Training. I am married to my best friend and am a stay-at-home mom to two wonderful kids. Like most moms, wives, and people out there, I am a "Chef in Training", teaching myself how to cook one recipe at a time. I LOVE being in the Kitchen and have a great love for good food! Since I am busy with two young children, I know what its like to be running low on time. I also know how important it is to eat meals together as a family. My blog is filled with recipes that are easy, simple and that anyone can do.
When I graduated high school, my grandma gave me two GIANT cookbooks filled with family recipes. Today, I am going to share a recipe that comes from one of those cookbooks. When I think of summer, I think of all the delicious produce that is in season. I love finding new ways to involve them in my recipes. Since summer is quite hot, I avoid turning on my oven as much as I can. Usually for lunch, I like to sit down to a delicious and fresh salad. Salads are extremely basic, so I like to change up the flavors so that it feels like a new recipe every time I sit down to the table.
This dressing is the perfect topping to a fresh salad! I absolutely LOVE it and know your will, too!
CREAMY CUCUMBER DRESSING
1/2 medium cucumber
1 cup sour cream
2 Tbsp. lemon juice
1 Tbsp. sugar
1/2 tsp. salt
Halve cucumber lengthwise, remove seeds and cut into small pieces.
Place cucumber pieces, sour cream, lemon juice, sugar and salt into blender and blend until smooth and creamy.
Refrigerate until ready to use. Store any left over dressing in fridge.
Enjoy!
A big thank you to eighteen25 for letting me be here today!
I hope you will come by
Chef in Training
and say "Hello!"
You can also find me on
Facebook
,
Pinterest
and
Twitter
. . .
oh how we love this girl. Nikki is as sweet as they come and her blog, Chef in Training is fabulous! head over and find a new recipe to try this week!!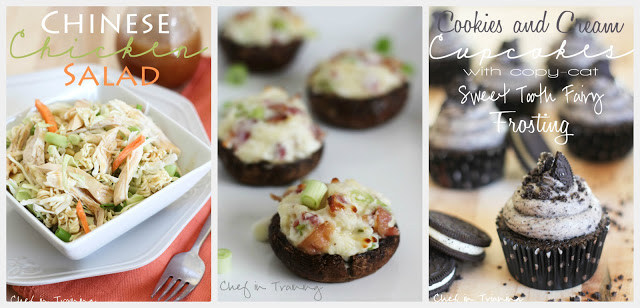 . . .
this post is sponsored by: