We do our fair share of entertaining and I'm always very conscious of those who I know are on diet restrictions or are simply trying to watch their weight. I try to always have a healthy option (don't be so shocked) as well as a big bowl of cut up fruit to keep things light and fresh.
…And then I have a big, fat dessert to finish off the meal for those who aren't trying to watch their weight.
The last time I had a BBQ we grilled burgers and I looked around the room and I was the only one eating it with a bun. So it's obvious that people are watching their girlish figures. This Summertime Caprese Chicken is perfect for entertaining or just for family dinner. And it's only 224 calories per serving.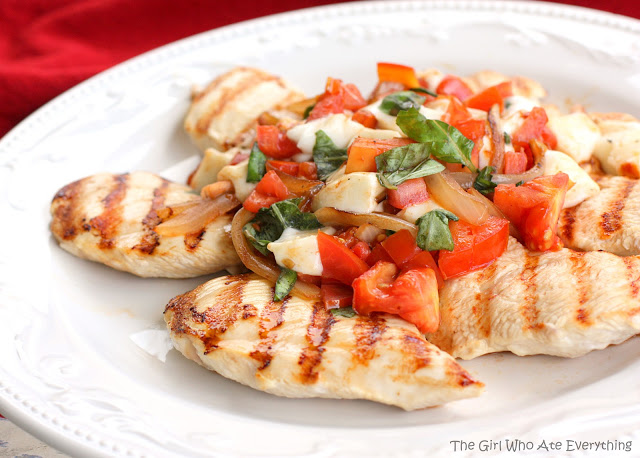 The chicken for this dish is marinated quickly in yogurt which makes it tender and moist. The onions are sauteed with balsamic vinegar and then tossed in with the tomatoes.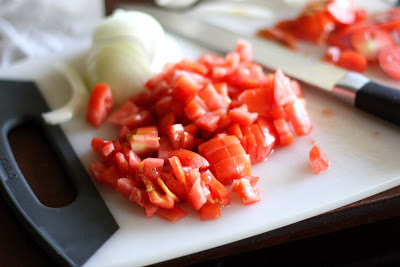 Tomatoes are gorgeous this time of year and if you're lucky enough to have a garden this dish is perfect to use them up.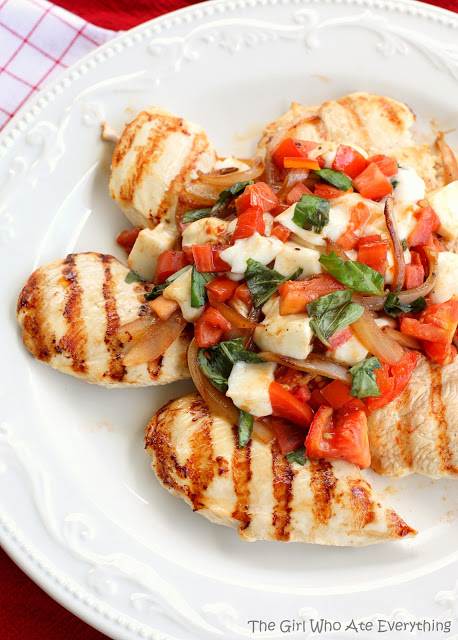 Add some diced fresh mozzarella and basil to complete it all. The cheese just starts to slightly soften from the heat of the onions and tomatoes. To die for!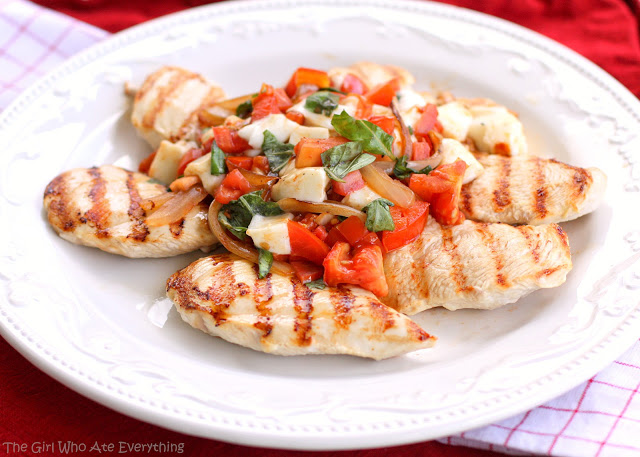 Summertime Caprese Chicken
Ingredients:
Chicken:
1 (8 ounce) container plain yogurt
3 tablespoons balsamic vinegar
8 thin-cut boneless, skinless chicken breast halves (about 1 1/2 pounds total)
Tomato-Mozzarella Topping:
1 tablespoon extra-virgin olive oil
1 medium-size onion, cut into 16 wedges
1/4 cup balsamic vinegar
2 tablespoons water
1 pound plum tomatoes, cored, seeded and chopped (about 4 cups)
1 teaspoon salt
1/2 teaspoon black pepper
8 ounces fresh mozzarella cheese (usually packed in water), cut into 1/2-inch cubes
1 cup loosely packed fresh basil leaves, chopped
Instructions:
1. For the Chicken: In a small bowl, whisk together the yogurt and balsamic vinegar until blended. In a plastic food-storage bag, combine chicken and yogurt mixture. Seal and turn the bag to coat. Marinate in the refrigerator for 20 minutes.
2. Meanwhile, heat a gas grill or grill pan to medium-high.
3. For the Tomato-Mozzarella Topping: In a large skillet, heat oil over medium heat. Add the onion and saute about 5 minutes or until onion is slightly softened and the wedges fall into pieces. Add the balsamic vinegar and water. Bring to a simmer. Reduce heat to medium-low; cook about 7 minutes until liquid is reduced and onion is tender.
4. Increase heat to medium-high and add tomatoes, salt and pepper. Cook for 2 minutes and remove from the heat. Let mixture cool for 2-3 minutes then stir in mozzarella cubes and basil gently.
5. Remove chicken from bag. Discard marinade. Gently rinse chicken and pat it dry with paper towels.
6. Spray grill with cooking spray or coat with oil. Grill for 6-8 minutes per side. Serve immediately. Serve chicken on platter with topping in the center and let guests spoon their topping on.
. . .
oh my goodness… i'm hungry now! thanks so much Christy, it's so fun to have you as our guest today. we are big fans of The Girl Who Ate Everything and we know you will be too!!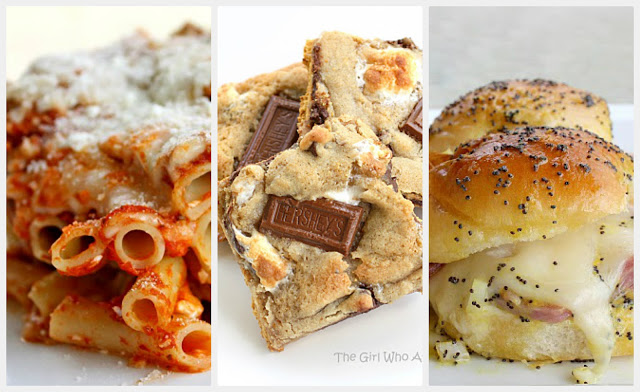 . . .
this post is sponsored by: