The most spooktacular time of year is just around the corner and we couldn't be more excited! Because of this, we've teamed up with our friends at Get Away Today to share one of our favorite Disneyland Halloween time treats. Not only is it easy to make, but it tastes so good you'll scream! Keep reading to see how you can make these Mummy Mickey Mouse Crispy Treats at home.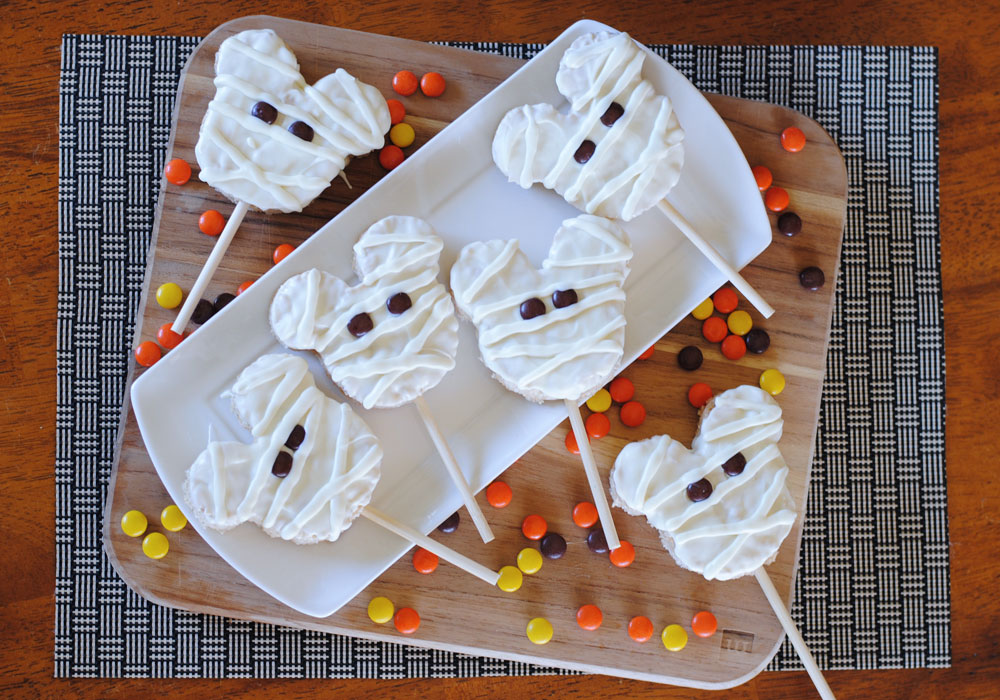 If you haven't booked your vacation to visit Halloween Time at the Disneyland Resort, you still have time! Luckily, Get Away Today still has hotel specials and ticket discounts just in time for the frightful fun. Keep reading for an exclusive promo code to use on your next Disneyland vacation, just for Eighteen25 readers.
When you visit during Halloween Time at the Disneyland Resort, you'll be able to enjoy all of the delicious treats and eats! Foods like Caramel Apples, Pumpkin Spice Churros and Jack Skellington Cake Pops make our mouth water just thinking about them. Fortunately, you can bring a little bit of the magic from Disneyland home with you with this delectable Mummy Mickey Mouse Crispy Treats recipe. Every boy and ghoul is sure to love it!
Mummy Mickey Mouse Crispy Treats Recipe:
(Affiliate links are included in this post. If you make a purchase using them we make a small percentage. Thank you!)
* 1 Bag of Marshmallows
* 6 Cups of Rice Krispies Cereal
* 1 Stick of Butter
* Pack of Parchment Paper
* Witch's Cauldron (Optional)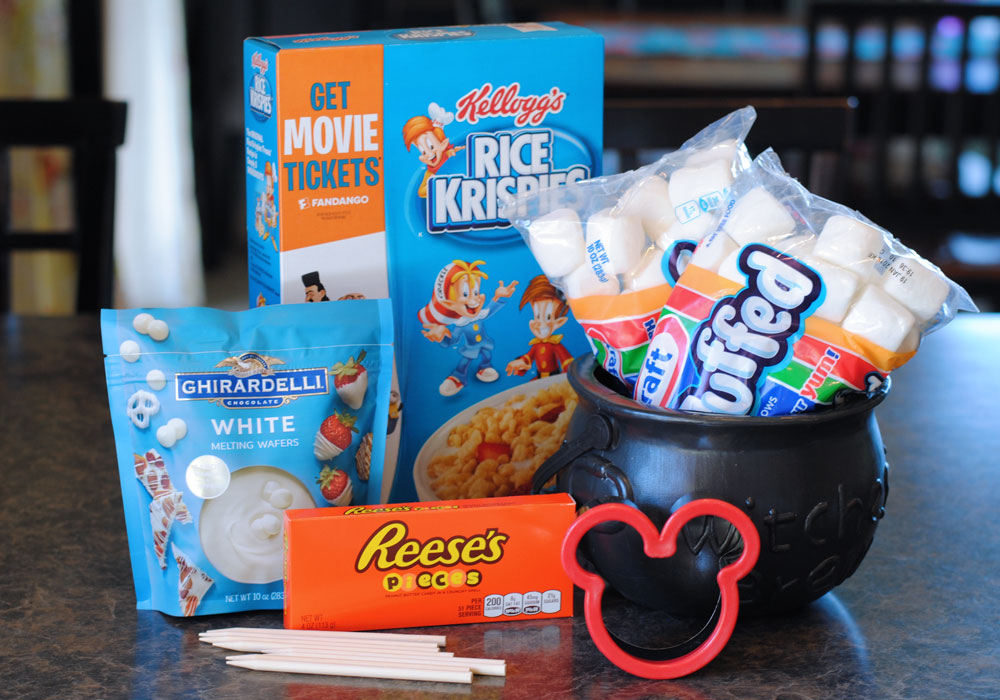 To start, you'll want to make a batch of Rice Krispies Treats. I typically make mine in the microwave, but you can make them however you'd like. To make them in a microwave, I melt one stick of butter in a large microwave safe bowl. After everything is melted, I add marshmallows to the bowl. The butter will allow the marshmallows to melt. Leave them for about two minutes, while stirring after the first minute.
Once everything is melted, you'll want to add about six cups of Rice Krispies cereal to the bowl. Combine all of the ingredients until they are coated evenly.
After this, you'll want to grease a 9×13 inch glass baking dish with butter. Then, scoop the Rice Krispies Treats mixture into the baking dish. You'll want to press it firmly into the dish and then smooth out the top once you're finished. I've found that it's helpful to put a little bit of butter on your fingers to prevent the marshmallow from sticking to your hands. However, if you do have any left over, it's a great opportunity to lick your fingers clean!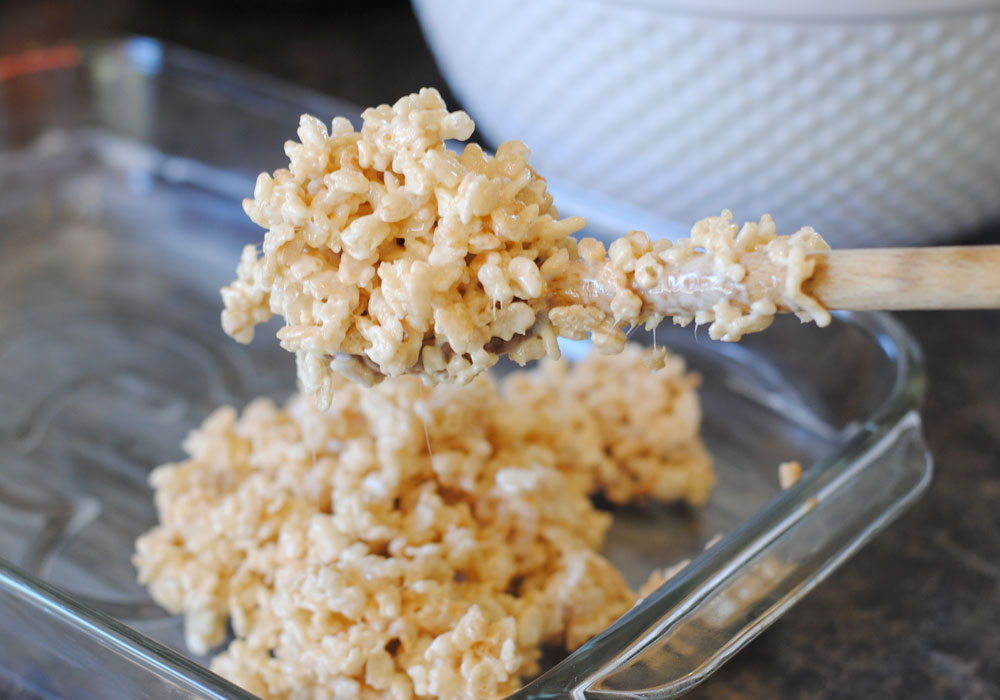 Once you're done placing the mixture in the dish, you'll want to place the dish in the fridge for about 30 minutes to let it cool. While you wait, cover a cookie sheet pan with parchment paper.
Once everything has cooled off, pull them out of the fridge. Then, use the Mickey Mouse cookie cutter to shape the treats. I got mine at Disneyland, however, you can find them online on Amazon. To be honest, this is my most used cookie cutter. We absolutely love it at my house!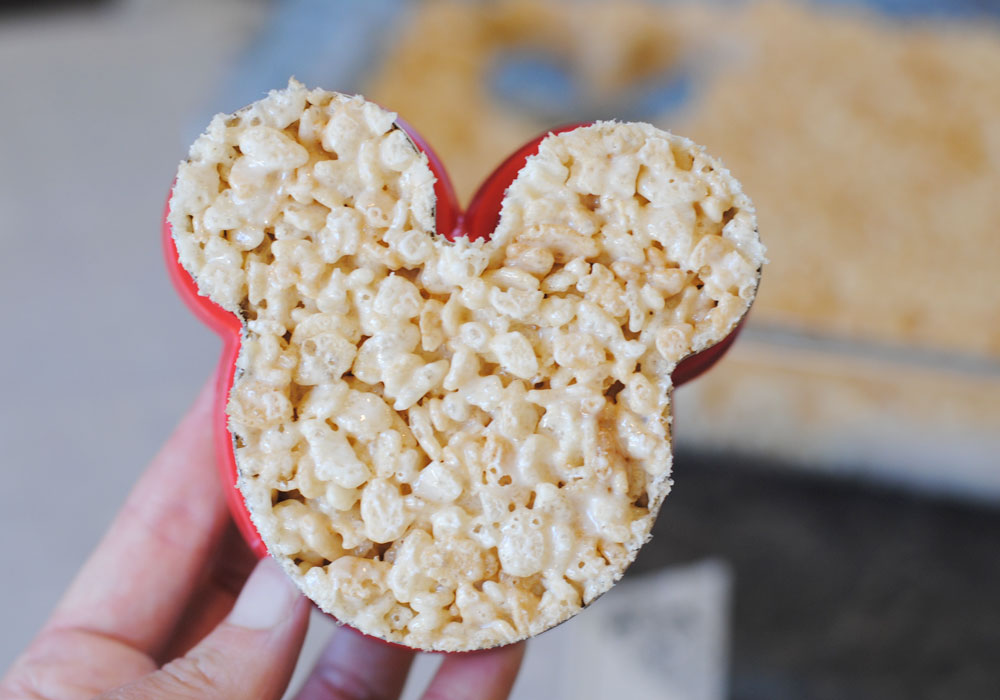 Once you're finished, you'll want to put the Mickey shaped treats onto the parchment paper. Once you have placed as many of the Mummy Mickey Mouse Crispy Treats that will fit, start sticking them with the caramel apple sticks. You will then want to return them to the fridge for another 10 minutes.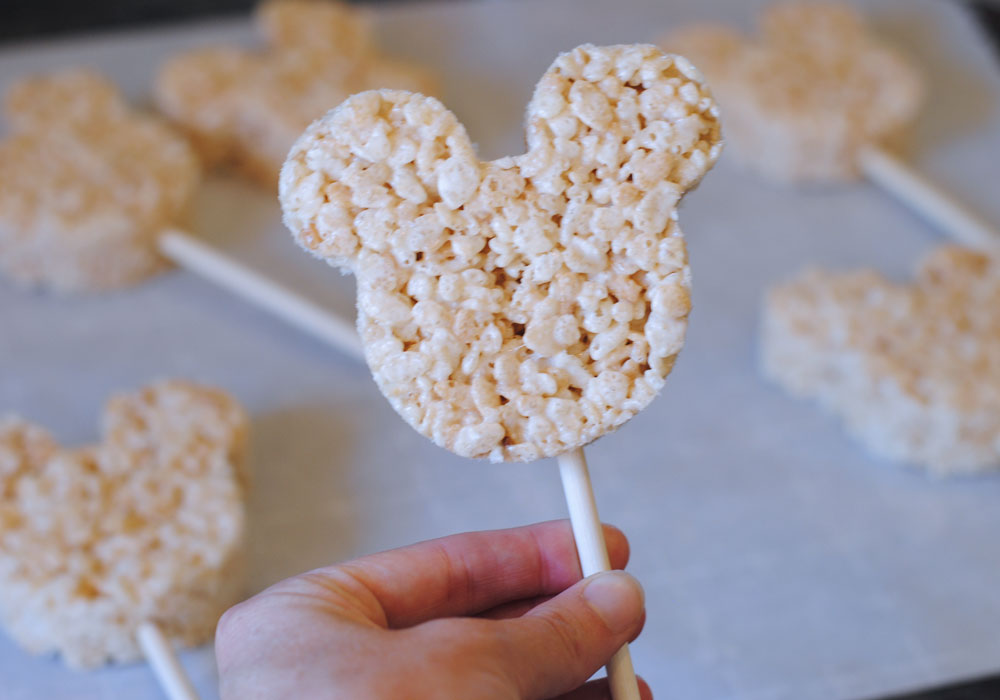 If you don't want to make these treats with the sticks, no worries! They serve them this way at Disneyland, but they are just as delicious and adorable without them.
Now, you'll want to place ¾ of the white melting chocolate in a microwave safe bowl. Make sure to set the power to 50 percent and melt it for one minute. You'll want to continually stir and repeat the process until the chocolate is smooth and creamy.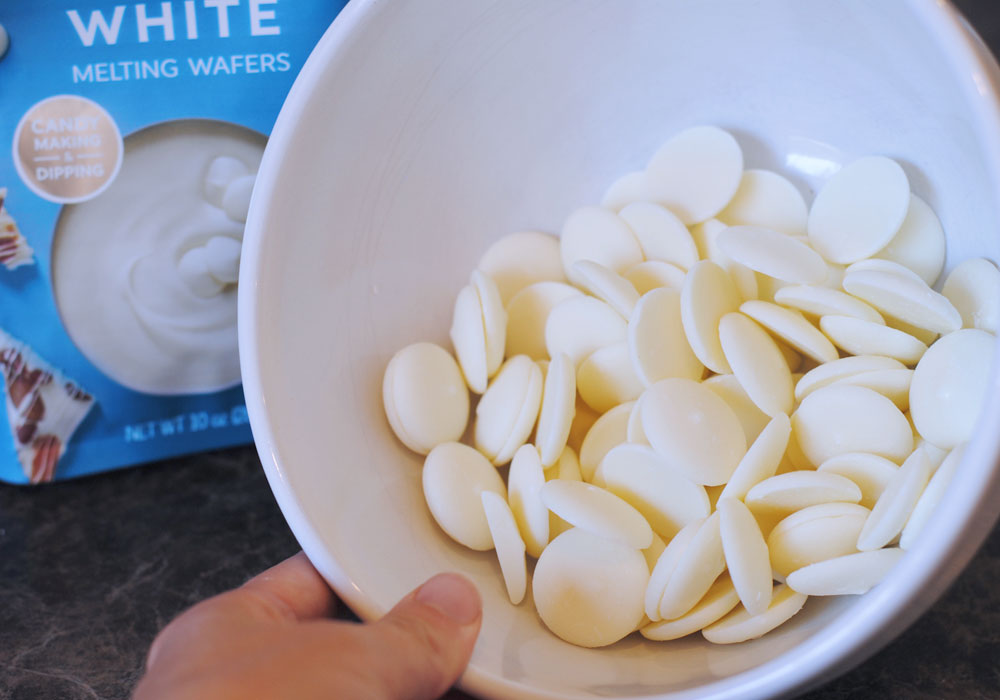 Next, you'll want to pour the chocolate onto a small plate. After, you'll need to dip each Mummy Mickey Mouse Crispy treat into the chocolate until it coasts the entire treat.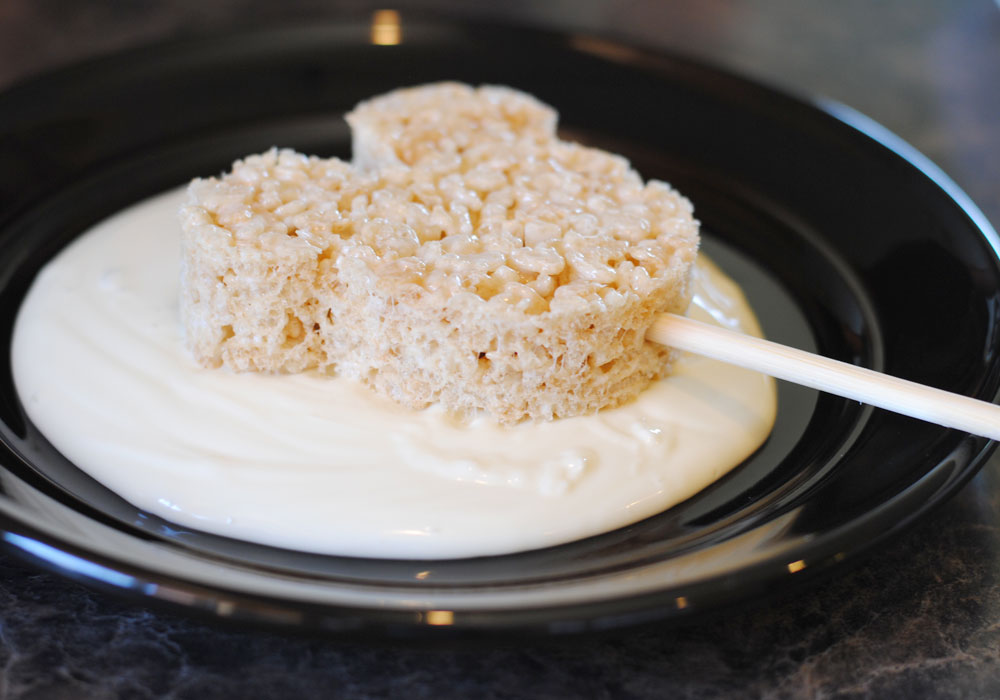 After each Mickey is dipped, quickly place them back onto the parchment paper and add two brown Reese's Pieces for the eyes. You'll want to do this before the chocolate hardens so they'll easily stick.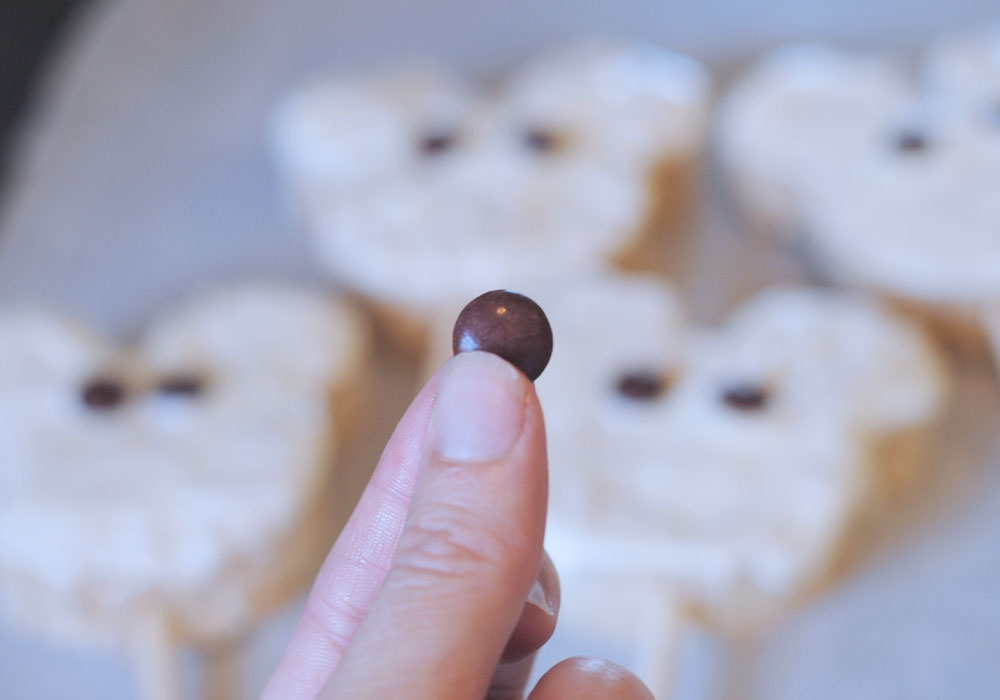 You'll then want to melt the last ¼ of white chocolate in a microwavable bowl and place it in a frosting bag. Once you cut the tip of the bag, you'll want to spread the chocolate all over the Mickey Mouse treat to create the mummy wraps. I used the same pattern on all of the faces, however, you can get creative!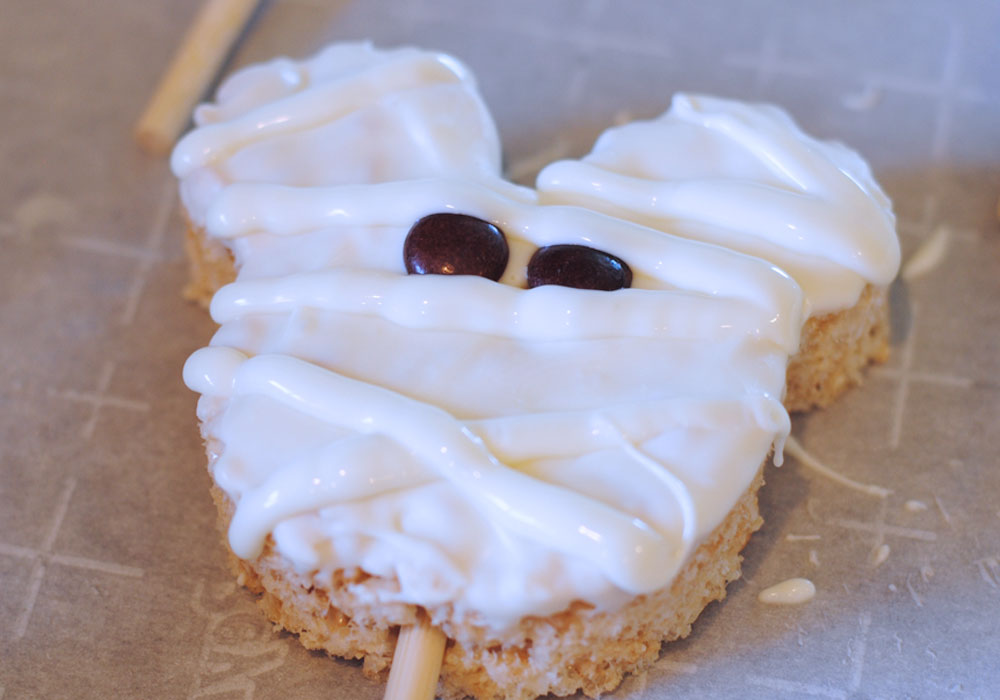 It doesn't take long for the chocolate to harden on the Mummy Mickey Mouse Crispy Treats. Once the chocolate is solid, you can serve them to ghouls, witches and monsters alike! As a tip, if you want to store them, make sure you place them in a sealed container. Just make sure not to stack them.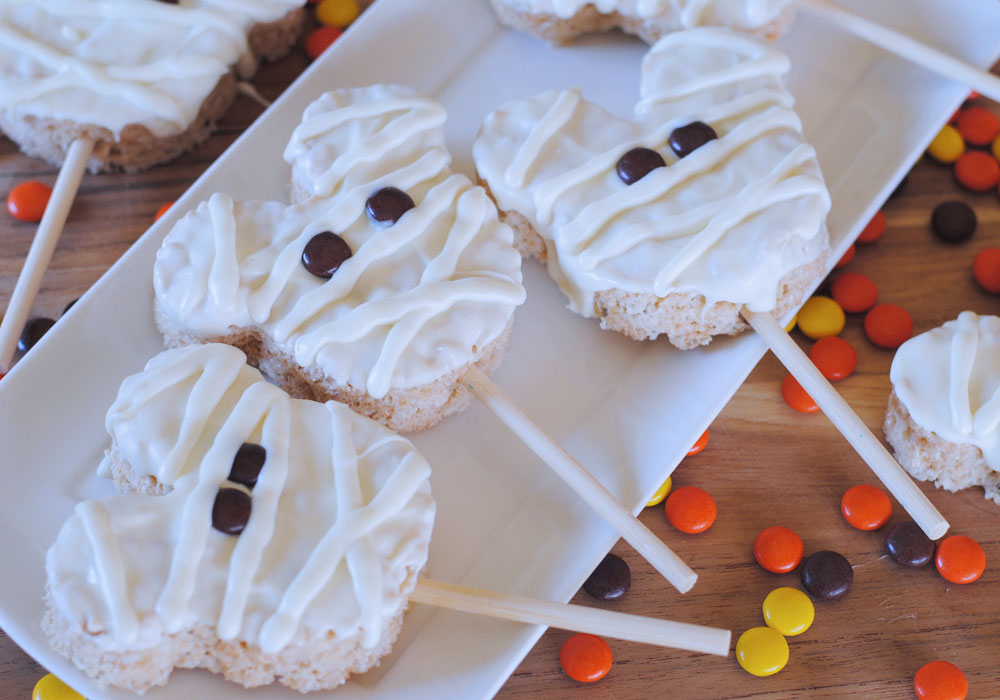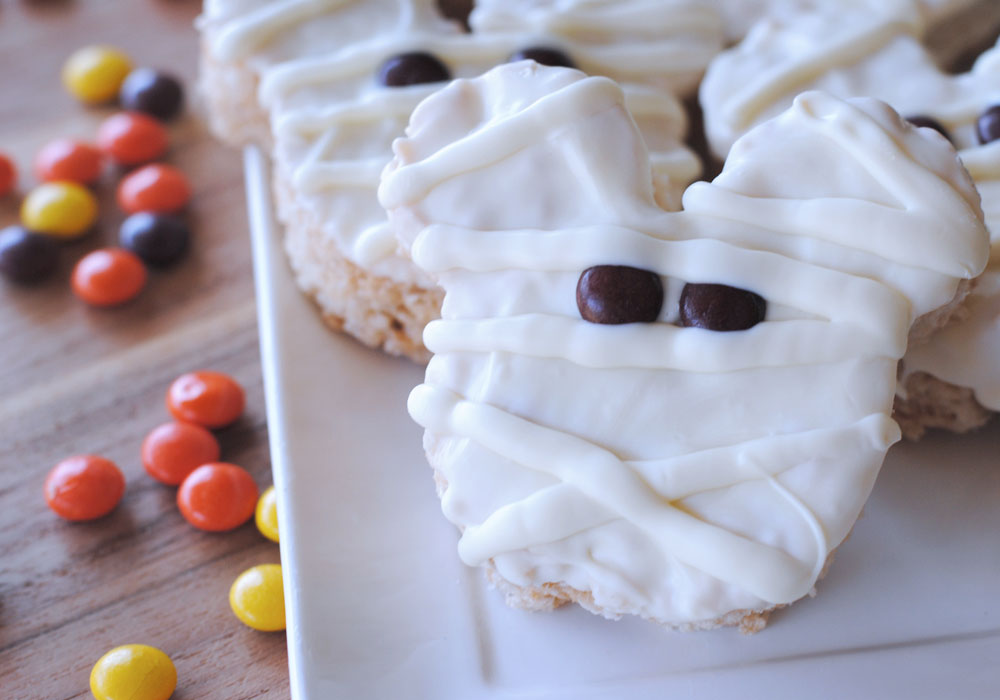 We hope you love this eerie and delicious recipe! Of course, if you want to try one for yourself at the Disneyland Resort, be sure to book with Get Away Today. With hotel specials, discount Disneyland tickets and a flexible Layaway Plan, you'll be able to make this Halloween the best one yet.
Plus, when you visit during Halloween Time at the Disneyland Resort, you'll be able to enjoy seasonal ride-overlays, festive décor, limited-time treats and so much more! To book your next Disneyland vacation, be sure to visit getawaytoday.com or call 855-GET-AWAY to speak to a travel expert directly. Don't forget to mention promo code Eighteen25 to get an additional $10 off your hotel and tickets vacation package. Let them know that Eighteen25 sent you!

Check out the Packed with Fun Blog HERE
and follow along with Get Away Today on Instagram HERE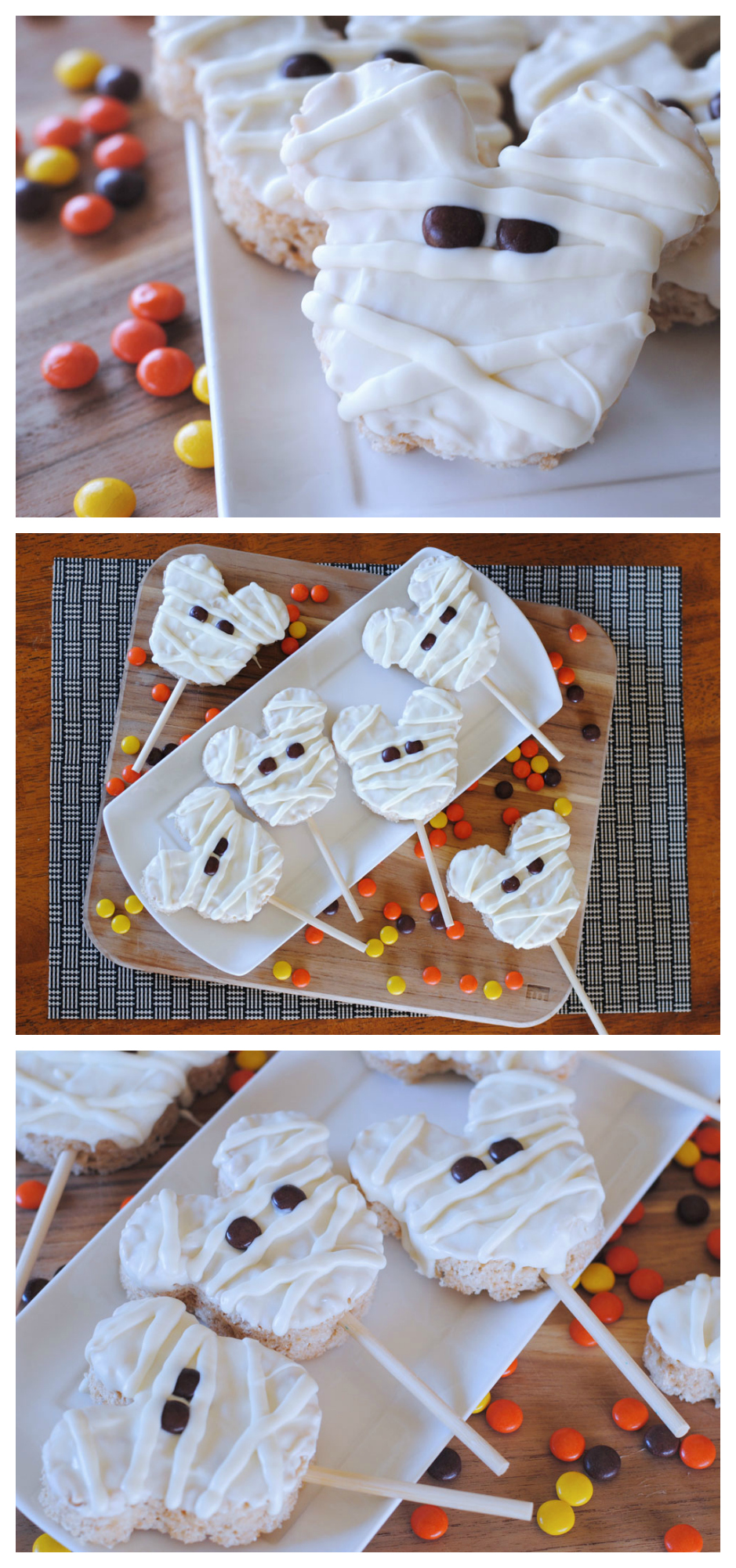 Here are a few more Halloween posts you'll want to check out:
Use Promo Code: Eighteen25 at Get Away Today to receive $10 off any southern California Vacation that includes at least 2 nights hotel stay and 2 tickets.