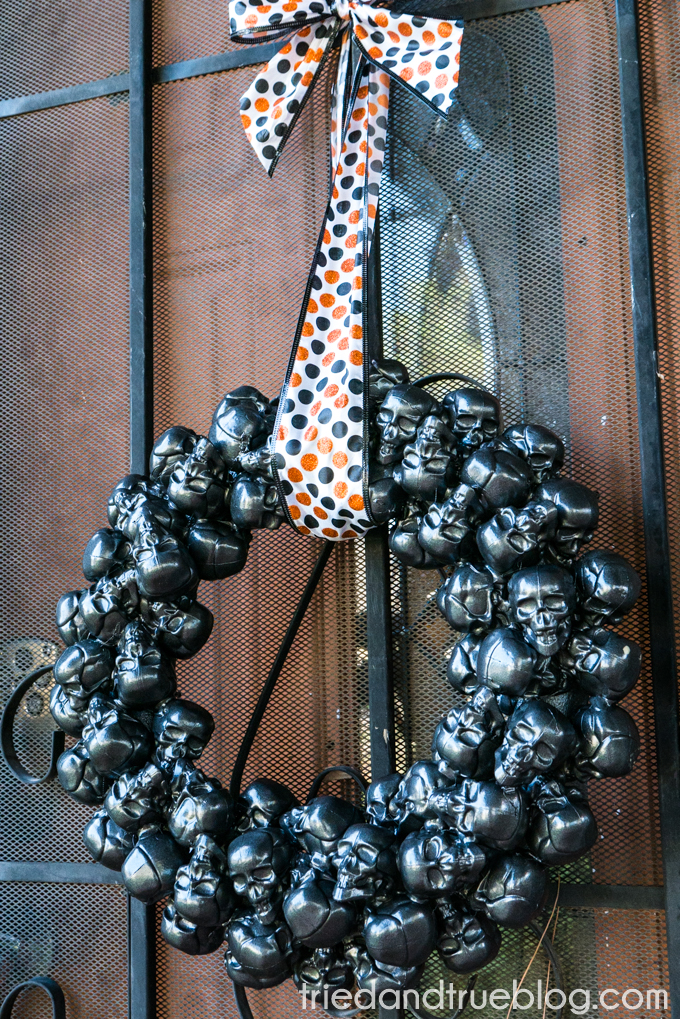 There are few crafts I enjoy making more than Halloween wreath. Seriously, I've made so many wreaths over the years and I love each and every one of them! That being said, This Metallic Skulls Halloween Wreath might just be one of my absolute favorites. It's minimal and modern from a distance with just the right amount of spookiness when you get close up. Of course, it doesn't hurt that you can get almost all the supplies from a dollar store!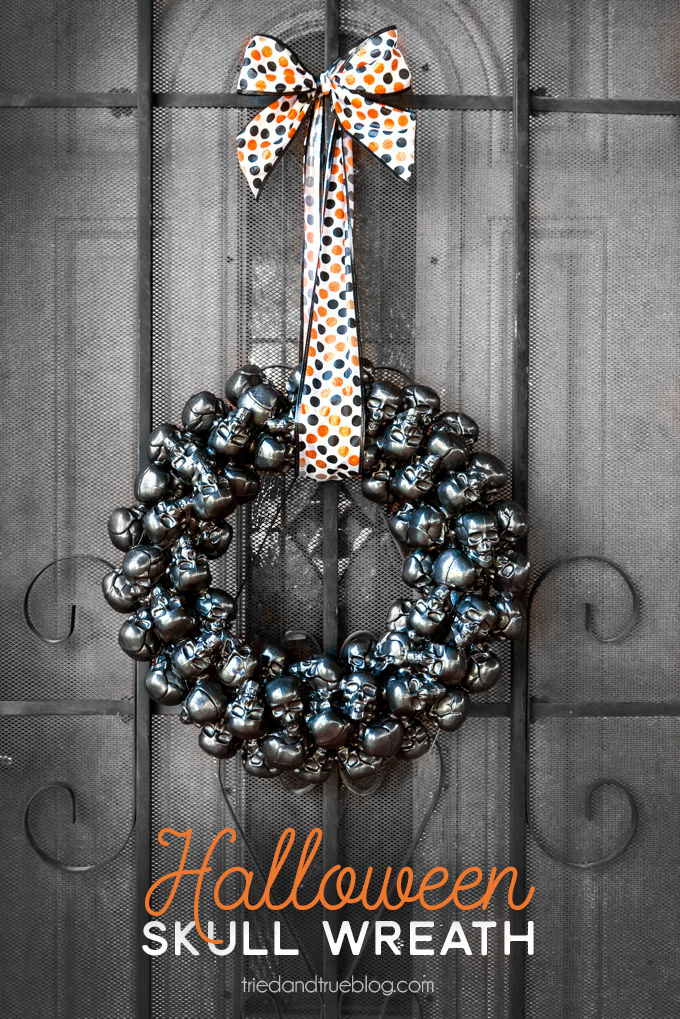 This post contains affiliate links.
Metallic Skulls Halloween Wreath
Supplies: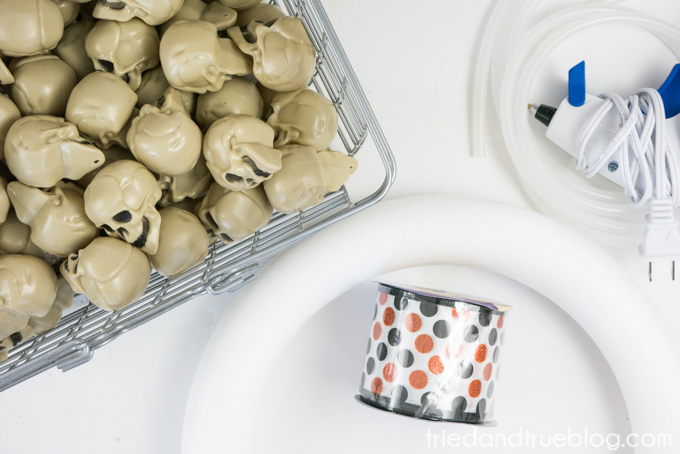 Step 1. First things first, you're going to assemble all your supplies on a table in front of you…and then you're going to grab a beverage of choice and turn on a good movie because gluing the skulls in place is going to take a while. But I promise it's worth it! Begin by placing hot glue on the back of a skull and then placing it on the wreath, making sure to hold in place long enough for the glue to harden. Don't worry if it feels like the skulls aren't really secure on the wreath. By the time you finish, there's going to be so much glue on the wreath those skulls aren't going anywhere!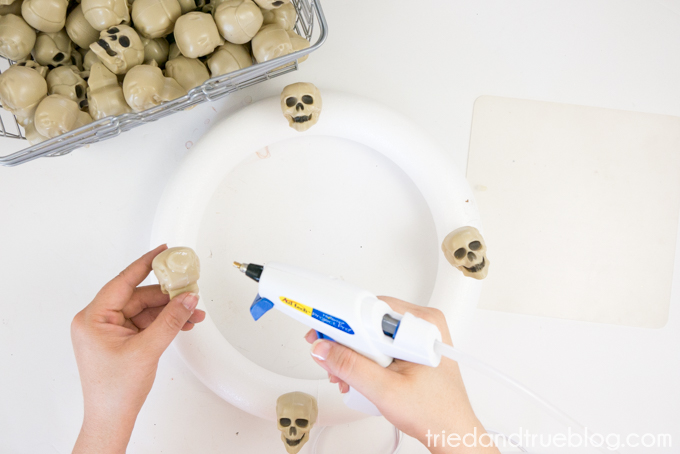 Step 2. Now, glue a second skull on all four corners, positioning them closely to the first set of skulls.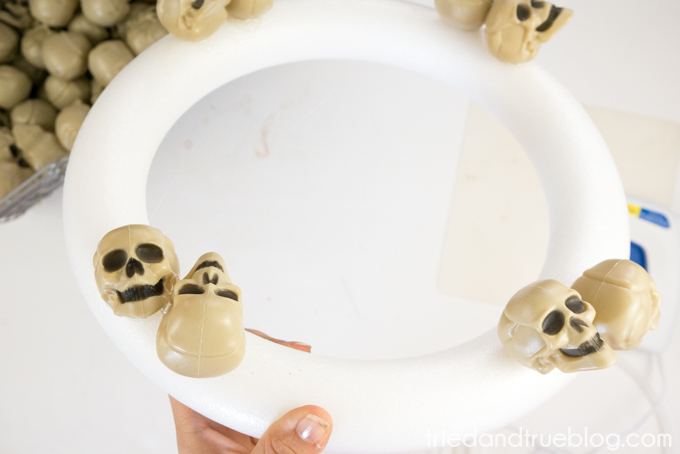 Step 3. Continue adding the skulls until the entire front of the wreath is covered.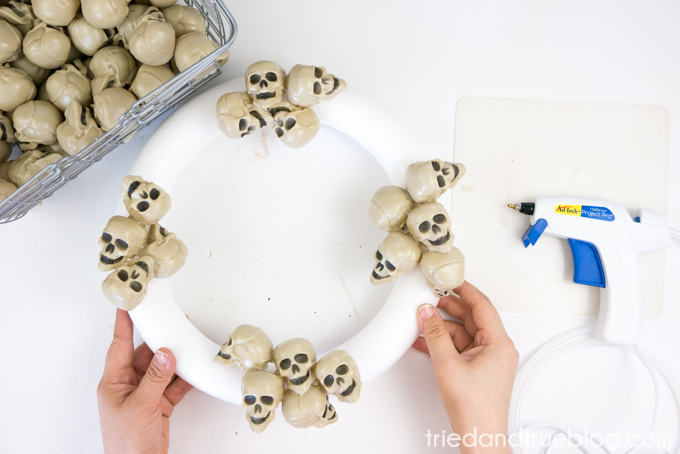 Step 4. Fill in the outer and inner edge with skulls until the majority of the wreath is covered.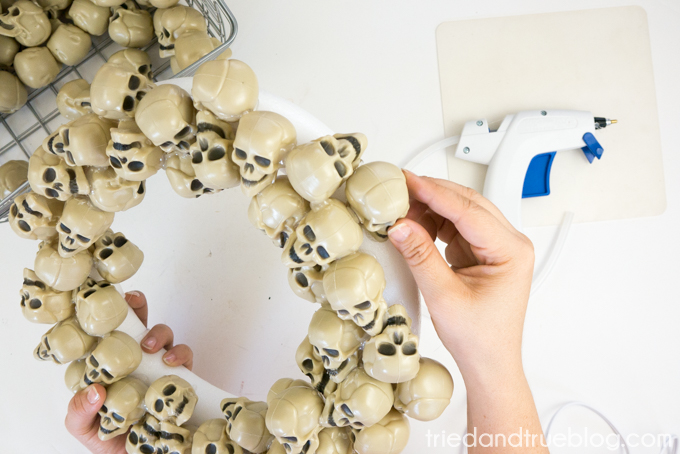 Step 5. Now that all your skulls are in place, you have to decide if you want to keep your wreath au naturale or go full glam with metallic paint. I chose spray paint!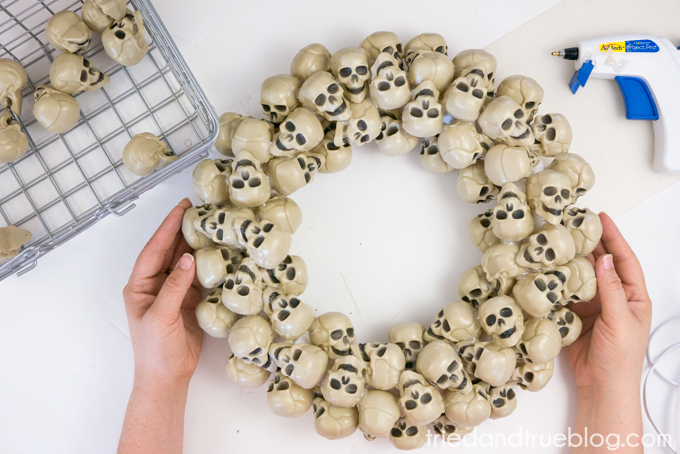 Step 6. Using light coats and allowing for full drying time, apply your desired spray paint color over the entire wreath.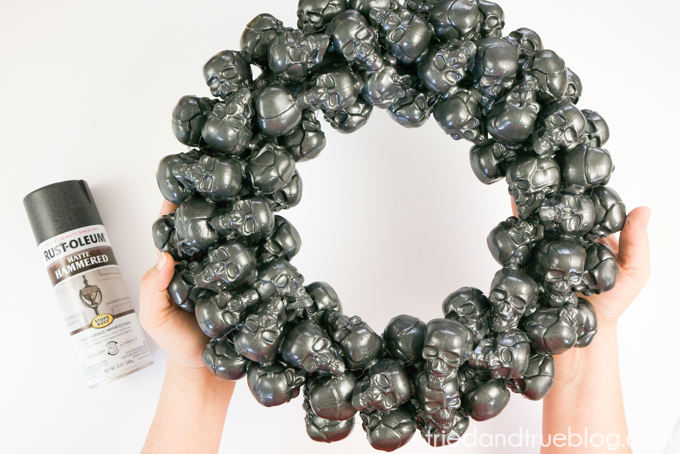 My favorite thing about this Metallic Skulls Halloween Wreath is that from a distance it looks like just a normal black wreath but when you get closer, skulls, skulls, and more skulls! Thanks for letting me join in on the Spooktacular fun, Eighteen25 ladies!
Want more Tried & True Halloween tutorials?
A fun and spooky Zombie Hands Halloween Wreath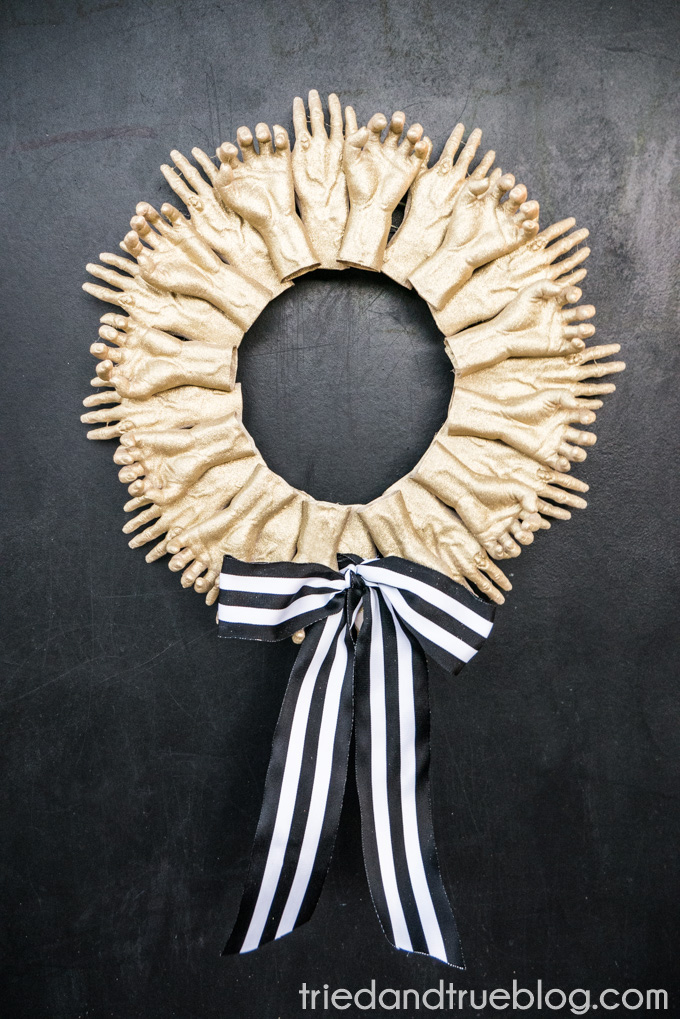 Check out this super easy way to make an impressive Halloween Pumpkin Archway!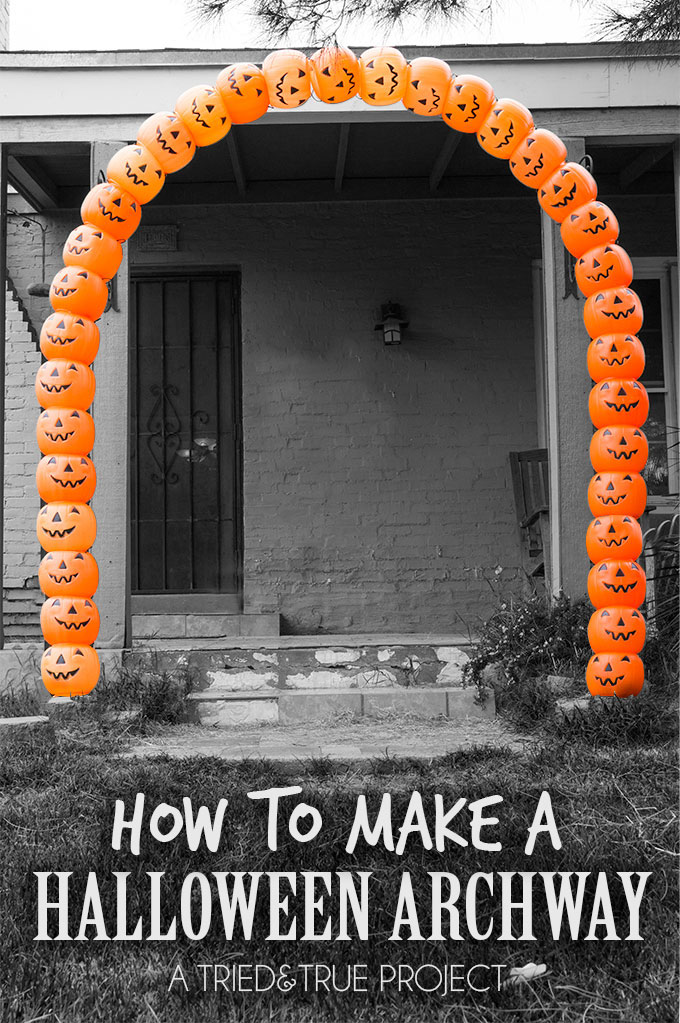 Make these fun Vintage Halloween Tassels to decorate your house this year! Easy to make and customize!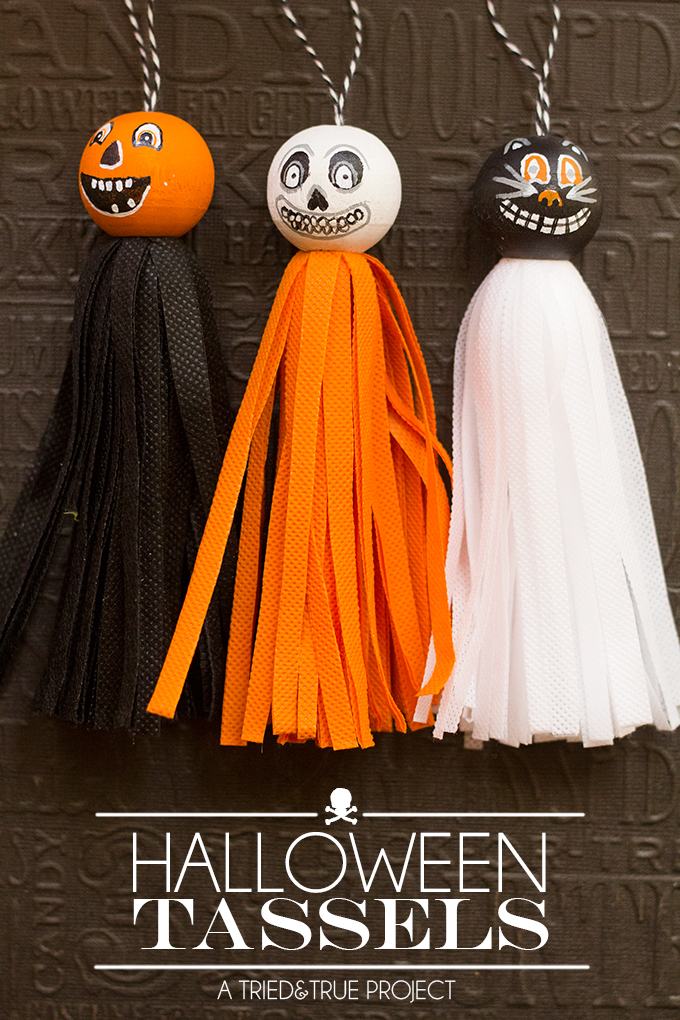 Follow along with Vanessa on her BLOG | INSTAGRAM | FACEBOOK | PINTEREST
Here are a few more Halloween projects to check out: