Hi friends!! I'm Cheryl, aka TidyMom and I'm super excited to be a part of the Spooktacular September this year! There are some crazy talented people out there and I'm loving all the fun Halloween ideas! I'm here today to share an easy, fun, creepy brownie treat with all of you!! Mint Vampire Brownies!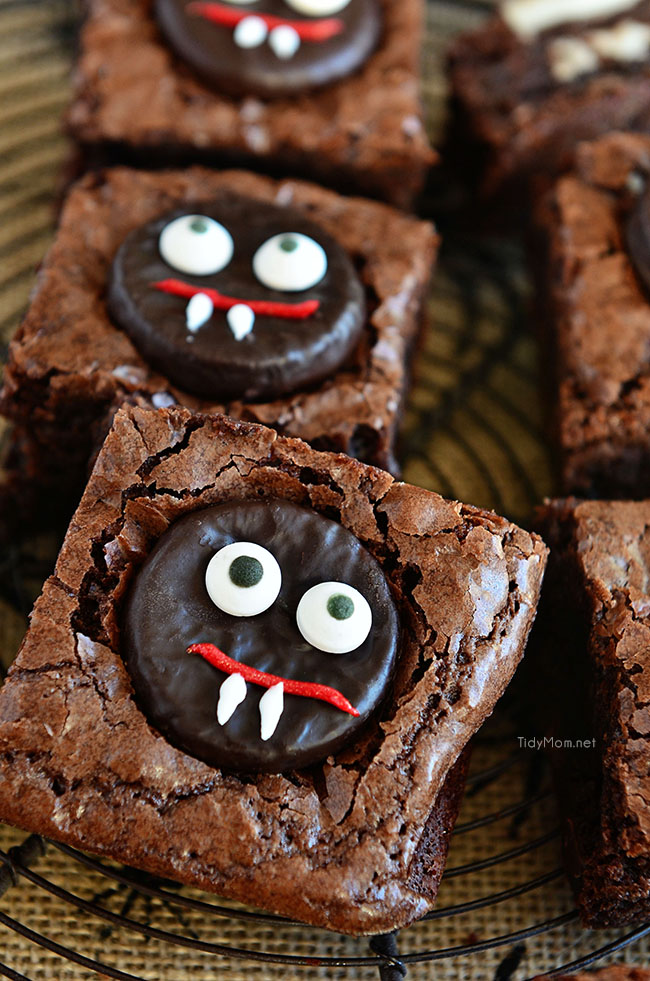 Halloween is one of my favorite holidays… the creative costumes, trick-or-treating, parties and of course the fun food! These easy mint Vampire Brownies are sure to please the kids and adults alike.
To get the ball rolling this year, I put on my festive halloween baking hat and made these Halloween brownies, idea courtesy of one Ms. Martha Stewart. Halloween treats are so fun to make, whether you are whipping up Halloween cupcakes or getting ready for a Halloween party, the ideas are endless. As a Mom of two, now grown girls, I have made lots of fun Halloween food. I like to try to keep the food kid-friendly, not scary, and these brownies fit the bill!
Ready to make your own Vampire Brownies? Read on!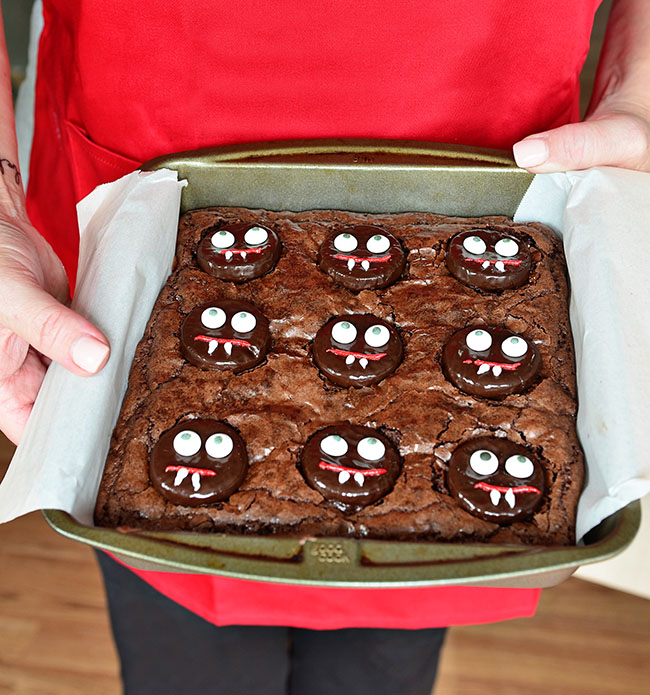 [affiliate links included]
Vampire Brownies Recipe
These Vampire Brownies start with your favorite brownie mix or recipe prepared and poured into an 8 or 9 inch square pan.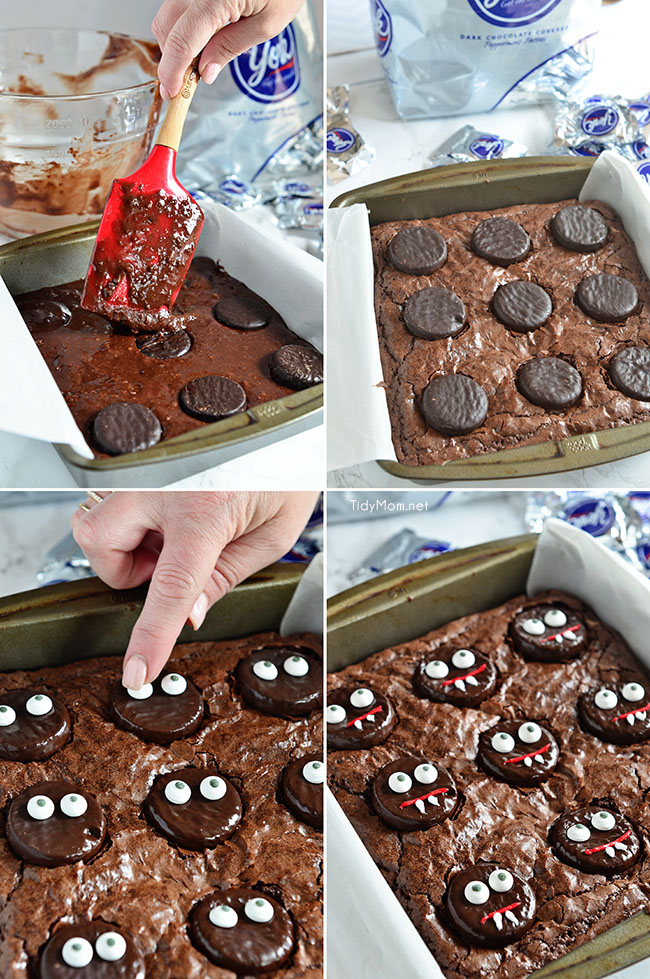 Press 9-16* miniature chocolate peppermint patties into the batter. *I used 9, but if you'd like to cut smaller brownies, you could squeeze in 16. Use your spatula to cover the peppermint patties with brownie batter. Bake according to directions.
Let the pan of brownies cool about 30 minutes on a wire rack, then top brownies with another 9-16 miniature chocolate peppermint patties. Let them cool another 15 minutes. Then decorate with candy eyes and icing. The chocolate on the peppermint patties will then be a little warm and soft, allowing the candy eyes to "glue" once they cool completely.
Place decorated brownies in the fridge for about 20 minutes to set. Remove brownies from pan, cut and enjoy!!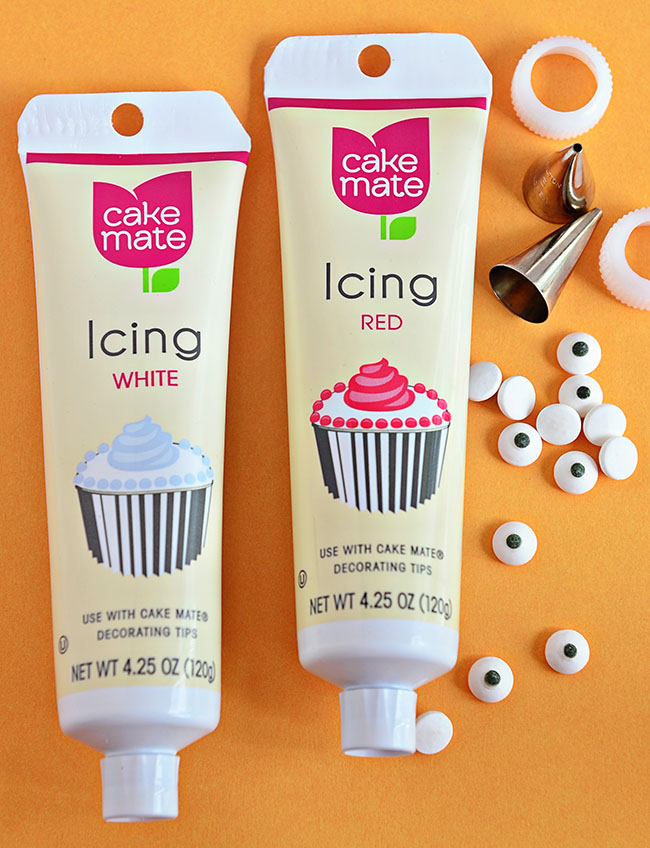 This is the icing I used for the mouth and fangs, although I did not buy their decorating tips. I assumed my tips would fit – they did not, but I made do by holding them onto the tube. It was a little messy and harder to work with, but since I only had 9 vampire faces to draw, it wasn't too bad. But I would recommend the small pen like tubes, or if you get these, be sure to get the tips that they sell too.
Serving these vampire brownies is perfect for a halloween party! Our family and friends got a kick out of them. Don't have kids, or no need for a vampire brownie? lol…………you cant beat peppermint patties + brownies. Make a batch, you wont be sorry!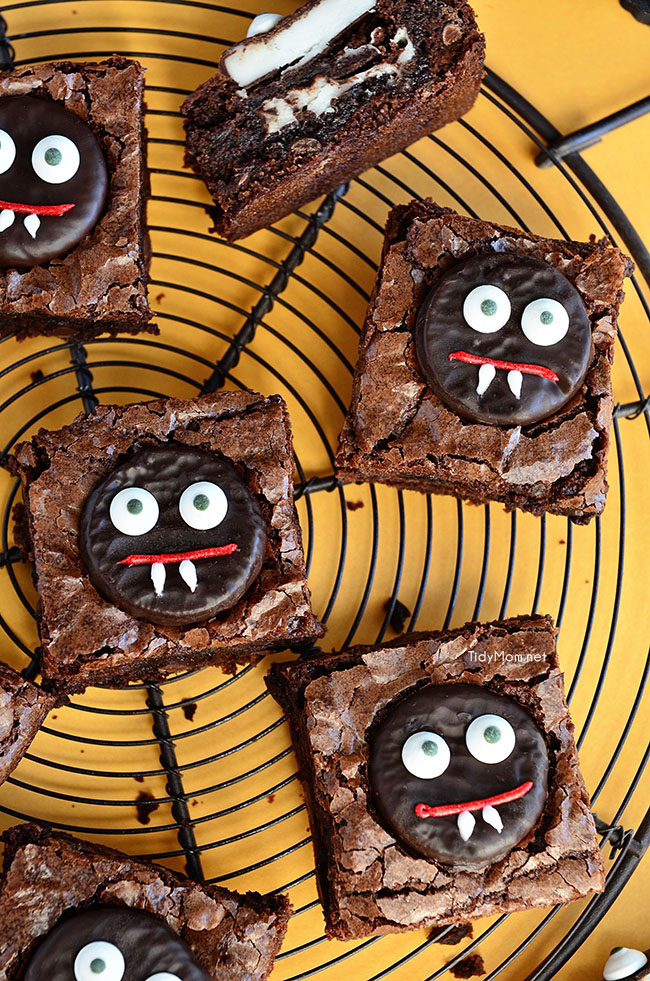 Now, if you'll excuse me………. I'll be the one with my head buried in a bag of Halloween candy for the next few weeks 😉
I hope you'll have as much fun enjoying these brownies as we did! I would love for you to visit me over at TidyMom.net where I like to focus creating a neat life, creativity and of course food!
Here's a peek at some my past Halloween projects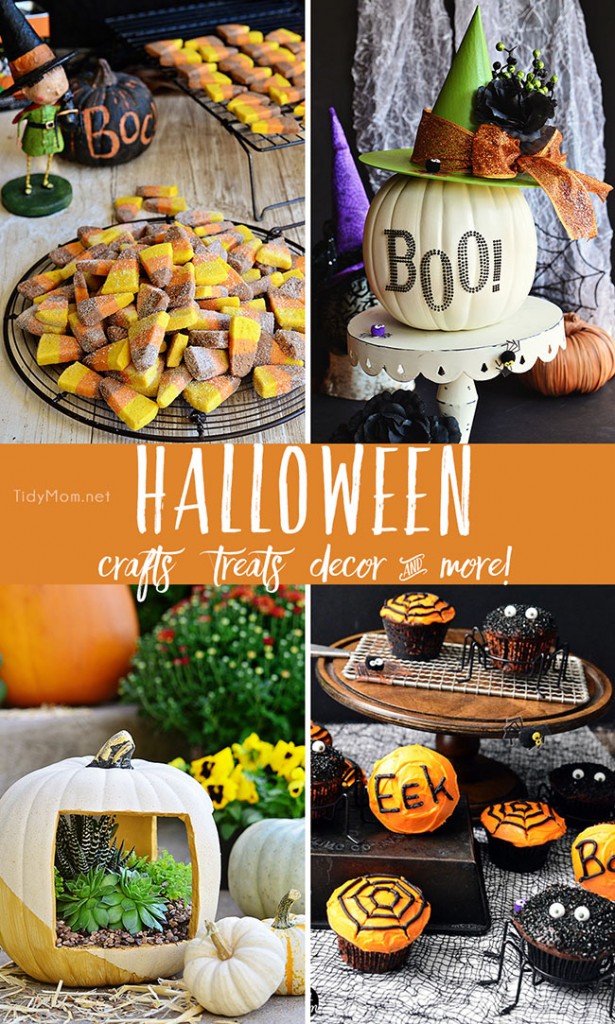 Again, big thanks to Jen and Jodie for letting me stop by today and share this fun recipe with you!
I'd love for you to follow me
TidyMom | Facebook | Pinterest | Instagram | Twitter | Google+ | and TidyMom on Snapchat

Here are a few more Halloween treats to check out: