Hello eighteen25 readers, it's Crystal from
A Pumpkin & A Princess.
I can't even express how excited I am to be here today! I've been following Spooktacular September since I first discovered eighteen25 and look forward to all the creative ideas year after year. Jen, Jamie, and Jodie are
the sweetest
and I'm so glad they asked me to share a Halloween idea with you.
[affiliate links included]
If you've ever been to my blog you know that I'm all about sweet treats. I love baking and creating holiday treats for my family. This Monster Popcorn Munch is one of our favorites! We make it every year for our Halloween party and of course to enjoy while watching spooky Halloween movies (insert werewolf howl here). The best part about this recipe is that you can add any mixings you'd like. During Christmas time we usually toss the popcorn with white chocolate then add white & red peppermint andies and Christmas M&M's to it..mmm so good! This popcorn is so versatile for just about any flavor and color theme you'd like. This year we added the Candy Corn M&M's..yum!
1/2 c popcorn kernels
1/2 c orange candy melts
1/2 c black candy melts
1/2 c candy corn M&M's
1/2 c candy corn
Step one: cover a 13×9 baking sheet with waxed paper. Make popcorn and lay a single layer on covered baking sheet.
Step two: melt candy melts in separate bowls over a double boiler or in the microwave. Stir frequently until completely melted.
Step three: pour candy melts into disposable piping bags or thick ziploc bags. Use a napkin or towel to hold the bag if it's too hot. Snip off the tip of the bag and drizzle candy melts onto popcorn. I usually drizzle the black candy melts first, add the candy, then drizzle the orange candy melts on top. We used about 1 tablespoon of edible eyes. Allow to cool then break apart and enjoy!
This would also make a great treat for kids to hand out to classmates. You could place them in a clear bag add a printable tag and you have a quick and easy Halloween treat!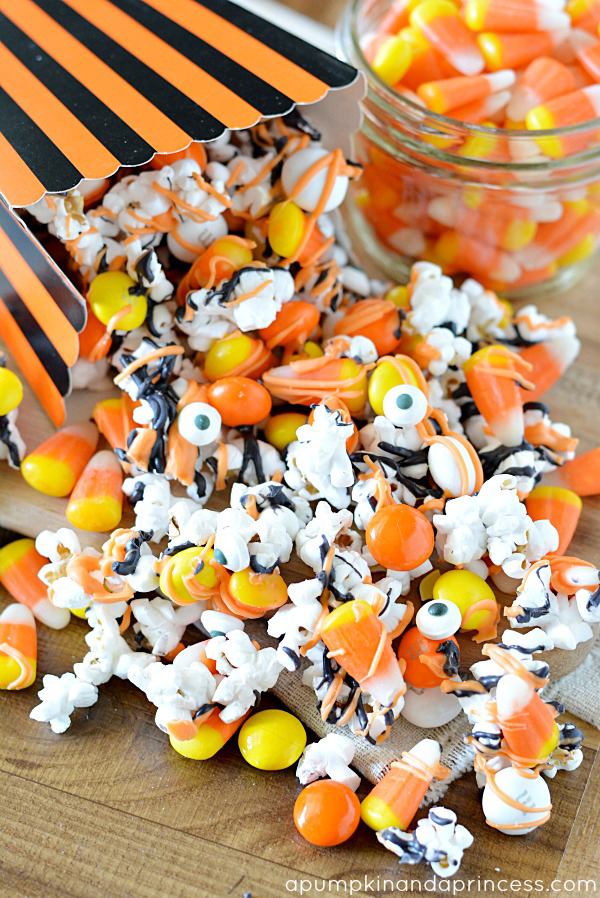 Thanks again to the eighteen25 girls for inviting me to participate in their fabulous Spooktacular September.
For more Halloween ideas check out my…