We recently partnered up with The Pencil Grip and they sent us some of their awesome Magic Stix and Kwik Stix to try out! We just happen to love all things art supplies and a box of brand new colorful markers and paints just make us smile. 🙂 These aren't just any art supplies though, these are some of the coolest out there and we are excited to share why we feel that way.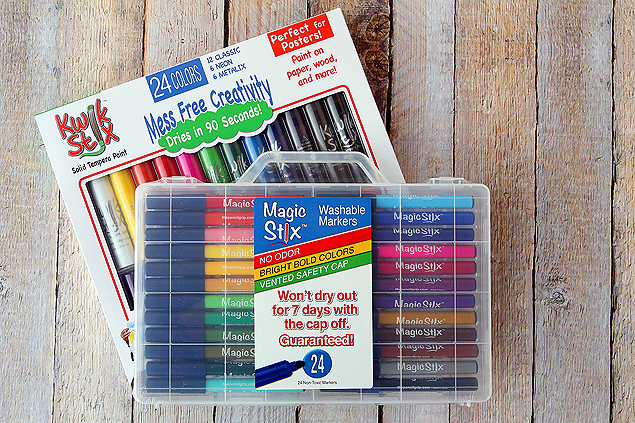 The Magic Stix markers come in all the bright and bold colors everyone loves. Kids and adults both can enjoy hours of coloring with these.
Here are some of the things (as a parent) I love most about the Magic Stix markers:
They are washable. That's a must in this house. I don't need stained clothes, hands covered in marker or the dreaded art work on the wall that doesn't come off with a wet cloth.
They are odorless and non-toxic! There's nothing worse than getting a headache from markers that smell so strong you can smell them from across the room.
They will not dry out with the cap off for 7 days! What? Yep, you read that right. I don't know of any other markers that guarantee that, do you? Love it!
They come in 12 and 24 packs and you can grab them on Amazon HERE.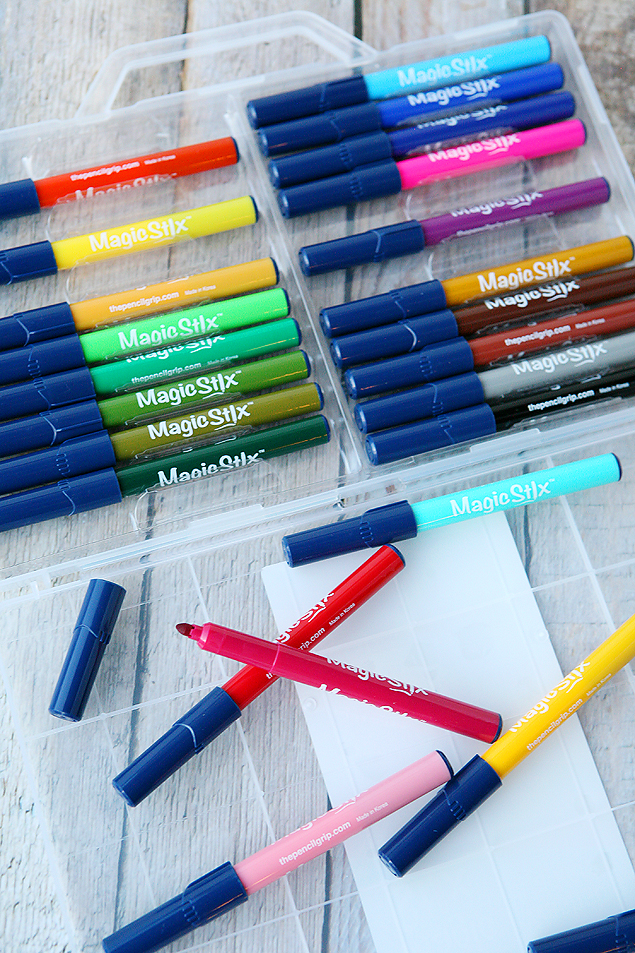 We thought they'd make a great birthday gift so we made a fun tag to go with them. Give them out to all you reMARKable friends. 🙂 You can download the black and white tag HERE or there's a colorful tag HERE. Then just print and trim your tag and tie it on with some ribbon or twine.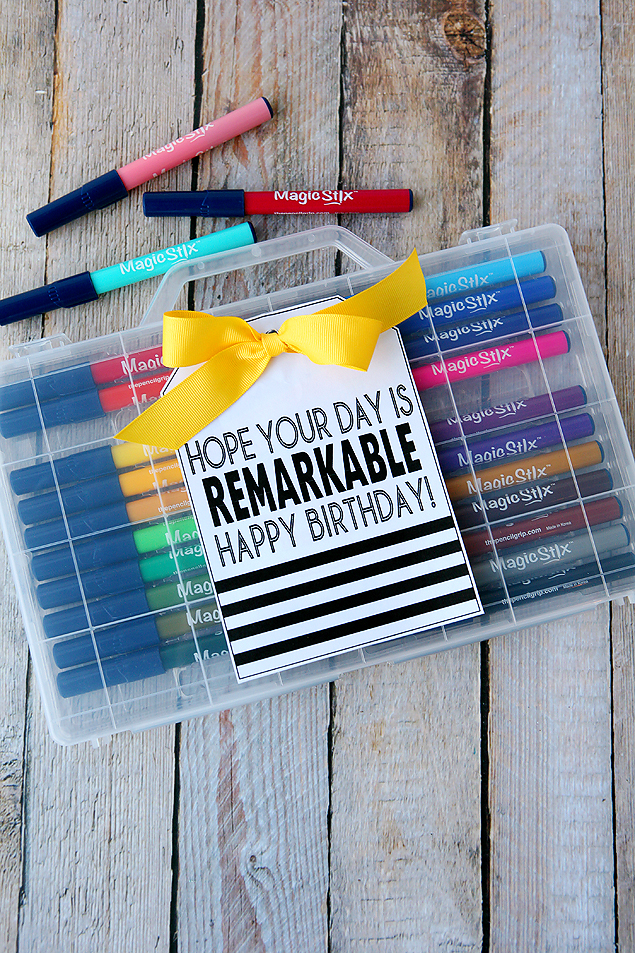 Now let's talk about the Kwik Stix. I'd actually never seen anything like these before. They kind of look like a glue stick, but they are paint! And get this… they dry in 90 seconds. How cool is that? My kids love that they don't have to wait forever for their art to dry and I love it because it makes painting a lot less messy.
You can use the Kwik Stix on wood, canvas, posters, cardboard, aluminum and more. They are so much fun.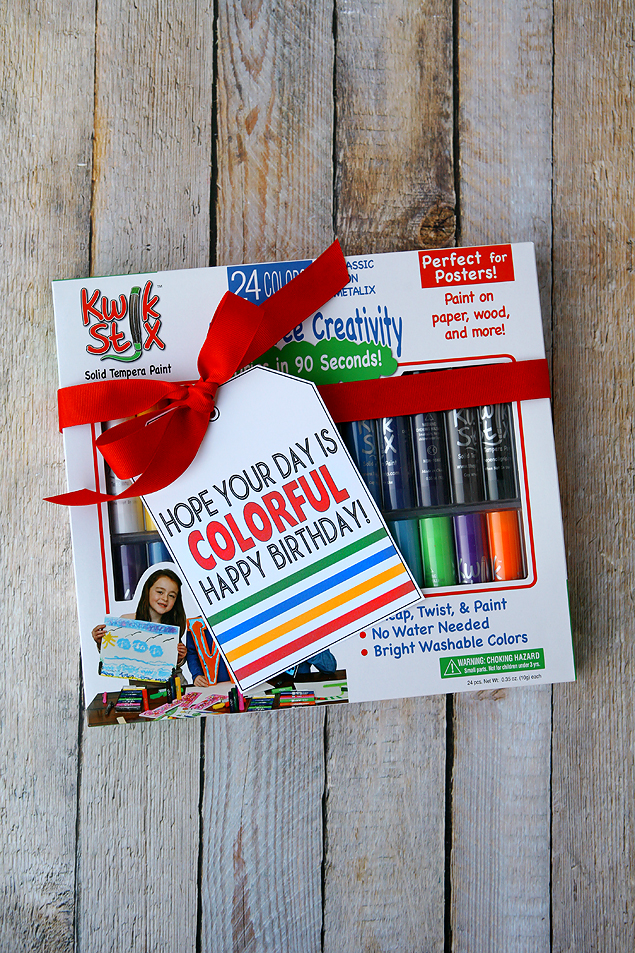 We made a fun tag for these too because they are going to be our go-to gift for friends this year. I like to find something that makes a great gift, buy a few of them and then get them all wrapped, then when the kids are invited to a party we already have the gift ready to go! I'm telling you it's the best to be ahead of the game for birthday gifts.
If you love the idea too you can grab Kwik Stix on The Pencil Grip's website HERE, Michaels, Walgreens or on Amazon HERE. (Check out those great reviews on Amazon while you are there.) You can also grab our printable tag HERE.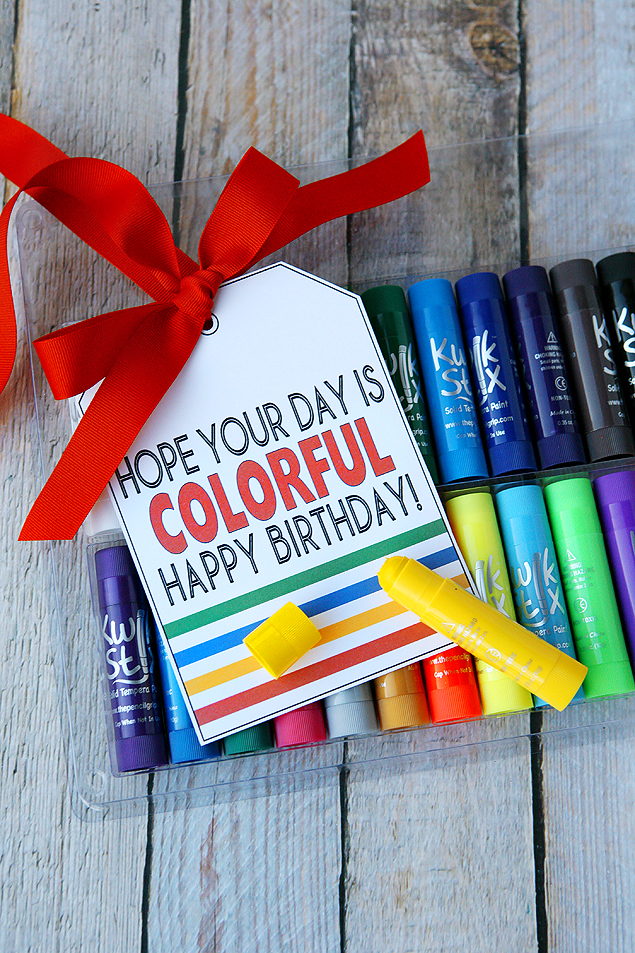 We love the quality of the Kwik Stix and Magic Stix and we are excited to check out the other products on thepencilgrip.com. They have Pencil Grips, Therapeutic Products and Toys, School and Office Supplies and Fidget Toys.

This is a sponsored post with The Pencil Grip, all opinions are my own.