Starting a New Year is always so refreshing. Leaving the past in the past and heading toward new adventures and creating new memories. The best way to do that is with a party! Am I right?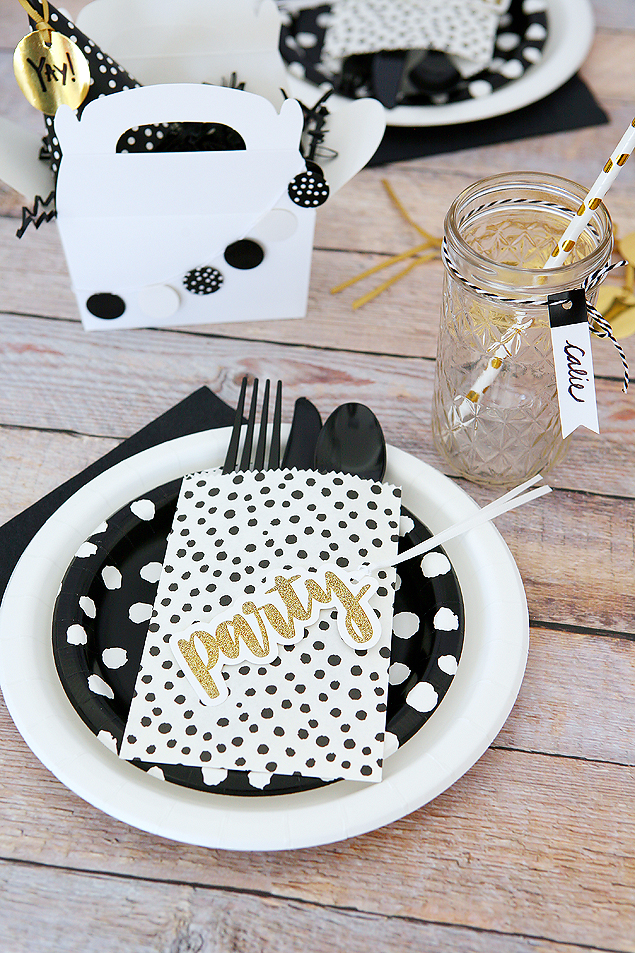 Our parties usually consist of moms, dads, aunts, uncles and lots of children running around. What do yours look like? Even though it's just us, we like to make the night special in some way or another. We headed to JOANN to take a look at their new Cheer & Co. section and we fell in love. It really is your one stop shop for party supplies, EVERY THING you see here is from JOANN. EVERYTHING!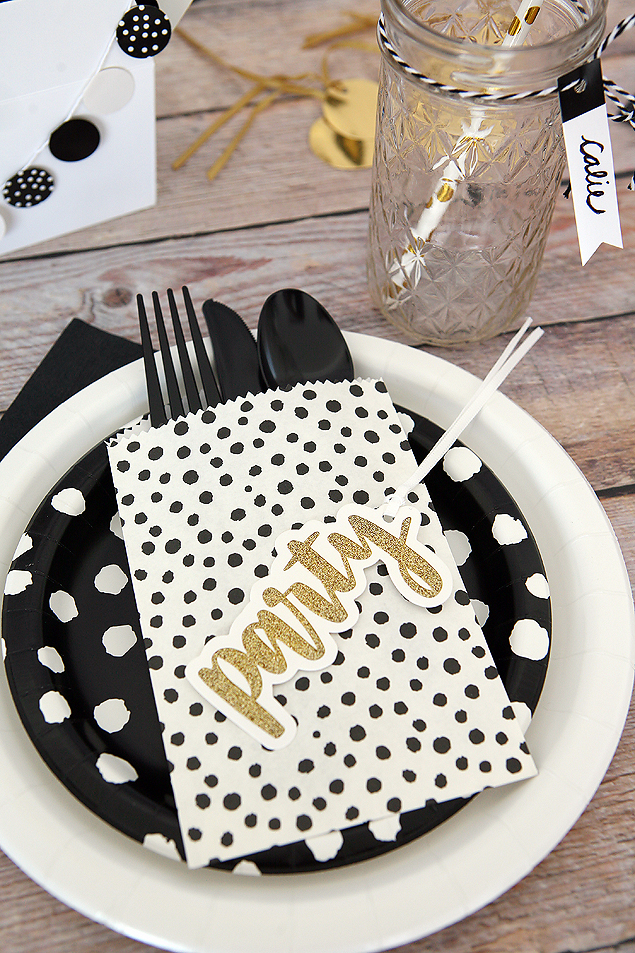 Once we decided on our color scheme of black, white and gold, we picked out our plates. We went with a basic for the dinner plate and had a little fun with the small bites plates. We always love filling these cute treat bags with utensils and loved how the white with black polka dots looked on the plates. The PARTY gift tags were a fun way to top the setting off!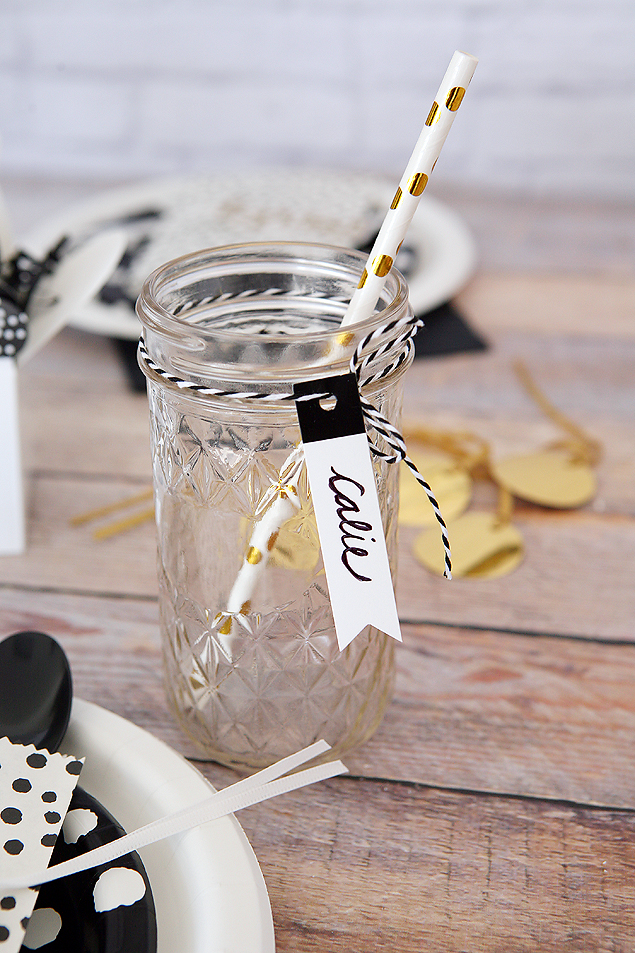 We used another gift tag wrapped around cute Quilted Jelly Jars as double duty. They serve as a name plate and a cup and of course we had to top them off with a cute polka dot paper straw.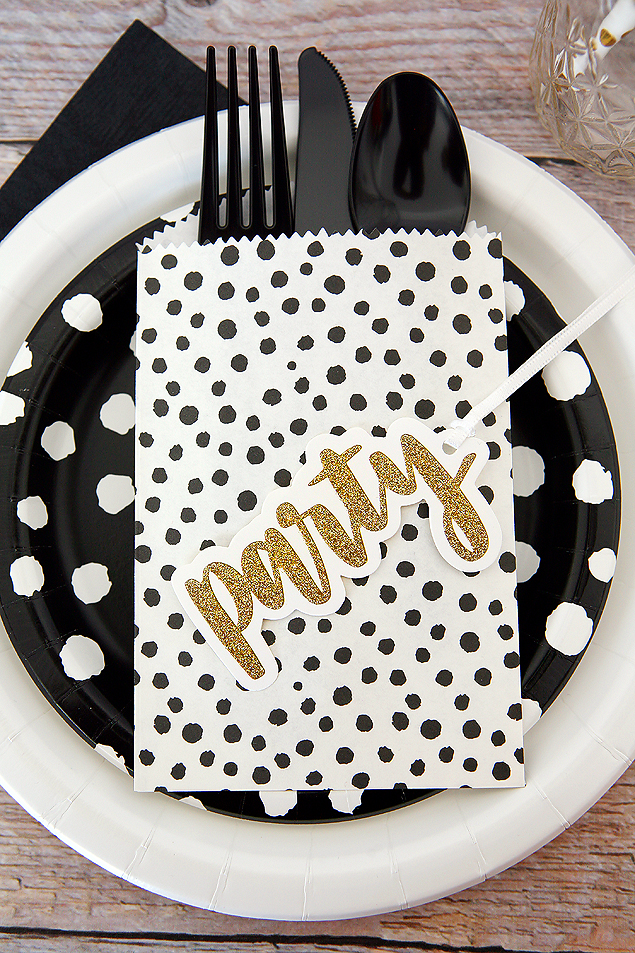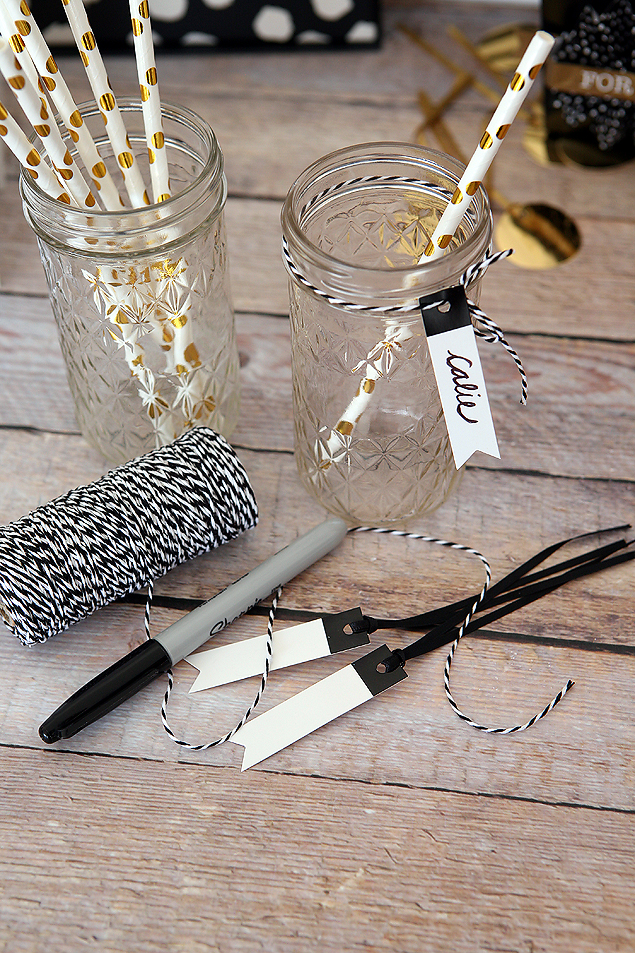 We needed a longer string to make it all the way around the cup so we swapped out the ribbon for some black and white baker's twine. (Which is also sold in the Cheer & Co. section…yay!) Wrote their name on the tag and we were in business.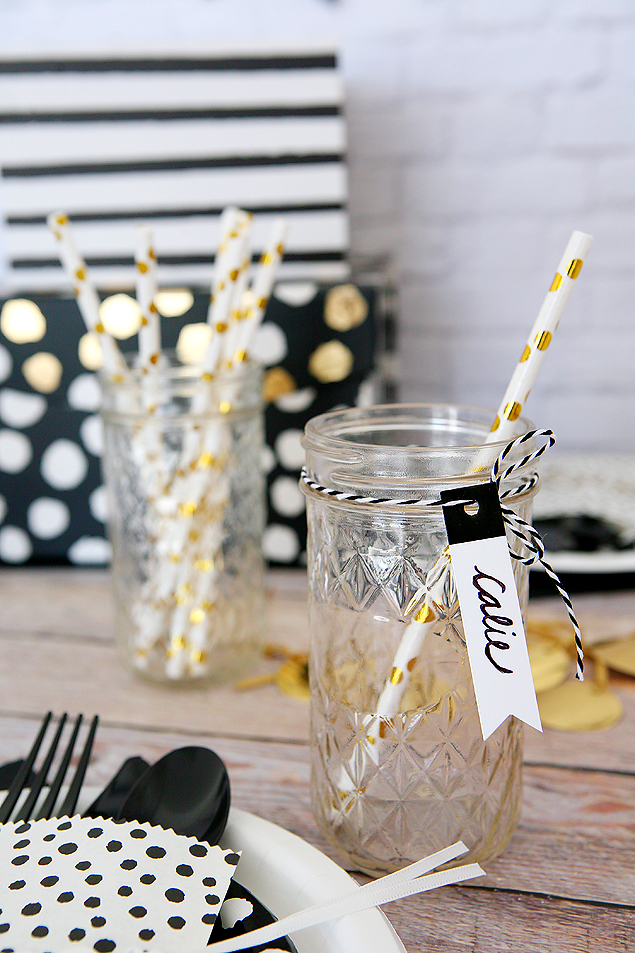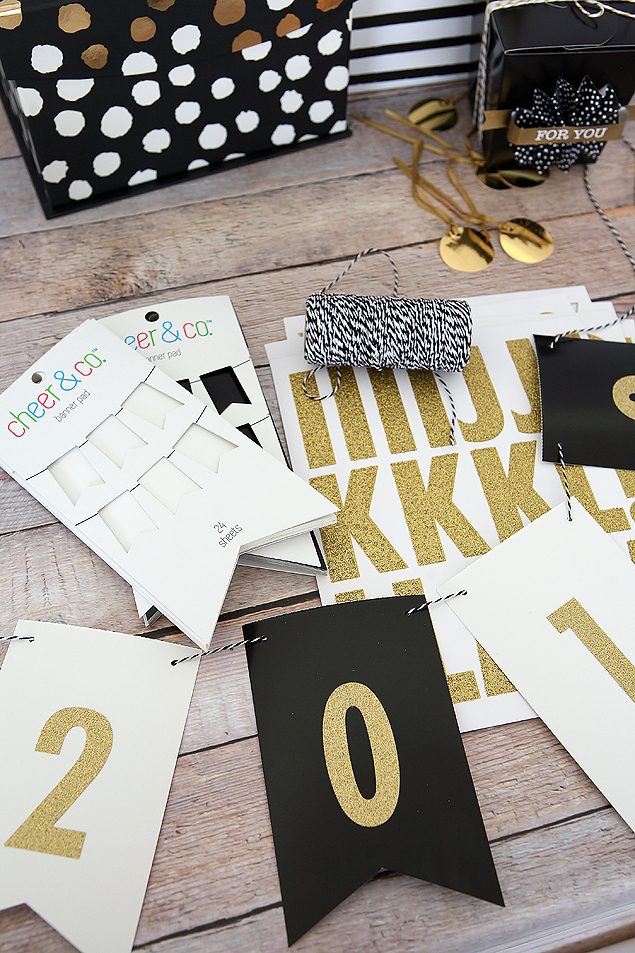 Next up was a banner! This is the best way to do it, make your own! We can easily get a few more banners out of the cool banner pads we used so, that'll save us money. Plus how super easy do they make it!?! The cute banners are already cut and colored, you just need to pull out what you need and save the rest for later. We also used fun X Large Glitter Sticker Letters (and numbers) to spell out our Happy 2018 and the black and white baker's twine to hang it. So happy with how it turned out!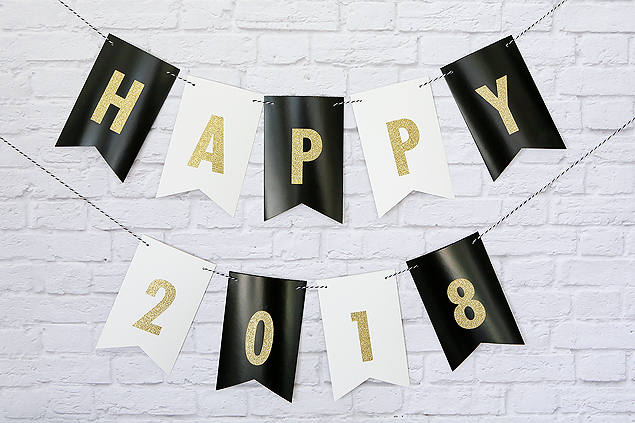 These Gable Boxes were too fun so we thought they would be great to fill with a treat to take home at the end of the night (errr…early morning). We had some fun decorating them with sticker letters and the stickers that came with the paper treat bags. The mini polka dot bunting was too cute to pass up, we just cut it the length we needed and attached it to some of the boxes.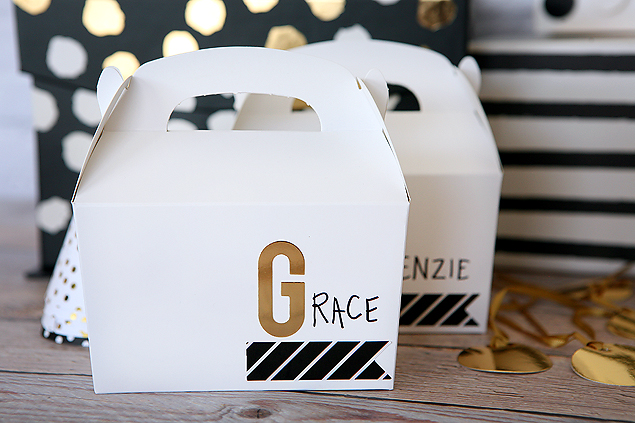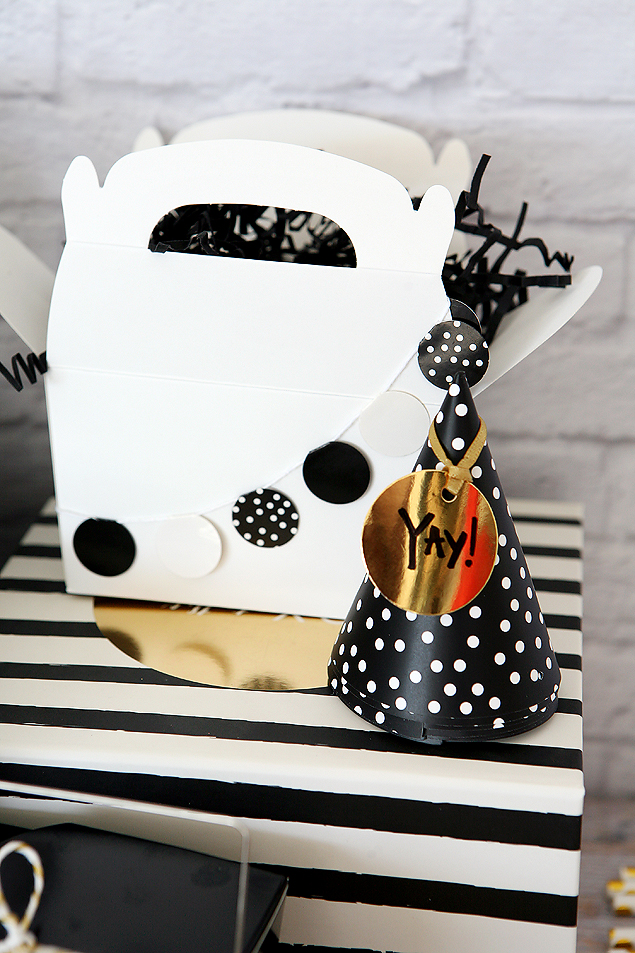 Aren't the mini party hats darling?! They have them in a bunch of colors, too. We used a gold circle gift tag to hang on them and used a black Sharpie to write a fun message. It would also be cute to put the year or even their name.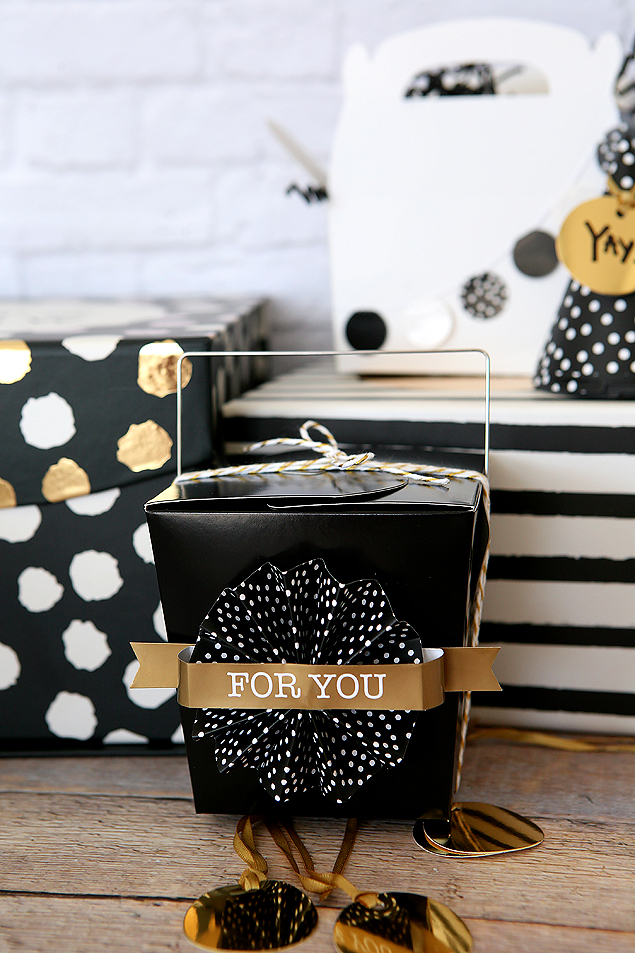 The also have these take out boxes in a bunch of colors and you can buy the cute "For You" decoration too. Loved how it added so much to the boxes.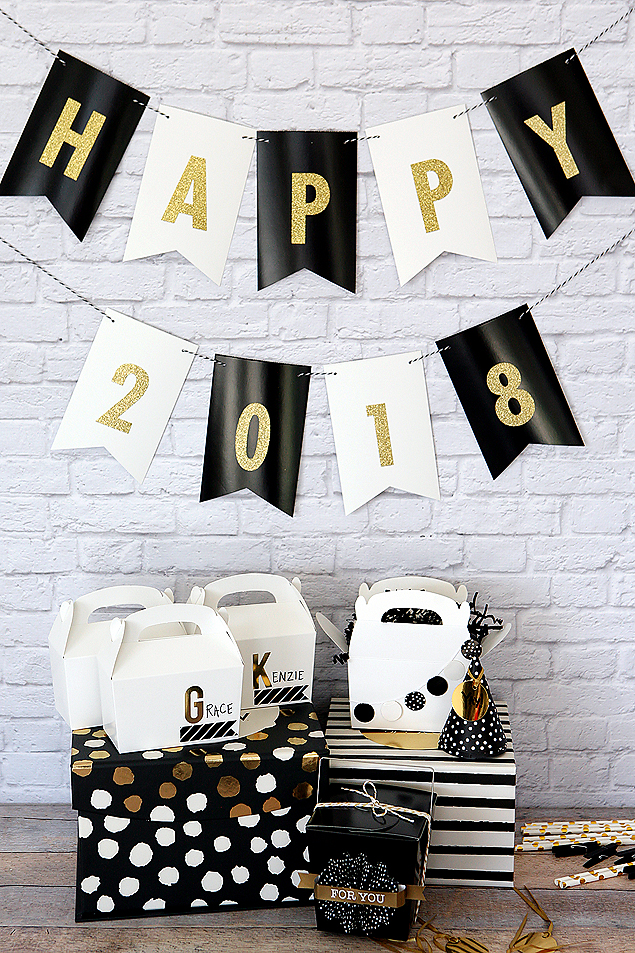 We loved how everything turned out and hope we have inspired you to have a little fun with your party decorations this year. JOANN and the Cheer & Co. section make it so easy that even if your night is low key, it can still be pretty. Happy New Year to you all!

This is a sponsored post with JOANN, all opinions are my own.