Hey friends! I'm thrilled to be a part of one of the best months of the blogging year here on Eighteen25. I am Amy and I share fabulous dessert recipes over on My Name Is Snickerdoodle like these adorable Halloween Mummy Brownies!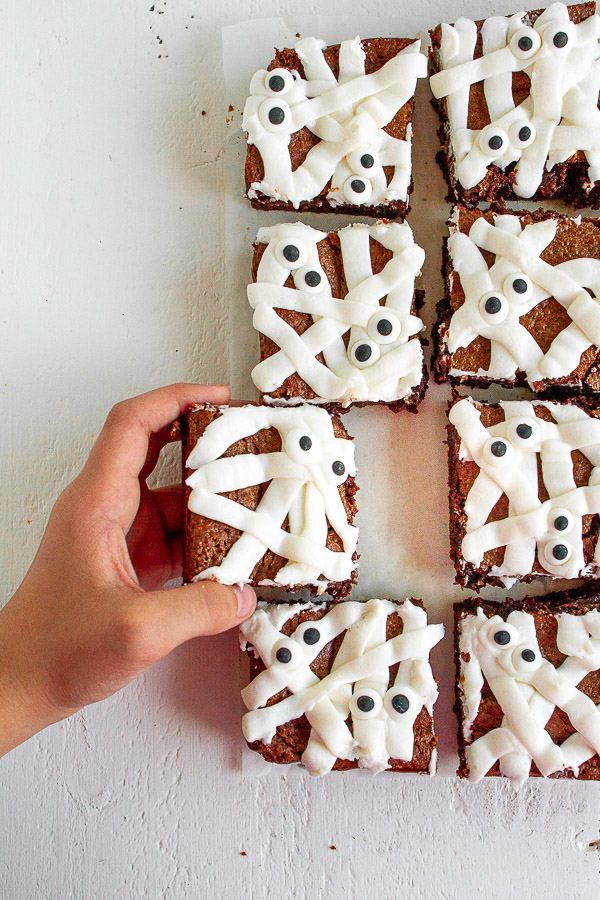 I wasn't a big fan of Halloween until I had children. Each of my boys love the holiday so I love to join in the fun and create festive desserts for them.
Being a busy working mom, I usually like to make holiday desserts more on the simple side. If you are sharing them with little friends they will be gobbled up within minutes. Actually, it's the same with adults as well! You really want the recipe to make a great impression on first sight. These Mummy Brownies definitely make an impact!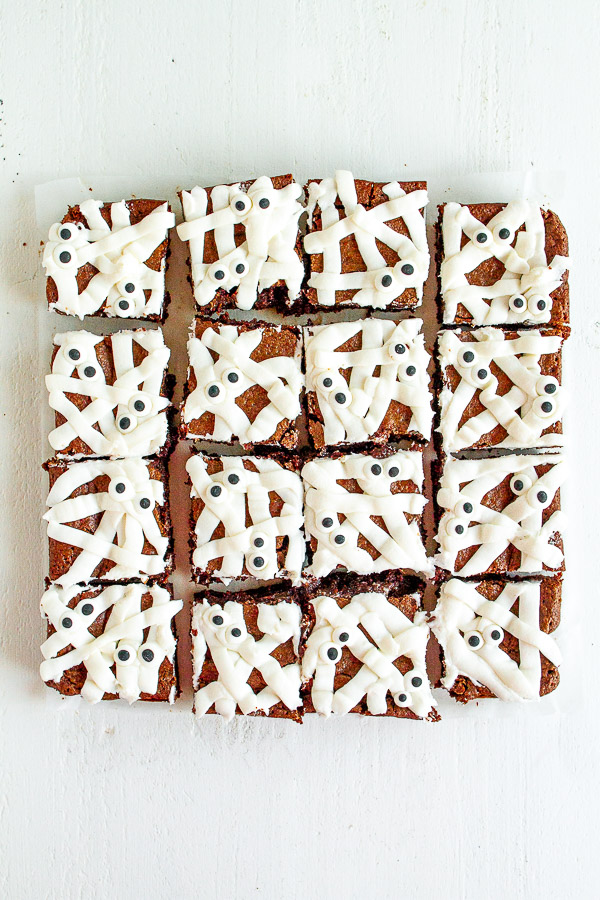 What I love about recipes like this one is you can use your favorite brownie recipe. Whether it's something that comes from a box mix or your grandmother's tried and true recipe. Any will work.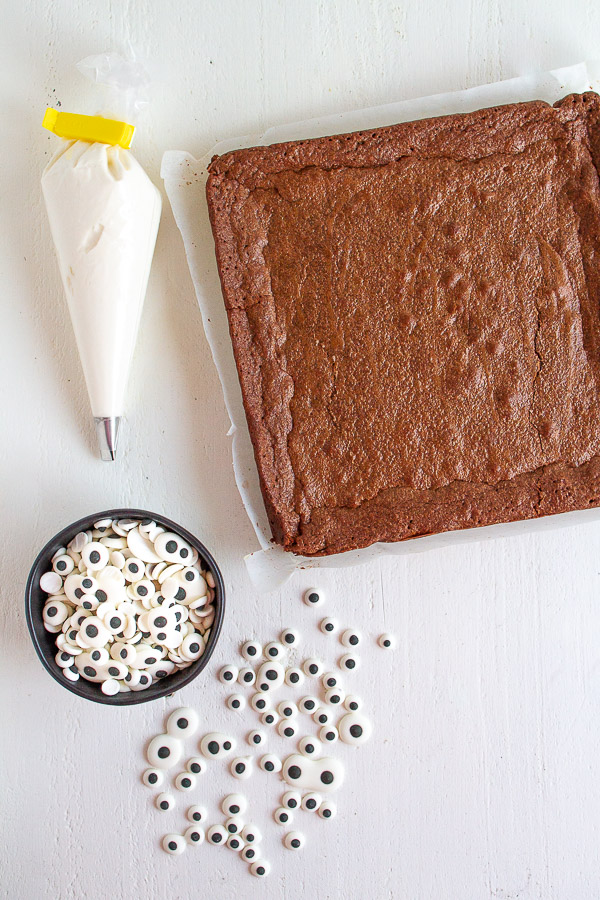 All you need for these Mummy Brownies is a freshly baked pan of brownies, buttercream frosting and candy googley eyes.
You can find the eyes all year long, but they seem to have them readily available in the fall. Thanks to Pinterest and all the popular holiday recipes, these can be sometimes hard to find or sold out in stores.
A few years ago I created a tutorial on how to make googley eyes that is incredibly easy to do yourself at home. I love to use them on everything this time of year so it comes in handy to always have them on hand.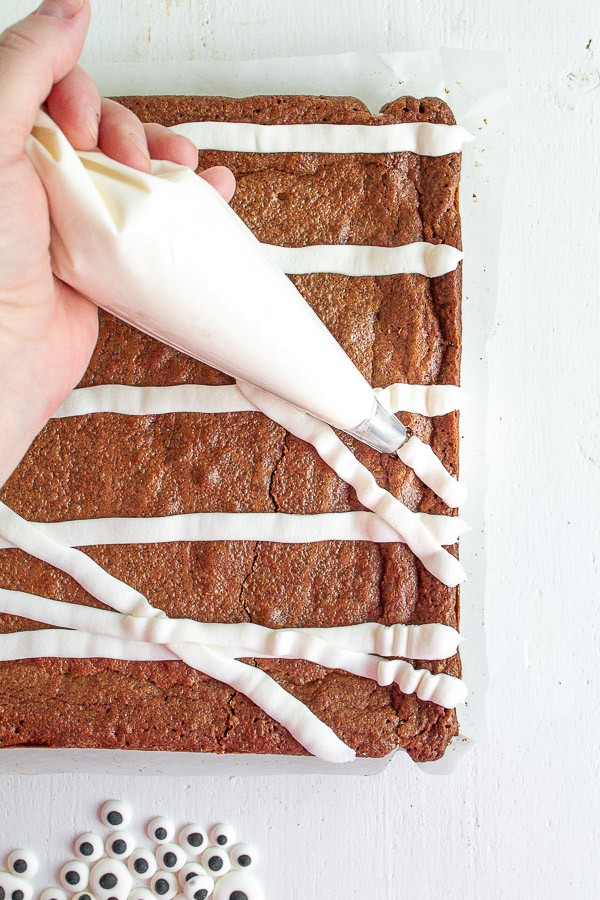 You will simply whip up the butter cream recipe (see below) and pipe it in strips over the entire pan of brownies. Make criss cross patterns and try not to overlap in one spot too much. Your kids could even help you with this portion of the recipe.
Once you have piped on the strips of frosting you will want to immediately place the candy eyes in a random pattern. Gently press them down into the frosting so they stay in place while you cut and serve them.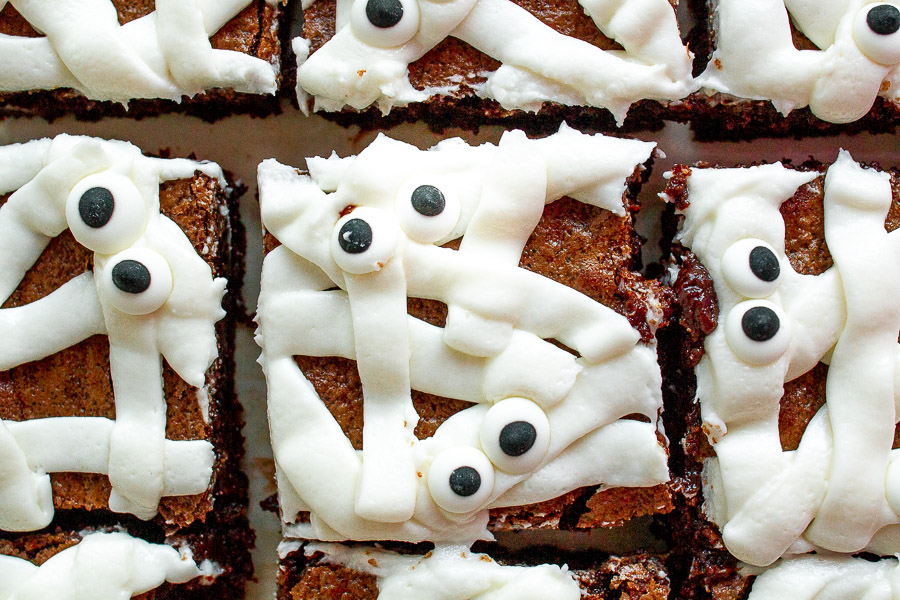 These will be perfect for a class party or Trick or Treat tailgating! You could even add my Halloween Sugar Cookie Bars and Spooky Feet Loaf to your Halloween feast!
Mummy Brownie Recipe
Ingredients
Your Favorite Brownie Mix and Baked
3/4 Cup Butter Softened
4 Cups Powdered Sugar
1 tsp Pure Vanilla Extract
2-3 TBPS Milk
Candy Googley Eyes
Instructions
In a medium bowl mix the butter and extract together until well combined.
Slowly add in the powdered sugar a little at a time.
Whip until frosting is smooth with no lumps.
Add in milk a tablespoon at a time until it thins out the frosting a little.
Fit a pasty bag with a flat edged tip and fill bag with frosting.
Pipe strips in a criss cross pattern over the top of the brownies making it look like mummy wrappings.
Place candy eyes in a random pattern, gently pressing them down into the frosting.
Using a large sharp knife, cut the brownies into equal squares or rectangles.
Serve.

Visit Amy on her BLOG | INSTAGRAM | FACEBOOK | PINTEREST
Here are a few more Halloween treats for you to check out: