Hi! I'm Alli from Cupcake Diaries and I'm so excited to be back for another great Halloween series here at Eighteen25! The last time I was here I shared my Monster Cupcakes, so I'm excited to be back to share another fun recipe, Halloween Dipped Oreos. Isn't Halloween just the best?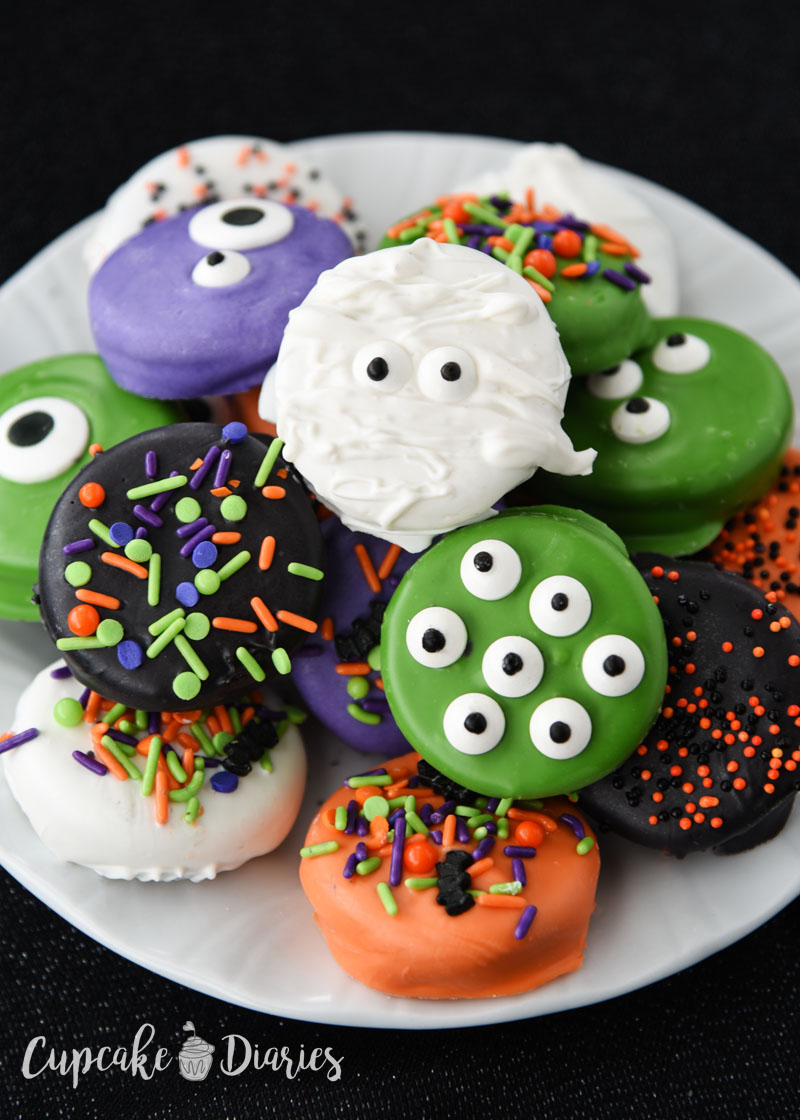 Oh I just love Halloween! My twin sister and I have loved it since the beginning. The fact that we were born in October might have something to do with it! There's nothing better than making a Halloween treat, especially when that treat is so colorful and fun like these dipped Oreos. You're going to love how easy these little guys are to make and with so few ingredients.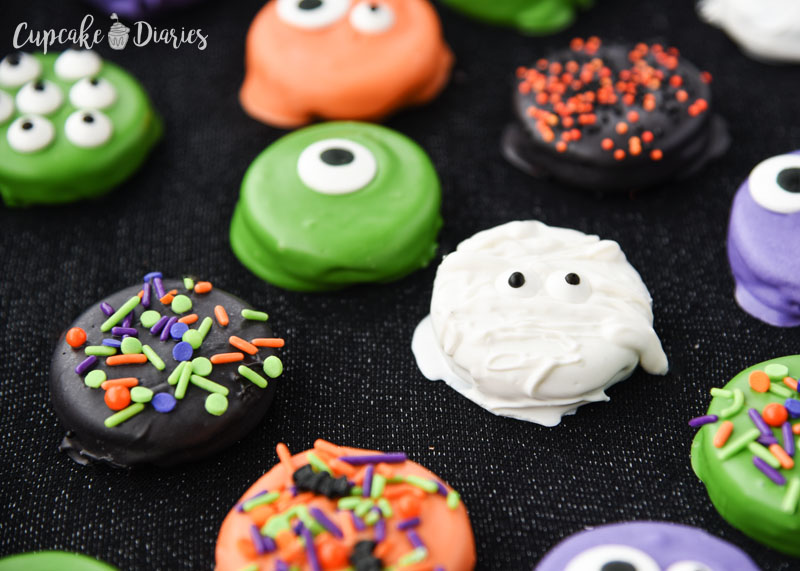 You've got a whopping two steps when it comes to making these cookies! Three, if you count melting the candy melts. The key to not messing up is dipping the cookies one color at a time. You don't want to melt all your candy melts or chocolate at one time. Start with one color and work your way through.
Making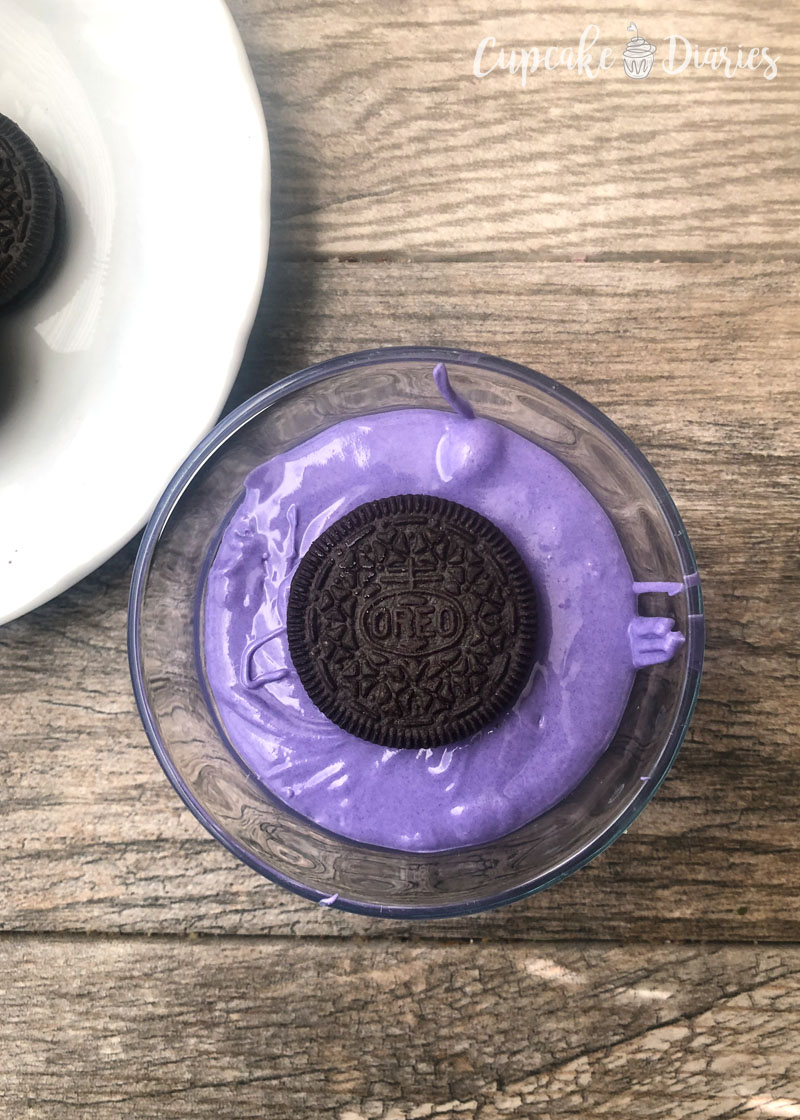 There are two ways to dip these cookies: with candy melts or white chocolate. Candy melts do not take food coloring so if you need to color your coating, use white chocolate or almond bark and add food coloring. The easiest option is to buy individual colors of candy melts, which is what I did.
After you melt one of the colors of candy melts or chocolate, drop an Oreo in and cover it completely. Use a fork to lift out and give it a little shake to remove the excess drips coming off the bottom.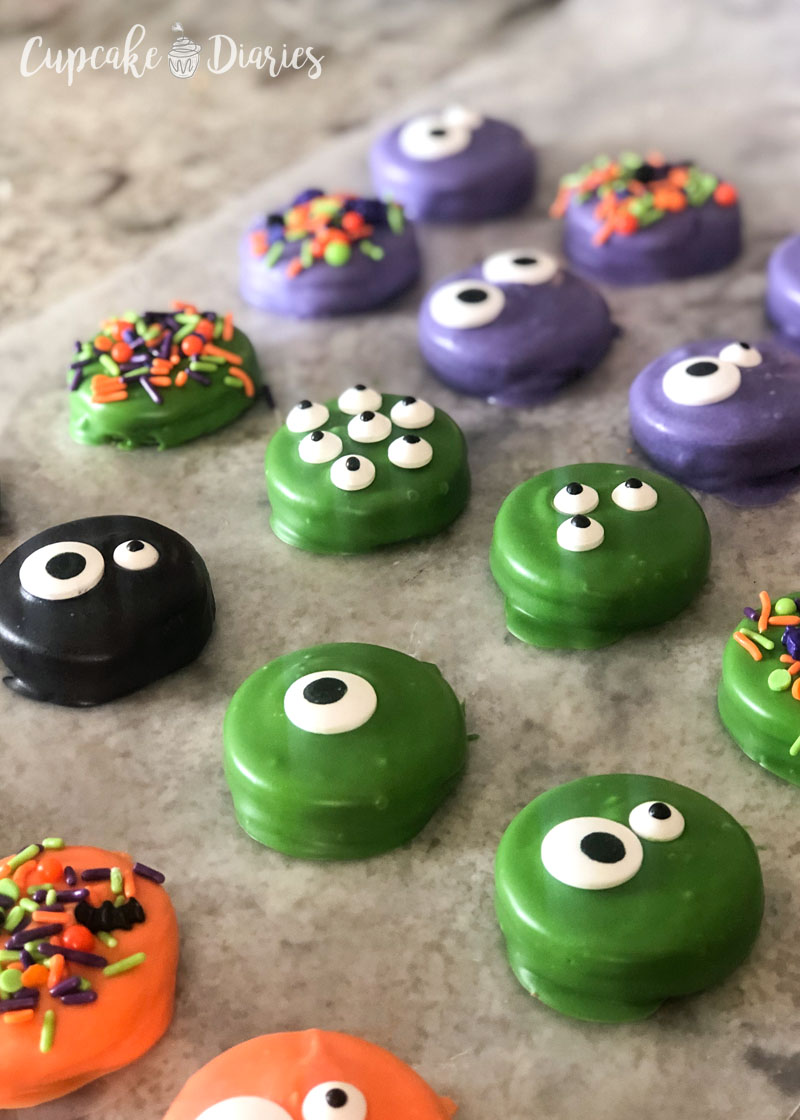 Place the covered Oreos on a sheet of wax paper and immediately add the decorations you're using. If you wait to top them with your decorations the coating can cool and the decorations won't stick. I love using sprinkles and candy eyeballs!
Want to know something really great? If some of your cookies end up with little bubbles and other flaws it totally works because they're supposed to look like little monsters and aliens, both of which have all kinds of gnarly bumps and bubbles.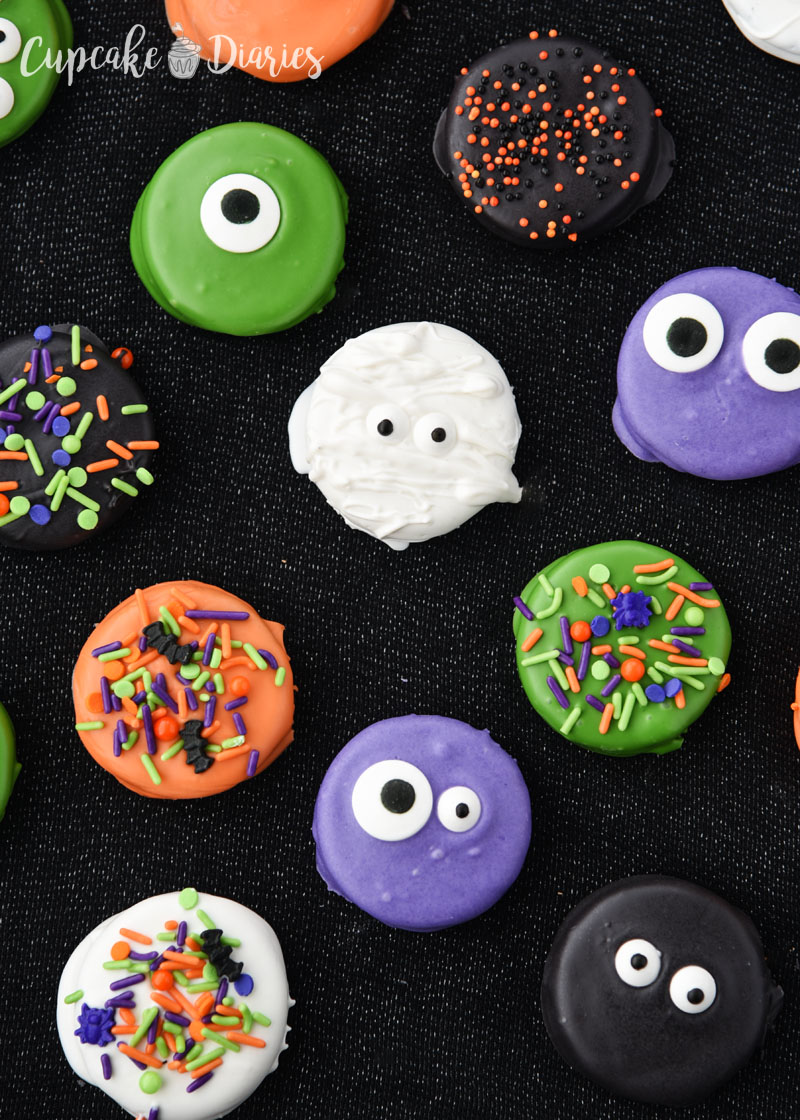 Aren't those so fun? I loved making these cookies and especially loved packaging them up for some of our friends!
Halloween Dipped Oreos
Ingredients
1 package (any size) Oreos
candy melts in desired Halloween colors (I used black, bright white, orange, bright green, and purple)
sprinkles, candy eyeballs, or other decorations
Directions
Select one color of candy melts and melt in a microwave safe bowl, according to package directions.
Drop one Oreo cookie into the bowl and use a spoon to cover completely with coating.
Use a fork to pick up cookie from the bottom and lightly shake to remove excess coating. Place on wax paper and immediately add decorations.
Repeat steps 2 and 3 until coating is gone. Repeat steps 1-3 with each remaining color of coating.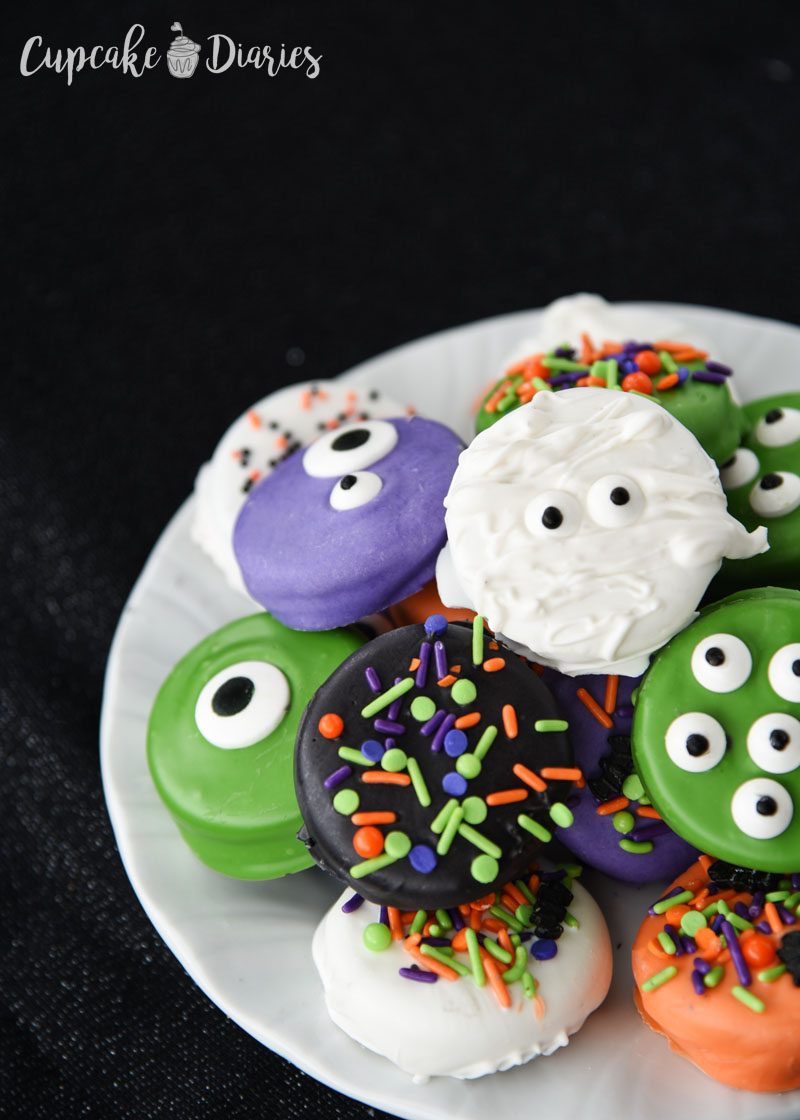 I hope you love these cookies! I'm all about easy recipes and especially love easy Halloween treats. Ghost Krispy Treats, Halloween Caramel Pretzel Bites, and Monster Bundt Cake are some of my favorites!
I've been creating recipes at Cupcake Diaries for nine years now and I love sharing dessert and party ideas! With the holidays right around the corner, I'll be sharing even more fun and easy recipes like this. Happy Halloween!

Visit Alli on her BLOG | FACEBOOK | PINTEREST | INSTAGRAM
Check out these other super fun Halloween treats: