These Halloween Chocolate Fudge Balls will be perfect for all your Halloween parties!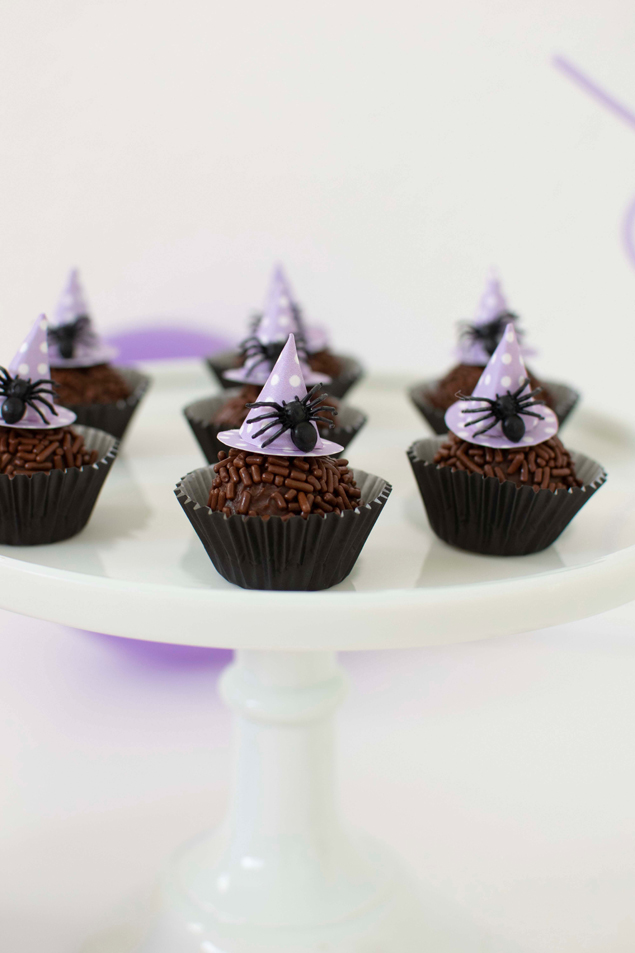 These will be the cutest most delicious treats you'll make this Halloween. The chocolate fudge balls are amazing and then you top them with these adorable witch hats and you have the star of the party. 🙂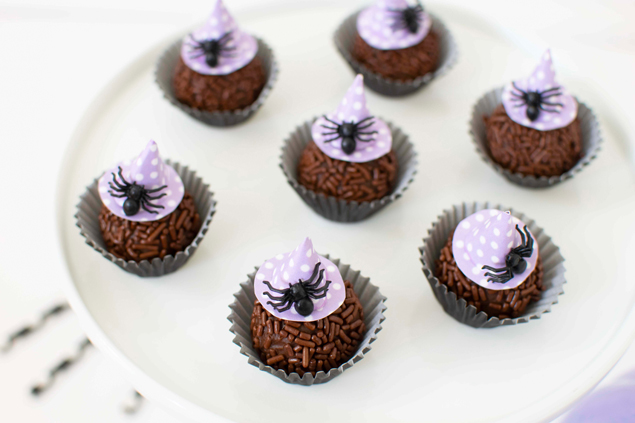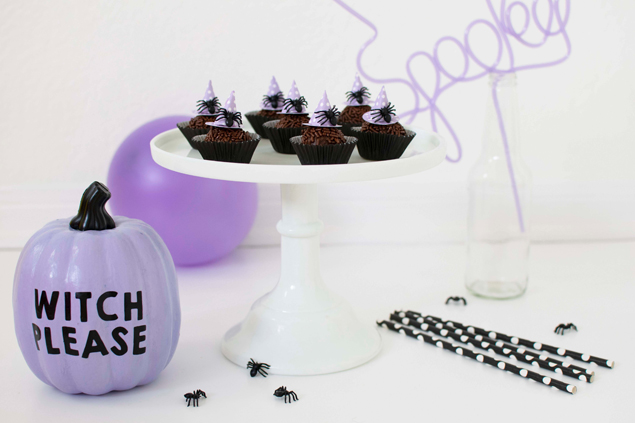 Halloween Gourmet Chocolate Fudge Balls
Author:
Twinkle Twinkle Little Party
Serves:
15-18 brigadeiros
Ingredients
1 can (14 oz) sweetened condensed milk
1 tablespoon of unsalted butter
⅔ cup good quality chocolate cut into small pieces *The best one is Callebaut but you can also use good quality chocolate chips or chocolate bar of your preference. They turn out delicious either way!
chocolate sprinkles
truffle liners
Instructions
Grease a shallow plate or platter with butter. Set aside.
On medium heat, melt the butter and chocolate pieces in a small nonstick heavy saucepan. Add condensed milk. Reduce the heat to medium-low. Stir constantly with wooden spoon.
Cook for about 10 to 15 minutes, stirring constantly, until mixture is thick and shiny.
TIP: Tilt the pan and when you see the mixture is pulling away from the bottom of the pan, the brigadeiro is ready!
Pour mixture into shallow plate. Allow to cool completely in the refrigerator.
Grease your hands with butter (make sure it's not too greasy). Using a tablespoon, scoop mixture. Roll it into a ball and coat it with chocolate sprinkles.
Place fudge balls in truffle liners.
TIP: You can consume them right away or place them in a container (not in the fridge) and wait 2-3 days. They will get a little crunchy on the outside and soft in the inside. My favorite!

LITTLE WITCH'S HATS
Download your purple polka dotted paper HERE.
Print the purple polka dotted paper on white cardstock.
Download the witch's hat template HERE.
Print witch's hat template by selecting photo size 3.5 x 5 (perfect size for the fudge balls).
Cut the circle and cone out. Trace them on the back of purple polka dotted paper as many times as you need. Cute them out once again.
Glue cone ends together to form the top part of the hat. Attach cone to the circle using glue. Let it dry completely.
.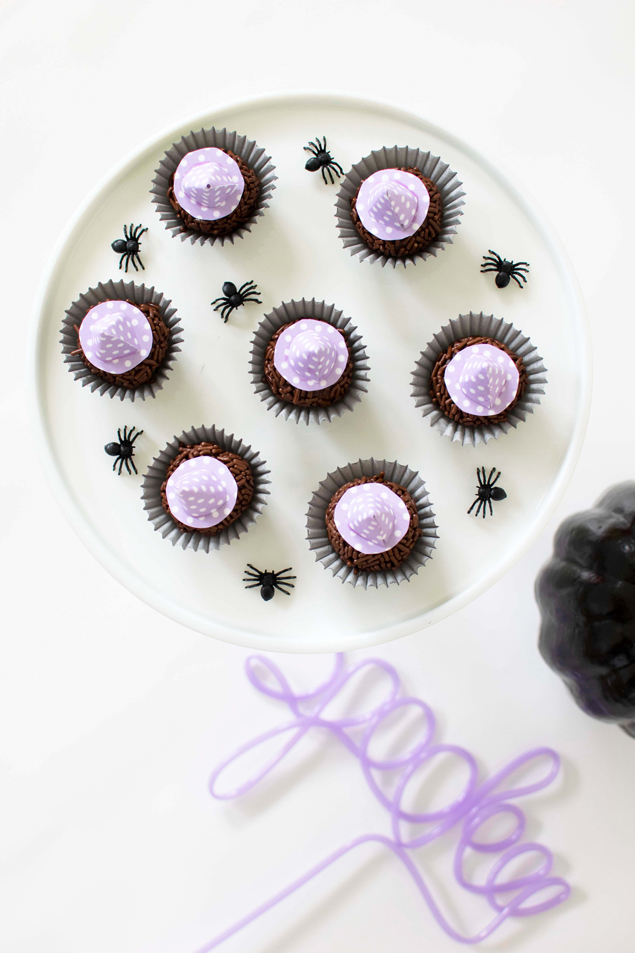 Dress your fudge balls with the mini witch's hats. Spruce them up with little plastic spiders if you wish.
.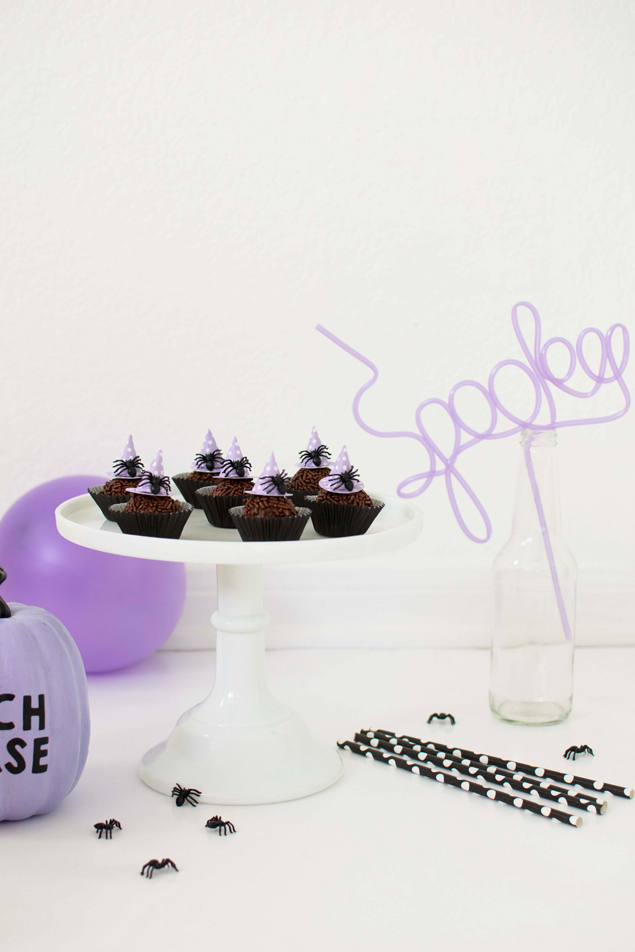 Display them on a cake pedestal for a pretty presentation! Enjoy!
 .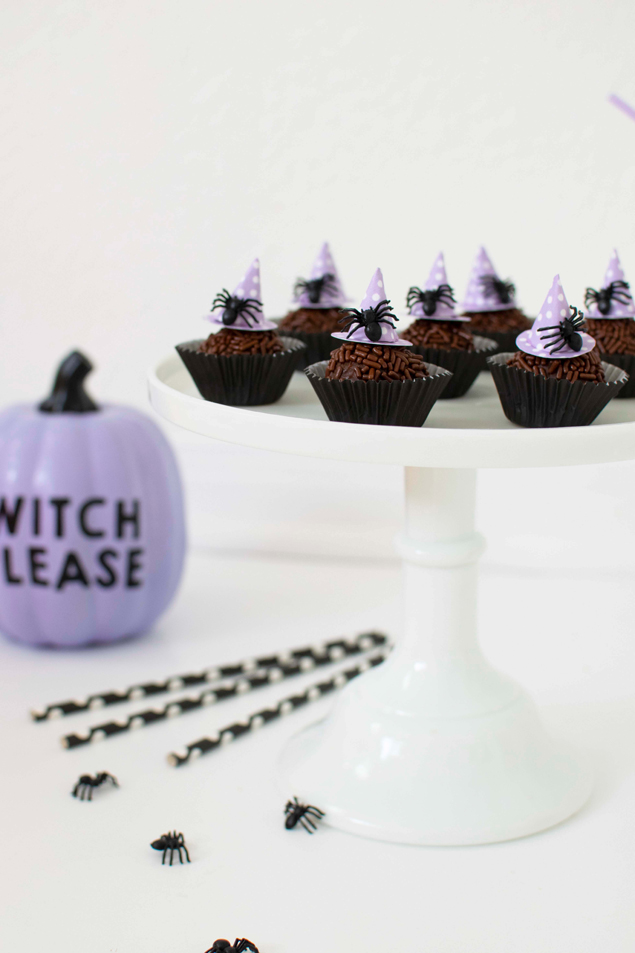 Andressa is the creative force behind Twinkle Twinkle Little Party, a lifestyle/party blog dedicated to sharing easy yet pretty party ideas to celebrate at home and create the sweetest memories with family and friends. 

 .
Here are a few more tasty Halloween recipes to give a try: