Who loves doing laundry? Well if I'm being completely honest, I kinda do. It's definitely better than dishes and bathrooms in my book. I start almost everyday with two loads so I guess it's a good thing I don't mind it. 🙂
Funny story about my laundry room. Last summer my husband surprised me with a new washer and dryer. I was out of town when he bought them and he sent me a picture. Oh wow… those shiny new machines looked so pretty and then I noticed our counter top that goes over the washer and dryer. It had a big piece cut out of it where the washer and dryer stood. What! Our new machines were a little taller than our old machines and he did what most men would do I guess. Grabbed a saw and just cut out a huge section of our counter top and slid the washer and dryer in. Oh boy! I tried really hard to focus on the positives that day. haha.
Needless to say our Laundry room could use a little make over or refresh! I've been looking at Gorgeous Laundry Rooms all over the internet and decided to put my favorites into one post to share with you. Hope you think they are as pretty as I do!

(affiliate links are included in this post)
Laundry Room Ideas
Love this laundry room from Dear Lillie Studio. White and black with natural elements will always be my favorite. Love the texture the fun baskets in the room add!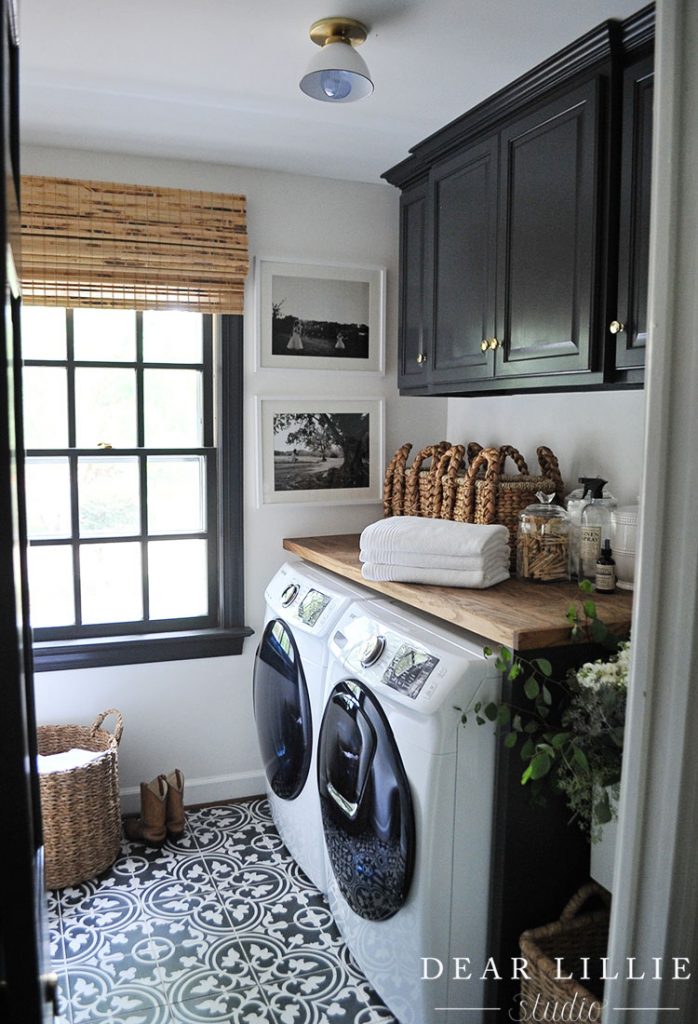 This fresh modern farmhouse laundry room from Holly and Brad at Our Faux Farmhouse is just perfect. Love the clean look with the pop of fun tile on the floor. The awesome metal rolling laundry baskets might be my favorite accessory though.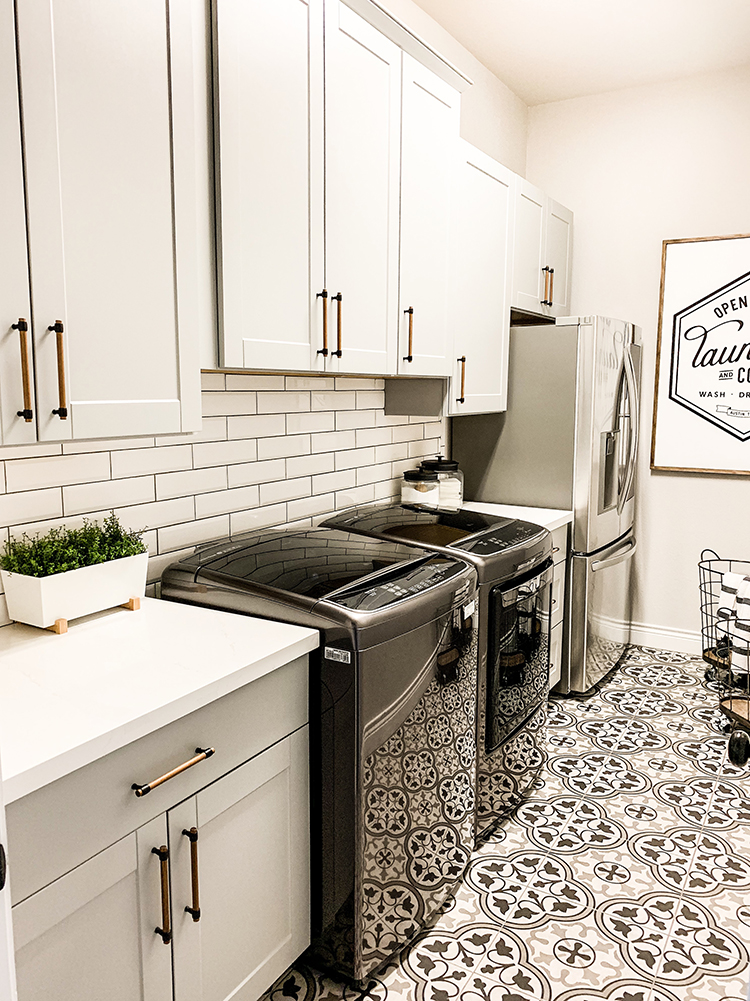 Another classic Black and White look from the talented The TomKat Studio. Click over and get a closer look. Every detail is perfect.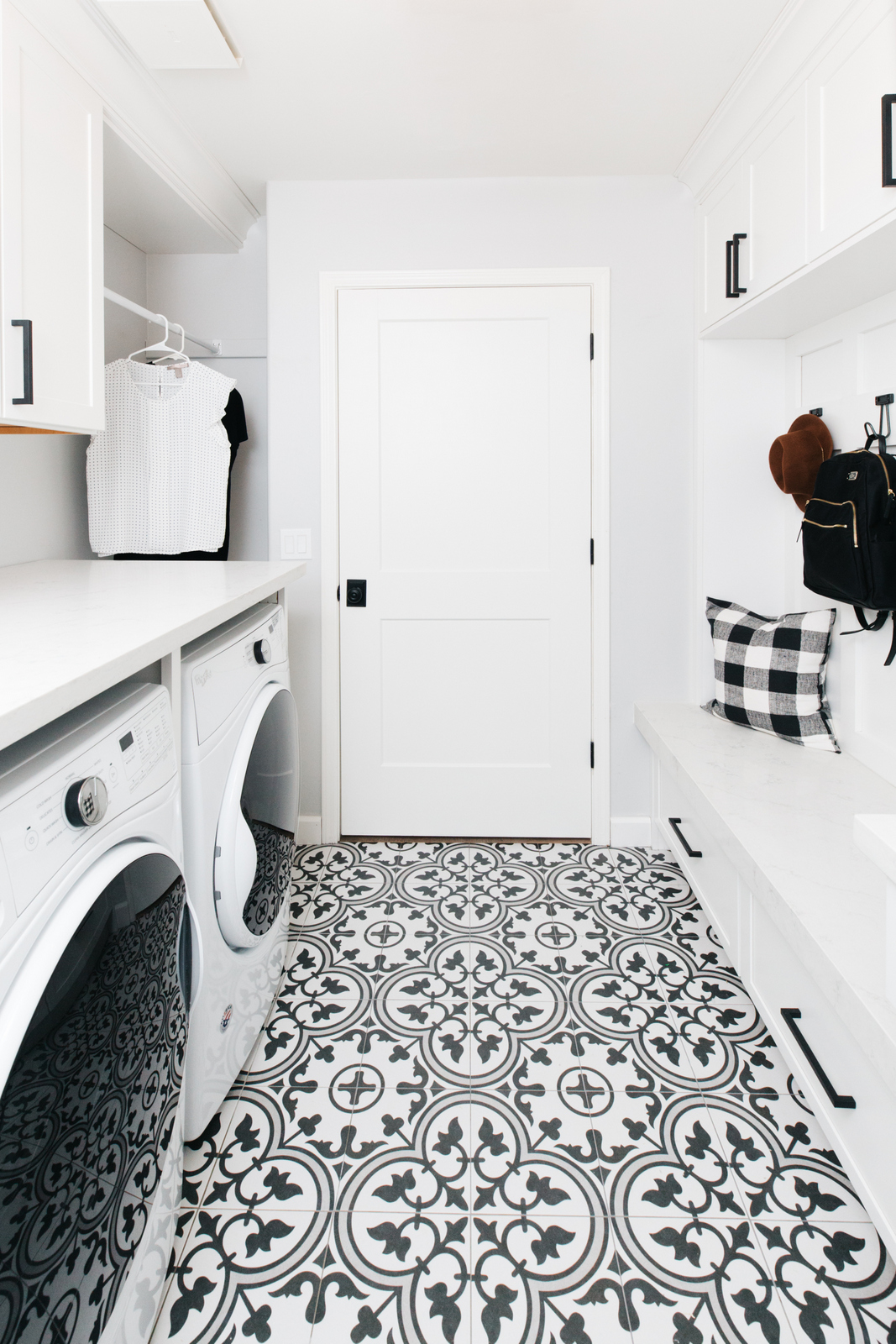 One thing I'd love to do is wallpaper one of the walls in my laundry room like The Lily Pad Cottage did. It's like a pop of fun, but the room is still clean and not too busy.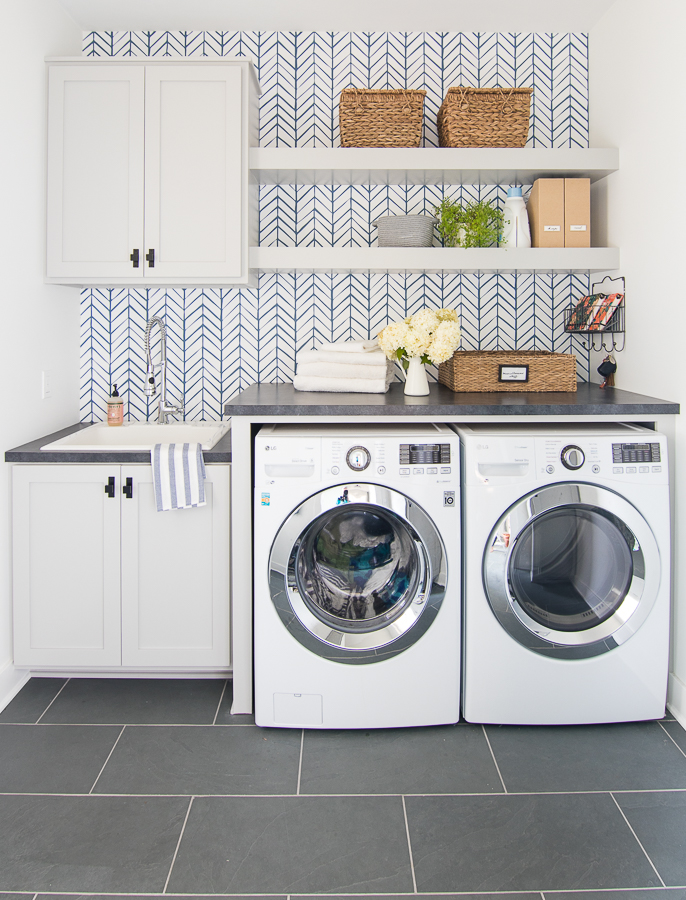 You'll need to click over and check out the before of Jenna Sue Design Co.'s laundry room. Such a transformation. The floor and the ceiling are the show stoppers!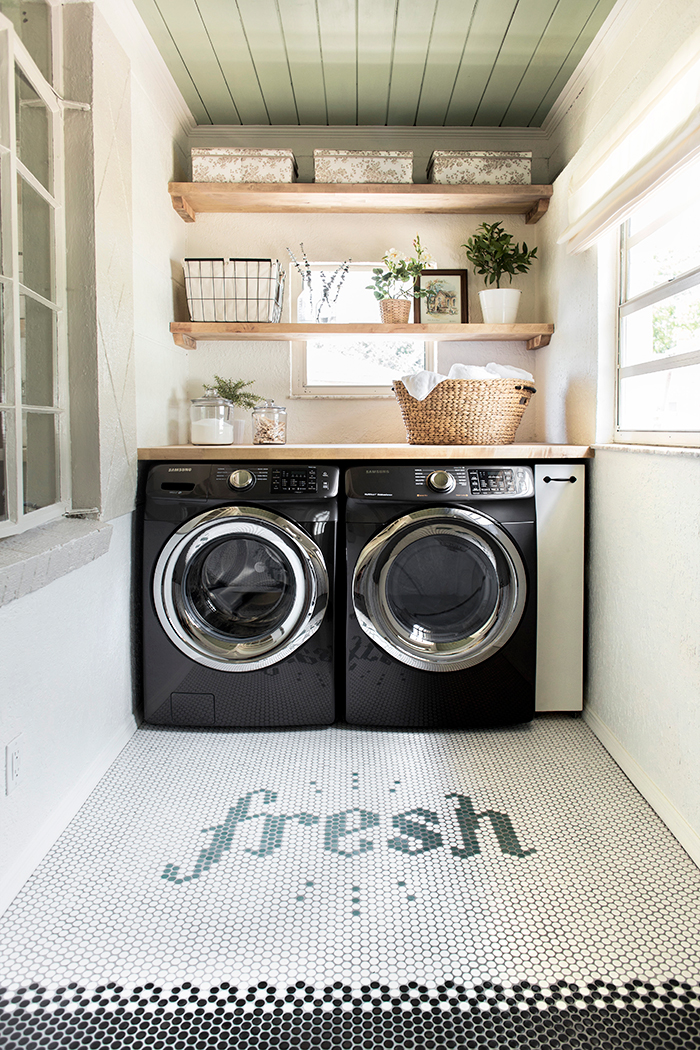 I won't apologize for sharing another gorgeous black and white Laundry Room. Monika Hibbs has all of my favorites here. Ship lap, farmhouse sink, gorgeous lighting and lots of bright white! Funny that the cool Rope Door Stopper turns up in two of the laundry rooms in this post! Love the texture it adds to the rooms.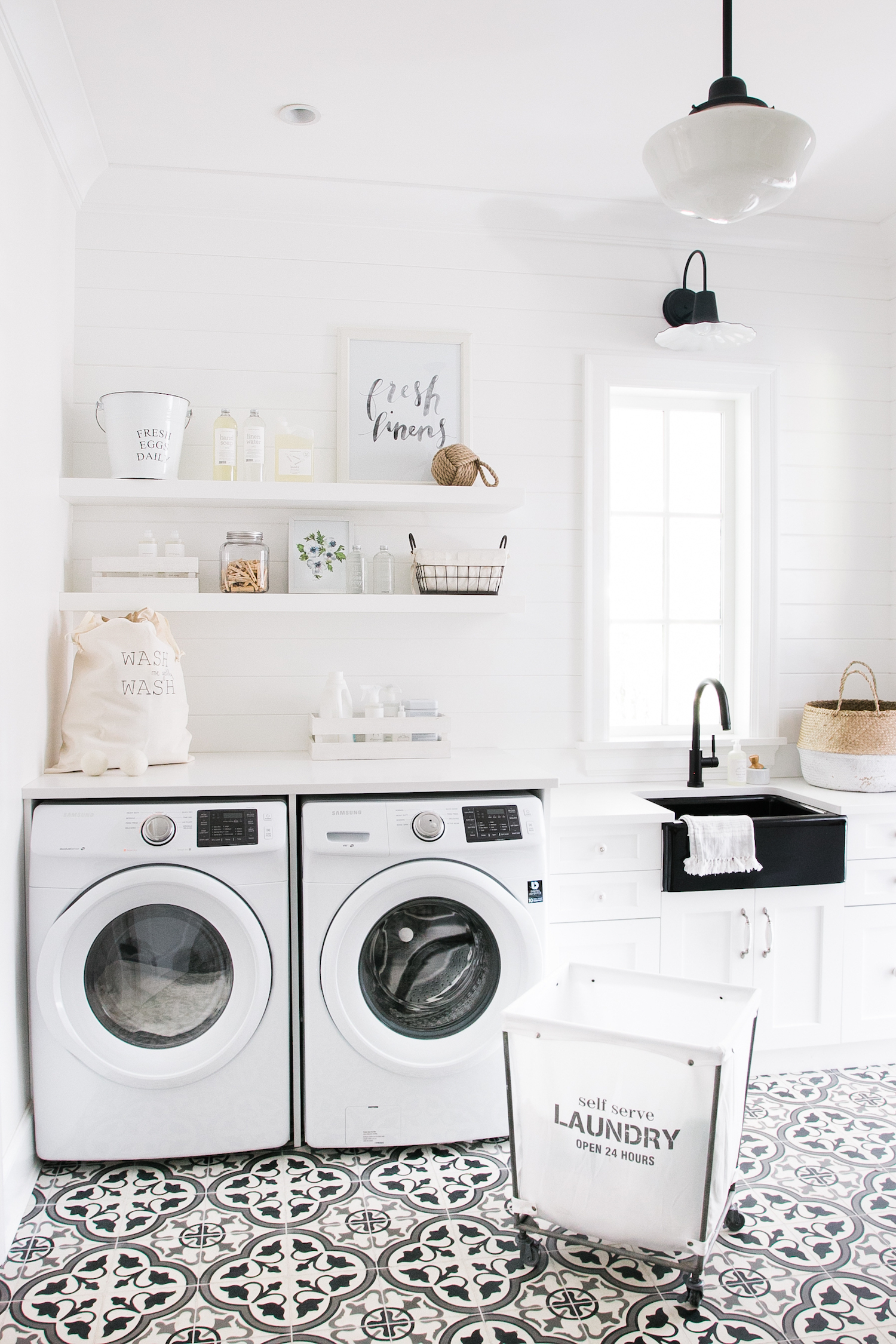 This laundry room from our friend Mandi from Vintage Revivals has been a favorite for awhile now. Butcher block type counter tops are on my must have list.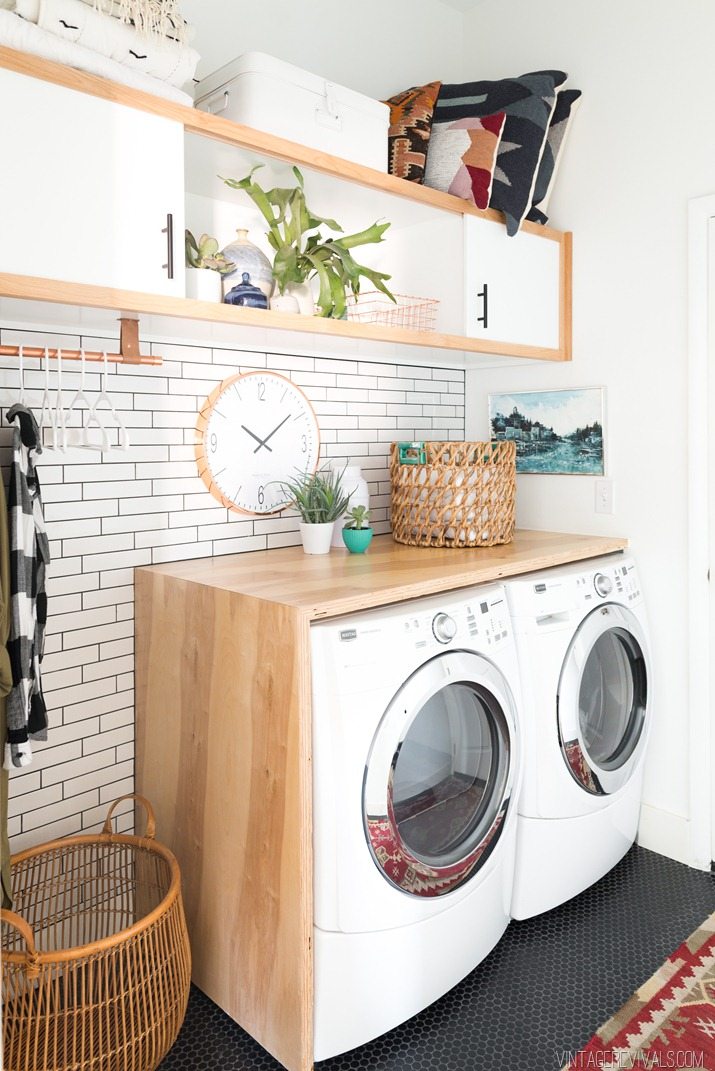 All the heart eyes for this beautiful laundry room from Jillian Harris. Gorgeous painted cabinetry with gold hardware and the tile on the walls and floor is just everything! Love every detail even down to the natural wood hangers!
Hello beautiful black cabinets! And the tile on the walls of this laundry room from Lauren O'Donnell Interiors is so great! Love the unique shape. I'm picturing this gorgeous brass Pendant Light hanging in here!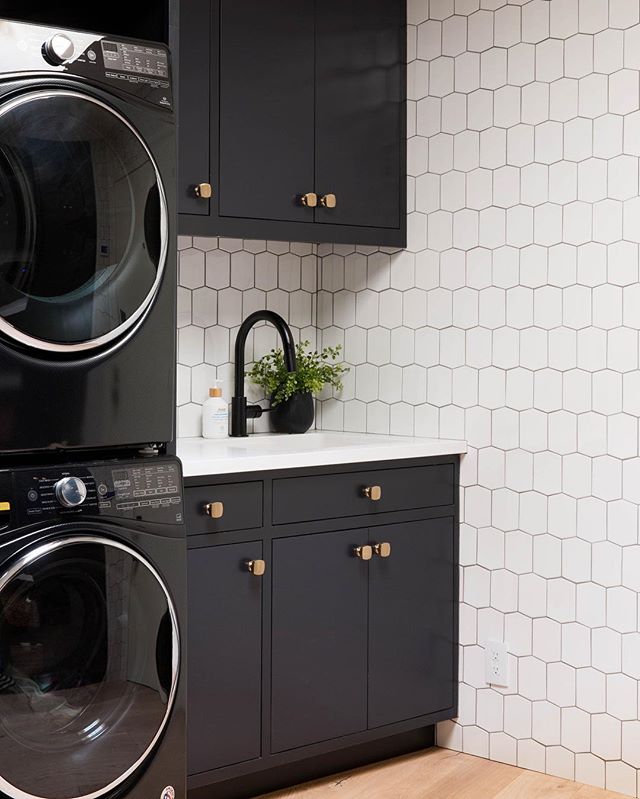 What's not to love about this amazing laundry room from Scout and Nimble. A window would be like a dream come true, but sadly not possible in our house. She has my favorite metal baskets on her shelf. So perfect for storage in a laundry room.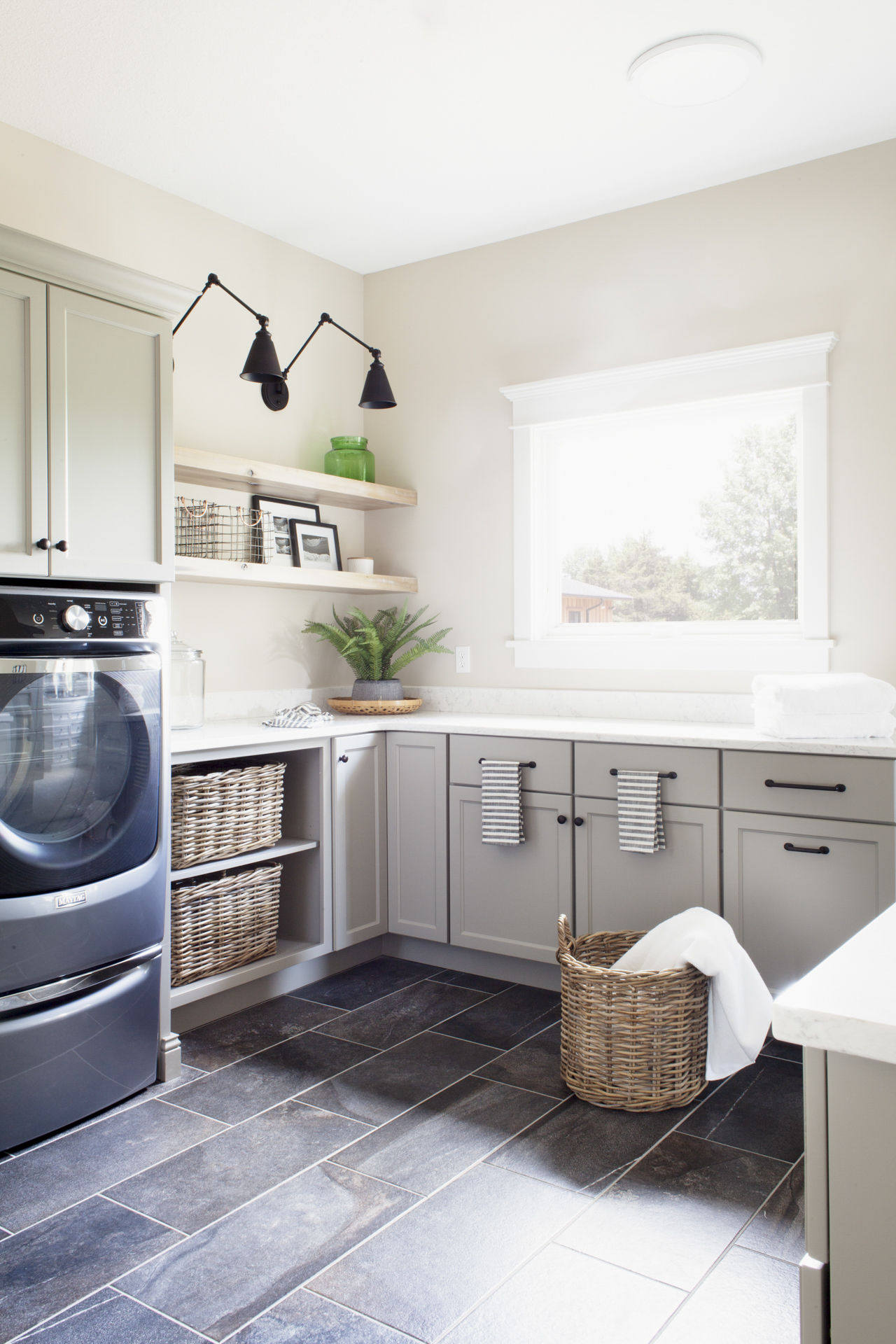 Home Bunch shares the details of this pretty laundry room. Love the ship lap, beautiful shelves and cabinetry. It's all just gorgeous!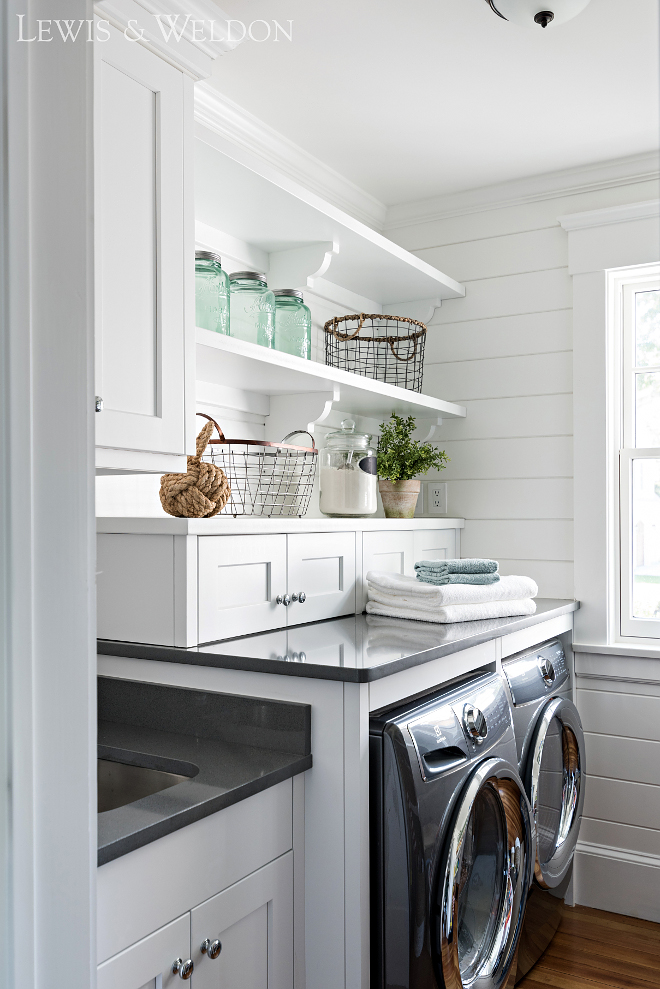 Livvy Land's makeover on her laundry room turned out great! My favorite is by far her hexagon tiles on the floor. I'm crushing on those big time right now.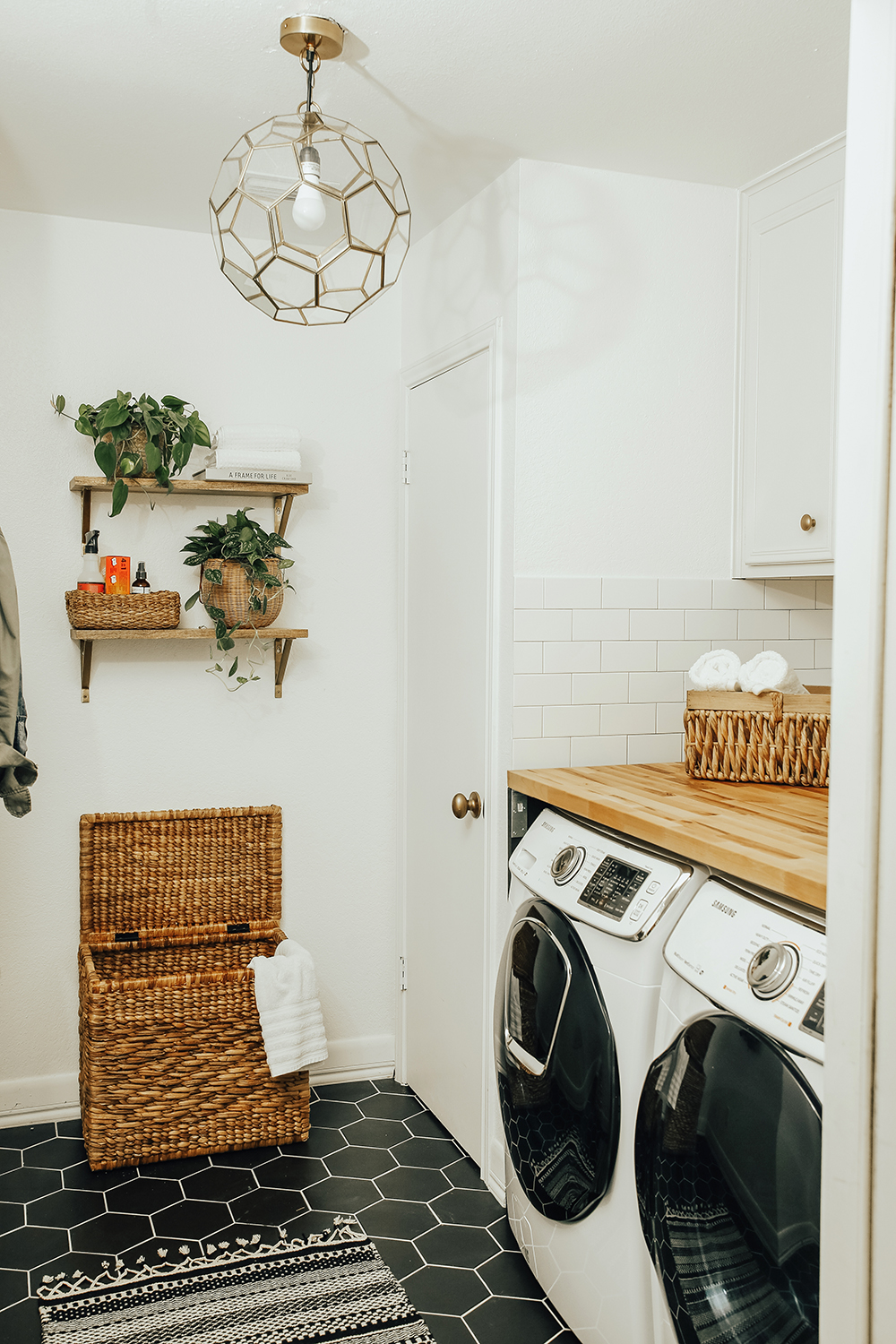 I had to include this pretty laundry room from  The Lily Pad Cottage because of the perfect color on the cabinets. I just love it.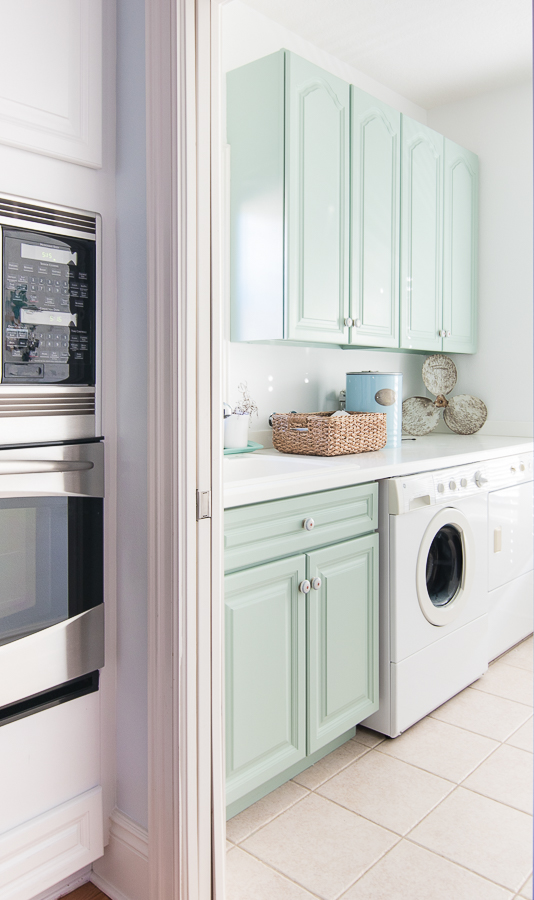 This laundry room from Suburban Faux Pas gives off such a peaceful feeling. How is that even possible considering the dirty work that goes on there? haha. Love how she stores stuff in glass jars like I do. They are inexpensive and keeps things looks clean!
This gorgeous laundry room from Bre Purposed is so fun. Love her style and those great blue cabinets!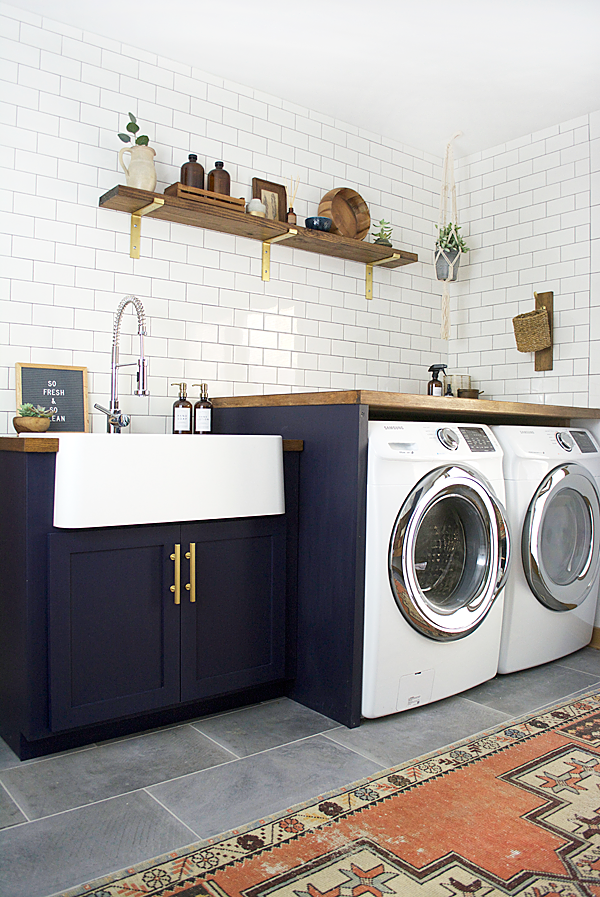 Found this tutorial for Shiplap and Shelving for the Laundry Room during my search. Love the way it turned out!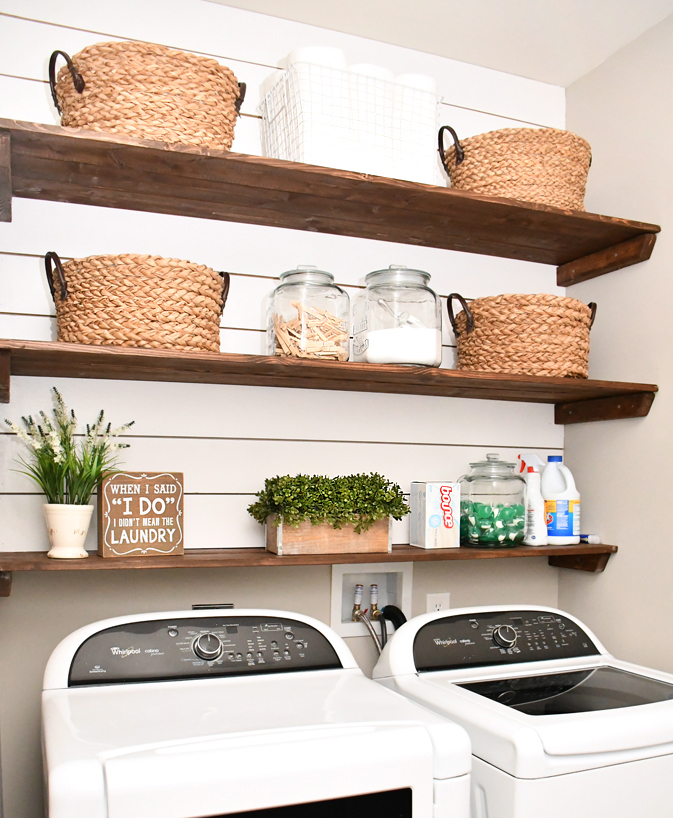 Laundry Room Organization
Here are a few Laundry Room Staples that will help keep things organized and looking good:
Be sure to pin the image below!