This Farmhouse Christmas Tree is simple but fun and the painted galvanized tree collar is the cherry on top! (or should I say bottom?)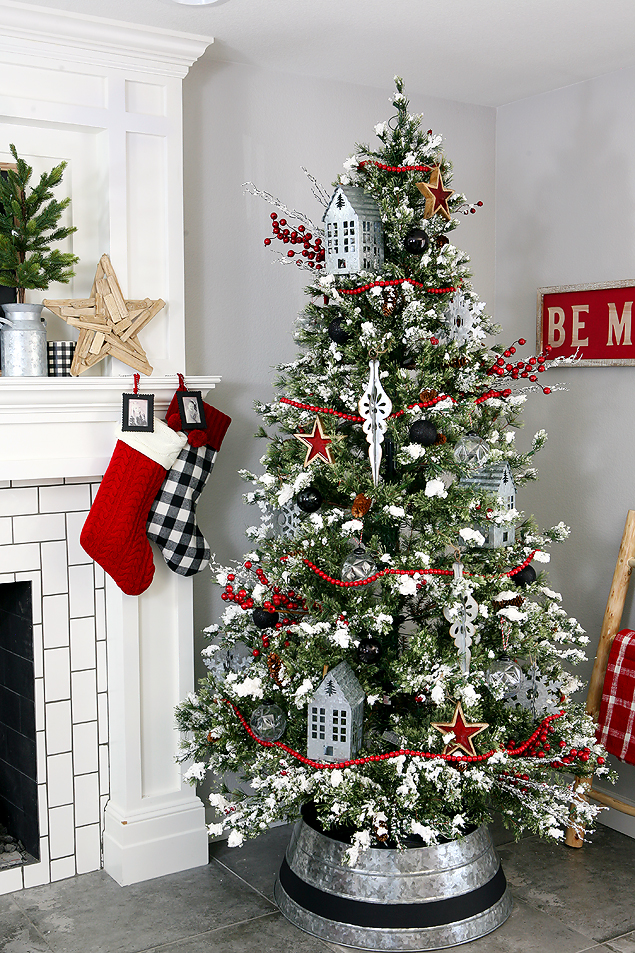 We are excited to share our Farmhouse Christmas Tree we just finished in partnership with JOANN! It looks AMAZING next to our Farmhouse Christmas Mantel that we shared a couple weeks ago. Today we are going to share all the fun ornaments and trimmings we used to make our tree just perfect and my favorite part is probably the painted tree collar. So super easy to do and it turned out great!
Galvanized Christmas Tree Collar
I'm sure you've seen these tree collars popping up everywhere.  We think they are great, but we wanted to customize ours a bit. So we grabbed this awesome galvanized tree collar and some black acrylic paint from JOANN. Then simply painted that 3rd section with the black paint. There's even lines there for you to paint between. How easy is that? haha. That one simple step gives it a bit of a modern farmhouse feel. It's so fun when something so simple and easy makes such a big impact!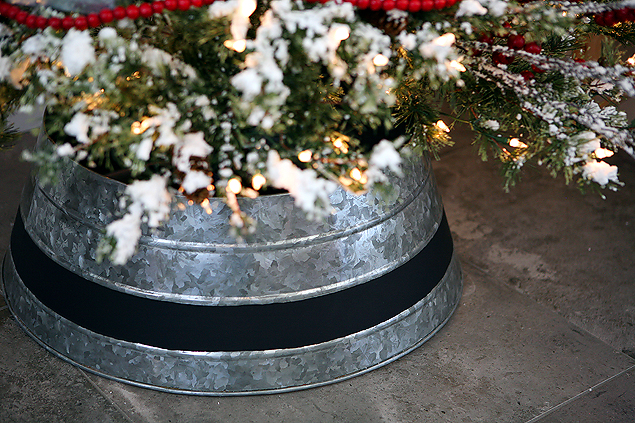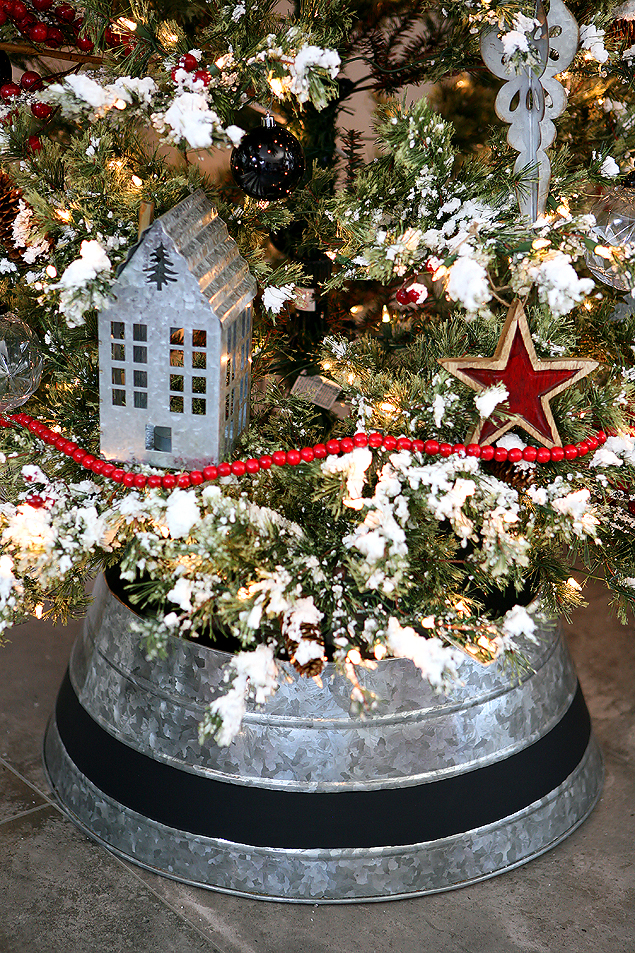 Farmhouse Christmas Tree
Now let's go step by step on how we decorated our Farmhouse Tree. We like to always start with some kind of a garland. We thought the red beaded garland was great and loved the pop of color. Then we placed our large Currant Berry Sprays and Iced Branches. We spread them out at varying heights buy kept them grouped together. So one Currant Berry spray and one Iced Branch placed next to each other.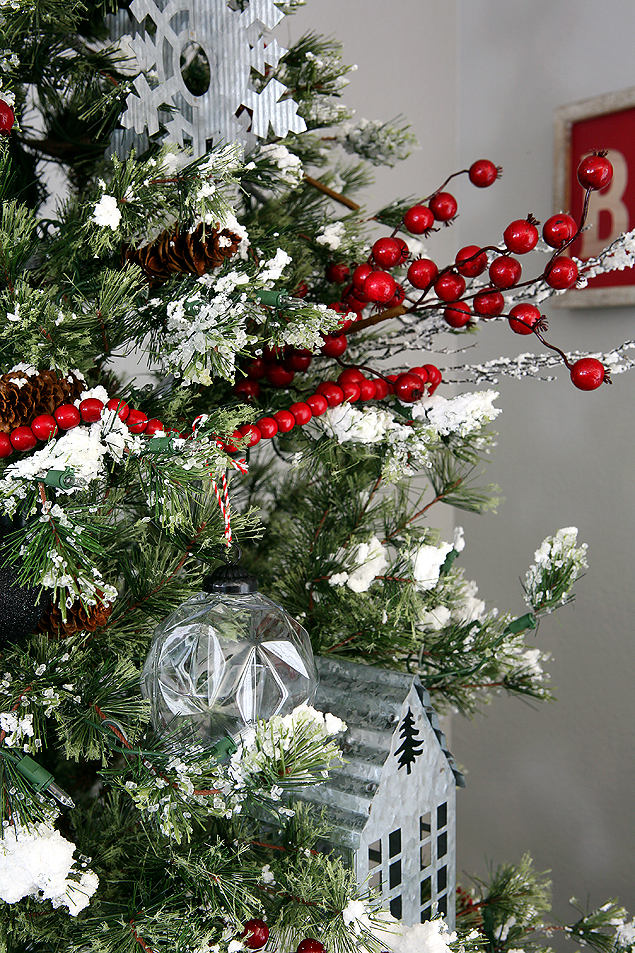 Next we added our largest ornaments. The galvanized houses are not actually ornaments, but we love the way they look nuzzled into the tree. It just takes 3 of them because they really stand out and make a statement. Then we added these awesome teardrop metal ornaments (pictured below) from JOANN. They are really big and we just love them so much.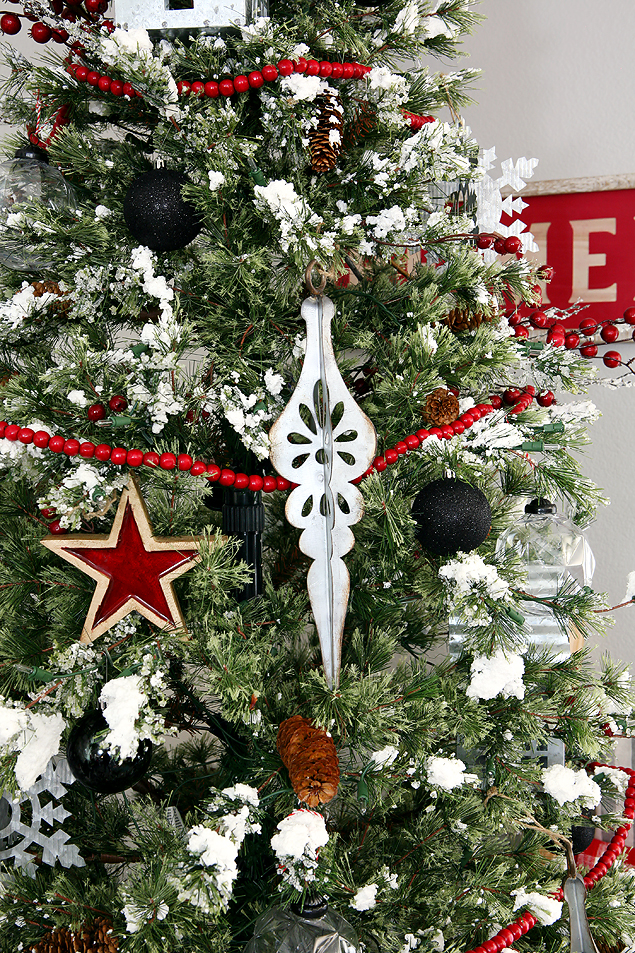 Then we filled in the empty spots with these fun ornaments:
Wood/Red Stars – love these. The mix of the wood and the shiny red is just the perfect combination.
Galvanized 3D Snowflakes – These are so awesome. I love all of the galvanized metal ornaments JOANN has this year!
Galvanized Star Ornaments – Another fun metal ornament that looks great on the tree.
Plastic Bulbs – These are so fun because they look like vintage glass ornaments, but really are just inexpensive plastic ornaments. Only a couple dollars each at JOANN.
Black Bulbs – These are just some ornaments we already had and used to fill in some empty places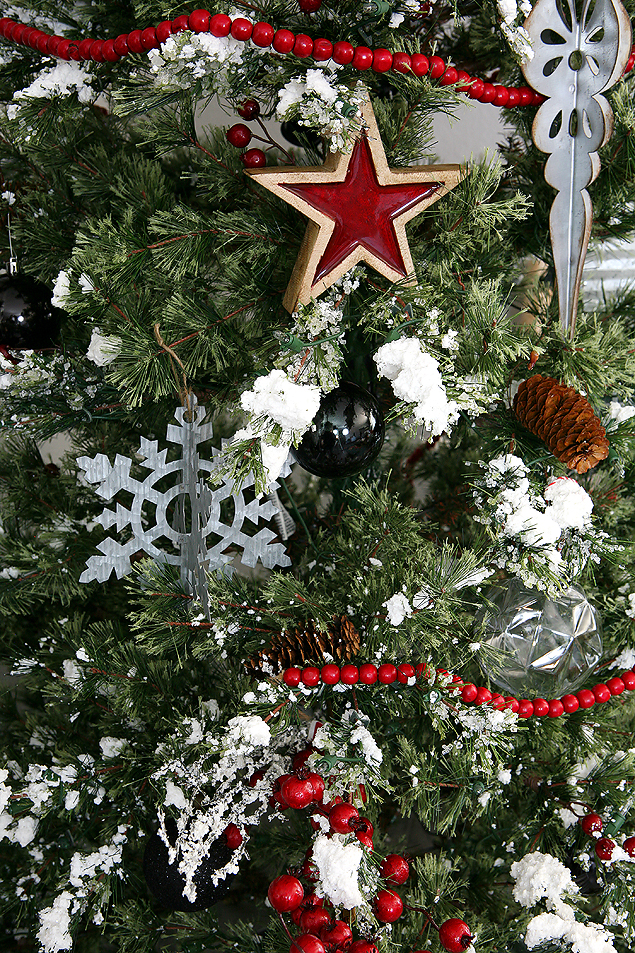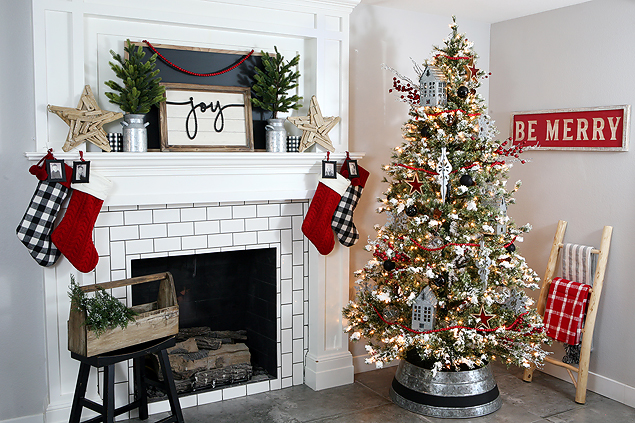 I'm sure you've noticed that awesome Be Merry sign on the wall. We grabbed that at JOANN too because it was pretty much love at first sight. This little corner has quickly turned into a favorite in my house! I could just sit back and drink hot cocoa here all day. 🙂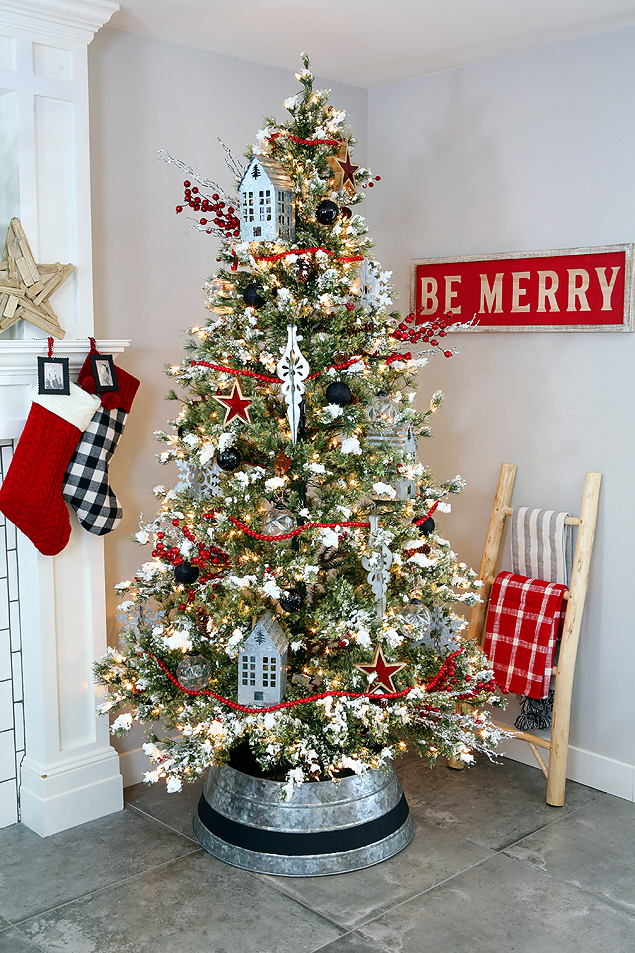 If you missed the post on our Farmhouse Christmas Mantel you can check it out HERE! 

Hope you are enjoying decking your halls and making your house Merry and Bright!