Hello!  It's Amy again from My Name Is Snickeroodle and can you believe we are just days away from Thanksgiving?!  It's my second favorite holiday because my favorite meal of all time is a classic Thanksgiving feast!
Even as a young girl, I absolutely loved everything about it.  From helping my mom in the kitchen to watching out the window to see when extended family would come.  I think my favorite part of the whole day was the aromas that would fill the house with all of the wonderful food that was baking and simmering away.
Since I started making my own meals as an adult, I've tried putting a different twist on the turkey and side dishes each year.  Nothing too crazy, but just enough to add a little something to make it extra special.
This year the mashed potatoes are getting a "makeover" and I'm super pleased with the outcome!  They are made with roasted garlic and rosemary infused milk.  And of course plenty of butter!  They are super creamy with a hint of garlic and rosemary flavor. 
Thanksgiving is the perfect time to go a little above and beyond in the kitchen.  And I'm here to tell you that these potatoes will wow your family and friends.  They aren't super difficult to make and come together in under 30 minutes.
Once you've made them, I'm sure they will be made throughout the whole year!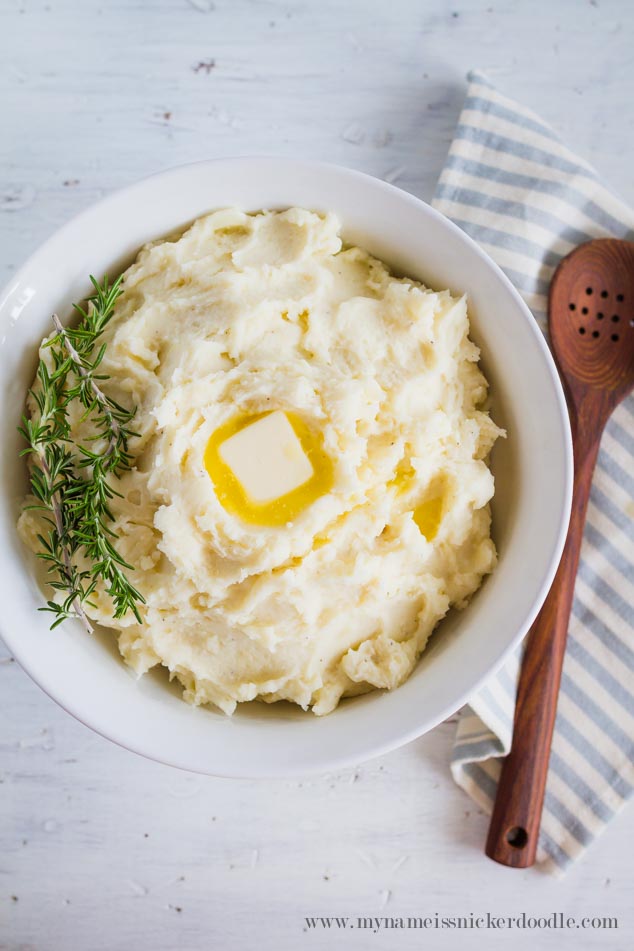 ---
Visit Amy on her BLOG | INSTAGRAM | FACEBOOK | PINTEREST | GOOGLE+ 
Make sure to try these other recipes and projects from My Name Is Snickerdoodle!
How To Cook The Perfect Turkey
Christmas Kids Hand Print Wreath
Here are a few more Thanksgiving posts you can find on Eighteen25: