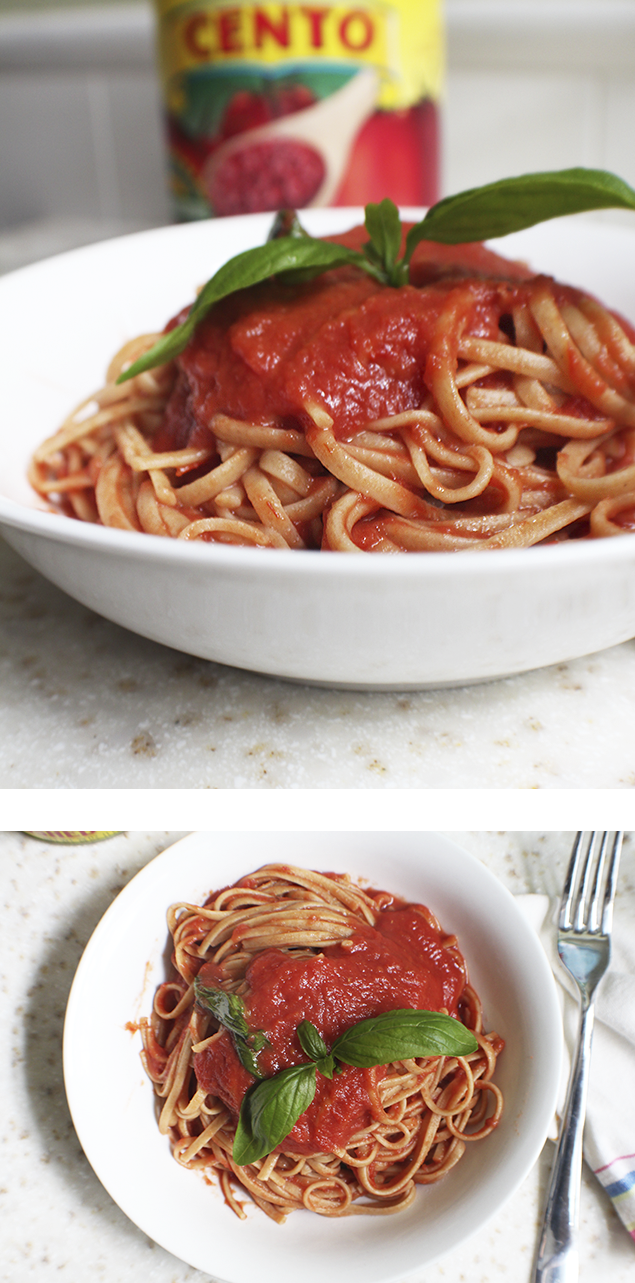 So, hello, everyone. This is my first post as a contributor here and I'm very excited! I can't wait to share my recipes and ideas with you all. Today I'm sharing one of my favorites that's super easy to make even if you aren't the best cook (I promise).
When it's like, 200 degrees out, you do not want to be making something that takes hours over a hot stove. Nuh-uh. It's too much. Even if you have the A/C crankin' you still don't want to be standing stirring something, sweating.
Wow, alliteration! My 8th grade English teacher Mrs. Clarey would be proud.
Anyway, I've been making this sauce for a couple of years now. Mainly in the summertime, but I've been known to make it in a double batch on a cold day. It's my go-to simple sauce recipe because of a few reasons: 1) it's easy, 2) it tastes delicious, 3) it's quick to make and 4) it's EXCELLENT on both pasta and homemade pizza. And it's also amazing on crusty bread with a thick slice of fresh mozzarella. Yum.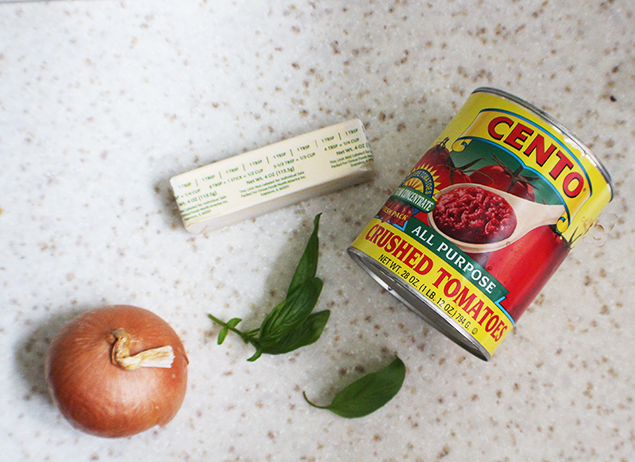 And best of all? There are 4 main ingredients, shown above, and two minor ingredients (sugar and salt). That's just 6 ingredients in all. And in 20 minutes, you've got a delicious sauce, ready to eat. Also, it can be made with peeled whole canned tomatoes as well, if you prefer a chunkier sauce. Just crush 'em in the pot with your hands before adding the other ingredients.
SALSA SEMPLICE (SIMPLE SAUCE)
Author:
Marilla Liff from Cupcake Rehab
Adapted from a recipe by Marcella Hazan
Ingredients
2 (28-ounce) cans crushed tomatoes
3 tablespoons fresh finely chopped basil (or use dried basil, just less of it, 'cause it's stronger), or just throw in a few basil leaves, which is what I like to do
½ cup (1 stick) butter (unsalted or salted, whichever you have)
1 medium onion, peeled and cut in half
2 tablespoons sugar
2 teaspoons salt
Instructions
Put all ingredients in a large saucepan over medium heat, bring to a simmer, then lower heat and cook for 20 minutes, stirring occasionally.
Remove onion before tossing sauce with the pasta, saucing your pizza or using in your baked pasta dish. I just throw the onion away, but maybe there's another use you can think of for it.
I like to eat it on a sweltering hot summer evening, with more fresh basil on top, sprinkled with parmigiano reggiano, and with a cold glass of San Pellegrino. I happen to grow my own basil in our garden, so it's easy to just go snip however much I want. If you choose to use dried basil that's fine too!
The butter imparts an amazing, velvety richness to the sauce. You can't achieve that with olive oil! If you've never had a tomato sauce with butter before, you have to try this.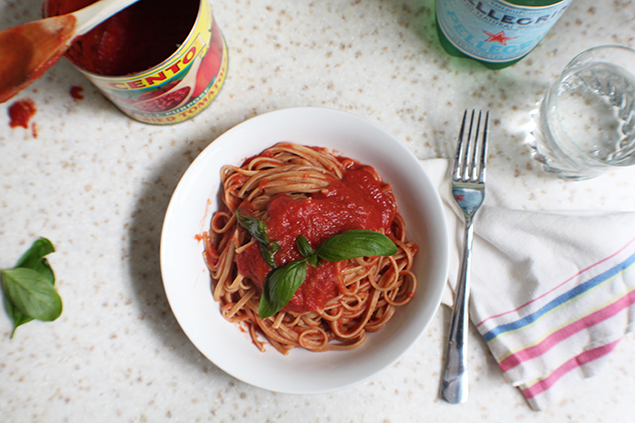 And yes, if you grow your own tomatoes (I do too!), you can certainly use them in this sauce! Let them get ripe or even a little overripe, then just get rid of the stem part and chop 'em up. Throw 'em in a pot (skin, seeds and all!) and add the rest of the ingredients. You'll need about 10- 12 tomatoes to equal one 28-ounce can. You can also steam peel the tomatoes for a more "canned" tomato feeling. I would recommend doing this only if you grow such an exorbitant amount of tomatoes that you need to use them or you grow Roma/Sam Marzano/Amish Paste tomatoes specifically to use them in sauce. Otherwise- save the fresh tomatoes for eating fresh. There's nothing wrong with a good can of tomatoes!
This sauce is also very good with toasted pine nuts sprinkled on top.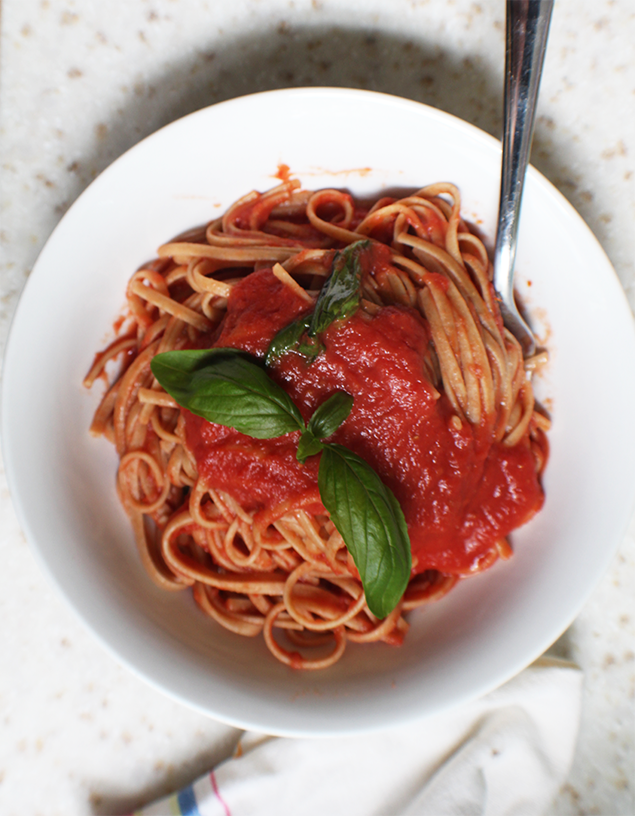 _____________________________________
We are so excited to have the talented Marilla from Cupcake Rehab sharing her delicious recipes and amazing photography with us! We look forward to trying every single thing she shares here!
Visit Marilla on her Blog || Facebook || Instagram || Pinterest || Twitter
and check out these other great posts of hers…