Spring is here and the flowers are in bloom. Why not celebrate the new season with your very own DIY flower rings? Hey everyone! It's Kara from A Kailo Chic Life and I am here today to show you how to make your very own flower rings using a childhood craft supply, Shrinky Dinks! These little floral rings are the perfect accessory for your spring wardrobe.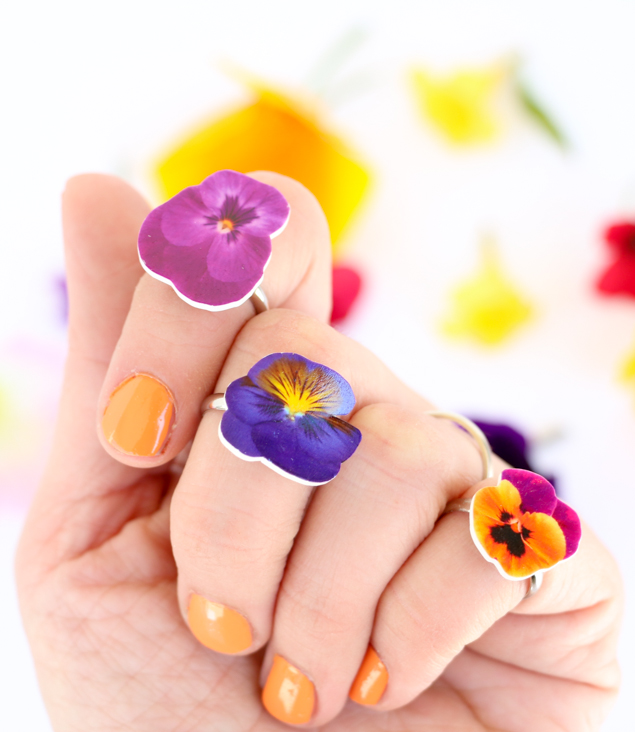 Can you believe how adorable these are? They are so simple to make and can be customized to your favorite color and flower.
The Supplies:
Shrinky Dink Paper for Ink Jet printers
Image of flower of your choice in your favorite color. Pansy and viola flower pictures work best. I just google image search for flower pictures that I like.
Blank rings with pad
Jewelry glue or epoxy (can be found in the jewelry making section of the craft store)
Ink jet printer, computer, oven, and scissors
Begin by sizing your picture to about 2.5″ wide by 2.5″ tall give or take half an inch. You don't want to distort the flower image, so as long as it is appx. 2-3″ in diameter, you are good. Turn the transparency of the picture to 30% (you want only about 70% of the full opacity because when the image shrinks it will darken and the color will be more saturated). If you have a photo editing program, you can arrange several flower images on one letter sized document and then print them out on your shrinky dink film.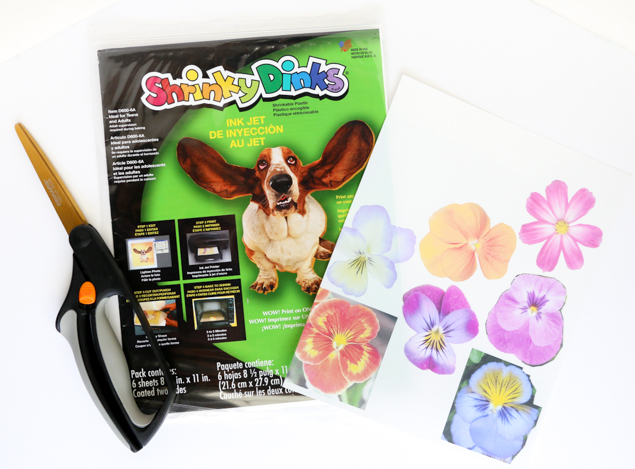 Preheat your oven to 320°F and then use your scissors to cut the images of the flowers out. Lay the flowers on a piece of white paper on a cookie sheet, image side up, and bake until the shrink paper stops curling and lays flat. The shrinking time will vary, but takes about 3-4 minutes.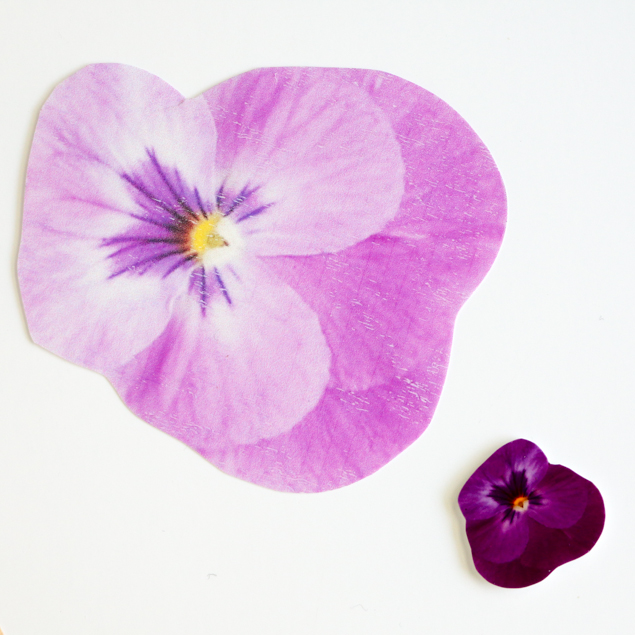 Let your flower cool and then use your jewelry glue to attach the flower piece to the ring pad.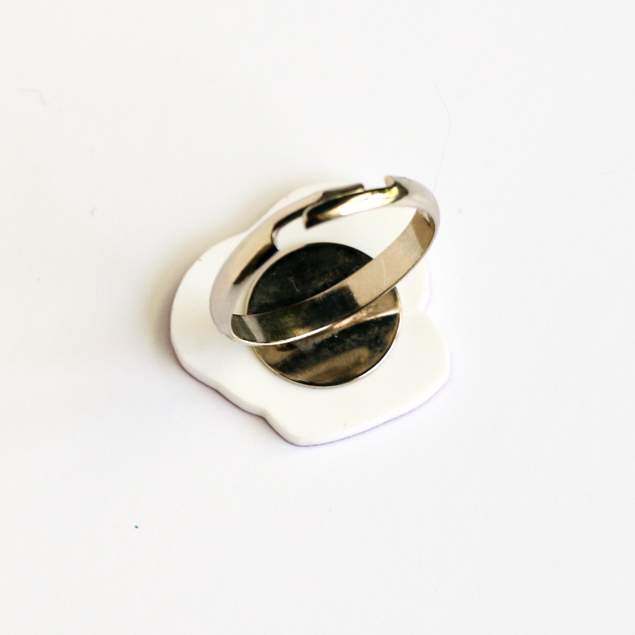 Repeat. Repeat. Repeat. Until you get tired of making flower rings. But trust me, you won't!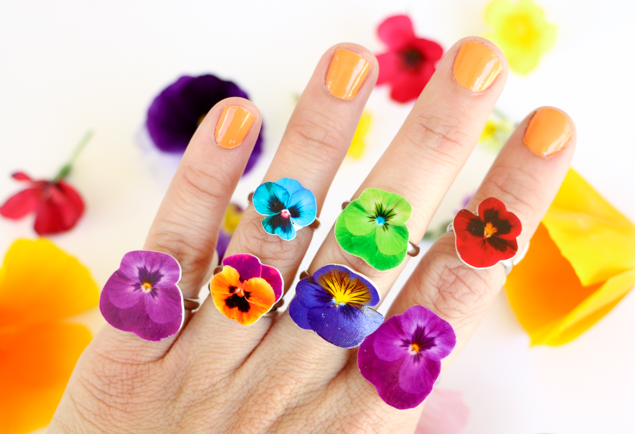 See, I could wear one on every finger and be happy. It's like a bouquet of flowers on my hand! But seriously, these dainty little rings are perfect for spring and I am sure that your friends would love to make a few too!
---
Visit Kara at her Blog : Facebook : Instagram : Pinterest : Twitter
and check out a few of her other crafty DIY's like:
 Plastic Easter egg mini spring succulent planters
 Pom pom trim ring dishes: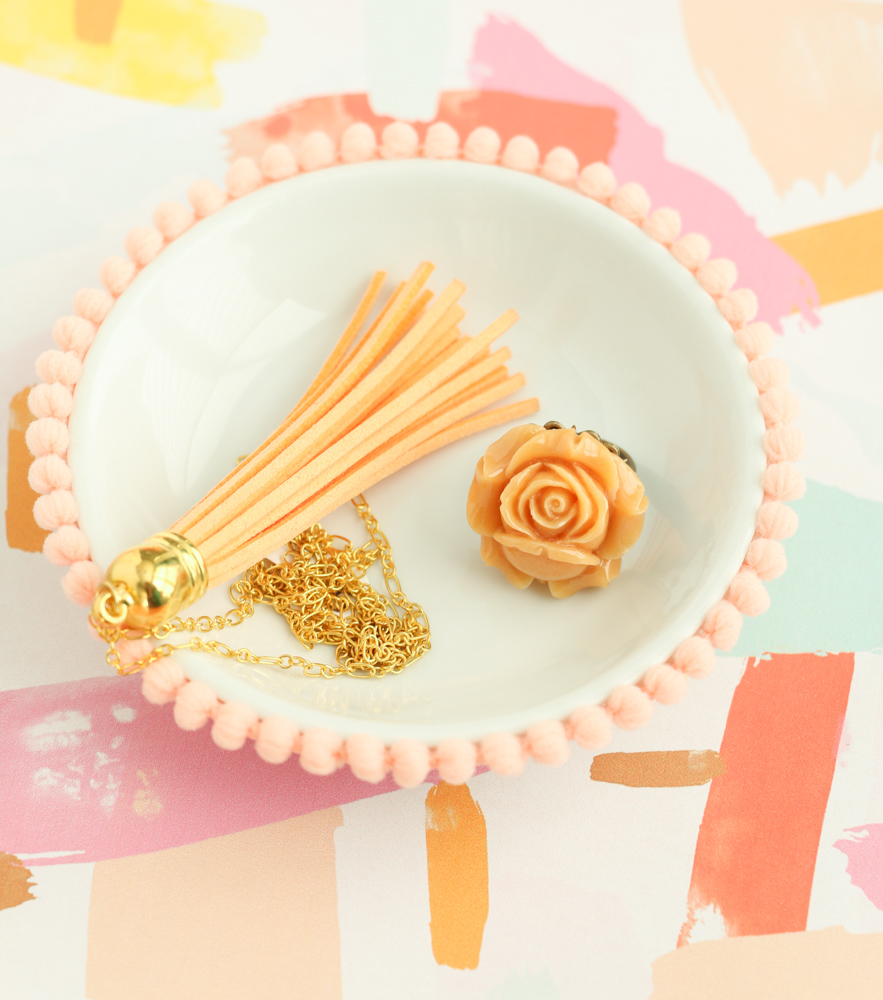 ---
Here are a few more Jewelry DIY projects on Eighteen25 you might like to try…
Perler Bead Jewelry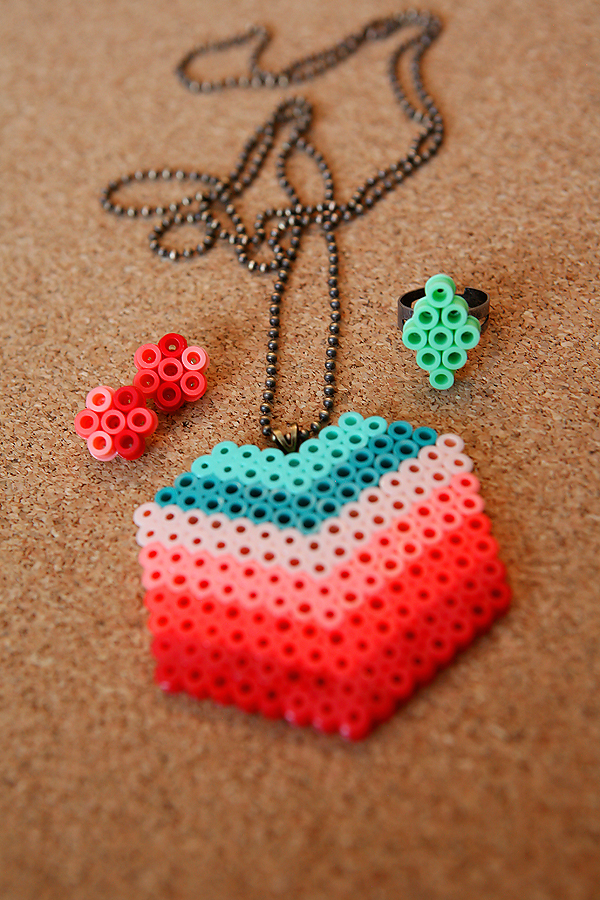 DIY Earring Holder