____________________________________________
Well Back to School Season is right upon us.  If your kiddos haven't already gone back, my guess is that yours will be starting very soon.  This week I sent my oldest off to Kindergarten.  There were tears, lots of hugs & kisses, and copious amounts of Diet Coke to cope with the momentous occasion.   I feel so very fortunate that he has such a wonderful teacher this year.  So of course we had to make her a fun treat to start the year off right!
This was seriously SO easy to put together, and who doesn't LOVE Oreos? I guess if you don't you could also use any other " mini " cookie like Chips Ahoy. Most of the supplies you can pick up from your grocery store or big box store like Target or Wal-Mart.
You will need :
•One box of mini Oreos
• One Plastic Mason Jar Drinking Mug with Straw
• A little bit of cute twine or Ribbon
• Scissors
When filling your Mason Jar with Oreos, I highly recommend keeping your straw in the mug.  This way you won't have to try and jam it in after it's full of oreos.  If there are any extra just pop them in your mouth for easy clean up!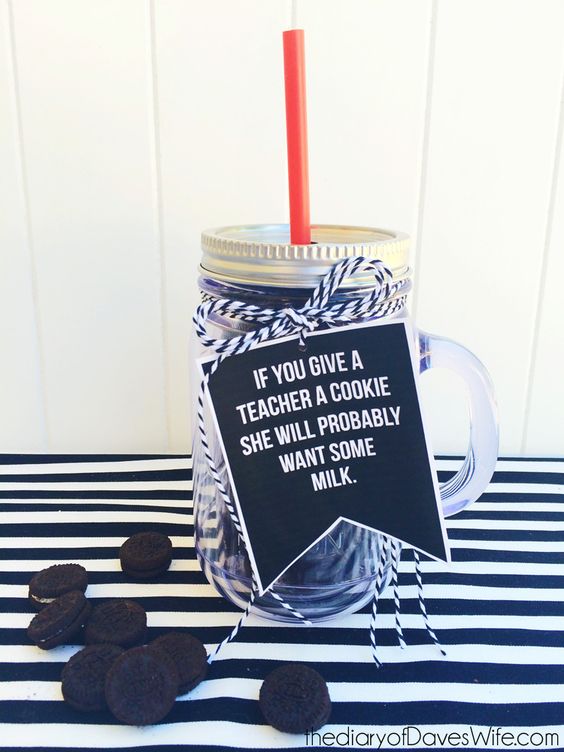 Then you can easily screw on the lid, wrap it in twine and attach the tag.
See I told ya this would be Easy Peasy!
And for under $10 you have a cute and simple treat your kiddos teacher will love!
_____________________________