Hello Friends! I'm excited to be back today to share with you a recipe for a delicious dessert. With Summer officially upon us, I can't help but want to bake and make things that scream summer. It must be genetic, because I can remember numerous summer gatherings as a child where my late Grandmother Shirley had cooked & baked up an amazing spread of food for our entire extended family. From pies, to fruit salad, homemade rolls, ham, and fried chicken. We ate until we couldn't eat anymore, swam in her swimming pool, and chased all over her beautiful back yard. Today's recipe is inspired by a dessert that we ate at a majority of those family gatherings. It's light and fresh, and really easy to make.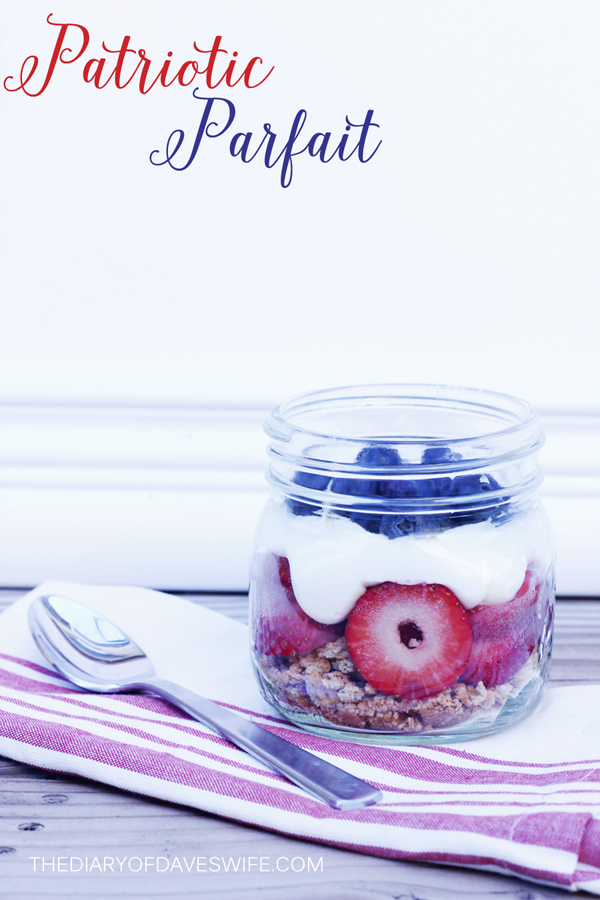 This originated as a casserole style dessert of a graham cracker crust, a cream cheesy filling, and topped with bananas.  But with the 4th quickly approaching, I decided to put a spin on this favorite by making them in individual jars, and topping it with some patriotic fruit. Because everything is cuter in a mason jar, am I right?
Patriotic Parfait
For this recipe you don't even have to turn on your oven!
Ingredients
2 Sleeves of Graham Crackers (crushed)
1 Pint of Fresh Blueberries
1 Pint of Strawberries, sliced
8 oz of Cream Cheese (softened)
1 Cup of Powder Sugar
¾ Cup of Cool Whip
Instructions
In a medium mixing bowl, whip together your softened cream cheese and powdered sugar. Once combined and smooth, whip in your cool whip.
Assemble your Parfaits.
I used (6) short, wide mouth mason jars, but any cute glassware would work too.
Fill the base of your jars with crumbled graham crackers.
Then layer in your sliced strawberries.
Next, spoon in a nice dollop of your cream cheese filling making sure to cover those strawberries.
Last, cover the top with some fresh blueberries!
See I told you this was going to be easy.  You can even make these a day ahead and keep them in your refrigerator with their lids screwed in place.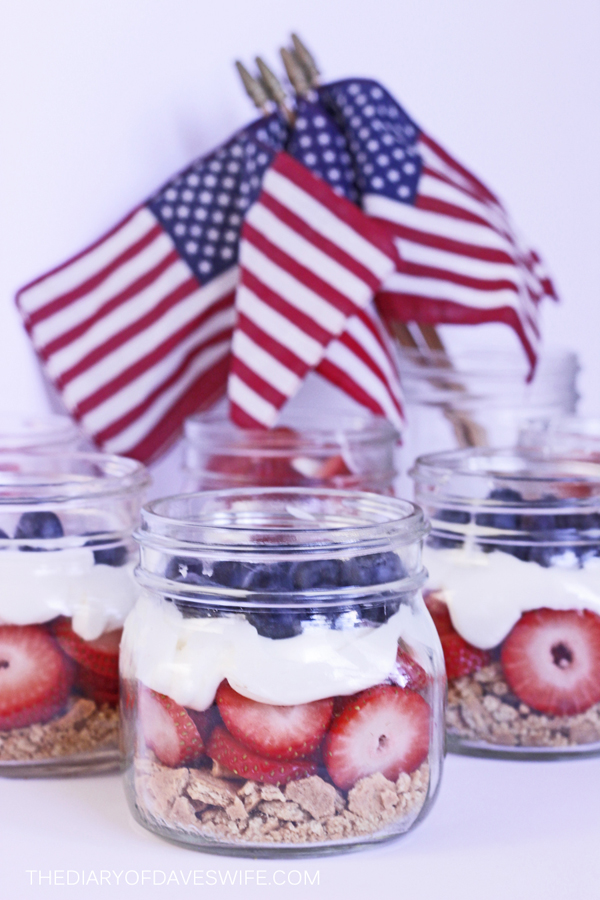 If you'd like to check out more of my recipes or creative ideas, you can find me over at The Diary of DavesWife.
The place where I spill it all.
and check out these other great posts of hers…

Staircase Gallery Wall
|
 Beautiful Savior Print
|
Raspberry Butter Cream Frosting