We are so excited to have
Vanessa from the blog Tried & True
back contributing this year! She is one of the most creative people around and we couldn't be happier to have her sharing her talents here on eighteen25!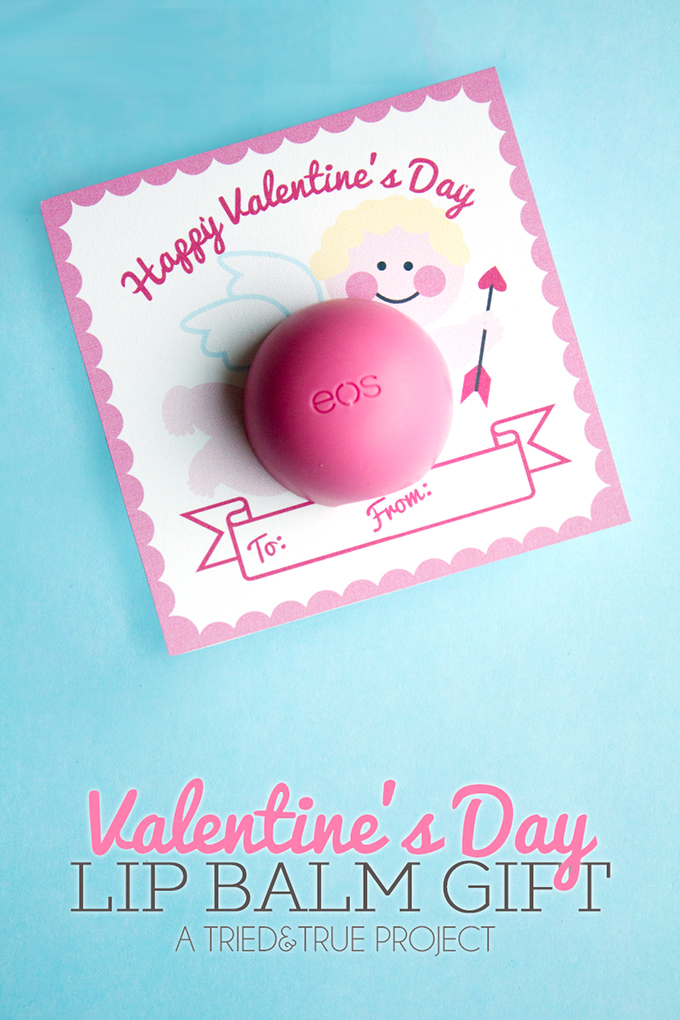 I love Valentine sweets and chocolates as much as the next person but there are times when I really appreciate a Valentine's Day gift alternative that won't make a dentist cringe! Last month, I created a couple last minute Christmas gifts using EOS lip balms and they were such a hit that I thought it would be fun to make a Valentine's Day version for the lovely Eighteen25 ladies. Hope you like it!
Making this Lip Balm Valentine's Day Gift is super easy. Just print off the free label linked below and trim around the edges and center circle with a pair of sharp scissors. You're going to want to buy a pink lip balm (I bought the
EOS Strawberry Sorbet
) to take the place of cupid's belly. Just open up the lip balm, sandwich the label between the two halves, and turn shut. Done and done!
I'm planning on giving these to my son's kindergarten teachers since I'm pretty sure they get plenty of chocolate and candies. I know I would love to receive an EOS lip balm on Valentine's Day. You just can't beat a thoughtful gift that won't break the bank!
Click here to download
Lip Balm Valentine's Day Gift Label
Hope you all enjoy this Lip Balm Valentine's Day Gift just as much as I enjoyed making it! It's a super cute gift that can be put together at the last minute because, if you're anything like me, you won't remember to get anything until about 10 pm on February 13th. Hope you have a wonderfully sweet Valentine's Day!
————————————-