We absolutely love Nat & Holly from My Sister's Suitcase! Besides the fact that they are cute sisters, they are incredibly talented. We are so lucky to have Nat here this year sharing her amazing ideas with all of us. I have no doubt she'll be spoiling us over and over with free printables and other awesomeness!
________________________________
Hey eighteen25 readers! I'm SO excited to be here to share a Valentine printable with you. I'm not going to lie, also a little "star struck" because this is one of the very first blogs I ever read and followed (and fell in love with!) I love the sisters behind eighteen25 and their brilliant ideas!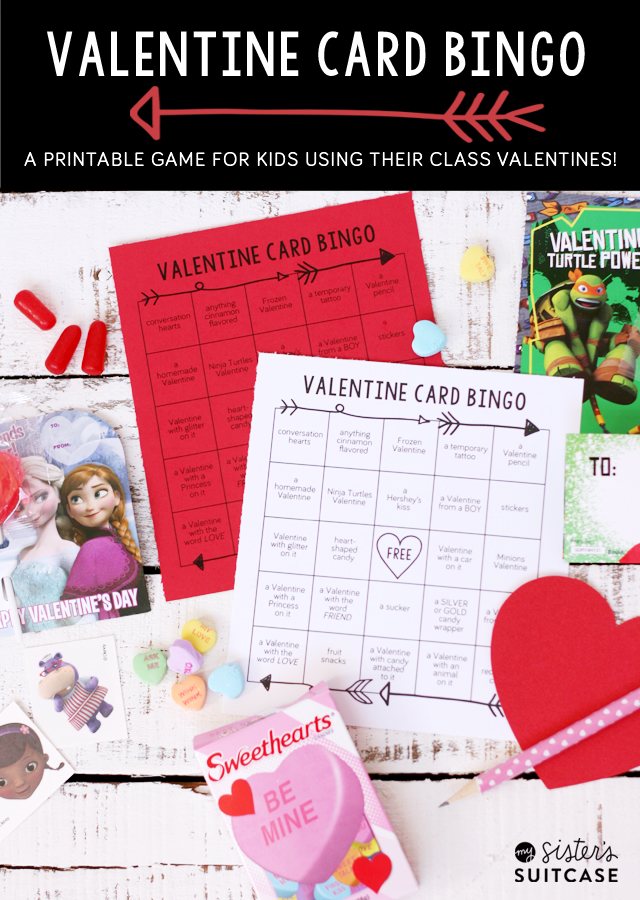 Wasn't Valentine's Day the best when you were a kid? Decorating a mailbox, passing out cards and treats to everyone in the class, and then coming home to dump out the box and inspect your loot? I've created a little Bingo game kids can play using their stash of cards and candy! I tried to think of classic Valentine treats and also things that might be popular with kids this year. (Frozen and TMNT, anyone?)
TO PLAY:
1. Kids can look through their pile and mark off things as they find them, OR
2. You can call out a square at a time like traditional BINGO (to play this way, simply cut up one of the boards and draw a square at a time.)
You can use this board however you'd like, but here are some rules I came up with that might help:
1. You may only mark one square per turn (even though there may be several cards that fit the category)
2. You can count a card more than once – for example the the red Hot Tamales are also cinnamon-flavored, bu you can't cross them both out on the same turn.
3. Variation: Choose one item from the pile at a time and cross off one square that it would fit.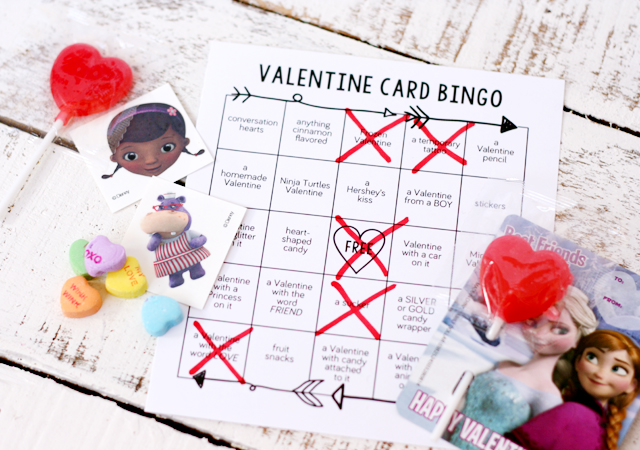 Here's a little close up of what the game board looks like!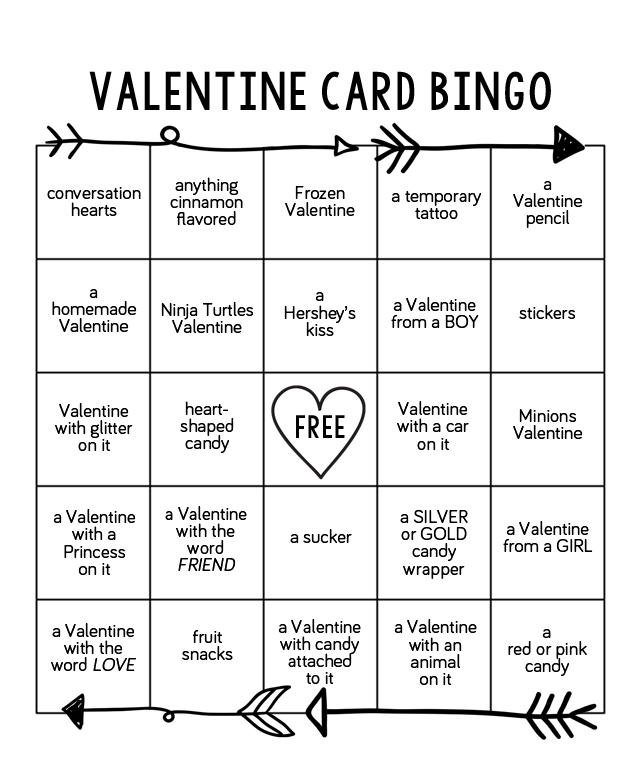 I purposely made this printable black and white so it would be easy to copy for classrooms – and you can also print it on any color of paper! The PDFs include 4 different game boards, 2 on each page.
Thanks for having me! For more valentine ideas and printables, check out some of our latest projects:
____________________________________
and check out these other great posts of theirs…