About 9 years ago we started a tradition in our family at Thanksgiving. We call it our Book Of Thanks and it's one of my most treasured keepsakes. (You can take a look at ours HERE.) The book we use for ours is no longer available and I've been wanting a version that everyone could easily make and use for a couple years now, so I'm very excited about today's post because we have Book of Thanks printables! I'm so happy that now everyone can have their very own book for their family. Yay!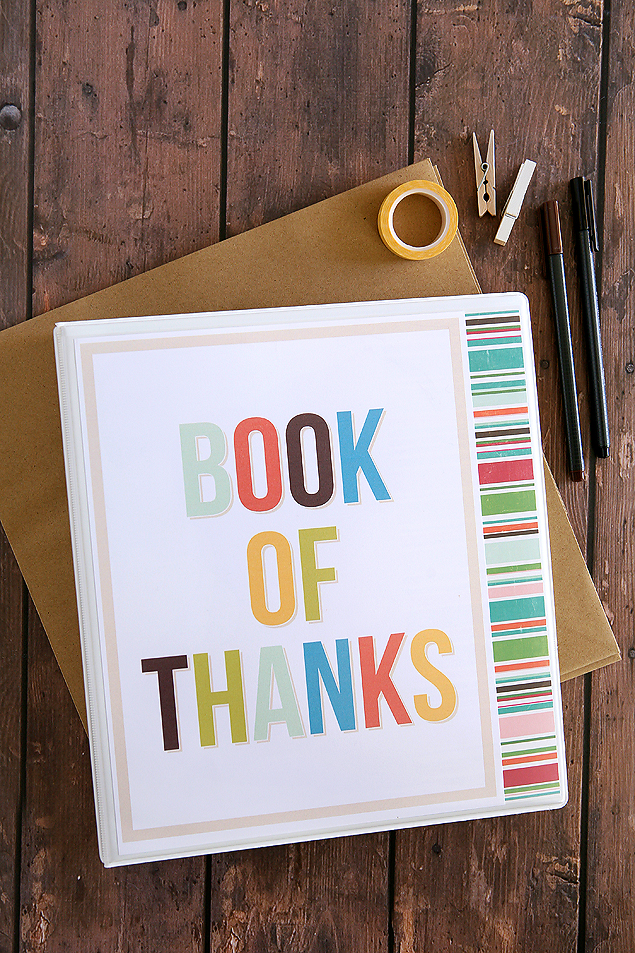 Every year when we gather for Thanksgiving we do two things for our book. We pass it around and let everyone write what they are thankful for in it and we make sure to get a picture of everyone together. It takes very little effort, but the reward is obviously huge.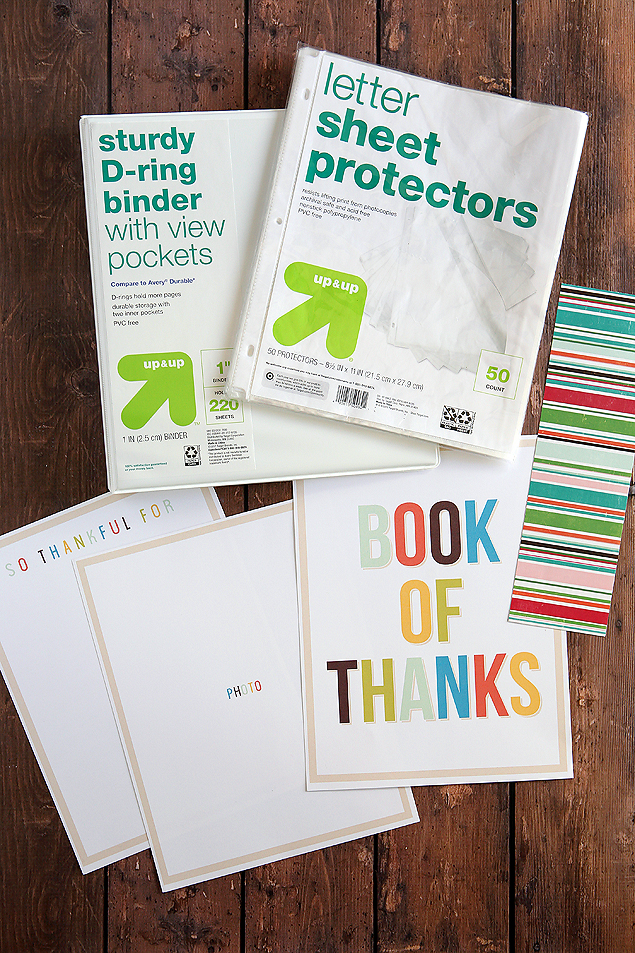 Here's what you'll need to make your own: [affiliate links included]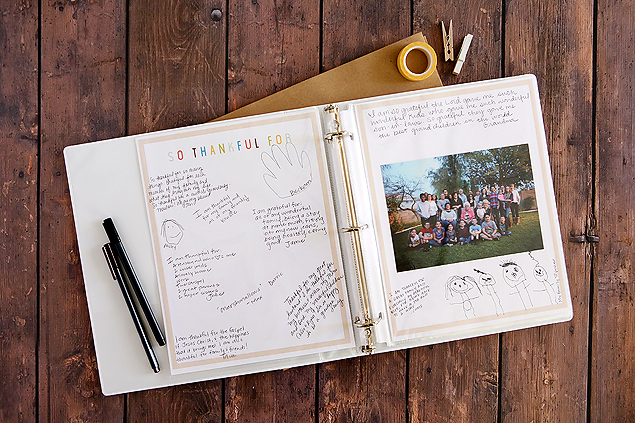 Pass your book around the table and let everyone have a turn with it. Sometimes we have to give some extra encouragement to some of the men to participate, but usually everyone is pretty good about it. And please let the kids loose with it. I just love the silly and sweet things they say. Let them draw and scribble because before you know it they are off to college and even married.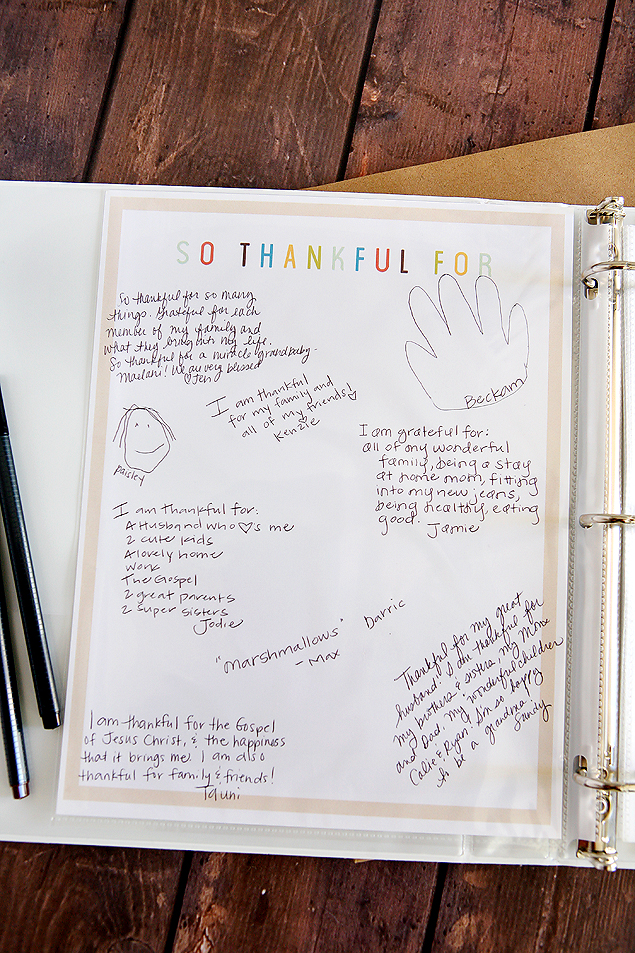 Since we started our book 9 years ago we've lost precious family members. It means so much to have their picture, their handwriting and their sweet words recorded in our book. When I look back through the book each year it reminds me of them and all the years we were blessed to have them with us.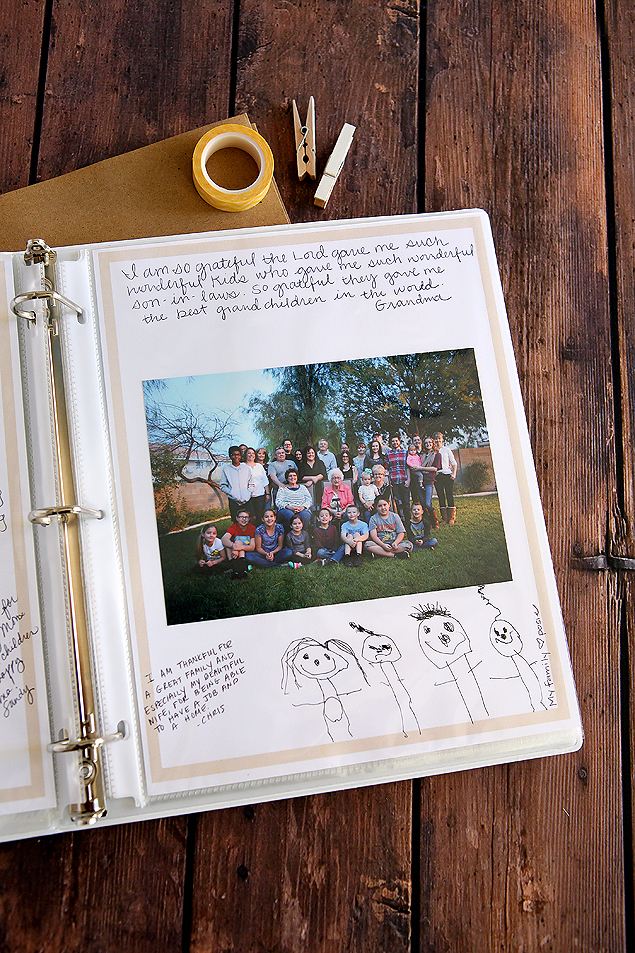 Depending on how large or small your Thanksgiving gathering is you can print more or less pages. If you have a large group you may want to print out a couple "So Thankful For" pages. If there is just a couple of you just use one page with your picture and writing all on the same page. There's obviously no right or wrong way to do it. Just whatever works best for you and your family.
One last thing. I always print my picture as a 5×7. I'll actually draw a rectangle where the picture will go so no one will write there. Also print your picture as soon as possible. There is one year in our book with no photo. Ugh. It makes me want to cry. But my computer actually crashed that year and I lost the picture. So don't wait. Just print it and get it in your book as fast as you can. 🙂
I can't wait to hear if you make a book. Be sure to share with us. It'll make us so happy!

Here are a few more fun Thanksgiving ideas you'll love: