Please welcome back…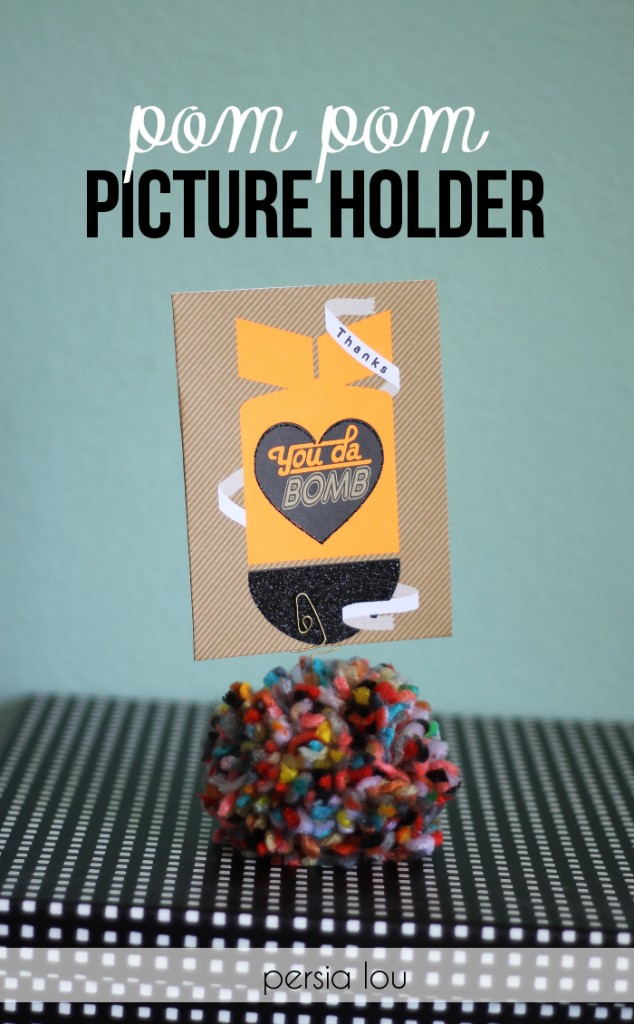 Hey guys! Today I have a super easy, super quick little craft that you can make with supplies you might already have on hand. PLUS this thing is actually a useful little craft. It doesn't get much better than that, amiright? (Have I sold you yet? Haha…) Here it is: a Pom Pom Picture Holder!
I first came up with the idea for this little picture holder when I was working on my little faux "mantel" area for Easter. I wanted to put this cute little tangram bunny up, but I didn't want to tape it on the wall or put it in a frame. Here was my solution: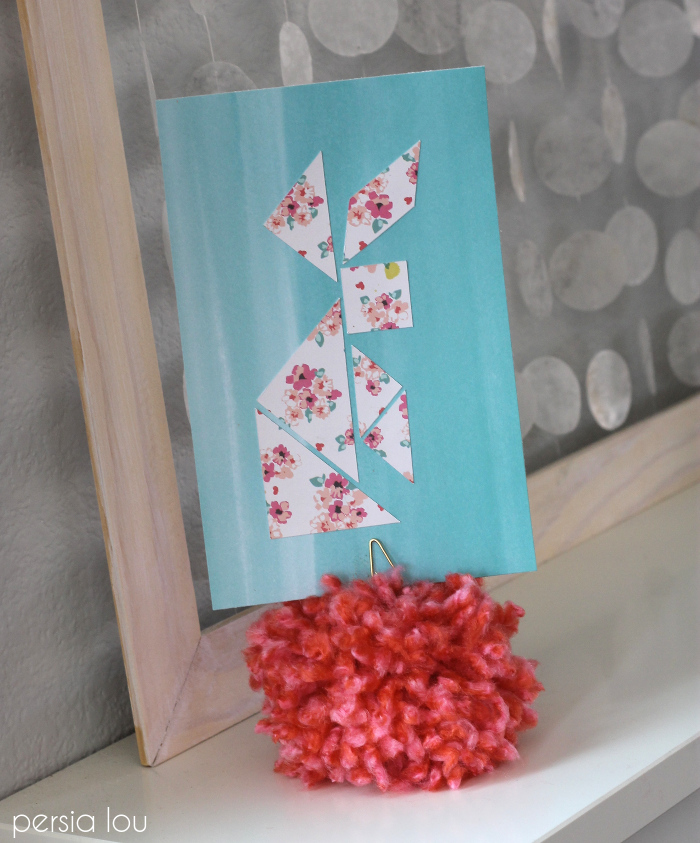 Cute, right? I think the pom pom looks like a fluffy little bunny tail. But these pom pom picture holders totally work for any little photo, printable, or piece of art you want to display around your home.
All you need to make one is:
yarn (I recommend a bulky weight yarn for this)

a piece of wire (or a large paper clip opened up)

round-nose pliers

spray paint (optional)
That is it!
To start off you need to make yourself a big ol' fluffy pom pom. I have pom pom makers, but usually I just end up using my fingers, like this: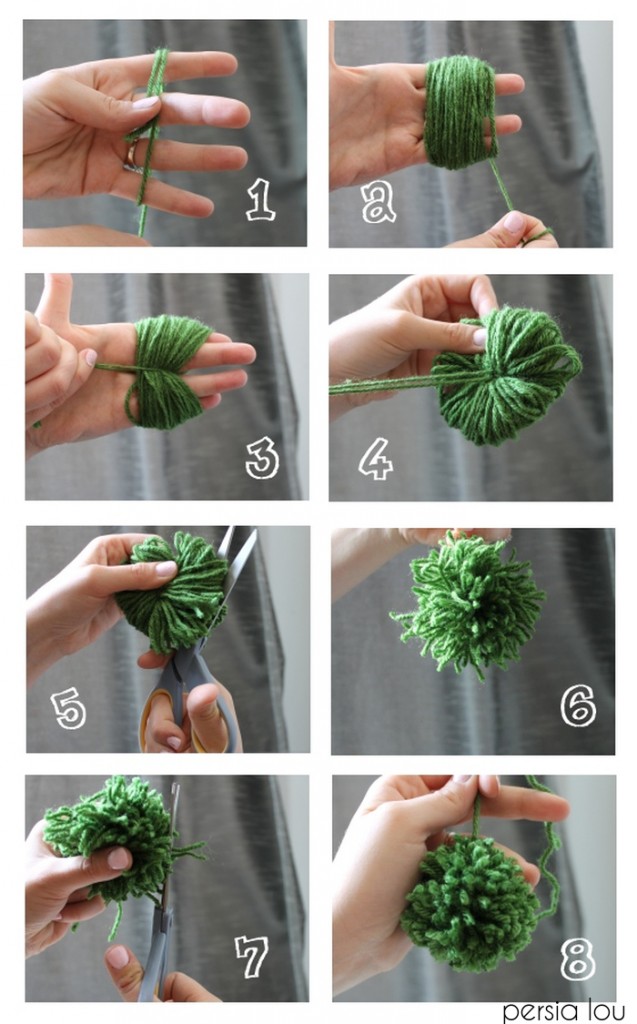 1.Wrap yarn around four fingers with fingers spread apart.
2. Keep on wrapping (for a bulky, fluffy pom pom, you are going to want to wrap a whole lot).
3. Push a separate piece of yarn between your two middle fingers and wrap around your bundle.
4. Tie it tight!
5. Cut all those loops open.
6. There's a big messy pom pom.
7. Give it a little hair cut to even it out.
8. Voila!
When your pom pom is all ready, cut yourself a piece of wire about six inches long and grab your round-nose pliers.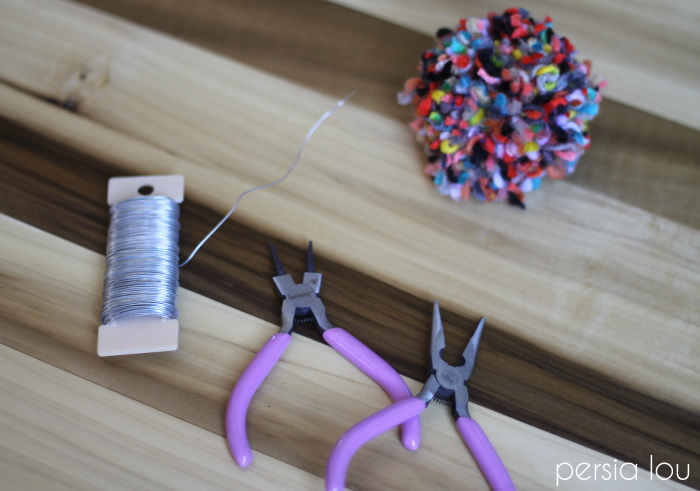 Starting at one end of your wire, use the round-nose pliers to shape the wire into a spiraling triangle shape. Using the pliers, grab the wire where you want it to bend and then bend the wire around the pliers. This will give your wire a nice, smooth bend.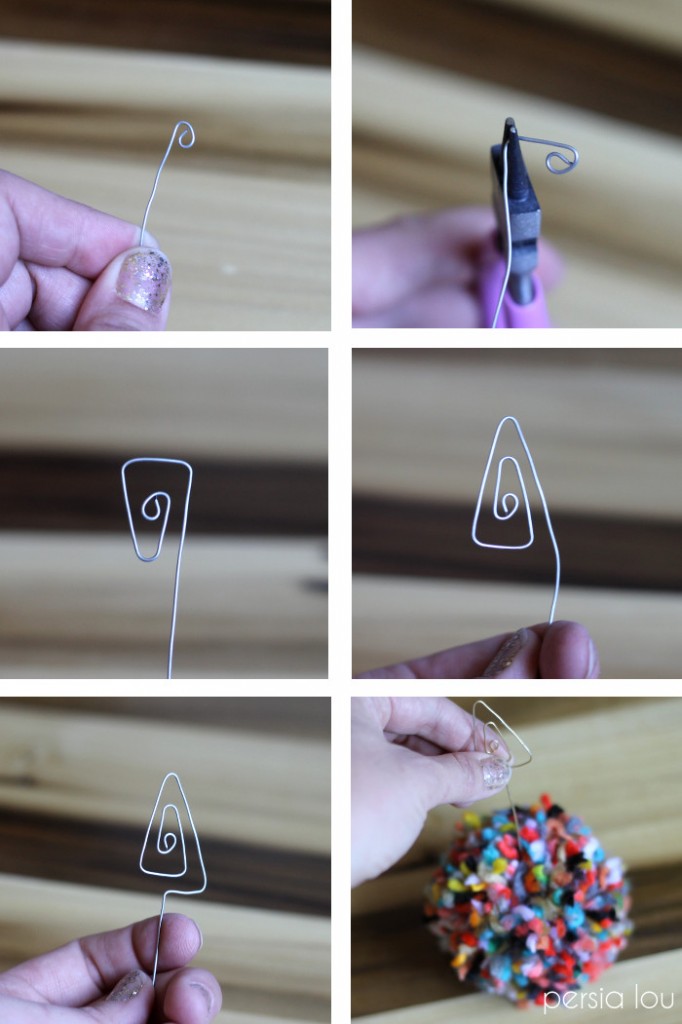 When your holder is in the right shape, you can give it a quick coat of spray paint if you want. I, of course, had to make mine gold. Then just stick the straight end right into the tight middle of the pom pom.
And that's it! Your pom pom picture holder is all ready to go. This little guy won't hold anything too heavy, but it is perfect for displaying instagram prints or little love notes.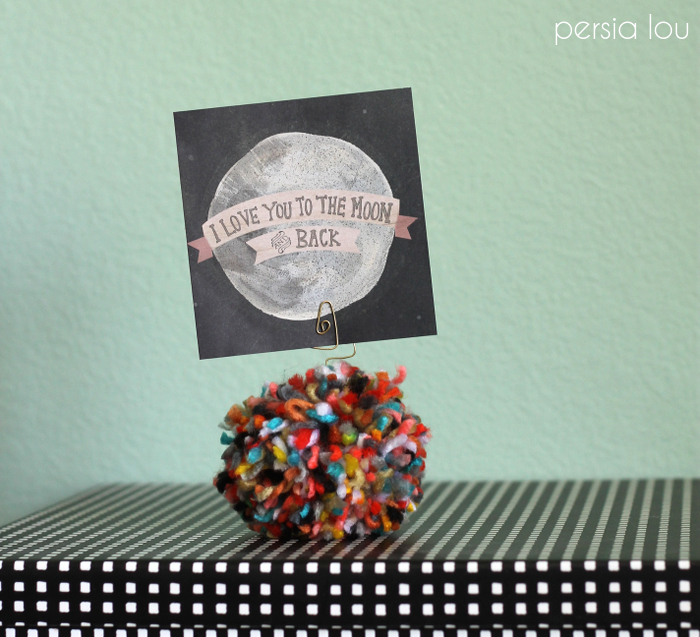 Ooh! OR – wouldn't they make cute little place cards for a craft or kids' party? I'm thinking yes. Happy crafting!
_____________________________________________
and check out these other great posts of hers…