(well actually a couple of you… introduced her to us first when we asked awhile back what food blogs you enjoy… so thank you 🙂 ) 
We were so happy when Mel agreed to come over and share some recipes that she likes to use during these hot summer months. Her blog is full of do-able recipes that use ingredients that are easy to find or that you already have in your pantry. Just the kind of recipes we like! After you check out what she's sharing here today… head over to
her blog
and check things out there. You're going to love it!!
. . . . . . . . . . .
I'm hoping and praying it isn't just
me, but man, I tell you what, there is something about the hot summer weather
that absolutely saps my motivation to cook. And this is coming from someone who
loves to cook (well, cook…but mostly, eat!).
I've quickly learned that in order to continue to feed all of our little
faces, I have to rely on no-fuss, no-heating-up-the-house recipes. I'd love to
share two of those with you today. Even if you have all the motivation in the
world to cook through the hot summer months, these recipes are still sure to
please (and save you a little time in the kitchen, too!).
First up is a delicious and simple
creamy herb dip. I know, I know. You are probably thinking "why can't I open up
one of those packets from the store, stir in some sour cream and call it good?"  Well, you sure can do that but I promise you that this dip will knock the socks
off the prepackaged stuff. The magic is the combination of sour cream, mayo and
cream cheese – all of which is mixed with fresh herbs and takes literally 5
seconds to prepare. Ok, maybe slightly longer, but not much. This fresh, creamy
dip is addictive. Purely addictive. And since it is served with fresh veggies,
I don't feel too guilty inhaling more than my fair share.
Green Herb Dip
(adapted from Ina Garten)
8 ounces cream cheese, softened,
light or regular
½ cup sour cream, light or regular
½ cup mayonnaise, light or regular
4-5 green onions (scallions), white
and green parts chopped
¼ cup chopped flat-leaf parsley
1-2 tablespoons chopped fresh dill
1 teaspoon kosher salt
½ teaspoon black pepper
Place all ingredients in the food
processor. Pulse 10 to 12 times, until just blended. Store in the refrigerator
until ready to serve. Serve with fresh vegetables like celery, carrots, bell
peppers, cherry tomatoes and whatever else your heart desires!
Second up, a simple marinade that packs more flavor than perhaps any
marinade I've used to date. And trust me, I love me a good marinade. Don't be
alarmed by the amount of garlic. It adds fantastic flavor and doesn't overwhelm
the pork, I promise. Now, on the issue of whether you want to go around
breathing in other people's faces after eating your meal – well, I'll leave
that up to you. Not only is this recipe quick to throw together, the grilling
portion of the recipe eliminates the need to heat up your house by turning on
the stove/oven. And what's better on a hot summer night than to grill up dinner
and enjoy it in the evening cool-down. Enjoy! And if you happen to be one of
those lovely over-achievers who have excess energy to cook all summer, well
then, do find a way to channel that and send some my way. Pretty please.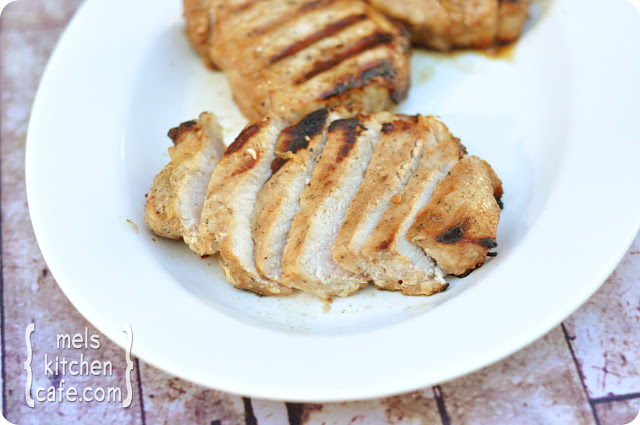 Ten Clove Garlic Marinade
(adapted from allrecipes.com)
2/3 cup vegetable oil
1/3 cup Worcestershire sauce
¼ cup soy sauce
¼ cup steak sauce
¼ cup water
1 teaspoon salt
½ teaspoon pepper
10 medium-size cloves garlic, peeled
and finely minced
3-4 pounds thick-cut boneless pork
chops
In a small bowl, whisk together all the ingredients
for the marinade. Place the pork in a Ziploc bag and pour the marinade over the
pork. Seal the bag and refrigerate 12-24 hours. Grill the pork over medium to
medium-high heat, about 7 minutes per side until cooked through. Remove from
grill, tent with foil and let sit for 10 minutes before slicing and serving.