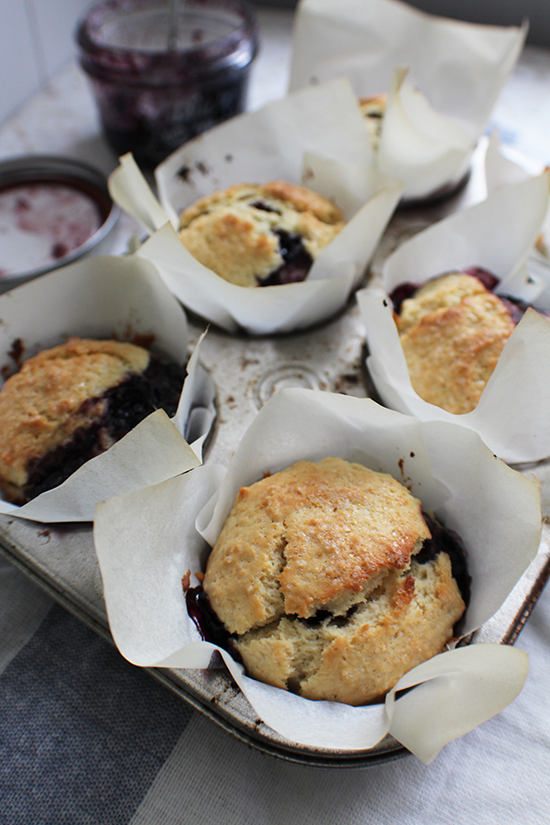 These muffins are also known as boredom muffins. Or "3 am craving muffins." Or "muffins you make when you wanna eat a muffin and you need to use up that jar of jam." Like blueberry mint honey jam that I made last spring.
Jam made with honey doesn't last as long as jam made with sugar, so I like to use it up before the year mark. This jam was perfectly fine and delicious and probably would've stayed that way until June or July, maybe even longer… but I didn't want to chance it.
The main thing here isn't so much the jam- I've talked about that before. It's the muffin recipe. This is my go-to tried & true muffin base.

As gorgeous as these look, you don't have to use jam in them. You don't even have to use fruit. This muffin base makes an amazing basic recipe that you can switch up any way you want. Add coconut flakes, dried cherries and sliced almonds. Add sliced banana. Add chocolate chips. Add fresh berries. Swirl Nutella in the top before baking. Use up the remnants of a jar of jam like I did.  I bet it's great plain with a bit of cinnamon and nutmeg mixed in. ANYTHING you can imagine, you can do. The base lends itself perfectly to any additions at all. Be crazy!
Blueberry Mint & Honey Jam Muffins
Author:
Marilla from Cupcake Rehab
Makes 12 muffins for me, every time
Ingredients
1 small (8-oz) jar of blueberry mint & honey jam
2 cups all-purpose flour*
⅔ cup granulated sugar*
½ cup butter, melted and cooled
2 large eggs, beaten
2½ teaspoons baking powder
½ teaspoon salt
⅔ cup milk
½ teaspoon vanilla extract*
Turbinado or raw sugar, for topping *OPTIONAL
Instructions
Preheat oven to 400° F. and grease up twelve muffin cups or put liners in them ( I prefer liners because it's less messy that way).
In a large bowl, stir together flour, sugars, baking powder, and salt. In another bowl, stir together milk, eggs, butter, and vanilla until blended. Make a well in center of dry ingredients; add milk mixture and stir just to combine. Stir in chocolate chips and nuts.
Spoon 1 tablespoon of batter into muffin cups, then add a teaspoon or so of jam. Add another tablespoon of batter, filling the cups as much as possible; bake 15-20 minutes, or until a knife inserted in center of one muffin comes out clean.
Remove muffin tin to wire rack; cool 5 minutes and remove from tins to finish cooling.
*I have also made these with cake flour- just use 2 cups plus 2 tablespoons. Also, you can substitute half the white sugar with a light brown sugar for a richer flavor. And as far as the vanilla goes, you can use double the amount.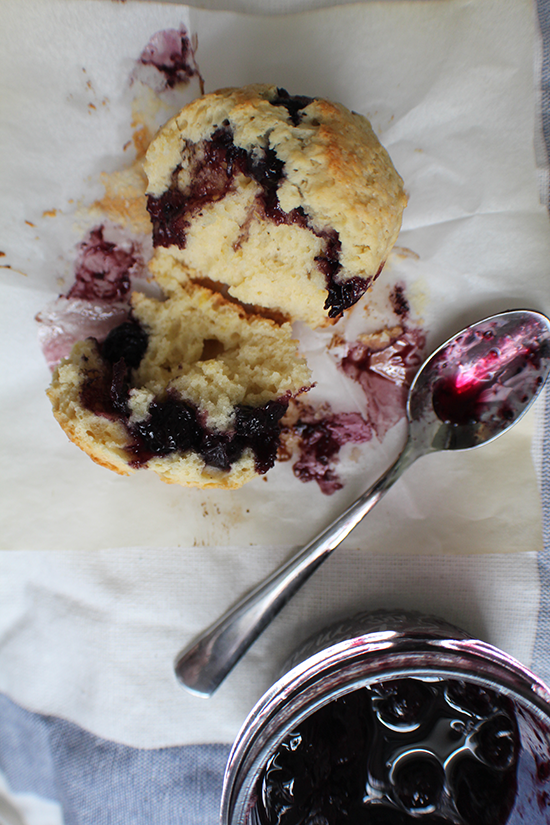 For the liners, I couldn't find any plain white ones in my stash, so I made my own using parchment paper. It's really simple; just cut out squares and tuck them into the muffin tin. Make folds and creases as needed to make them stay "open" and fill them with batter. Voila! Super easy and they look pretty cool.
Plus, they're larger than cupcake liners so they provide a good "lap plate" for the muffins once they're unfolded. It's also a cheap fix since most people already have parchment paper in the house.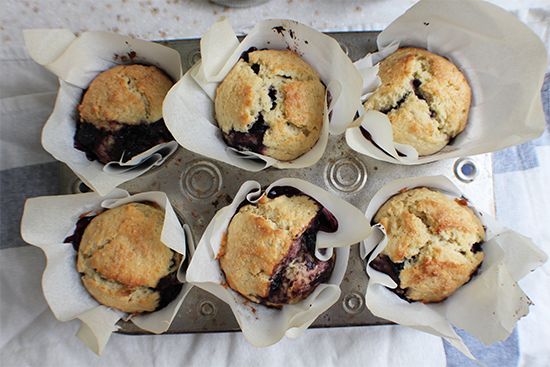 This is one of those stupid easy recipes you can make at 1 a.m. when you have a carb craving, or when the kids forget to tell you there's a bake sale tomorrow. It takes no time at all to throw together, and you can add just about anything to them, which adds to the fun. But if you wanna get snazzy and make this fancy little jam (which is NOT hard at all!), here's a reprint of the recipe I posted last year.
SMALL BATCH BLUEBERRY AND MINT HONEY JAM
(adapted from Food in Jars' recipe at 100 Days of Real Food)
MAKES ROUGHLY 1 1/4 – 1 1/2 PINTS; FOR ME IT MADE TWO 8-OZ. JARS AND ONE 4-OZ. JAR
Ingredients:
1 1/2 pounds fresh blueberries, washed, dried and de-stemmed
2/3 cup fresh pure honey OR Agave nectar
juice from 1/2 lemon (around 1 and one half tablespoons)
4 or 5 large fresh mint leaves, torn
Directions:
Place the berries in a wide deep skillet or pan and gently mash. They will splatter so wear dark clothes or an apron! Add the lemon juice and honey. Let the mixture sit until the honey begins to dissolve.
Place the pan on the stove and bring to a boil. Add mint leaves and stir them in. Cook, stirring regularly, for 10 to 12 minutes, until the jam thickens.
Pour it into clean, hot jars. Apply lids and rings and process in a boiling water bath canner for ten minutes. When time is up, remove jars from the canner and place them on a folded kitchen towel and let them cool.
When the jars are room temperature, check the seals. If the lids have gone concave and don't wiggle at all, they are sealed.
Any unsealed jars should be refrigerated and used within a few weeks. If you don't want to process the jam, just pour it into a jar, let it cool, and put it in the refrigerator.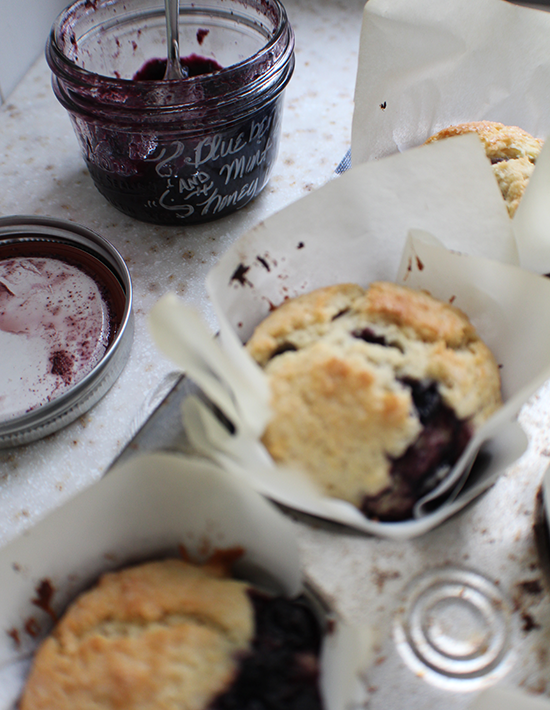 ---
Visit Marilla on her Blog || Facebook || Instagram || Pinterest || Twitter
and check out these other great posts of hers…
Peanut Butter Pie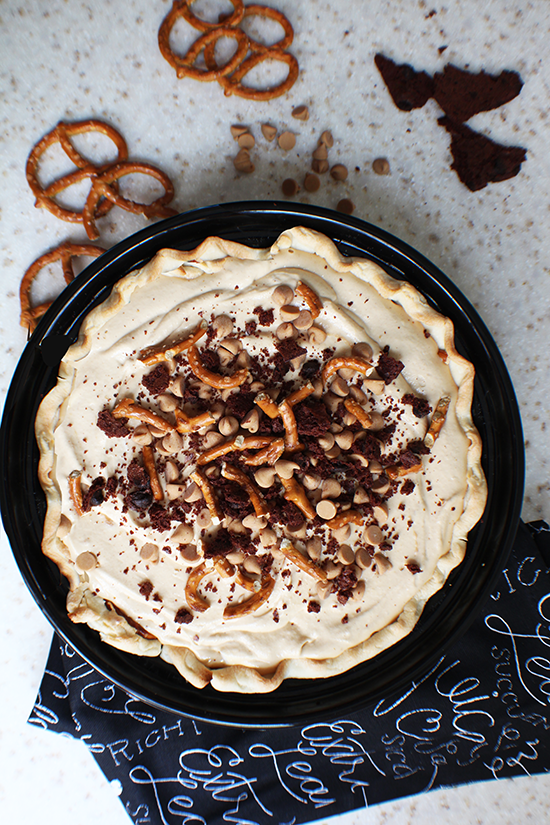 Irish Soda Bread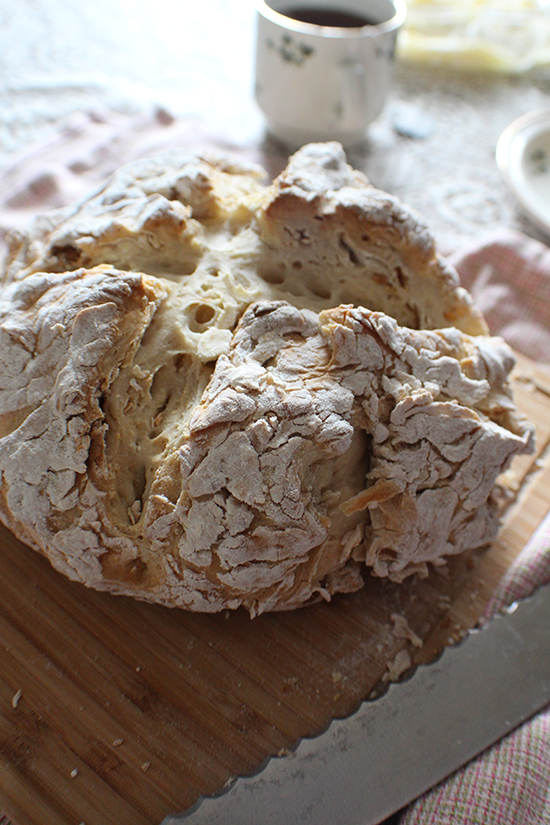 Here are a few more Recipes you can find on Eighteen25: