are you thinking you need a treat to keep you cool this summer?
well, this one should do the trick!
you'll need:
25ish oreo cookies
1 stick of butter
1 jar of hot fudge
1 tub of ice cream (flavor of your choice) set out to soften
1 small or large tub of cool whip
chocolate syrup
mini m&ms, sprinkles or whatever you choose to decorate with
melt your stick of butter completely.
while melting, put your oreos in a baggie and beat them like crazy with a rolling pin.
when crushed, pour them into your baking pan and mix with the melted butter.
Spread mixture evenly.
Top the crushed oreos with some warm hot fudge (just warm enough so it's easy to spread).
Pop it into the freezer for about 15 minutes to harden.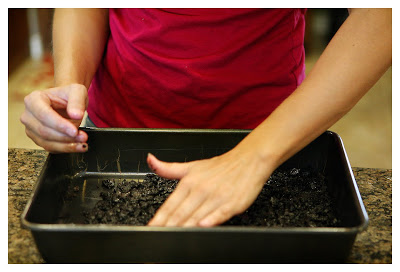 Spoon out the ice cream and spread evenly
(we used mint chip. . . can never go wrong with that flavor).
Pop it back in the freezer for another 15 minutes for the ice cream to firm back up.
Spread the cool whip evenly.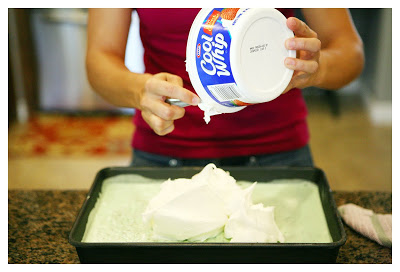 Top with chocolate syrup and something fun and colorful!
Then put it back in the freezer and wait patiently for about an hour.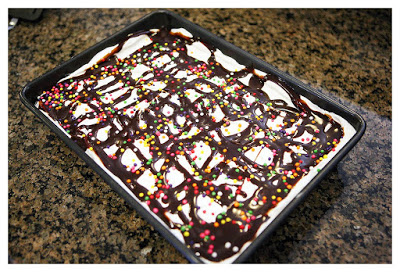 (p.s. you don't have to make it look like a mess but every now and then it's kinda fun to get a little crazy and not make something look so perfect + the kids will think you're cool.)
enjoy!
(p.s.s. thanks to our friend pam in the great state of utah for sharing this recipe with us many moons ago…
i think we have tried every flavor of ice cream in it since!)