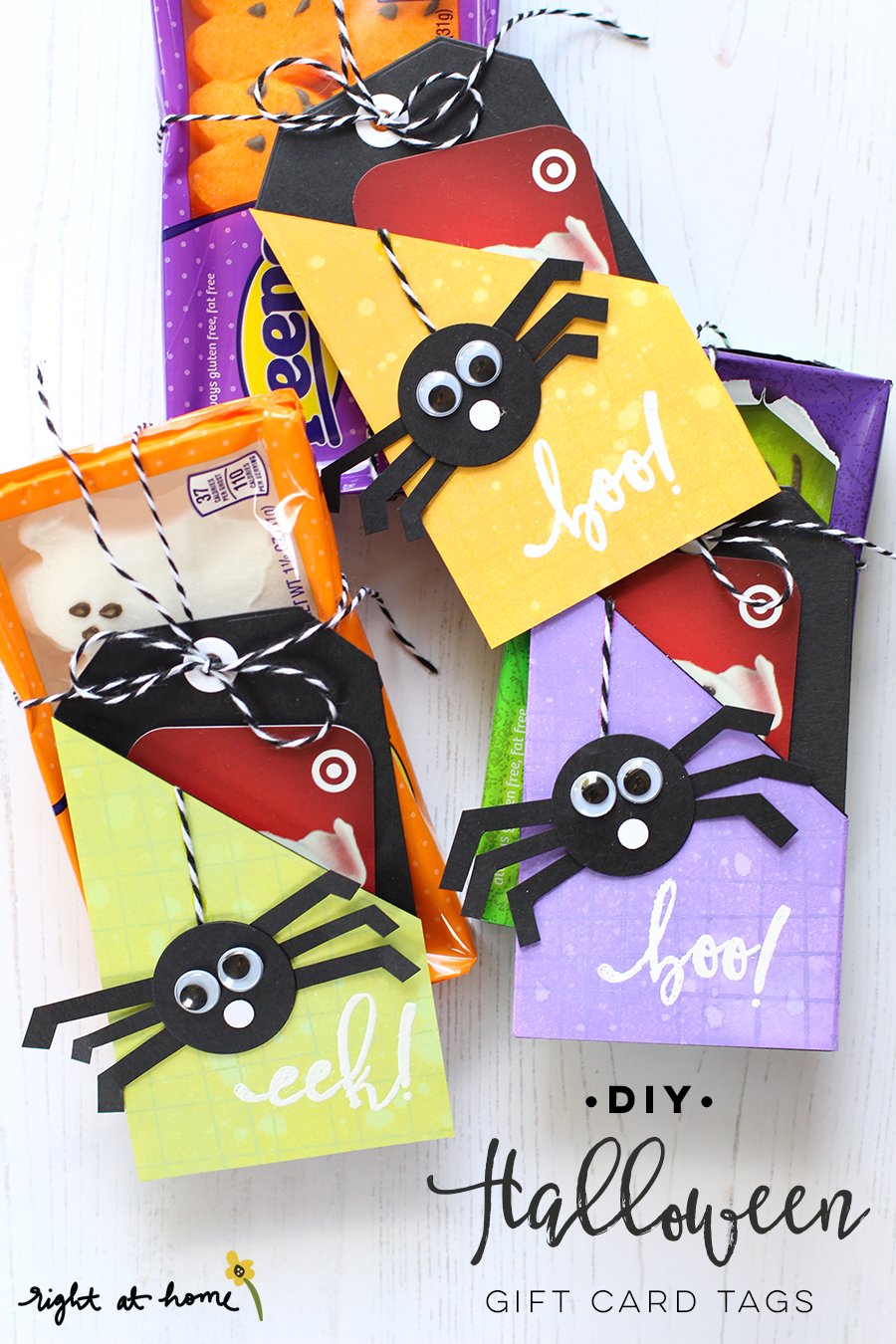 Hey crafters! Welcome to another day of Halloween goodness on the eighteen25 blog. I'm Nicole from Right at Home and I'm thrilled to join you again this year for a DIY project. This time around I'm sharing these adorable DIY​ ​Halloween​ ​Gift​ ​Card​ ​Tags​. They're perfect for wrapping around a little pack of candy and tucking a gift card inside to your trick-or-treater's favorite store. Now, let​ ​me​ ​show​ ​you​ ​how​ ​I​ ​made​ ​them!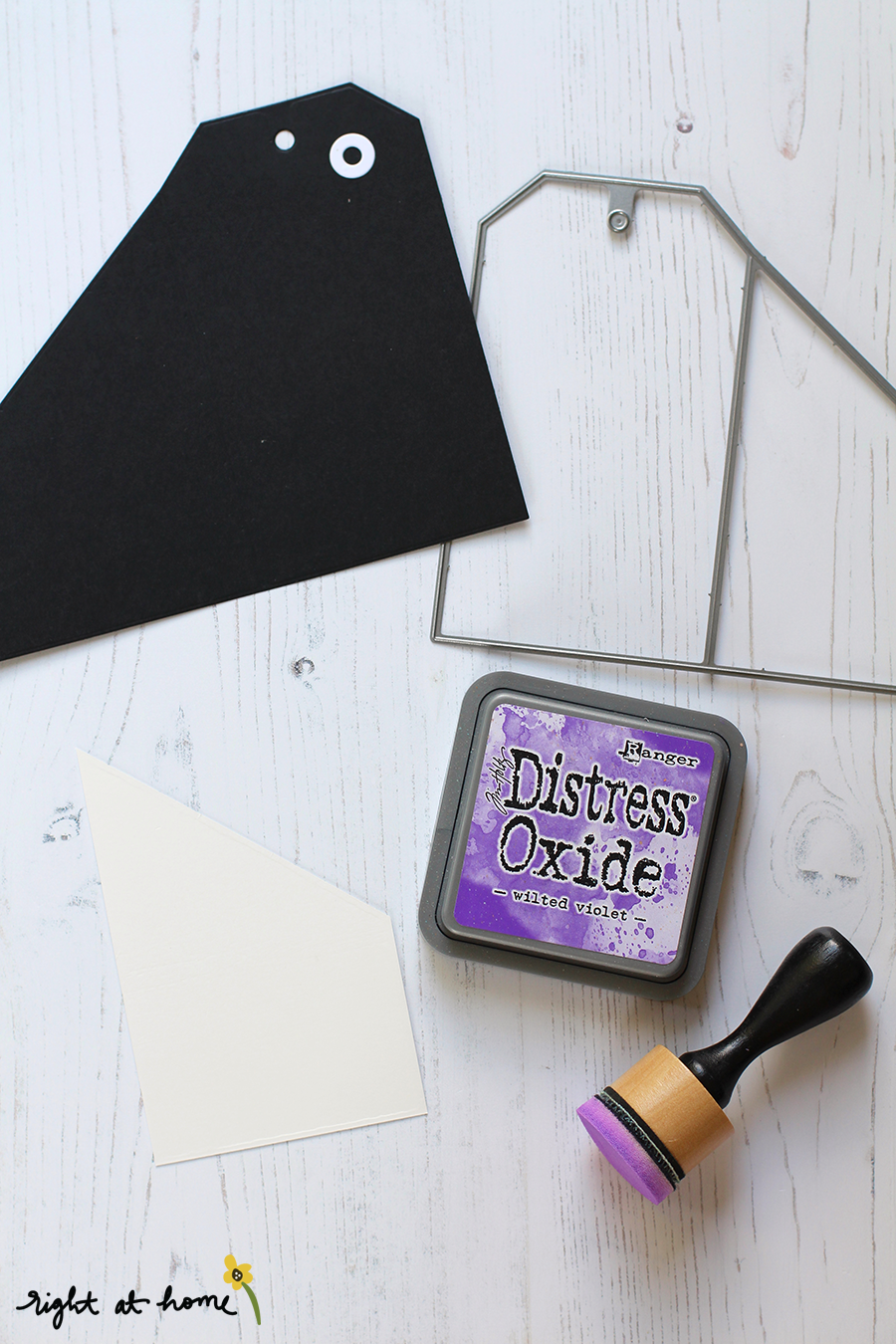 You'll start by cutting your tag from some black cardstock. I used my Folded Gift Tag Die Set from my shop. I also cut an enforcer from white cardstock and a panel for the front from some Strathmore Smooth Bristol Cardstock. I'll ink up the white panel with some Wilted Violet Distress Oxide ink so you'll want to make sure to use the Bristol cardstock and it is perfect for blending.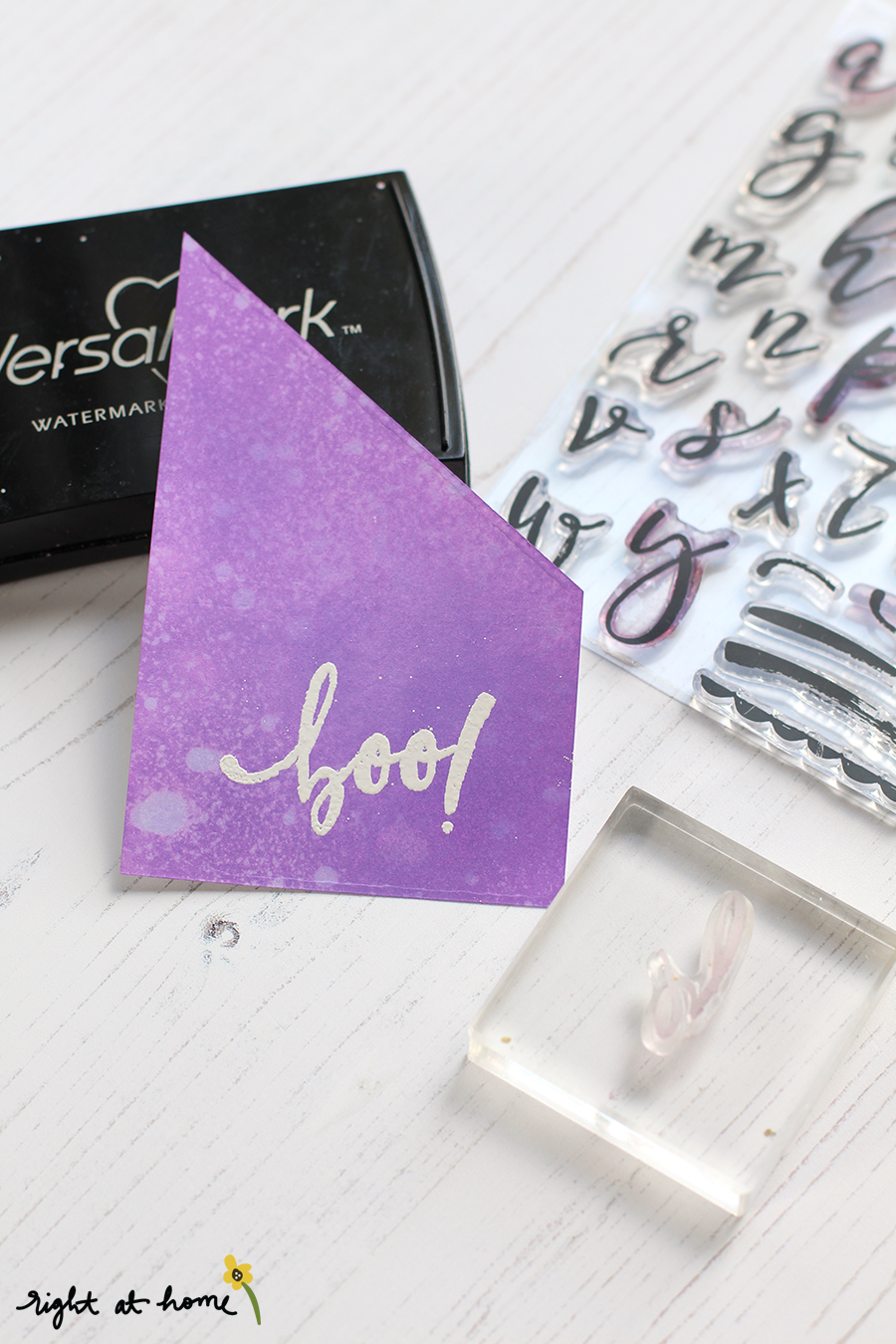 Once I inked it, I flicked on some water droplets and dabbed them away. The water reacts with the Distress Oxide ink and creates an awesome texture. Along the bottom I used my Brushstroke Alphabet Lowercase set to spell out "boo!". I heat-embossed it onto the panel with white embossing powder. You can mix up the sayings if you'd like or even spell out the recipient's name. Totally customizable.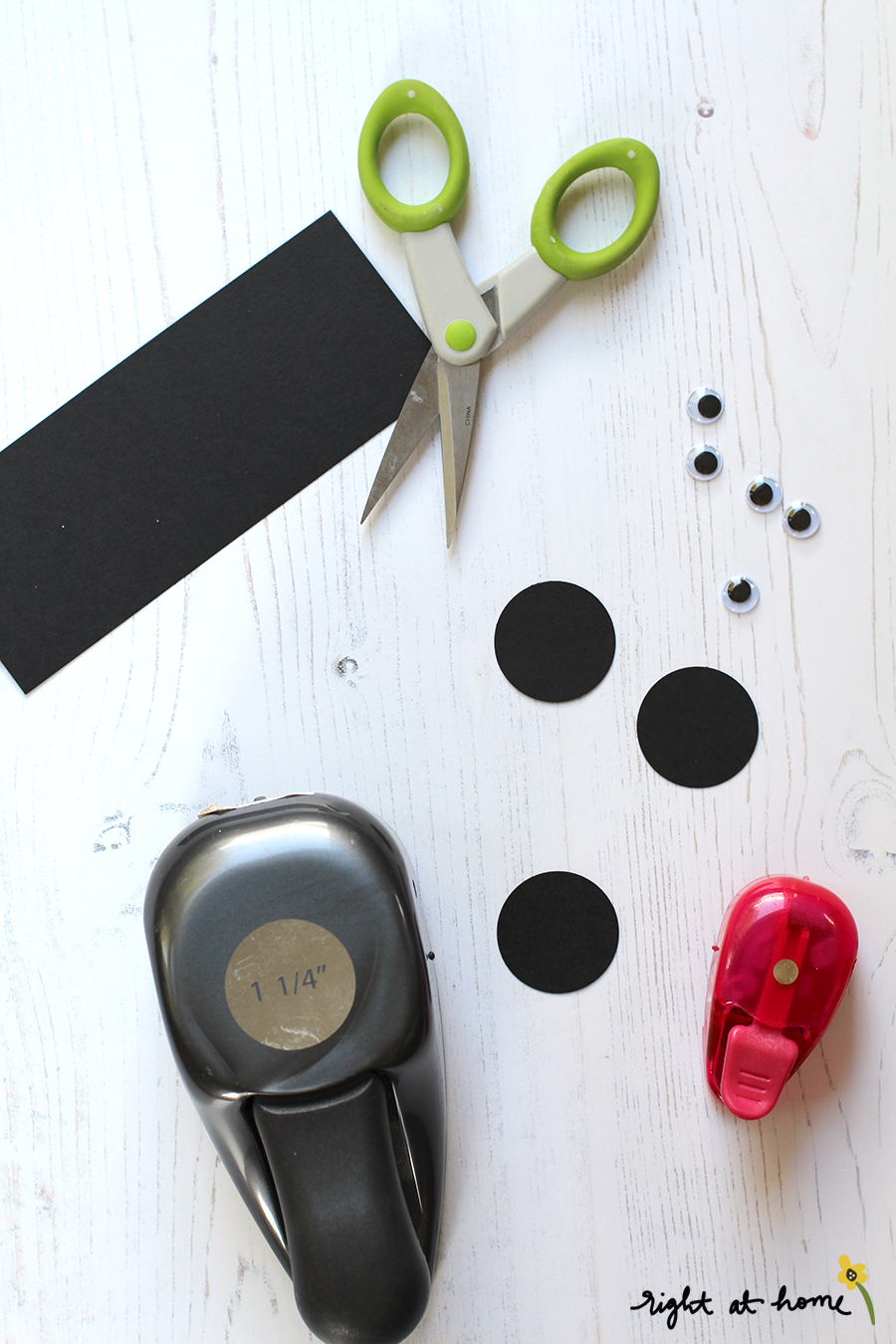 Next I moved on to creating my spider. I used a 1¼ inch punch to cut circles for my spider's body. I used an even smaller punch to create a mouth out of white cardstock. I glued on a few googly eyes and cut some legs from black cardstock. I glued all the pieces together and my spooky spider was finished!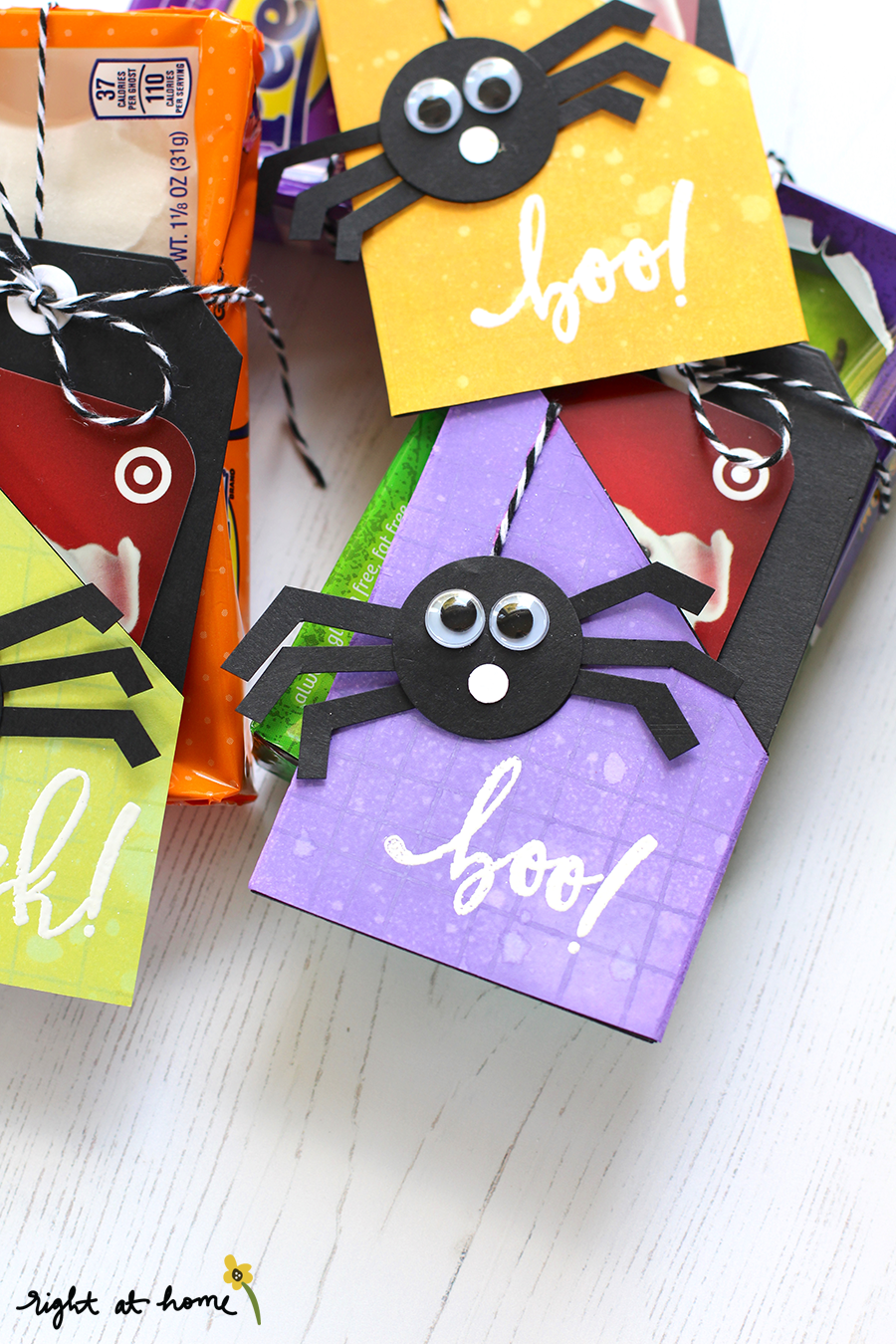 The last step is to glue all your finished pieces together. I used a strip of black twine to make the spider look as though he is hanging. I wrapped the tag around a package of candy and slipped a gift card inside the slot. Super cute and simple for your sweet little pumpkins!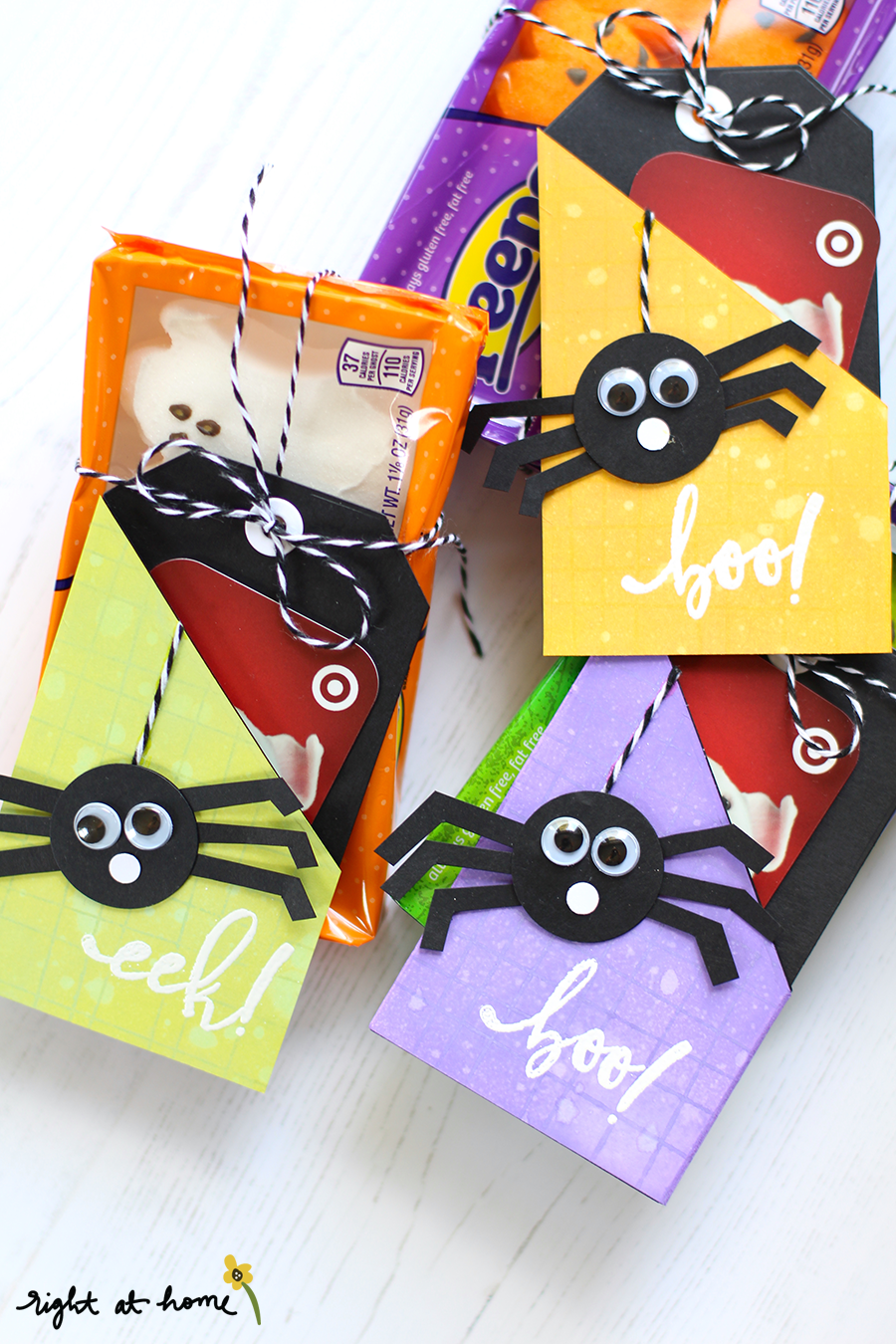 Thank you for reading! Make sure to check back tomorrow for another fun project and click through the past few posts for even more Halloween ideas. Happy Halloween! Nicole
About​ ​Me:​ I'm Nicole, the owner and designer behind Right at Home. I always describe myself as a chips & salsa loving, Bravo watching, wannabe Gilmore Girl. I'm currently studying marketing in college so between school and my crafty business I'm one busy gal!

Visit Nicole on her BLOG | FACEBOOK | INSTAGRAM | PINTEREST | YOUTUBE | SHOP
Here are a few more fun Halloween ideas you can find on Eighteen25: