Hey there, Eighteen25 friends!!! My name is Kristyn, and I'm SOO excited to be participating in this awesome series! I'm happy to report that I've taken part in this series for SIX years now, and it's one I look forward to SO much. I love Jen and Jodie and think they are uber-talented and look up to them as friends and moms. 😀
Aren't they the best?! 😉
As I tried to think of what I wanted to create this year, I thought a spooky and delicious recipe would be fun. I've shared crafts and Halloween decor over the years and wanted to share a simple, yet tasty recipe for these Creepy Cupcakes that look like a hand reaching out from under the ground. Although they look so fun and festive, they are SO easy and those are the kinds of treats I'm looking to create for parties and holiday functions. I knew I wanted to make a homemade cupcake recipe since those are always the best, but what's great about this recipe is you can add the Oreos, grass sprinkles and skeleton hands to cupcakes bought from the store if you want or are in a hurry. Yup – super simple!
I know many like to start their cupcakes with a cake mix, so I used this doctored cake mix cupcake recipe from Tidy Mom and also had to make a Chocolate Buttercream frosting (cuz isn't frosting the best part?!) The cupcakes turned out so moist and delicious, and with the frosting on top, it made them quite irresistible.
Here's the Cupcake recipe:
INGREDIENTS:
1 box chocolate cake mix
3 Large Eggs
1/2 cup butter, melted
1 cup of water
DIRECTIONS:
Preheat oven to 350.
In a large bowl, combine cake mix, eggs, water and melted butter. Beat on low speed for 1 minute and then on high for another minute.
Fill cupcake liners 2/3 full and bake for 18-20 minutes.
Let cool before frosting.
FROSTING INGREDIENTS & DIRECTIONS:
6 TB butter, softened
2 2⁄3 cups powdered sugar
1⁄2 cup cocoa
1⁄3 cup milk
2 teaspoons vanilla
crushed oreos
"grass" sprinkles – bought mine at Hobby Lobby
Plastic skeleton hands (found mine at Michael's and Wal-Mart)
Place butter in a bowl and beat until creamy.
Add sugar and cocoa and mix well.
Add milk and vanilla and mix until well combined. Pipe onto cool cupcakes.
Sprinkle on crushed Oreos and grass sprinkles and top off with plastic skeleton hand reaching up.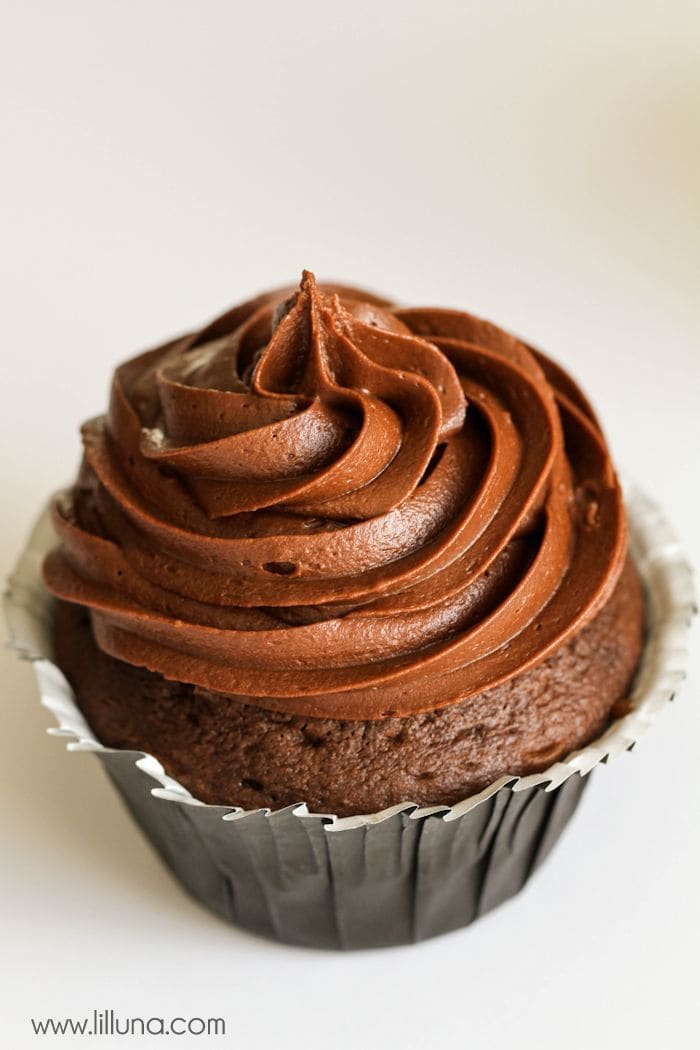 You can use a fancy tip to make it look nice, or you can even use a knife to spread on. 😉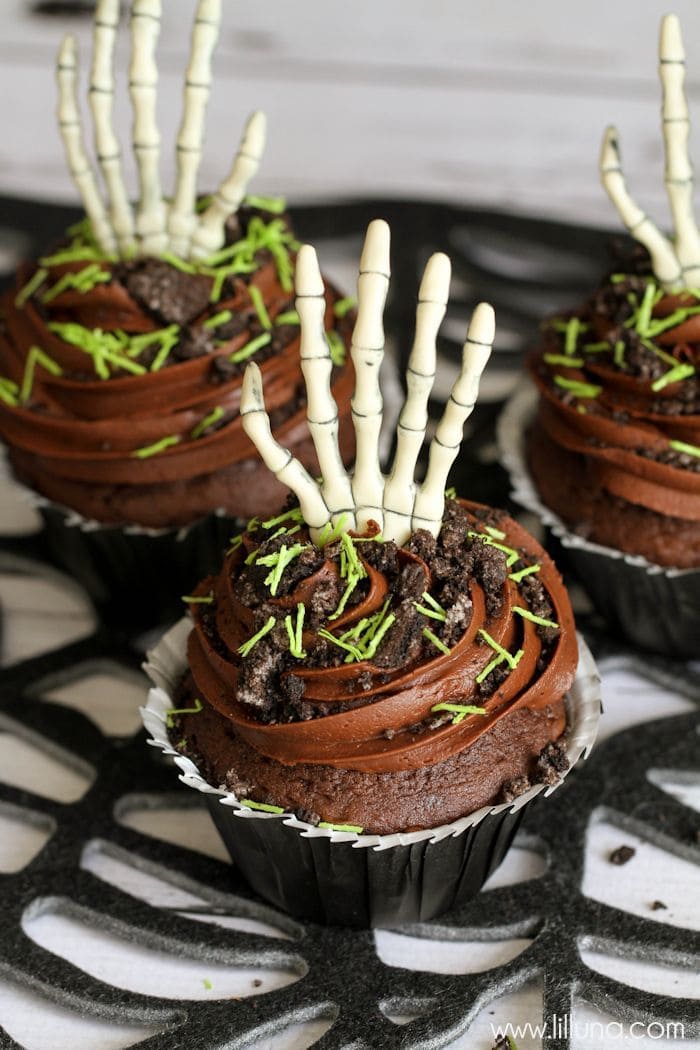 These skeleton hands were bought at Wal-Mart but I've spotted them at Michael's too!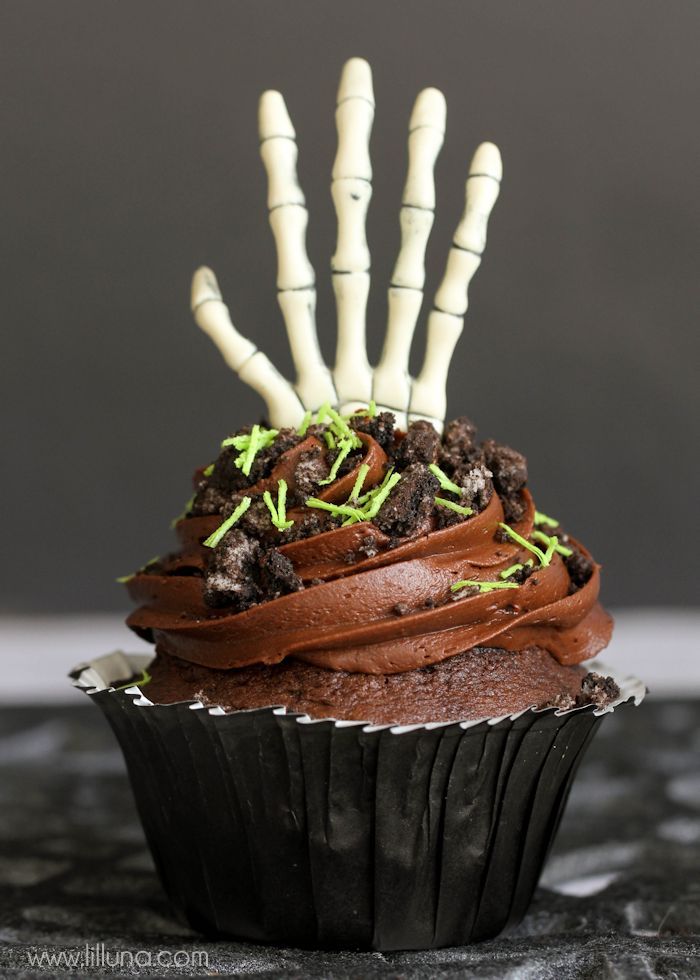 Easy peasy, festive and perfect for Halloween – can't get much better than that!!
I sure do love the holidays and love Halloween so much, so creating this recipe got me in the perfect, spooky mood for October. 🙂
For more great Fall and Halloween goodies, be sure to check these out:
White Chocolae Pumpkin Snickerdoodles – Gooey Monster Eye Cookies – Graveyard Pudding Cups
And to see a few projects from past Spooktacular Septembers, check out: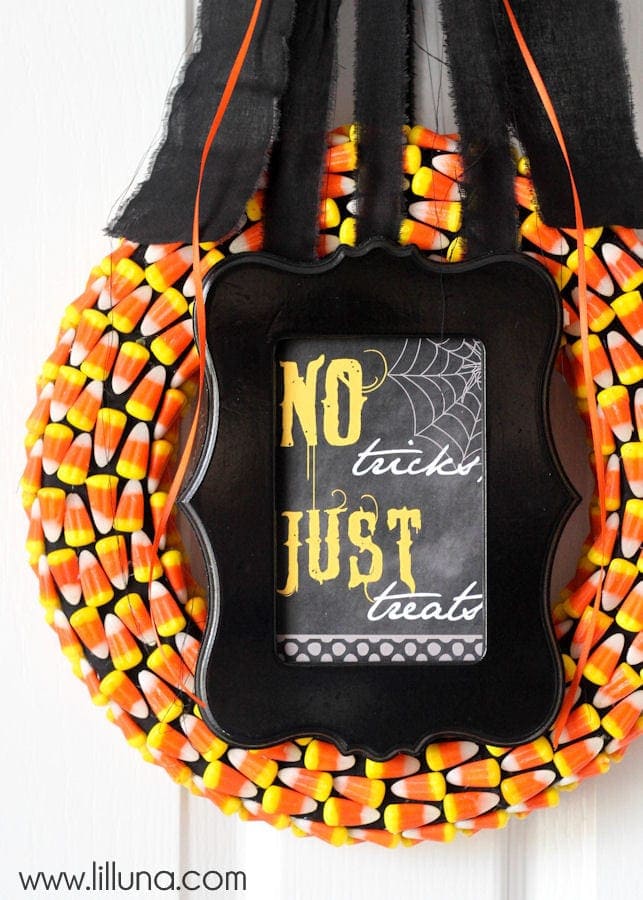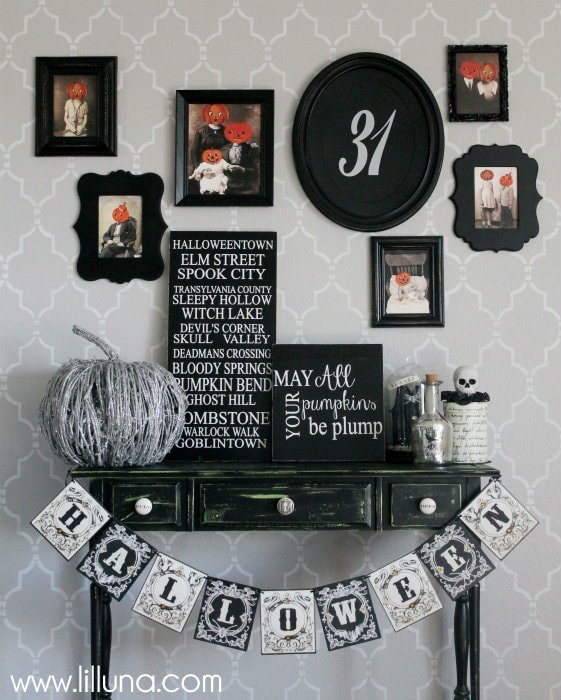 Halloween Display & Gallery Wall
For more great projects, crafts and recipes, head on over to Lil' Luna. And be sure to follow on Facebook – Instagram – Pinterest – Twitter.
Thanks for having me ladies!!
XO – Kristyn

Visit Kristyn on her BLOG | FACEBOOK | PINTEREST | INSTAGRAM