We are excited to be teaming up with 13 friends to share how we each brought a little World Market fun into our kitchens! Plus included in each post you'll get an added bonus of a free printable or a yummy recipe. Score!
Take a few minutes to visit each blog and see their kitchens. There are so many fun ideas being shared… you're gonna love getting a peek into each of their homes!
Here are the treasures we picked up….
Christmas Salsa
– 2 (28 oz) cans of petite diced tomatoes
– 2 (14.5 oz) cans of diced tomatoes with zesty mild chilies
– 1 medium sweet yellow onion
– 1-2 jalapenos (depending on how hot you like it)
– 4-5 limes
– 1-2 bunches of cilantro
– 3-4 avocados
– salt
Pour all your tomatoes (including juice) into a large bowl. Heat a small pan of boiling water and let your jalapenos cook for about 2 minutes. Then add your diced onion, the juice of your limes, the chopped cilantro, the chopped jalapenos and salt to the bowl. Stir it. Then cut your avocados into small pieces and add them to your bowl. Give it a little taste test and see if it needs more salt. Then enjoy!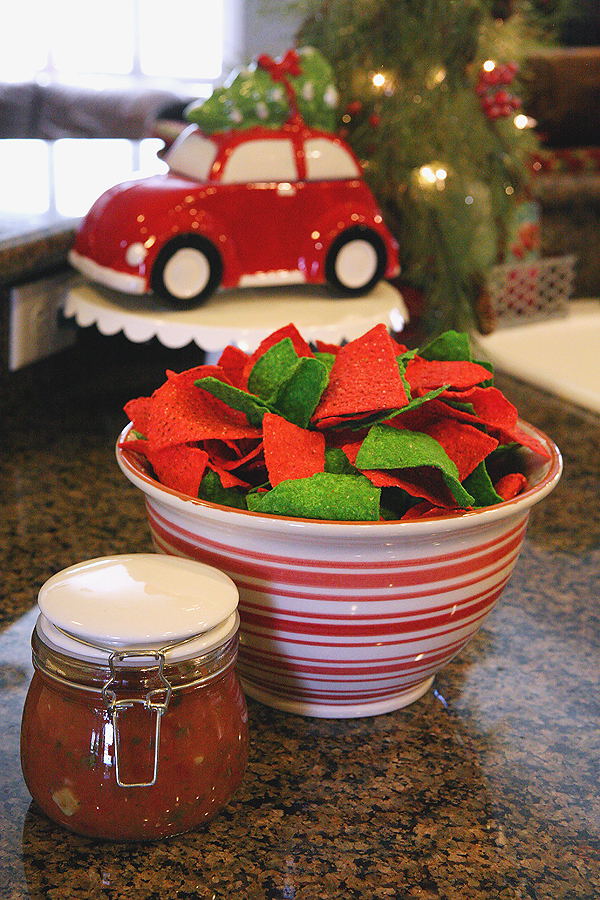 I hope you have enjoyed getting a little look into my kitchen. You're welcome back anytime. 🙂
[We received a World Market gift certificate in exchange for writing this post. All thoughts & opinions are our own.]