Make some delicious Bones and Blood Breadsticks to serve this Halloween. Everyone will enjoy this spooky good treat!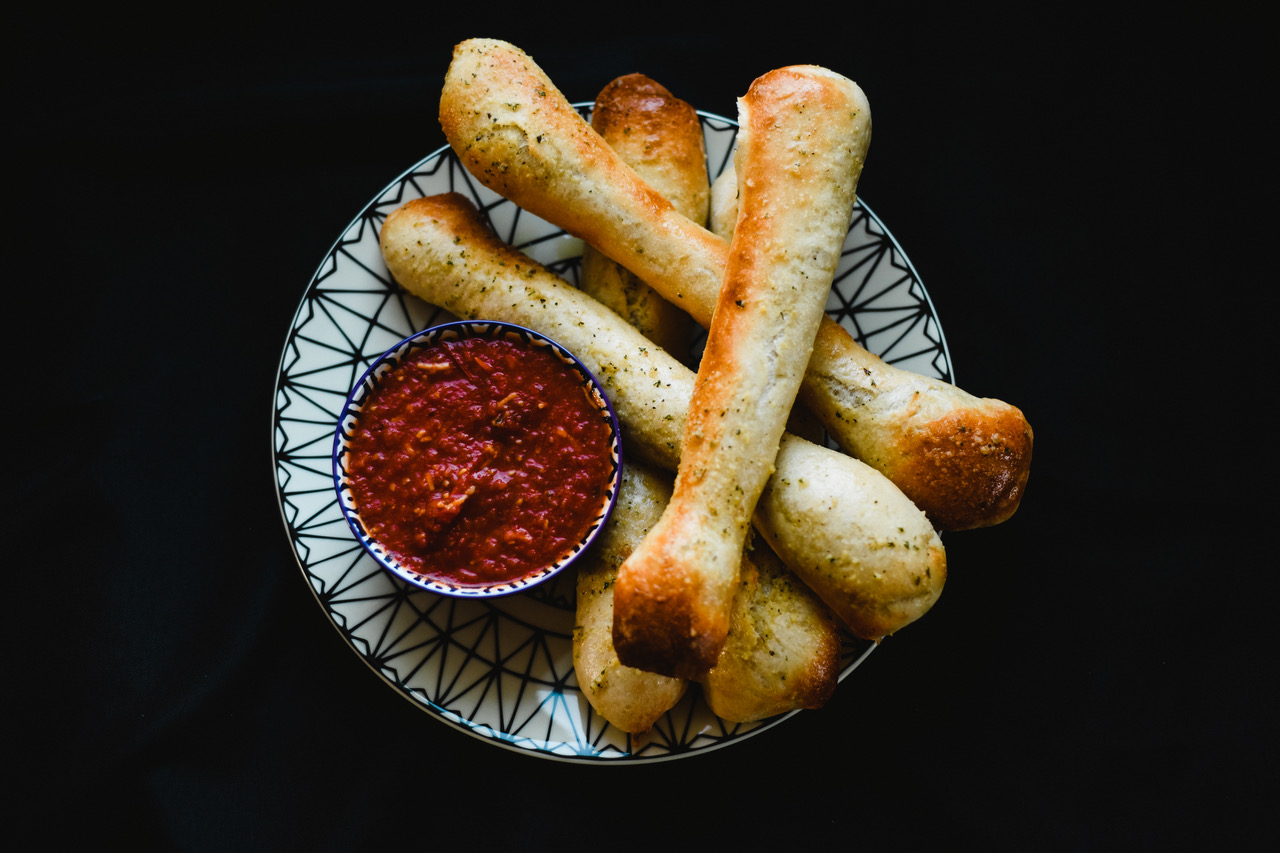 Hello Friends! My name is Rhonda Steed and I'm pretty darn excited to be sharing something with the amazing Jodie and Jen! I have followed them for years and I was pumped when they emailed and asked me if I wanted to contribute to this year's Halloween festivities.
I'm married to a family doctor and my kids love to ask questions and talk about the body and medical care. So we've discussed both blood and bones at the dinner table. One evening a few kids were having a debate about what colour blood is inside the body (it's still red) compared to when it comes out of the skin (still red). That usual at our house dinner topic lead me to think up these fun spooky treats. One of my big passions is bread baking so I thought I'd combine bread with Halloween and ended up with these fun breadsticks (bones) and blood (roasted tomato sauce). Both are super easy and pretty kid friendly.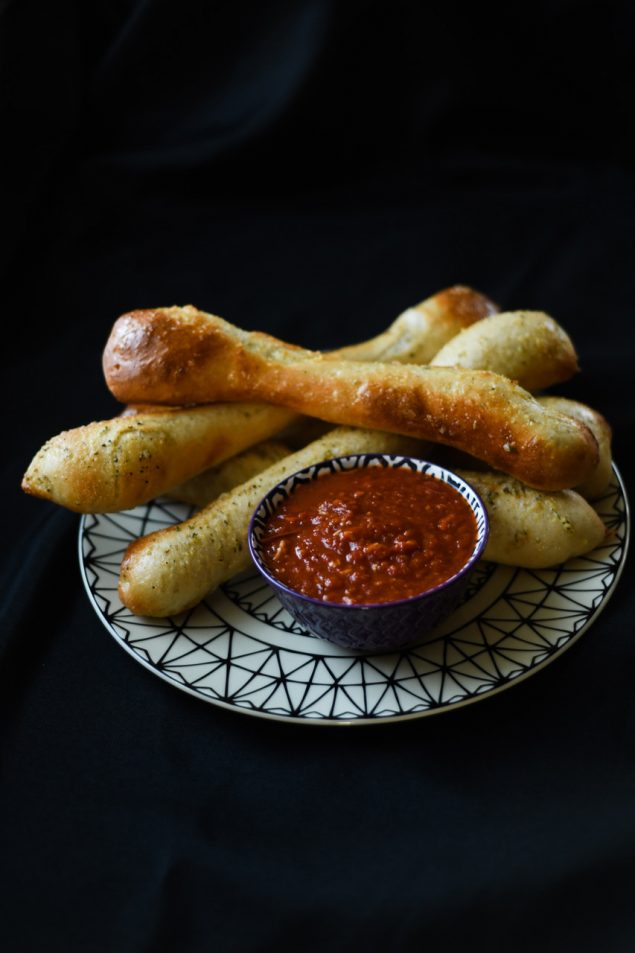 All my kids love bread, but they especially love it when it's breadsticks, especially when it's garlic breadsticks. This yeasted dough is pretty easy – but if it scares you too much then you could buy some frozen bread dough, thaw it and form it into the bone shape and carry on with the recipe. Same for the roasted tomato sauce. It's super easy – but if you wanna go easier – buy some tasty prego sauce and warm it up a bit and serve your blood with your bones.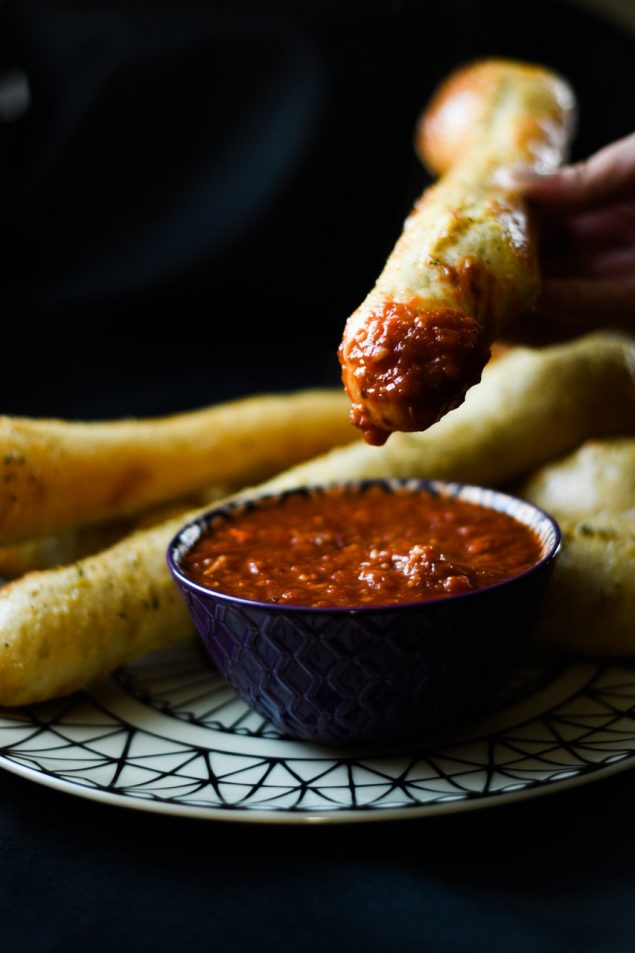 Roasted Tomato Sauce
For the roasted tomato sauce, cut fresh tomatoes in half and set them on a parchment paper lined cookie sheet. Drizzle them with olive oil and sprinkle with any cobination of basil, oregano and parsley. (If I have fresh I love using fesh spices but you roll with what you've got in your kitchen.)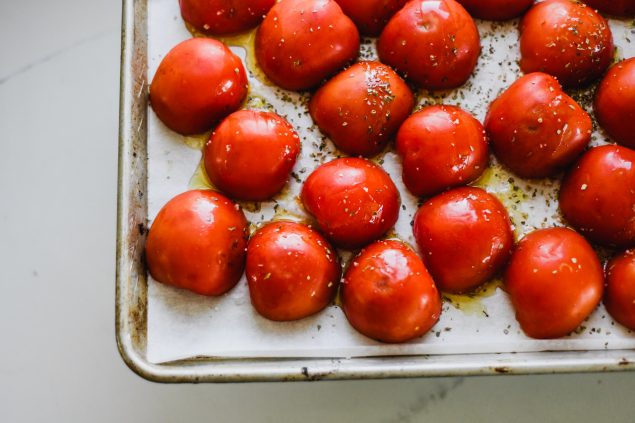 Sprinkle on some kosher salt and then roast them in a preheated oven at 400 degrees for 20-25 minutes or until the skins are starting to peel off (looking like wrinkly old people ;)) and toasted edges.
Pull them out of the oven and let cool for a minute so you can handle them. Then just quickly pull off the tomato skins and discard them.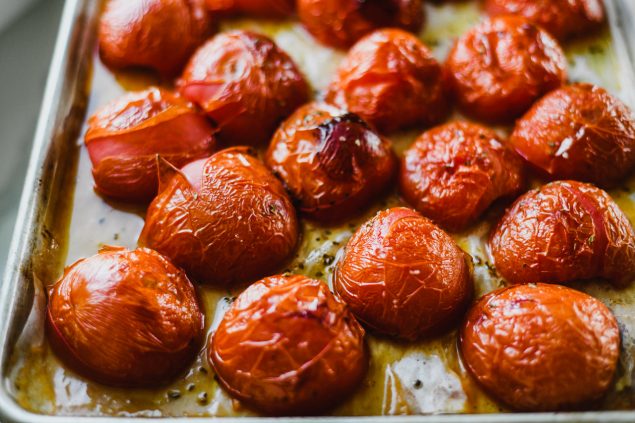 Put all the peeled roasted tomatoes + all the pan juices into a pot on the stove. Turn on the heat to medium-low and let it cook slowly, stirring every so often until the juices all leave and it turns into a lumpy sauce. If you family likes it smooth then you can dump it all into a blender (or use an immersion blender in the pot) and mix it up until it's smooth.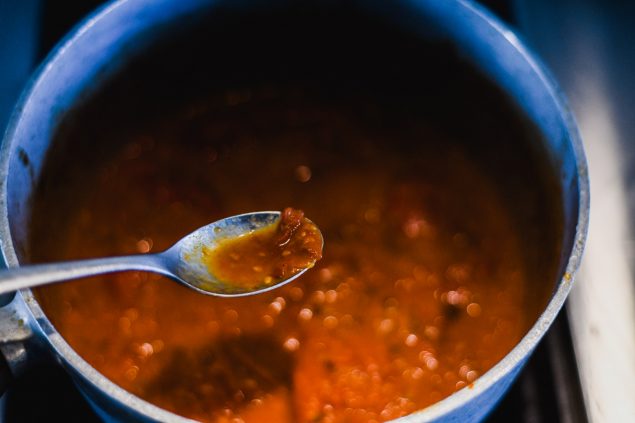 Taste it and adjust your salt. I like mine with a splash of Worcestershire sauce and a sprinkle of brown sugar and some more basil after the roast.
Bone Breadsticks
For the bones:
1 3/4 cup warm water
2 Tablespoons instant yeast
4 Tablespoons granulated sugar
1 1/2 teaspoon salt
4 cups flour (about)
Mix water, yeast and sugar and let stand for 10 minutes. Add salt and 3 1/2 cups of flour. Mix well. Keep adding the other 1/2 cup flour until a firm dough forms. If you're using a Bosch then add little bits until the dough clears the sides of the bowl.
Knead for 1 minute. Set aside to rise.
Dump dough onto counter and separate into small balls a bit bigger than your fist (smaller balls will make smaller bones – so just decide how big you want them in the end – just remember they will rise!) Let them rest for about 5 minutes.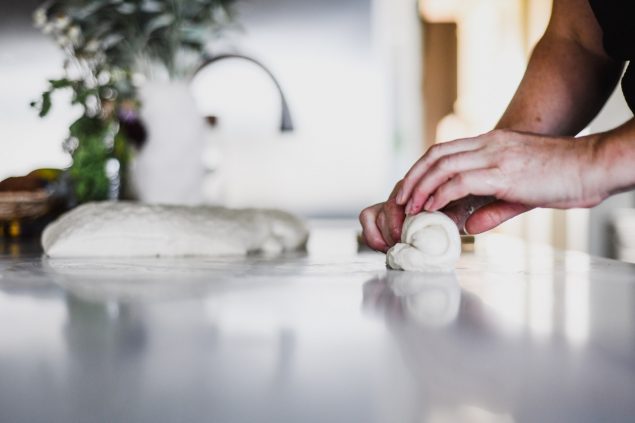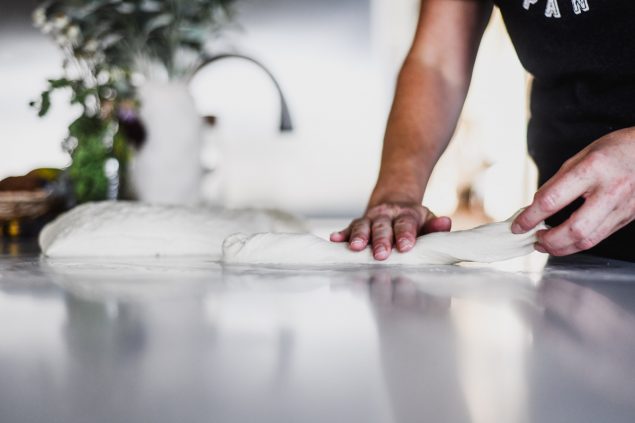 Then form them into long skinny shapes. Pull the length of dough on the counter, dragging it, to make it into a tight shape. Leaving the edges a bit fatter (for the end of the bone).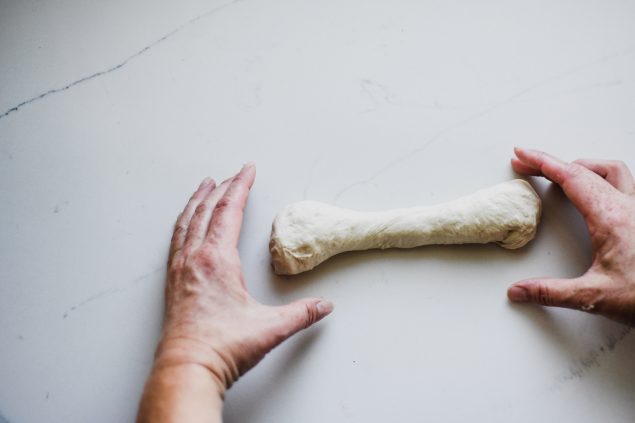 Set all the formed bones onto a cookie sheet lined with parchment paper and let rise.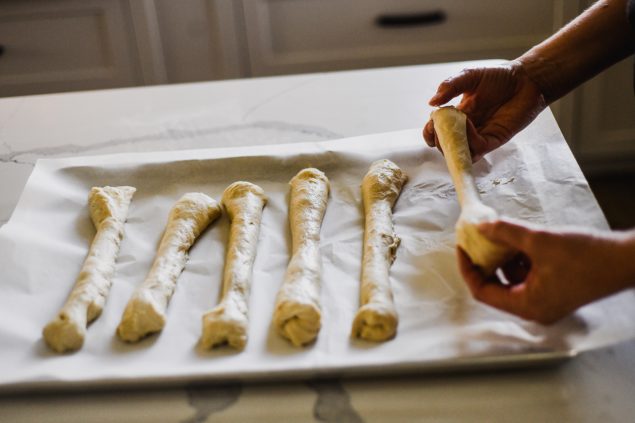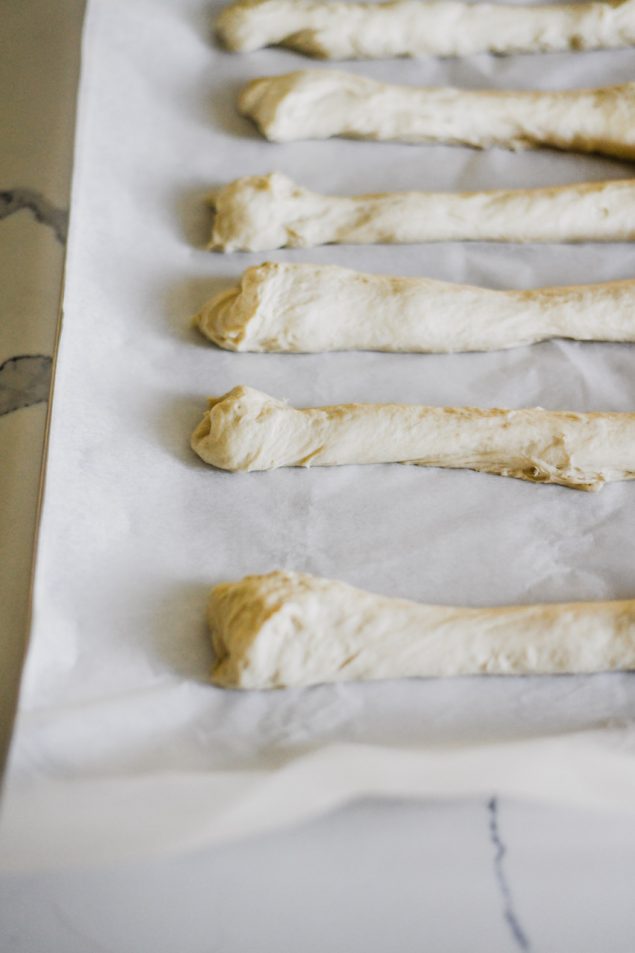 Then turn on your to 425 degrees. As soon as your oven has preheated the breadsticks will be ready to bake.
Put them in the heated oven and bake for 15-18 minutes depending on how big you made them. You want them to be golden brown. Then pull them out and let them cool a bit.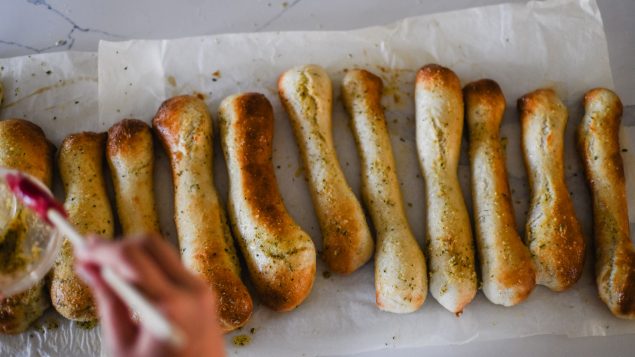 Melt 1/2 cup butter in your microwave. Add in 2 Tablespoons of Garlic salt, 2 Tablespoons of dried oregano and 2 Tablespoons of basil. Brush over the warmish breadsticks and then let cool all the way.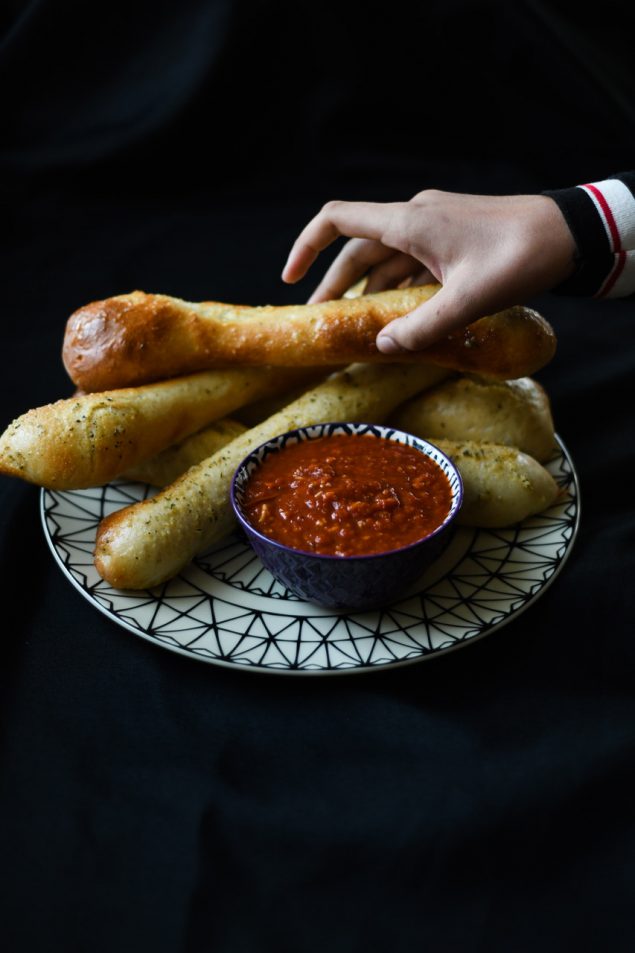 Serve with your blood.
Lots of Love
Rhonda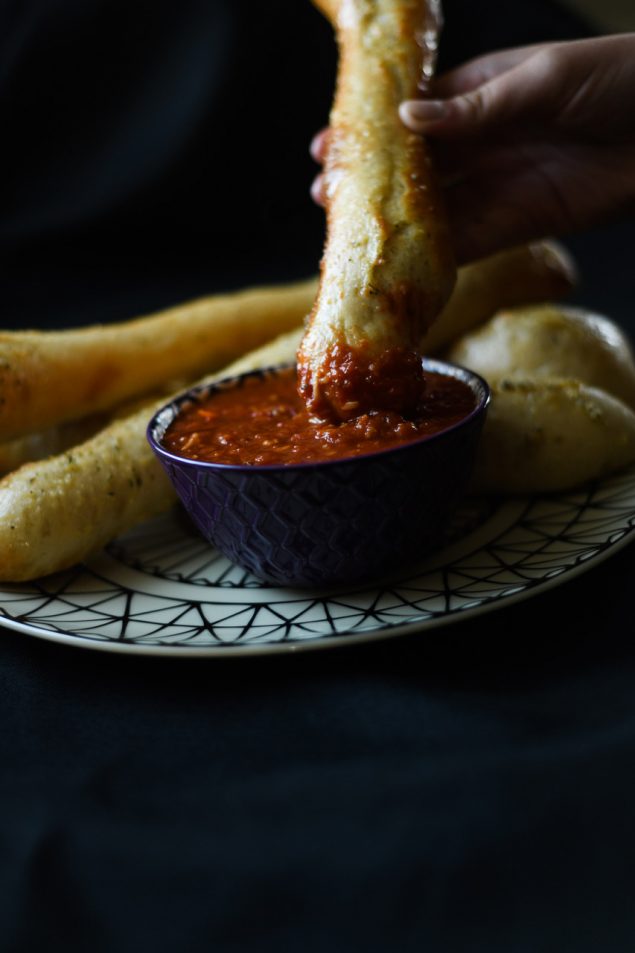 Follow along with Rhonda on her awesome INSTAGRAM feed – HERE.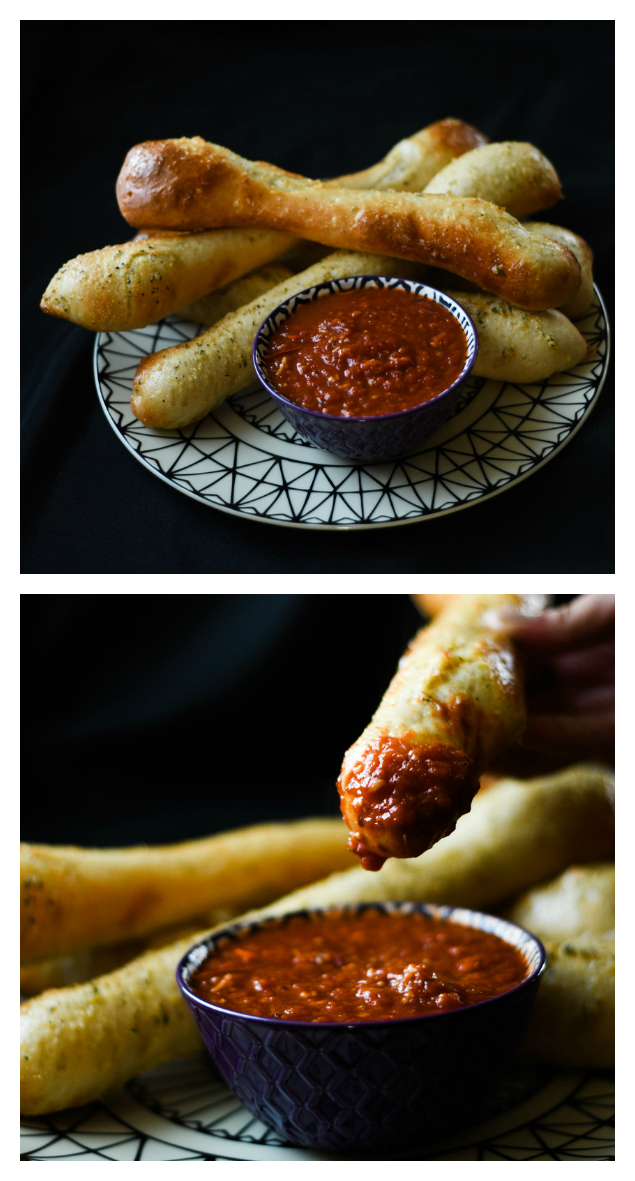 Here are a few more awesome Halloween foods to check out: