today i'm sharing my daughters party from almost a year ago. she's about to turn nine on me next month and i'm not sure how i feel about that yet.
this was definitely one of the easiest parties i've ever done.
it was a
pj craft party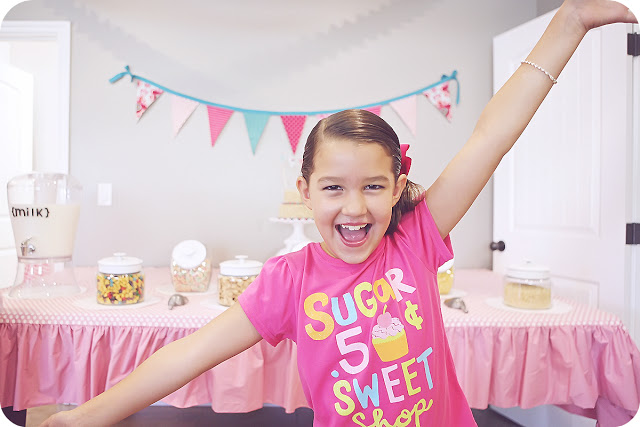 complete with a cereal bar.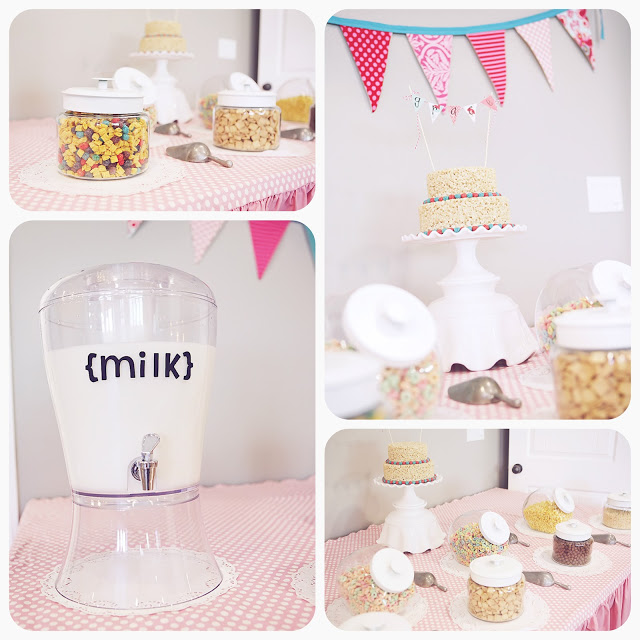 and a rice krispie cereal cake!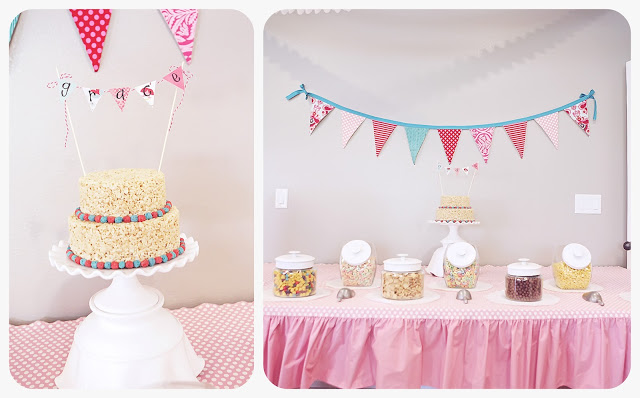 take home favors included art supplies and decorations were kept really simple. i do love the idea i found somewhere (sorry i'm not sure where i saw it!) of tying a string to the balloons and hanging them from the ceiling. i just taped them up. so it was easy clean up. 🙂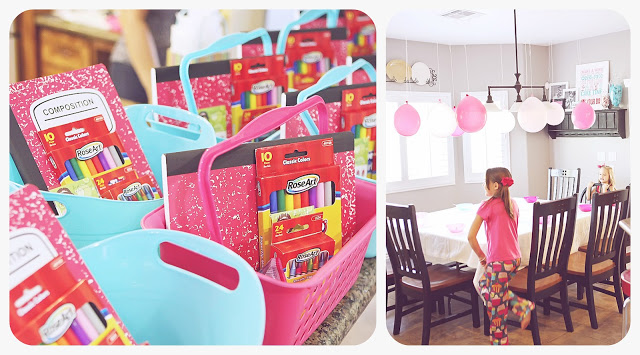 then we got our craft on…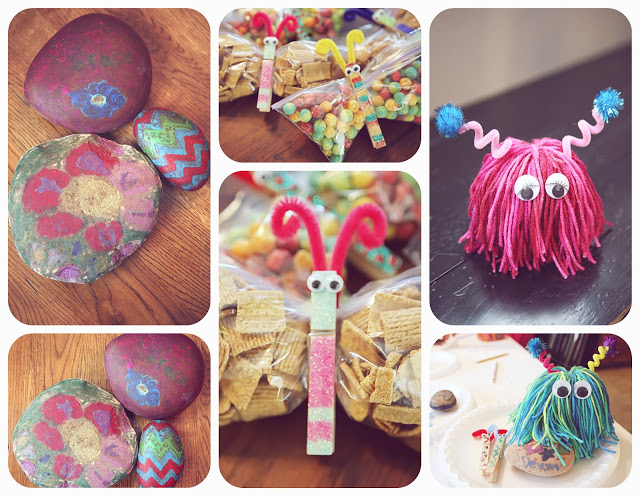 we did 3 simple crafts.
1. hot rocks. a favorite around here. p.s. we did some yesterday and we didn't even have to put them in the oven. it's just that hot here right now. directions HERE
2. glittered clothespin butterflies. these are just so cute! and a great way to get rid of some of the extra cereal from the cereal bar. we just used glitter glue (my fav!) and googly eyes (my other fav!) and then half a pipe cleaner folded in half with the ends curled. then a snack size baggie filled with a treat.
3. love bugs. i (yes me) had been dying to make these since i first saw them. the girls loved them too!! make a shaggy pom pom with yarn by using a piece of cardboard about 4inches long. hot glue it to the top of a 5oz Dixie cup. then just glue on some googly eyes and pipe cleaner antennas. add a sparkly pom pom to the ends or paper hearts. (this idea was originally found on the art all ages blog, but the link isn't working anymore ?? did you change your web address?)
a few of my favorite party tips…
1. collect glass jars. i cannot tell you how many times my jars have been used. the ones with metal lids are great because you can paint them your party colors and then repaint those babies for the next event! (mine have about 10 layers of different colors of spray paint on them… and you'd never know)
2. use what you have. my "fancy" cake stand up there is a upside down bowl with a cake plate on top. i needed some extra height so i just made it work. for the milk dispenser i just used foam stickers i had in my stash. give yourself time… set up the day before and use stuff you already have!
3. have extra help when possible. especially when having a craft party where there are steps to follow. everyone works at a different pace so they are always on different steps at different times.
4. my favorite tip!! have friend parties in the morning! i don't know what it is, but they are so much calmer in the morning!! i promise. my sisters and i have put this to the test about 4-5 times now. it's wonderful!!!
do you have a favorite party theme?
please share… i have a birthday party in less then a month to plan for!! 🙂
. . . .
this post is sponsored by: