We are happy to introduce you to Kristyn today…

She is the fun behind
Lil' Luna
and we are excited to learn a little more about her!!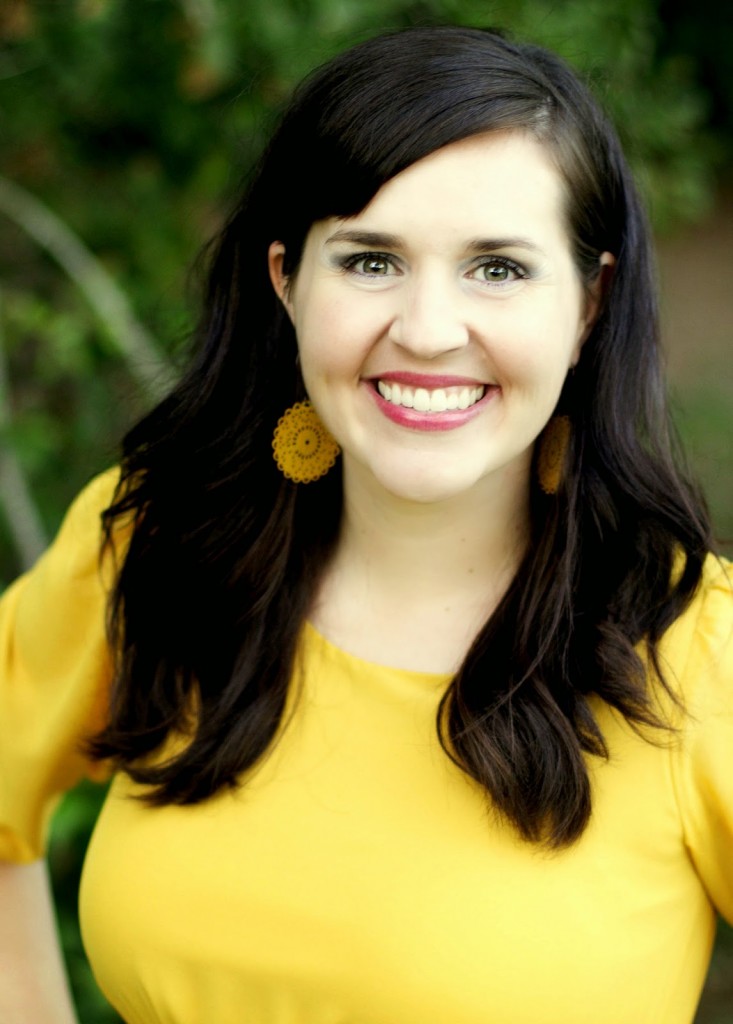 Tell us a song you knew all the words to in high school.
I spent a LOT of time listening to music in high school, but some of the songs I knew every word for include every NSYNC song, Semi-Charmed Life from Third Eye Blind and most Jimmy Eat World songs.
What was the first concert you went to?
New Kids on the Block… when I was 8!
What's the most interesting job you've had?
I'd say a BLOGGER!! People are fascinated and surprised when they realize I make money by sharing recipes, crafts and DIY projects. 🙂
If you could choose one super power, what would it be?
Just one?? I'd have to say the ability to remember and understand everything I've ever learned.
If you could live in a cartoon, which one would it be?
Phineas and Ferb for sure!!
What is the weirdest thing you've ever eaten?
Cesos (aka: cow brain!}
Share one truth and one lie about yourself and let us guess which is which.
I lived in Mexico for 4 months as a foreign exchange student during high school OR I lived in China for 4 months teaching English during college.
As a child what did you want to be when you grew up?
I wanted to be a biologist that worked with monkeys – lol!
If you could have an unlimited storage of one thing, what would it be?
TIME!! I want to do too many things and never have enough time to do it all.
What is your favorite kind of pie?
Chocolate. YUM!!
Would you rather live in Disneyland or Sea World?
DISNEYLAND!!!!!! My goal in life is to have Annual passes that are used several times a year. I know the Eighteen25 gals can relate. 😀
If you were an animal which one would you be and why?
Eek – not sure, but I'd love to be able to fly so a bird.
Did you have a nickname in high school?
"Ritchey" which is my maiden name and "Ritch-ita" which is a spin-off of my maiden name.
Apple juice or orange juice?
O.J., for sure!! Love apples but can't stand Apple Juice.
If you could visit anywhere in the world, where would it be?
Too many places!! I really would love to go to New Zealand and do the Lord of the Rings Tour with the hubby. #yesI'manerd
Window or aisle seat on an airplane?
Window seat – I LOVE to look out the plane even though I'm deathly afraid of heights.
What's your favorite Disney movie?
LOVE Tangled and Newsies, but currently obsessed with Frozen.
Have you ever met anyone famous?
I've been able to meet tons of famous people including John Ritter (sat next to him in the terminal for an hour) and his wife, Amy Yasbeck (think of Maid Marian from Robin Hood: Men in Tights), all of NSYNC, Josh Groban, Jason Mraz, Jimmy Eat World, Charles Barkley (NBA player), Ryan Seacrest, Switchfoot, Bob Barker…
Are you a hugger?
With certain people yes. With others, it can just be awkward.
What's your favorite thing to do on a Sunday afternoon?
Organize or sit and watch a movie with the family.
Tell us 3 random things about yourself…
1. I LOVE to travel but hate flying.
2. I want lots of kids!
3. I want to be friends with everyone!!
///////////////////////////////////////////////////////////////////////////
Lets check out few of Kristyn's favorite projects from Lil' Luna…
It's always so fun to get to know more about the blogger behind the blog! Thanks Kristyn!!