I made this little treat bucket for my son's male teacher during teacher appreciation week. Inside the matchbook is an App Store gift card. The idea came from Holly at A Baker's House.
I thought it would make a great end of the year gift too. Or a simple gift for anyone you want to show your thanks to. And your color options are endless, so have fun with it!!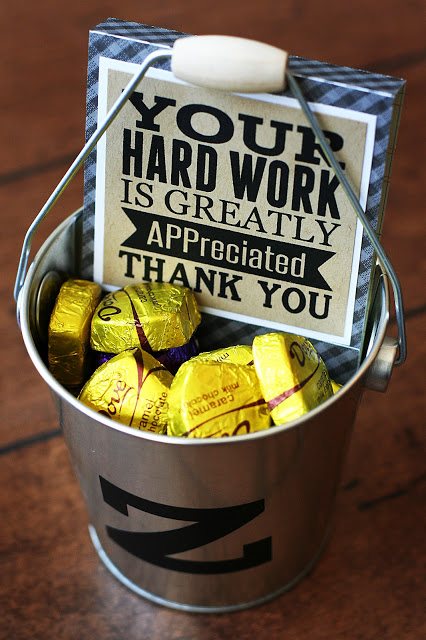 SUPPLIES
• bucket (target dollar spot)
• vinyl (to cut out initial – optional)
• App Store card (found mine at target)
• double sided patterned paper
• kraft cardstock
• white cardstock
• 3″ square print found
HERE
• chocolate or other yummy goodies
FOR THE MATCHBOOK
I used the Matchbook Card shape from the Silhouette online store, which comes with a little envelope to put inside for your gift card. But you can make your own matchbook by cutting your patterned paper to 8 3/4″ x 3 1/4″, score it at 3 1/2″, 4 1/2″ and 8″ then fold it up and secure with staples.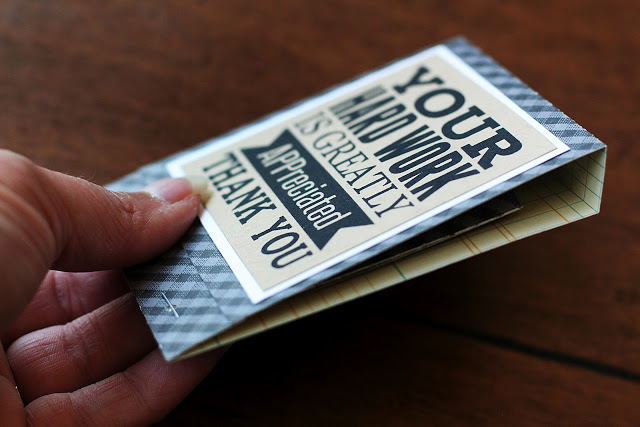 Print the saying onto the kraft cardstock, trim and back with white cardstock. Adhere to the front of the matchbook. Then staple the bottom flap together.
FOR THE BUCKET
I just cut the teacher's initial out of vinyl and placed on the front and then filled it up with chocolates!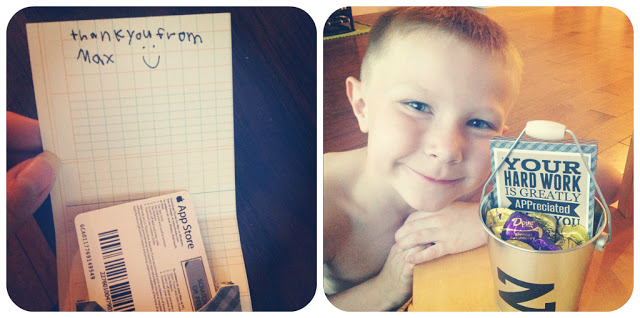 My son signed the inside of the matchbook and posed for a quick picture (shirtless). He was worried after, that I was going to give that (shirtless) picture to his teacher. Nope. It's just for the blog. 😉
. . . . . . .
this post is sponsored by: