This is a sponsored post written by me on behalf of Kellogg's® Rice Krispies®. As always, all opinions are my own.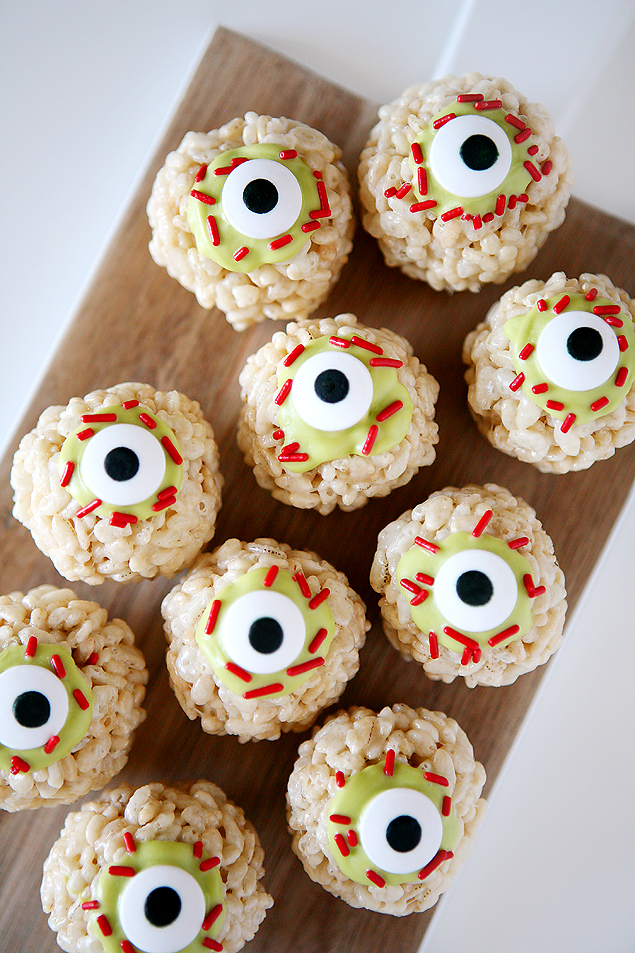 If you haven't noticed yet, we get a bit crazy about Halloween around here. It's our favorite holiday to decorate for and we love to watch (slightly) scary movies all of October. And don't get me started on the TREATS! There are just so many fun options when it comes to Halloween treats. Today we want to share with you a little creation we came up with… Zombie Eyeball Kellogg's® Rice Krispies® treats. Aren't they fun?
Kellogg's® Rice Krispies® treats are one of our favorite ways to get creative for Halloween and all holidays throughout the year. What other treat can you make with only 3 ingredients that is basically a blank canvas of creativity! None. Kellogg's Rice Krispies® treats for the win…. every single time!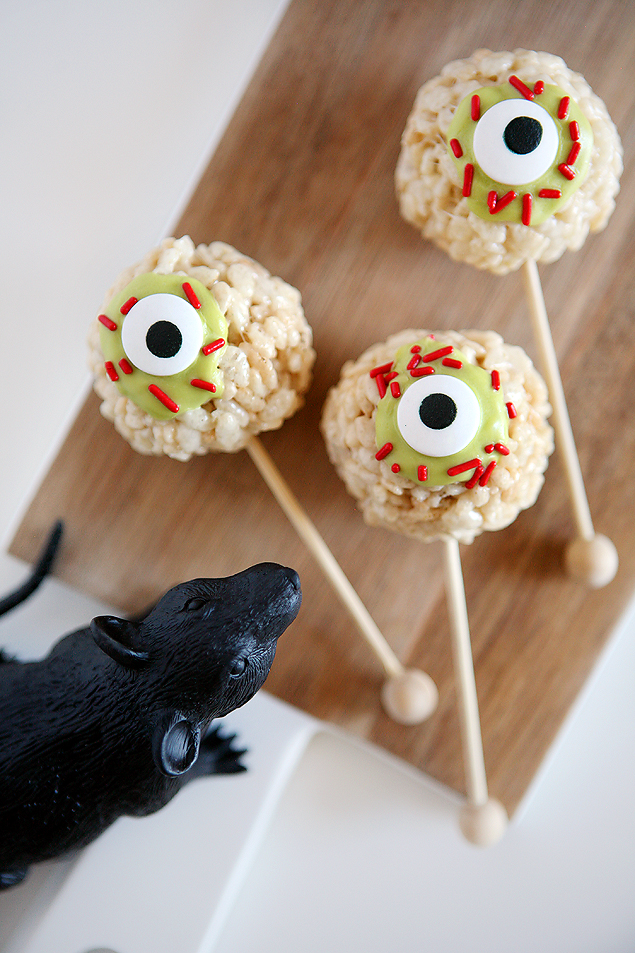 Here's a list of items you'll need to make your own Zombie Eyeballs:
6 Cups of Kellogg's® Rice Krispies®
1 10 oz bag of Marshmallows
3 Tablespoons of Butter
Vibrant Green Candy Melts – we used less than half of the bag.
Red Jimmy Sprinkles
Candy Eyeballs – we used the largest size the store had.
Rock Candy Sticks (optional) – you can usually find these at most craft stores.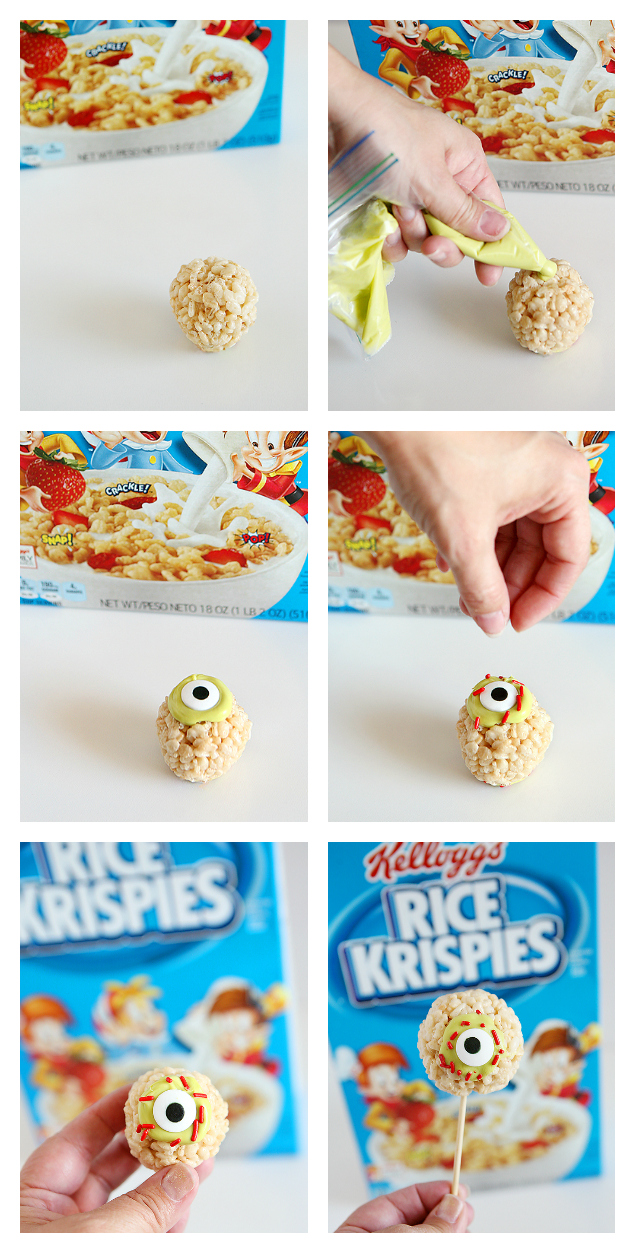 Steps:
In a large pan heat your butter and marshmallows on low until completely melted. (stirring continuously)
Remove from heat and immediately add the Kellogg's® Rice Krispies®, mix well.
Use an ice cream scoop to scoop out the Kellogg's® Rice Krispies® and then immediately shape into a ball. We used butter on our hands so we didn't end up with a sticky mess. 🙂
Repeat step 3 until you've used all your Kellogg's® Rice Krispies® mixture.
Next you'll want to melt your green chocolate. (follow the instructions on the bag)
Once your chocolate is all melted spoon it into a baggie and snip one corner. Then make a circle with your chocolate on the top of each of your Kellogg's® Rice Krispies®.
Finish them off with a candy eyeball and some red sprinkles.
One batch of Kellogg's® Rice Krispies® treats makes about 22-25 eyeballs.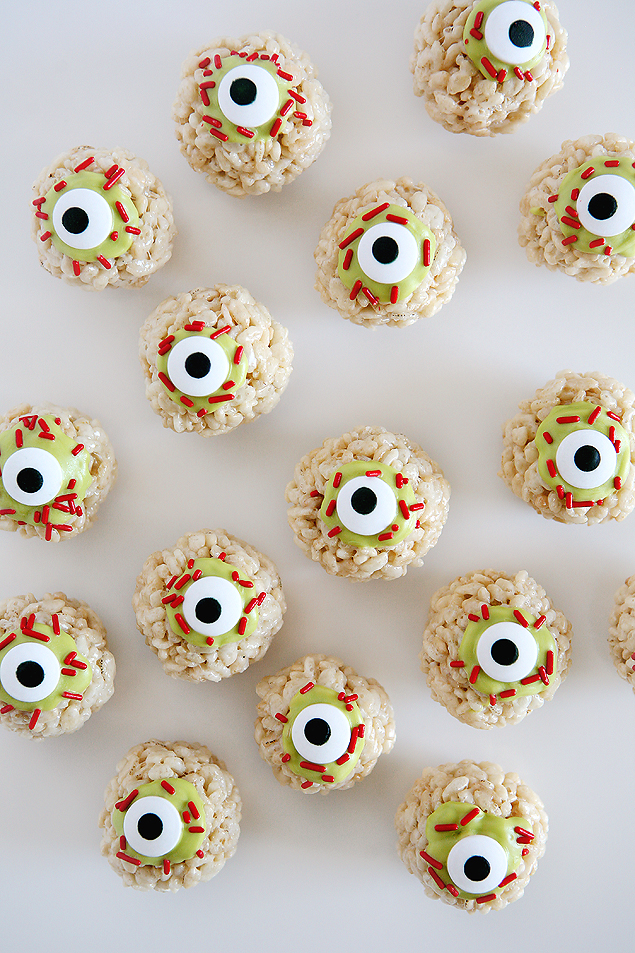 Your kids are going to love these silly little treats! The adults are going to love them too because lets face it they are delicious and everyone loves Kellogg's® Rice Krispies® treats.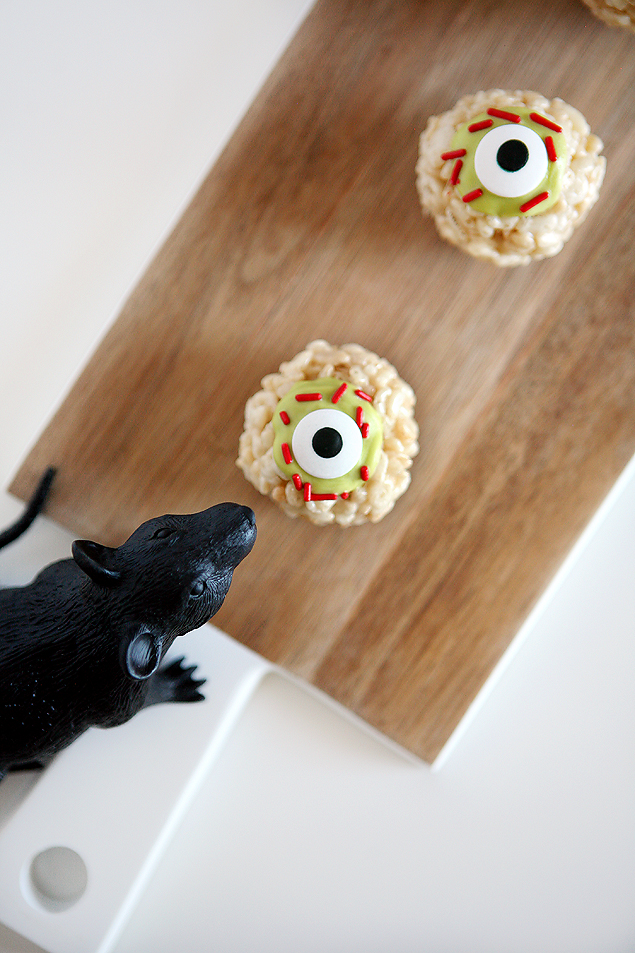 Serve up a platter of zombie eyeballs or use some rock candy sticks (or white lollipop sticks) and make them into Zombie Eyeball Pops. Little bit creepy, but a lot of fun! You could even slip these into little cellophane bags, tie them up with some ribbon or twine and then pass them out to your favorite trick or treaters.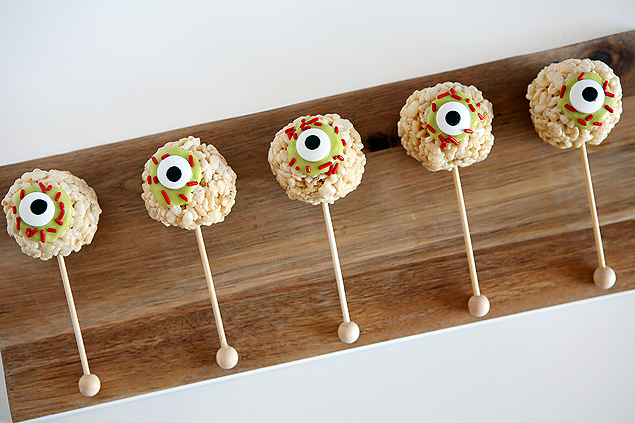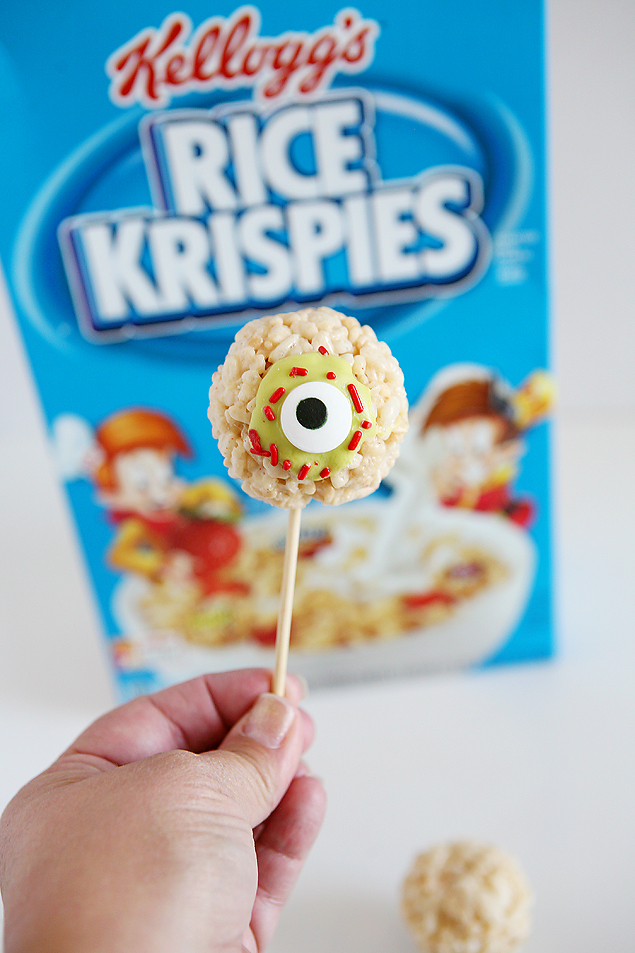 Check out these other awesome treats where we used Kellogg's® Rice Krispies® to make something awesome:
Visit the Kellogg's® Rice Krispies® website HERE for lots more fun ideas and Kellogg's® Rice Krispies® recipes! You can also follow along with them on Pinterest, Facebook and Twitter or using the hashtag #RiceKrispies.