Eeeeek, it's time for some Halloween fun! Hey guys, this is Heather from WhipperBerry and I'm thrilled to be here with my sweet friends Jen & Jodie. I used to live in Vegas with Jen & Jodie and have since moved to Nebraska and I miss hanging with these guys more often. If you aren't familiar with WhipperBerry, it's a creative lifestyle blog as well. I specialize in graphic design, crafting, recipes, gift giving… Well, pretty much whatever I'm currently working on.
Today, I have a fun new idea. I've always loved the vintage paper rolls that little shops used to have. They would keep a roll of brown paper on it and use it to wrap parcels for their shoppers. Well, they are making a come back thanks to the vintage farmhouse lovers. I have found some vintage style paper rolls that aren't too expensive and thought it would be fun to create new signs for the seasons with heat transfer vinyl.

Isn't that fun?! It's kind of a new concept when it comes to signage around the home.
Now, some people are naturally gifted and can create beautiful signs with just a sharpie and a little imagination. I however, can not… I wish I could! I was not gifted with that talent. The problem is that I love the look and I don't have an arm and a leg to pay an actual artist to create my design each time I want to change it out. Then, I thought I could use vinyl and cut a design with either the Cricut or Silhouette cutting machines. The problem with that is, the transfer tape would be a nightmare on the paper. It would just turn into a hot mess. Plus… I'm not a fan of weeding intricate designs out of vinyl. Although, I don't mind weeding heat transfer vinyl! It's so much easier to weed. I set out to see if it was possible to use heat transfer vinyl on paper and sure enough, it works!
I then created a fun design for the Eighteen25 Spooktacular September event and thought I would share. All you need to do is to download my SVG file for the Witch and Ghoul sign OR you can download the free printable and print it out to display. You could even frame it if you'd like. I've sized it at 8×10 for your use.
If you are planning on cutting it, I would suggest the Cricut Maker or any of the other Cricut cutting machines and their Iron-on Lite vinyl. It's my favorite. Of course if you have other tools and other favorite HTV, you can use those as well.
Witch and Ghoul Death and Breakfast Sign Supplies
vintage style paper roll like the one here
heat transfer vinyl
personal cutting machine like the Cricut or Silhouette
iron or the new soon to be released Cricut Easy Press
light cotton towel
heat resistant surface to work on
scissors
Halloween Sign Instructions
First, you'll need to upload the SVG file into your design software and size your design for the size of your paper roll. My roll is 8 inches but, you can get even larger ones.
Then you'll need to load your heat transfer vinyl onto your cutting mat and load into your machine and cut out the design.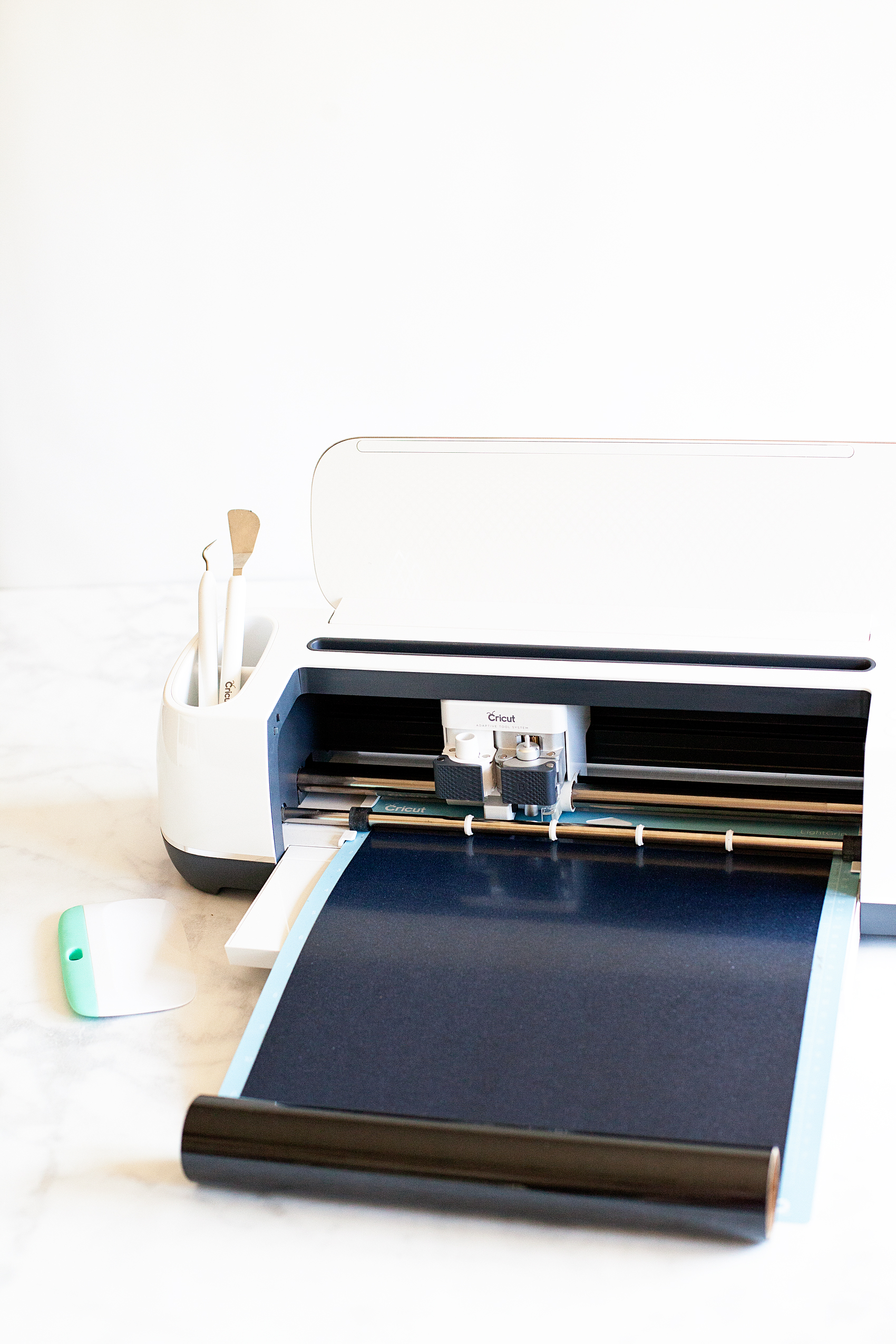 Quick tip… I leave the vinyl on the roll while I am cutting it. It doesn't interfere with the cutting process and it cuts down on waste.
Then you'll need to weed your design to remove the excess vinyl.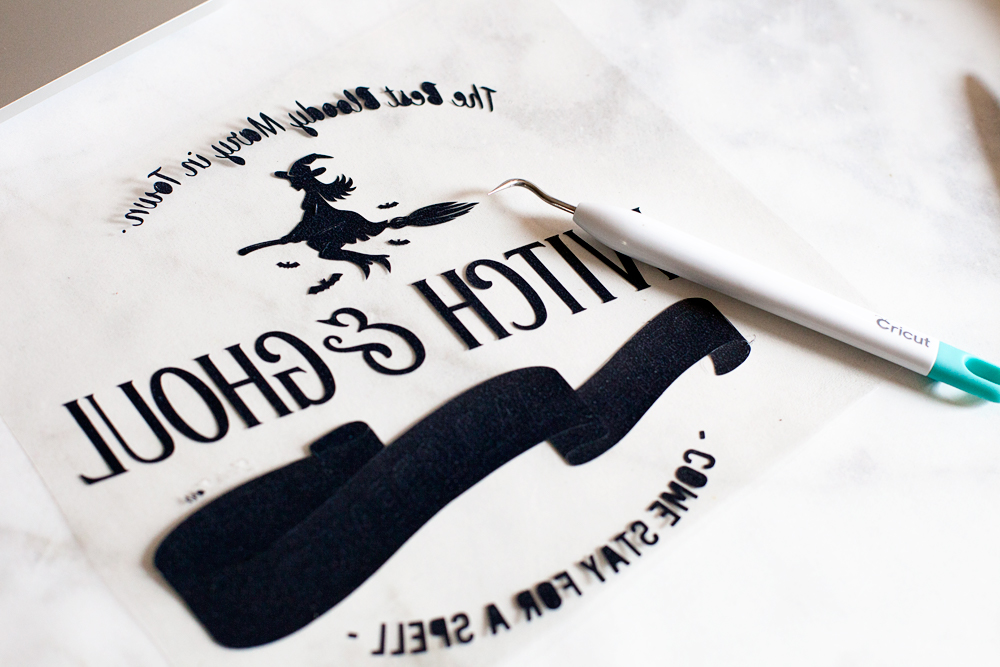 While you are weeding your vinyl, you'll want to pre-heat your iron or Cricut Easy Press. Once you finish with the weeding process, you should unroll some of your paper and place something at the bottom of the roll to keep it from rolling back-up.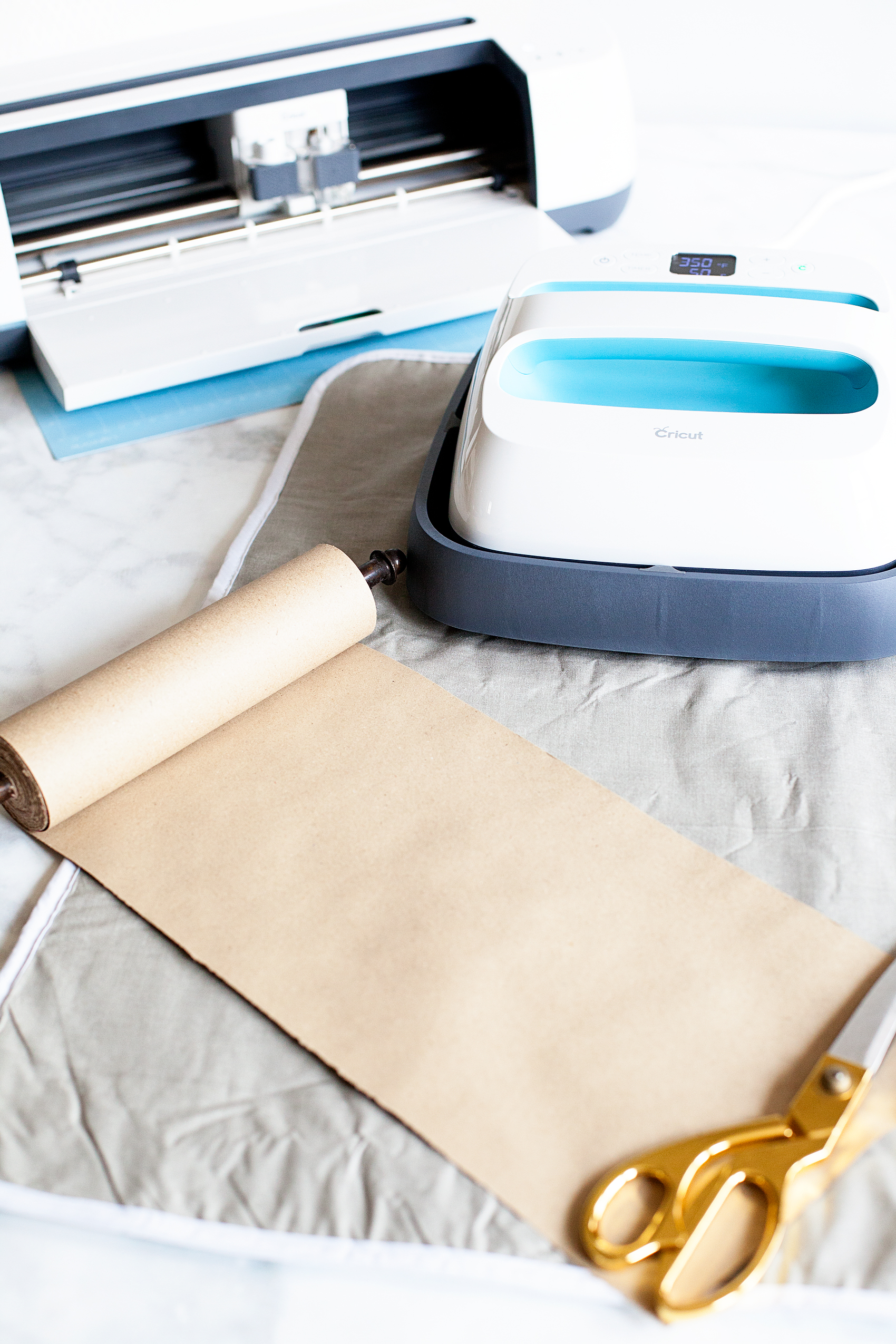 I like to pre-heat my surface before I lay down my design. The transfer seems to work best that way. Then I center the design onto the paper like so…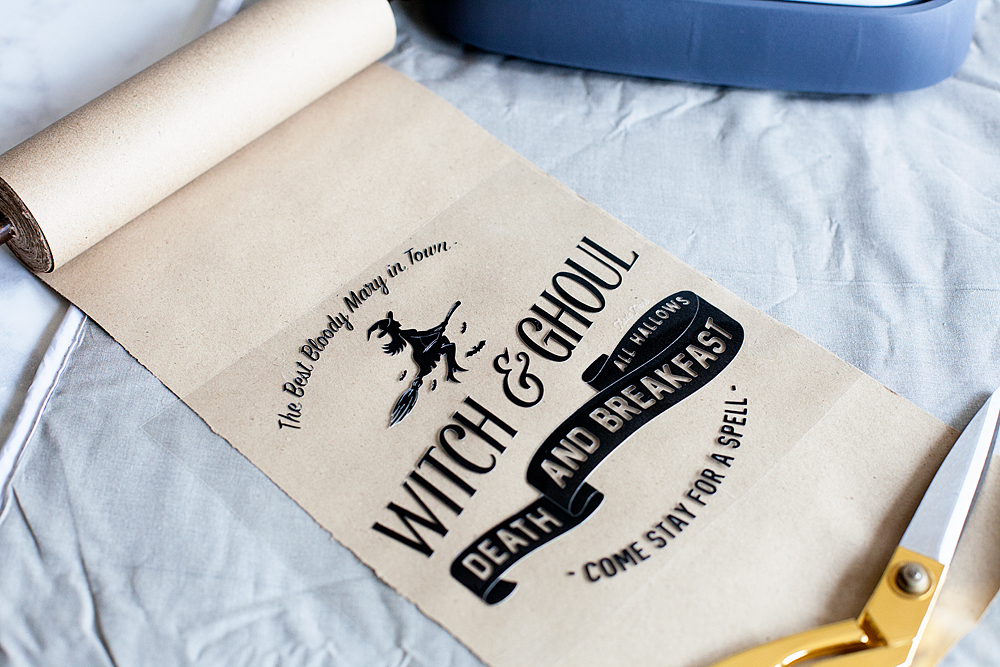 I then cover it with the cotton tea towel to protect the iron and the design.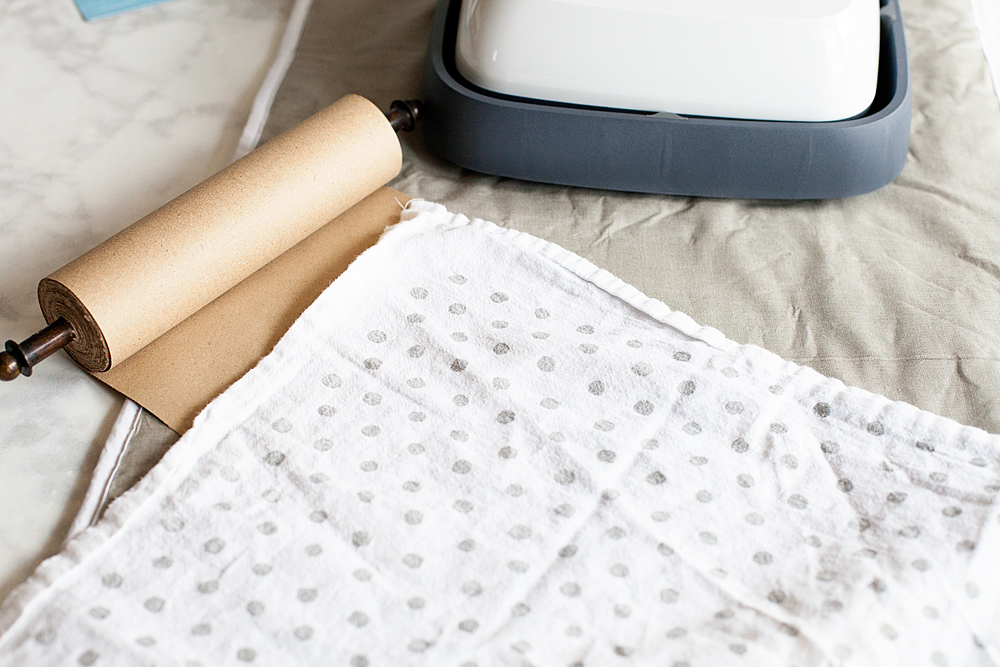 Then I place the Easy Press or the iron right on top and let it work it's magic. I have found that 350˚ for about 50 seconds typically does the trick. Then I let it cool for a minute or two and then remove the plastic protective covering.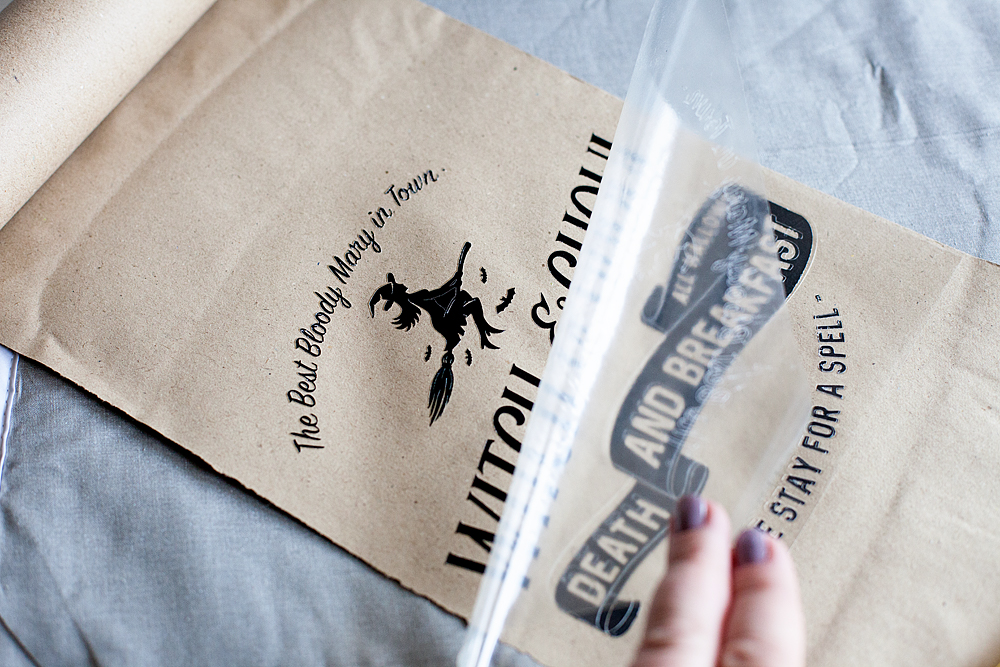 Replace the towel and do one more shot with the iron or Easy Press. Voilá.. You're finished!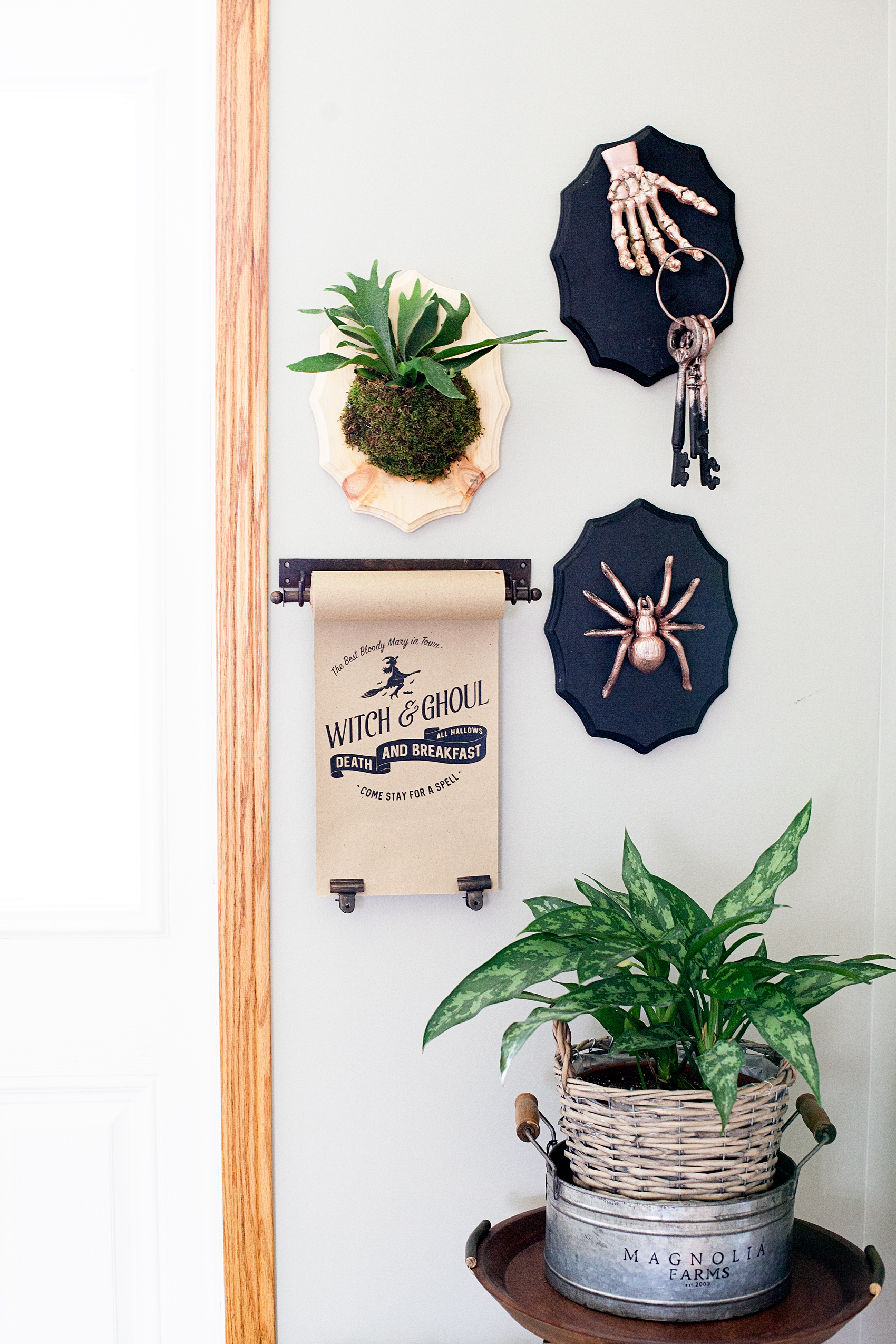 Doesn't it look kinda of cool? You can check out my post on how to create that Halloween Taxidermy over on WhipperBerry. It's super easy too. Come on over and follow along on my adventures as well on Instagram! Thanks Jen & Jodie for having me over today. Happy Halloween ya'll!

Visit Whipperberry on her BLOG | FACEBOOK | INSTAGRAM | PINTEREST | TWITTER
Here are a few more fun Halloween ideas to check out: