It's time for another fun, monthly blog hop — featuring 10 of our favorite creative bloggers! This month's theme is all things CHALKBOARD, and we just know you'll have a blast with these projects. We ended up making an XL Chalkboard that is so super simple anyone can put one together for their own home!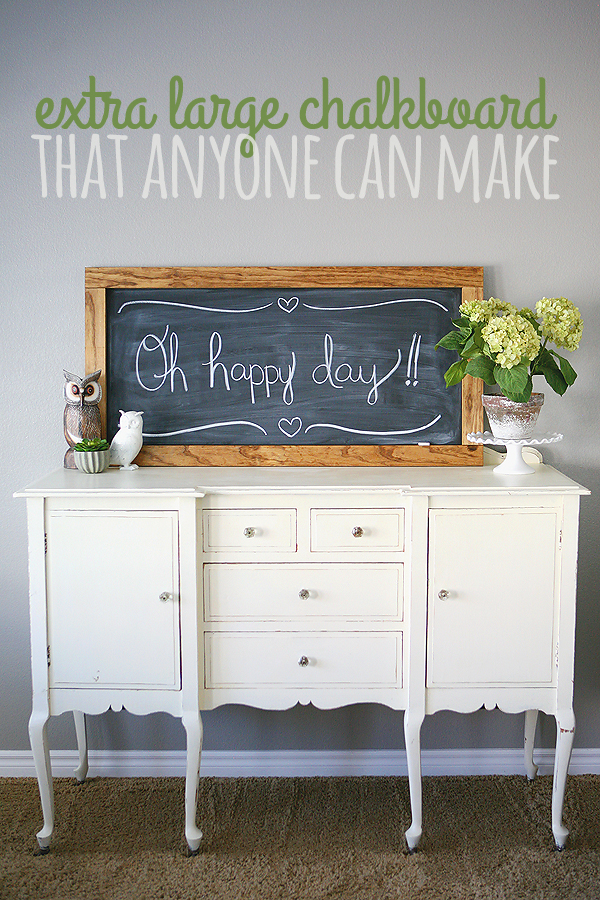 We'd love for you to pin our collage below, check out our XL Chalkboard tutorial and then go see all the other fabulous projects created by some of our friends!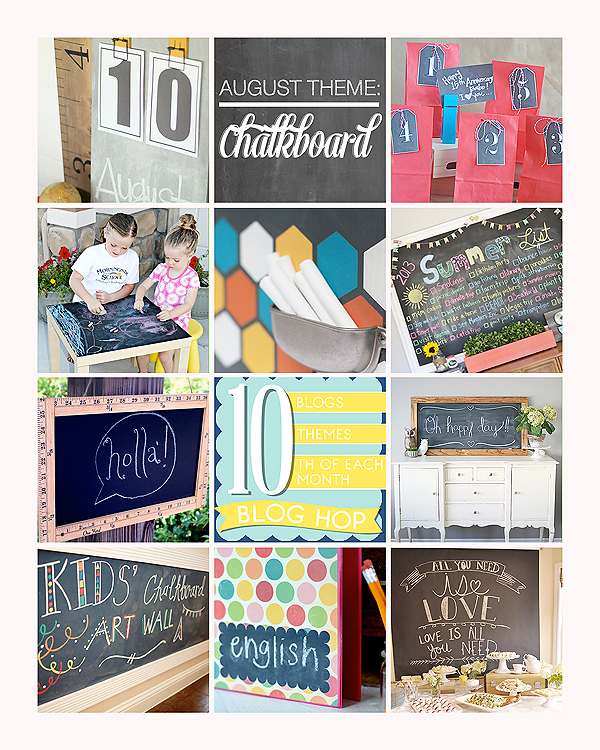 To see each fantastic Chalkboard Project up close, join the Blog Hop!
2 • Thirty Handmade Days with an Anniversary Idea + Collection of Printable Chalkboard Tags
3 • Six Sisters Stuff sharing a Cheap and Easy Kids Chalkboard Table
4 • Landee See Landee Do sharing a Hexagon Chalkboard
5 • Little Miss Momma sharing a Jumbo Chalkboard Tutorial
6 • Or So She Says sharing a Vintage Ruler-Framed Chalkboard Sign
7 • Eighteen25 sharing a Super Simple XL Chalkboard
8 • Capturing Joy sharing a Kids Chalkboard Wall Art
9 • Simply Kierste sharing her Chalkboard Binder Labels
10 • Your Homebased Mom sharing a Chalkboard Party Backdrop
____________________________________________
Super Simple XL Chalkboard
Jamie's had this project brewing in her head for a few months… so we were so excited when Chalkboards ended up being our theme for this month!!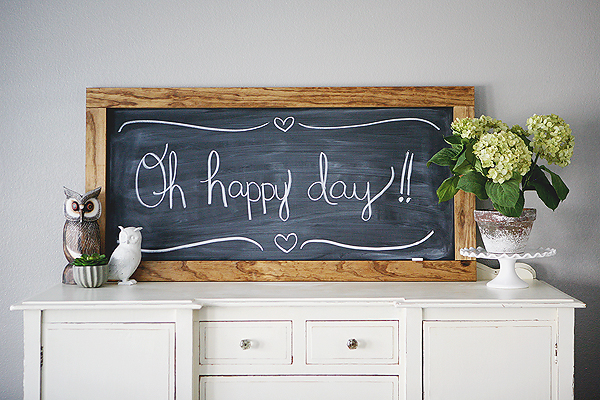 The coolest part is that it ended up being one of the easiest, but most rewarding projects ever!!
Gotta love that, right?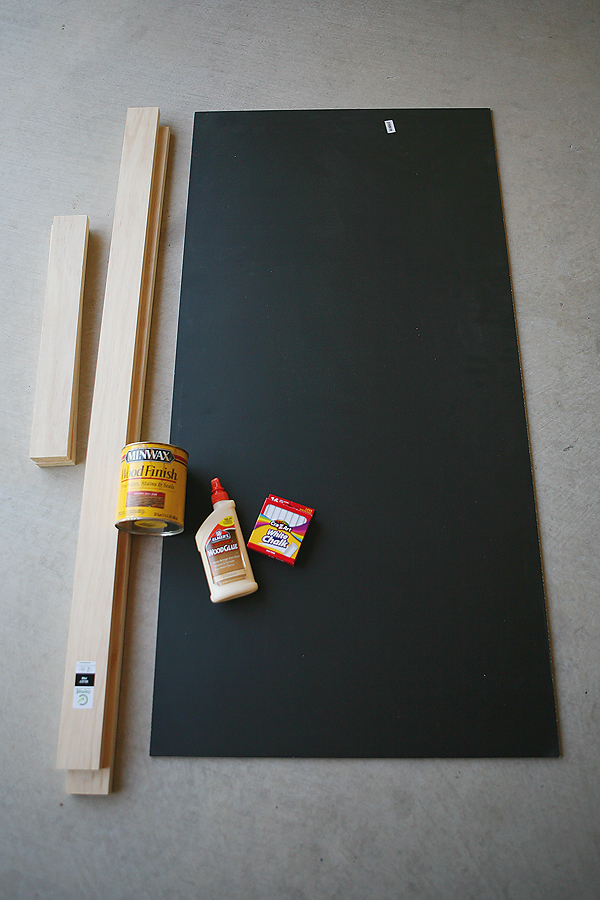 SUPPLIES: [affiliate links included]
• 2 feet x 4 feet sheet of chalkboard – found at Home Depot (that's right, no chalkboard painting required! the work is already done)
• (2) pieces of 1″ x 3″ cut to 48″
• (2) pieces of 1″ x 3″ cut to 19″
(we bought two 1x3x6 and Home Depot cut the pieces for us at no charge)
• wood stain – we used MINIWAX Golden Oak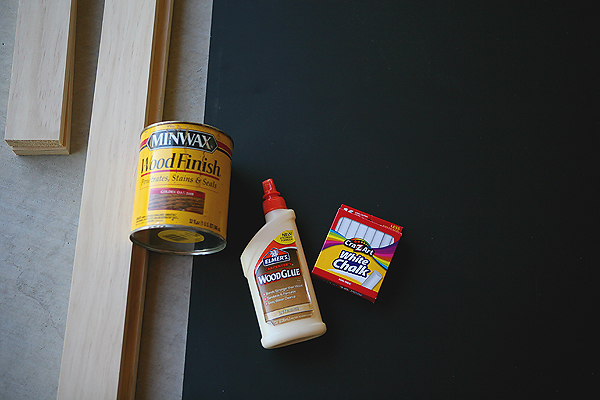 STEPS:
• using a foam brush we painted the stain on the boards and wiped the excess off with a rag
• once the boards are dry – run a line of wood glue down the backs of all the boards (we initally just used the wood glue and the boards started to pop off every once in awhile. I finally just added the E6000 to a couple spots and those boards haven't budged since. haha)
• set the boards glue side down to frame your sheet of chalkboard
• set some weights on the boards to keep them in place while the glue dries (we just used some cans of food)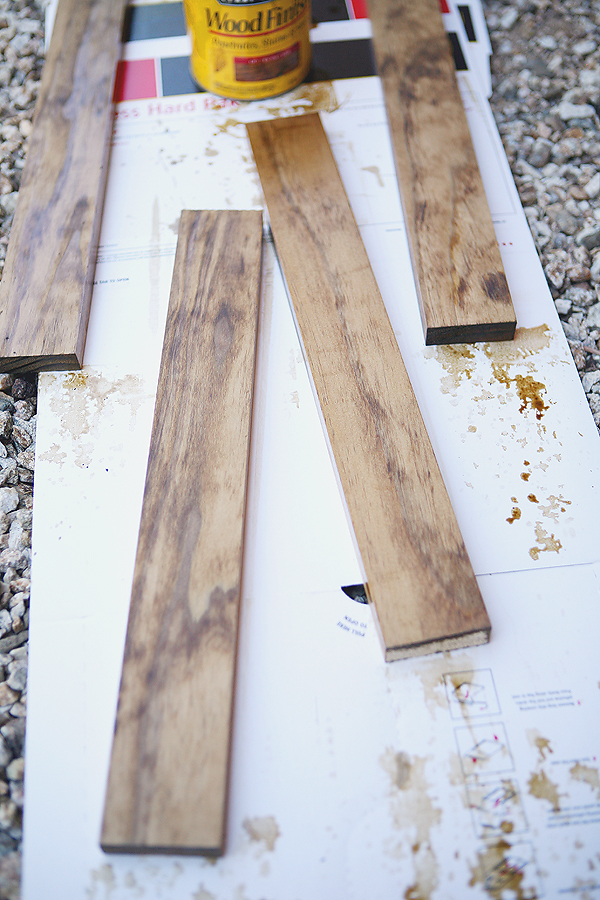 That's it! So Easy! It literally takes about 15-20 minutes of work.
(that doesn't include the time for the stain and glue to dry)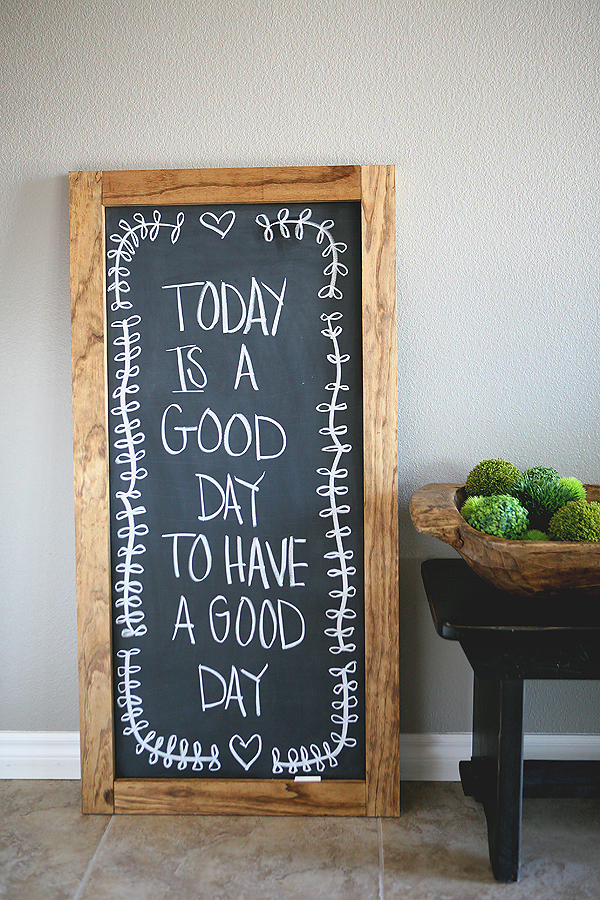 set it vertical or horizontal… it looks great both ways!!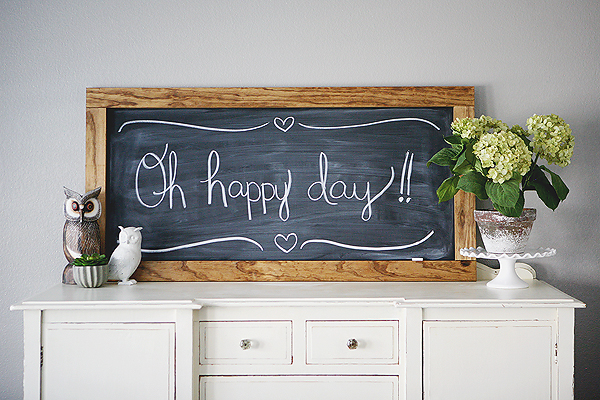 I (Jen) may have done some smooth talking about how good it looks on my cabinet, and talked Jamie into letting me enjoy it at my house for awhile. Hopefully she forgets it's here!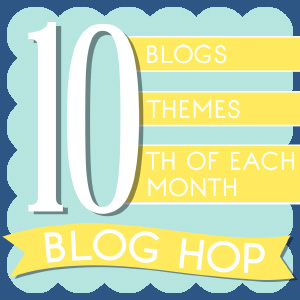 You can click the button above to check out our past projects.