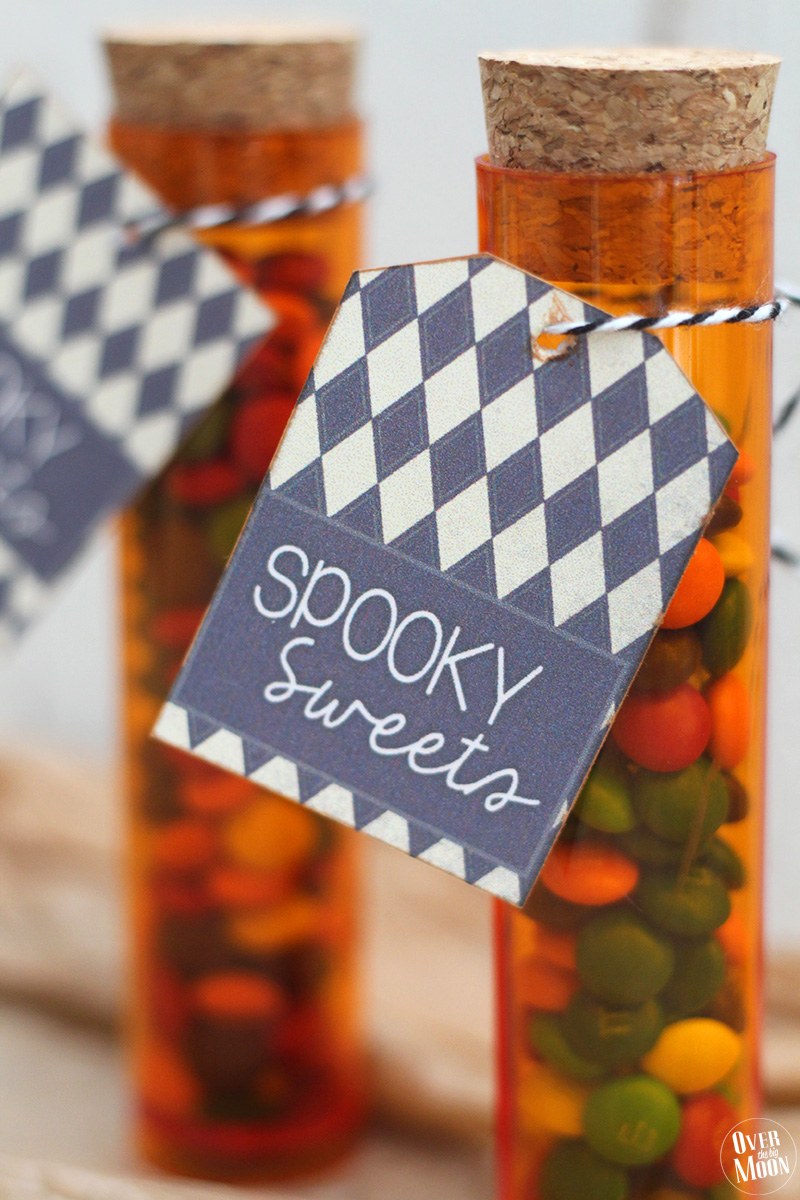 Hey all you 1825 readers! I'm Pam from www.overthebigmoon.com! Over the Big Moon is a place where I share lots of DIY's, Recipes, Printables, Home Decor and more as I enjoy all phases of life with my cute little family! I love Fall and obviously a huge part of our Fall season is Halloween! Today I'm excited today to share this fun Halloween Test Tube Treat & Printable idea!
My kids always have a Halloween party at school and we've kind of made it a tradition to take in something a little extra fun to their class! The other day we were walking into Target just as they were pulling out their Dollar Spot Halloween stuff and my son saw the test tubes and thought they were so cool! So, I grabbed them and decided to roll with it!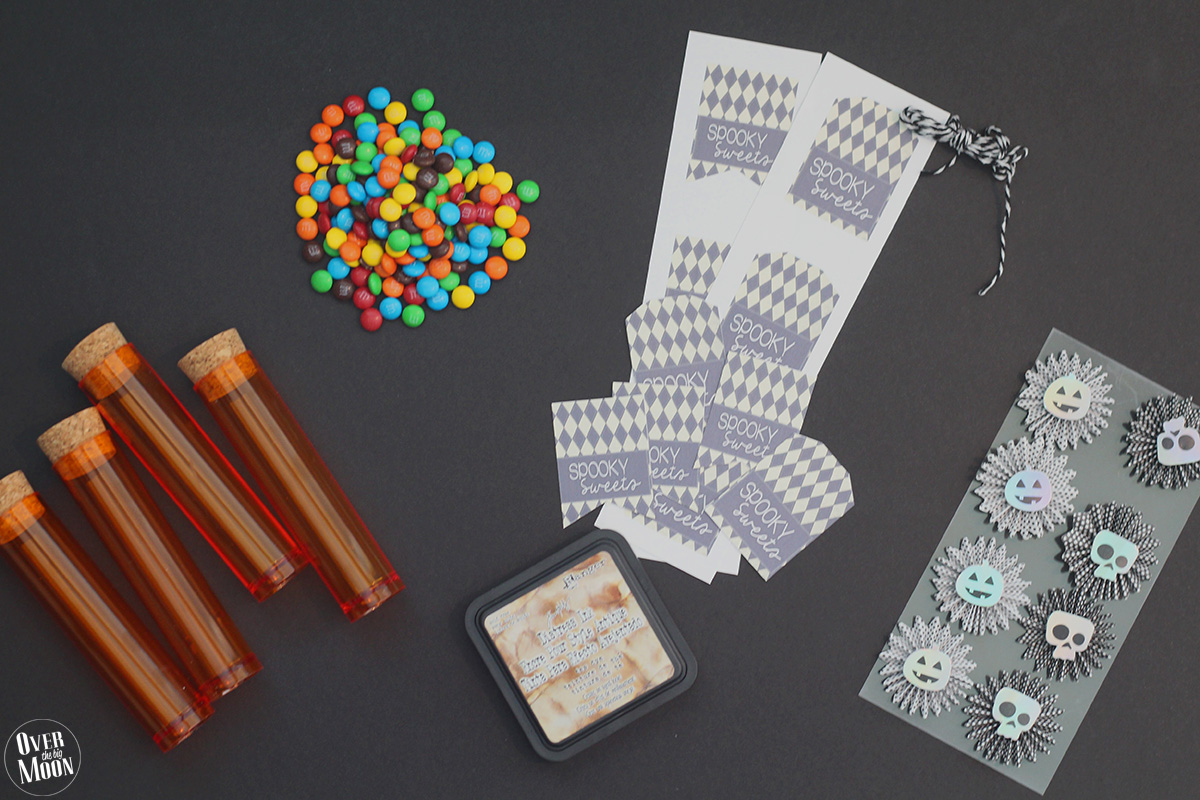 To start you'll need to gather your supplies:
Printable Treat Tags (download below)
Distress Ink or Crayon
Bakers Twine (I used black and white)
Embellishments (optional)
A fun treat – I went with mini M&M's.
You can get the plastic test tubes all over the place – party stores, Amazon, etc. You can also search Gumball tubes. I prefer the ones with flat bottoms, but they do make them with rounded bottoms more true to an actual test tube. So, go with whatever look you like the most!
To get started – go ahead and download my printable tags using the link below. I highly suggest printing them on cardstock.
The file above is in JPG format and can printed at home using your printer or sent to a print shop if you prefer.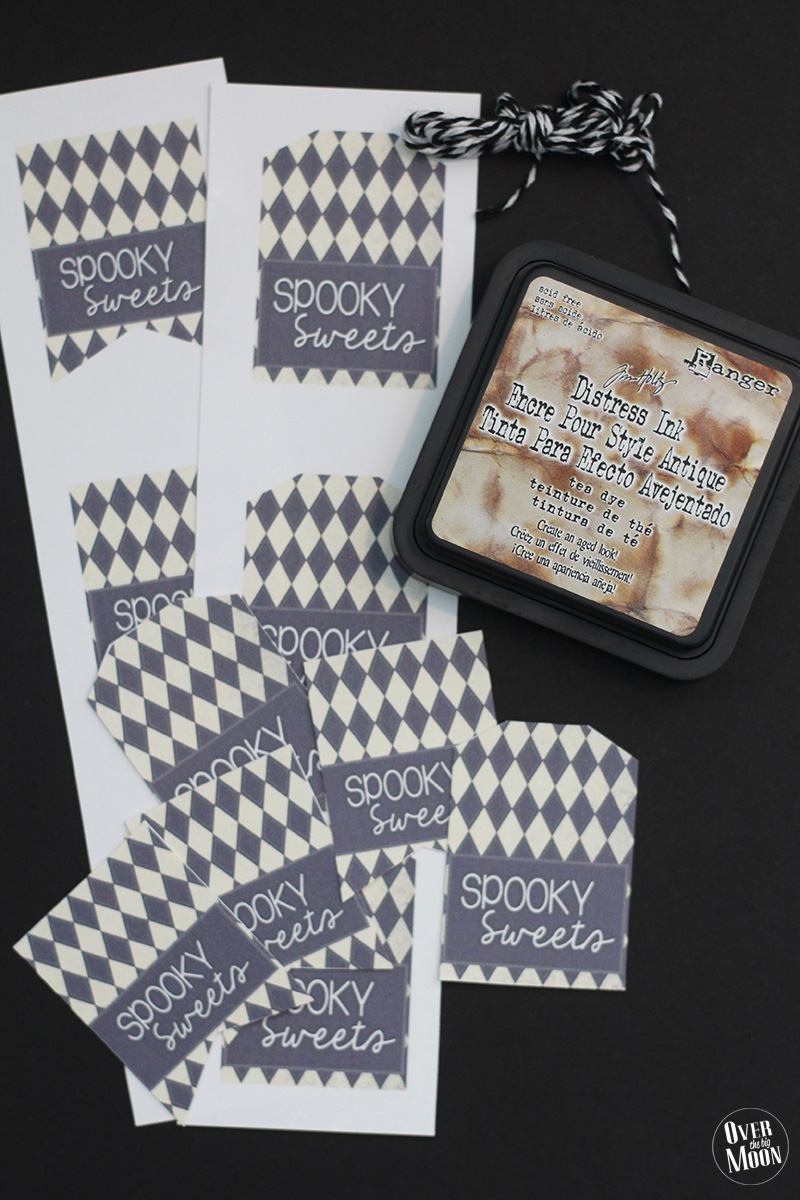 Once printed, cut them out. I then like to take my distressing ink and ink the edges. It helps give a more worn and finished look. I used my vintage (brown) distressing ink this day. If you don't have distressing ink, a crayon is another easy way you could accomplish this look.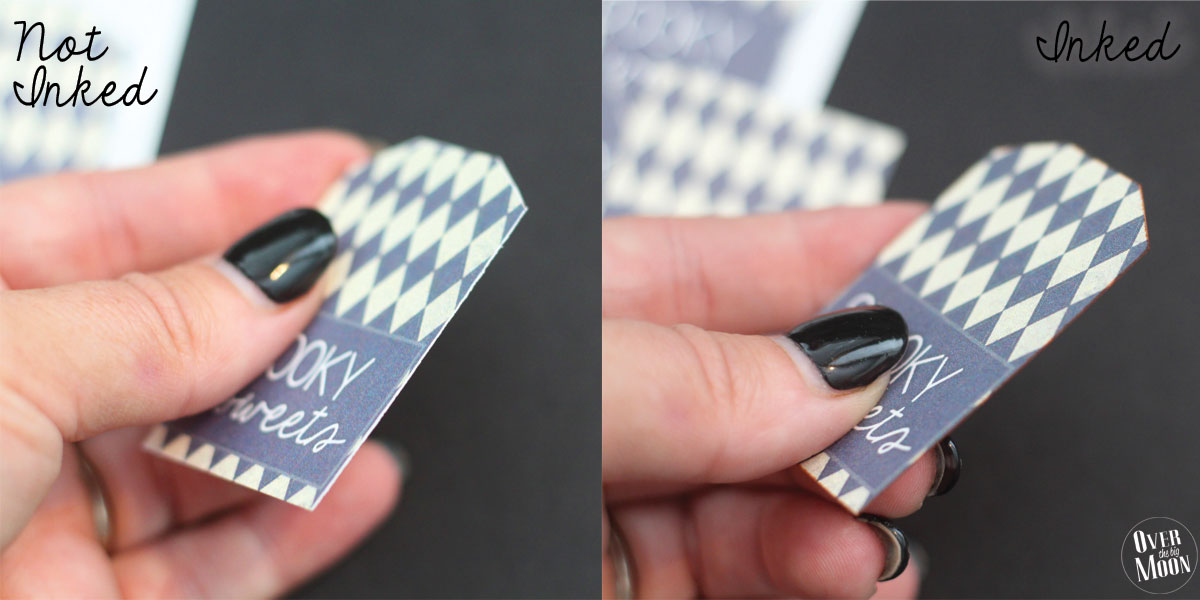 You don't have to use embellishments if you want to keep the cost down or can't find any cute ones, but I thought it added a fun little look. As for the bakers twine – to go along with my theme I used just a plain black and white.
Once your tags are cut, then use a small mini hole puncher or the end of some scissors to create a small hole in the top of the printable tag to thread the bakers twice through. Then go ahead and thread your bakers twine!
Next, take your candy and fill your test tubes. Again, I just used mini M&M's, but you can really fill them with whatever candy you'd like! Then go ahead and cork the top!
Lastly, tie your bakers twine around the top of your test tube and add any embellishments you want.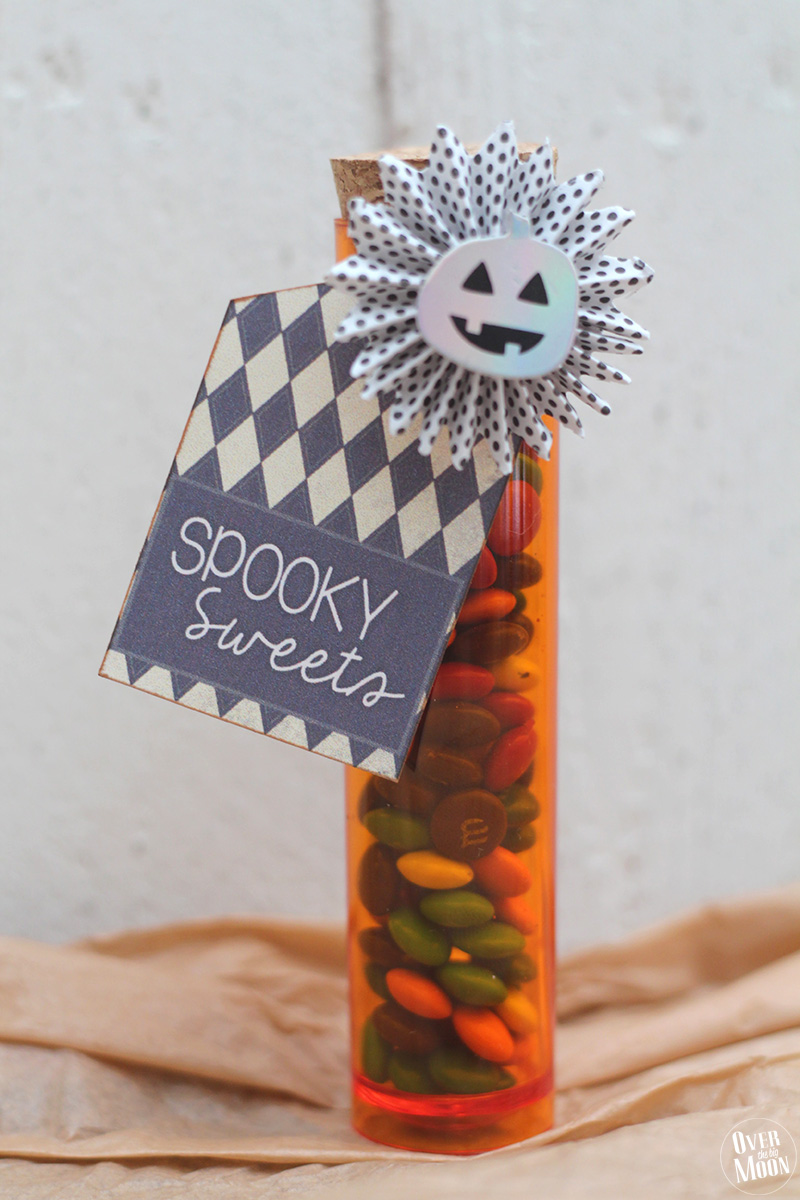 The embellishments I used had a small sticky circle on the back that helped secure the bakers twine in place when I pushed it onto the top. But, if you don't use any embellishments and feel like it needs a little securing, don't hesitate to use your hot glue gun to just dab a tiny dot of hot glue on the knot. That way it will secure the twine to the test tube and there will be no movement.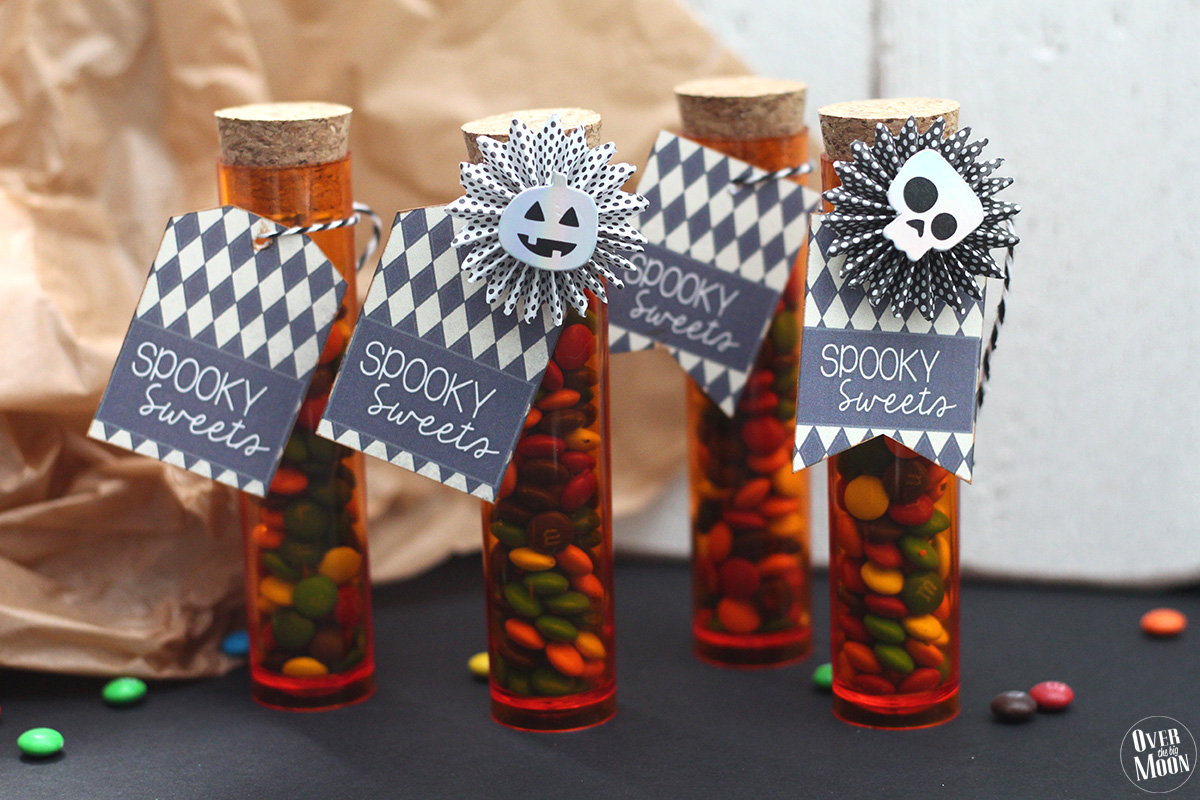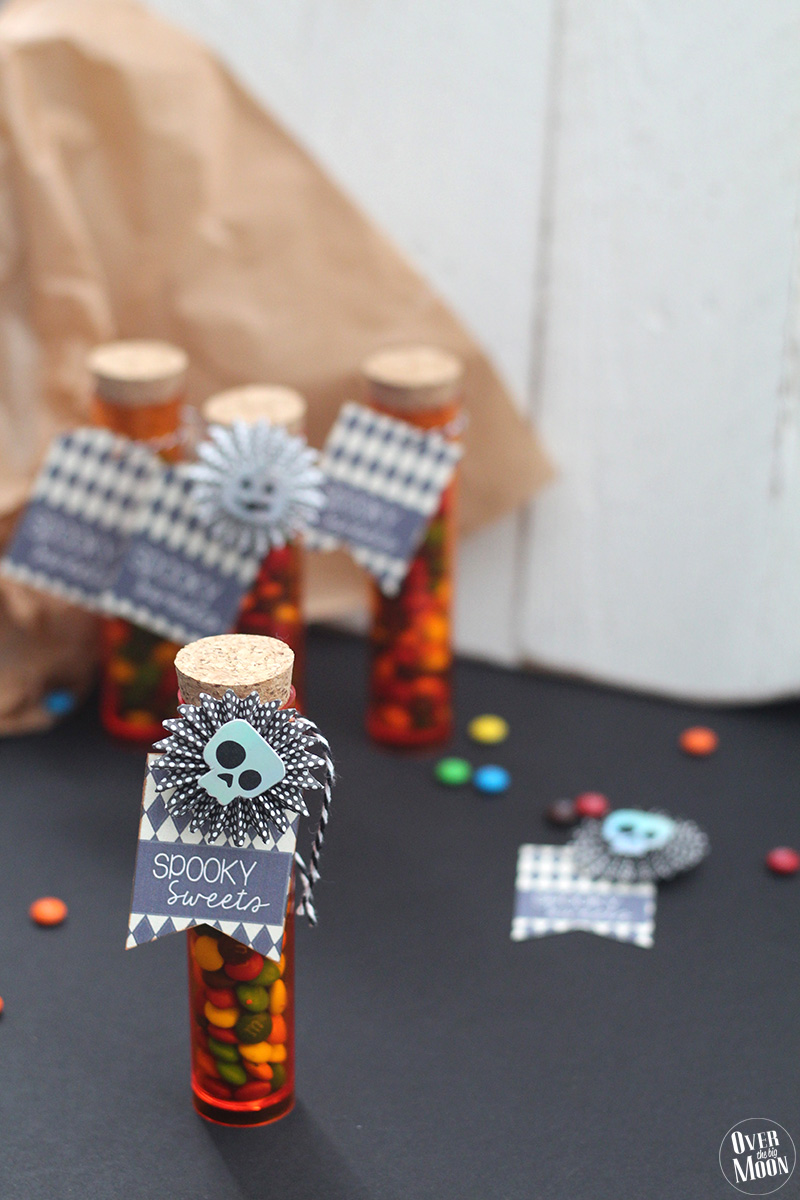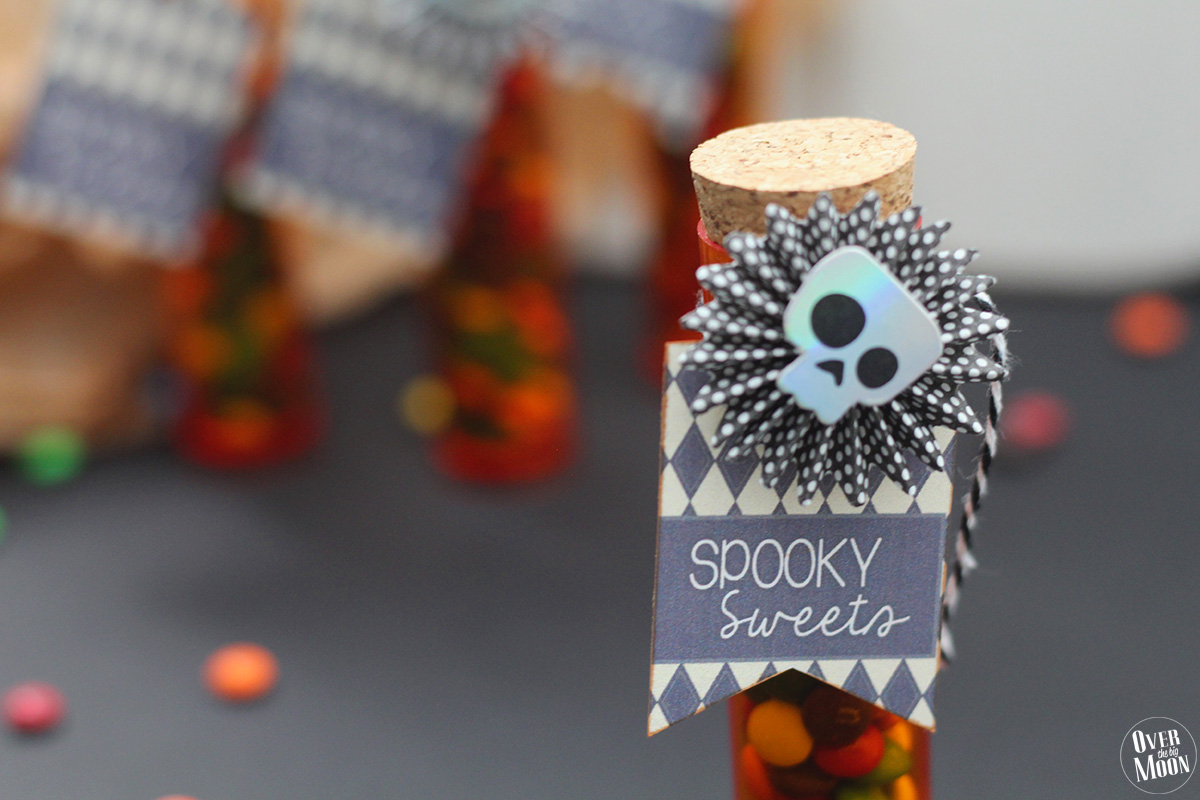 The treats still look really cute, even without embellishments! So, don't stress if you don't want to find any!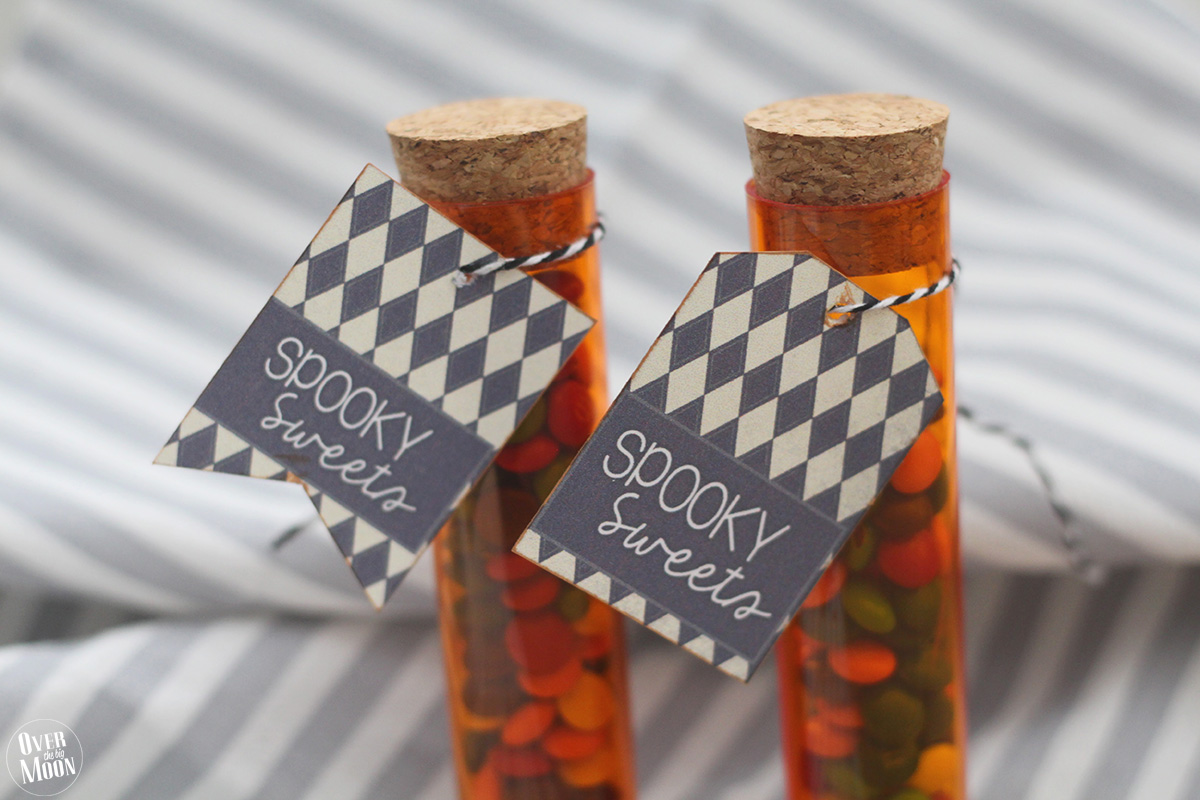 I hope you and your kiddos enjoy this fun treat this Halloween season!
Make sure and check out a few of my other favorite Halloween projects:

Halloween Can Wrappers | Pumpkin Soup | Halloween Candy Wrapper Printables

Visit Pam on her BLOG || FACEBOOK || PINTEREST || INSTAGRAM
Here are a few more fun Halloween projects you can find on Eighteen25: