It's
Leesh and Lu
, here.  We love snickerdoodles, but we don't always love rolling those perfect little balls in cinnamon and sugar for some reason.  We also don't always love hanging out around the oven until the last pan is finished baking.  But this recipe changes everything–snickerdoodles from start to finish in 30 minutes! And you don't even have to get cinnamon and sugar all over your hands!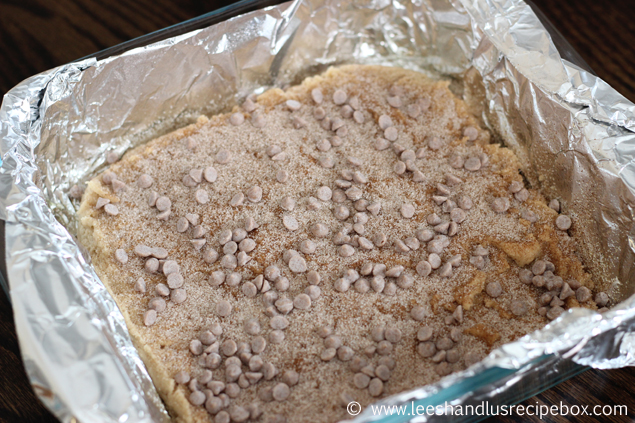 I love a good snickerdoodle.  To me a "good snickerdoodle" means a tangy cookie that is baked to a chewy crisp on the outside and still soft in the middle.  These bars give you the best of both worlds.  The outside of the pan gets that nice chewy crisp, and the middle stays perfectly soft.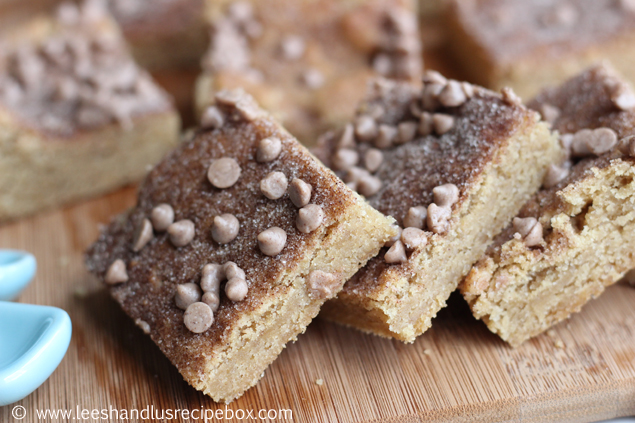 We thought the cinnamon chips added the perfect touch here.  They are optional, but if you're looking for them, they can be found at most specialty kitchen stores.  They make the most amazing cinnamon chip bread for french toast, too!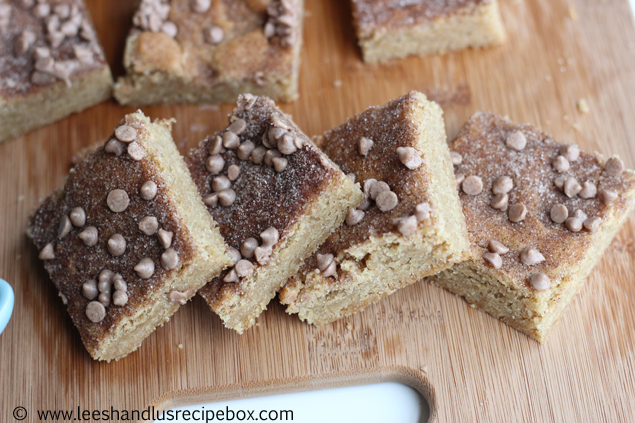 Serve with a glass of milk and they are sure to hit the spot!
Snickerdoodle Cookie Bars
Author:
Leesh & Lu's Recipe Box
Serves:
Yield: 9x9 baking dish (9-12 cookie bars)
Ingredients
½ cup butter, melted
½ cup white sugar
⅓ cup brown sugar
1 egg
1 teaspoon vanilla
1 ½ cups all-purpose flour
¼ teaspoon baking soda
½ teaspoon cinnamon
¼ teaspoon cream of tartar
¾ teaspoon salt
-- Topping:
1 tablespoon white sugar
½ teaspoon cinnamon
2 tablespoons mini cinnamon chips, for sprinkling (optional)
Instructions
Preheat oven to 350 degrees F.
In a small bowl cream the butter and sugar together. Add the egg and vanilla and mix to incorporate. In a separate bowl whisk together: flour, soda, ½ teaspoon cinnamon, cream of tartar and salt. Stir the flour mixture into the butter/sugar mixture until smooth.
Line a 8x8 or 9x9 baking dish with foil so it slightly hangs over the edges on two ends for easy removal - and lightly spray grease. Press the cookie dough mixture into the pan, you can leave a ½ inch space around the edges - as it bakes it will travel to the edge and climb up the edge less if you leave the gap.
In a small bowl stir together the topping mixture of cinnamon and sugar and sprinkle evenly across the top of the cookie dough. Sprinkle the top with mini cinnamon chips if desired (they are a fun garnish - but not necessary for the taste).
Bake for 20-25 minutes or until a toothpick comes out clean. Cool on a rack until completely cool. Lift the bars out by the tin foil onto a cutting board and carefully remove the foil. Cut into bars. Enjoy with a glass of cold milk!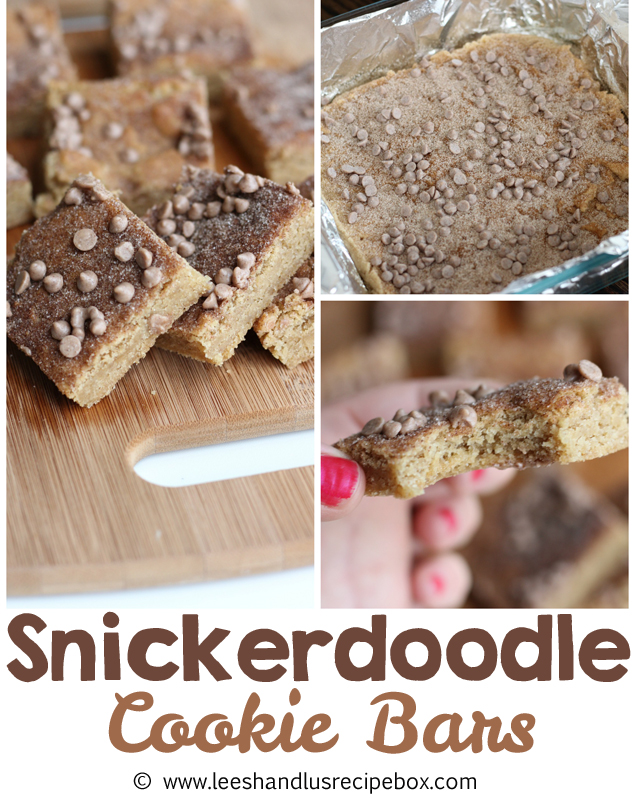 ---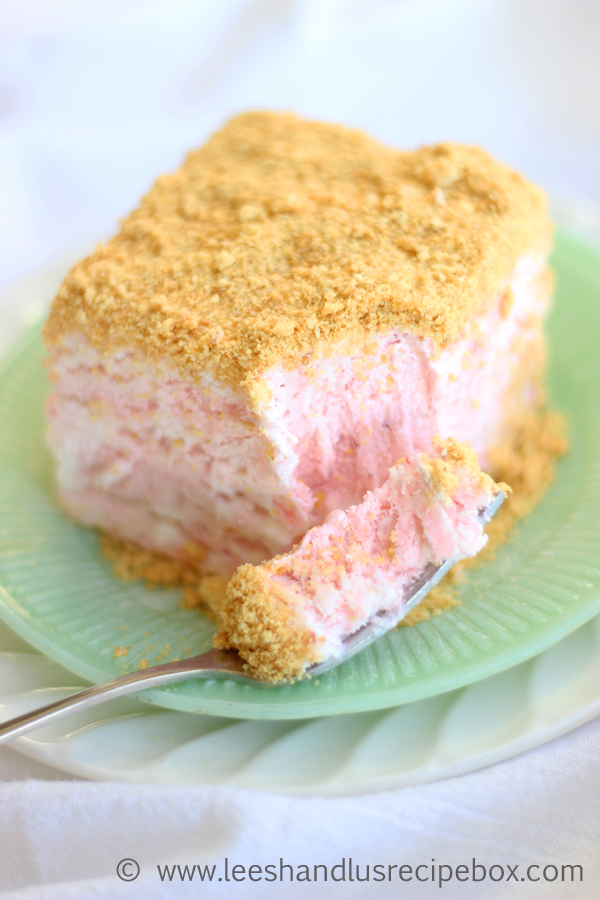 Blender Salsa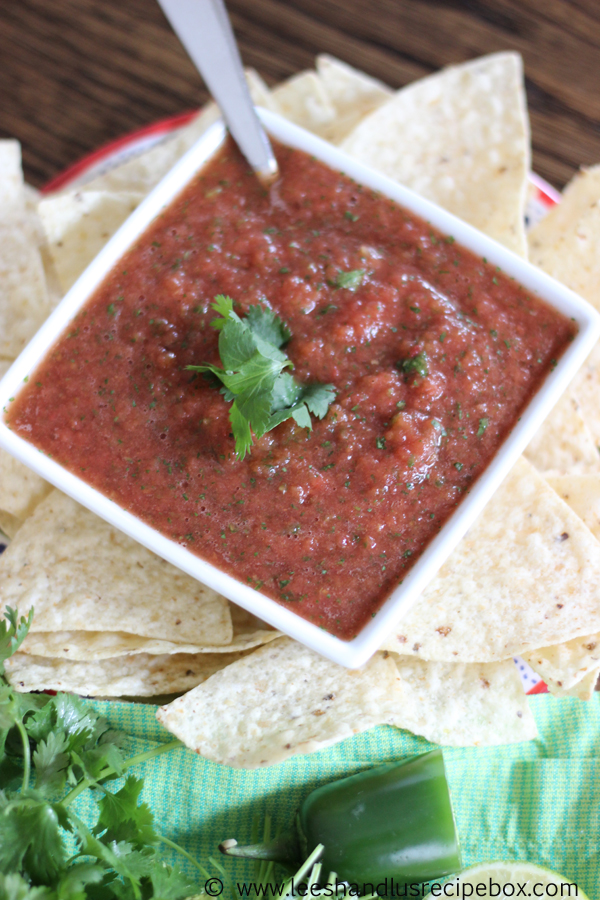 Check out these other Delicious Recipes you can find on Eighteen25: