Those awesome people at Silhouette have a new promotion going on
from now until May 16th.
HERE'S THE DEAL
• 1 Silhouette CAMEO™
• 1 roll 12-inch Black Premium Vinyl
• 1 roll 12-inch White Premium Vinyl
• 1 roll 12-inch Transfer Paper
All for $269.99
(MSRP: $344.96 – that's almost $75 in savings)
Go
HERE
to take advantage of this great deal
And for those of you that already own a CAMEO…
you can get 40% off all vinyl until May 16th.
Just enter eighteen25 at checkout.
and now it's time for a project!!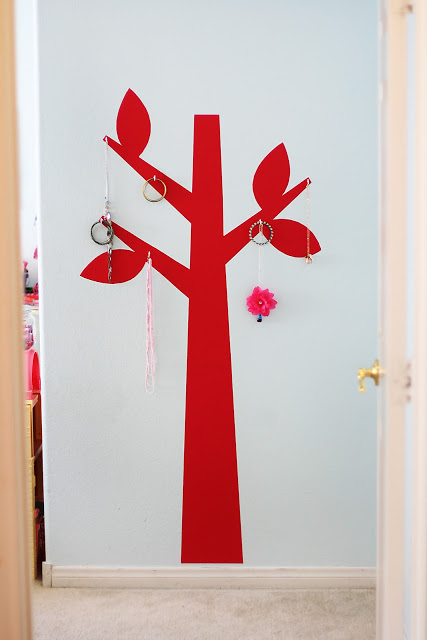 The Vinyl Jewelry Tree
I had fun putting together this vinyl tree for my daughter's room. After adding some hooks, that i just screwed right into the wall, she now has a place to keep all of her necklaces, bracelets and other girly things.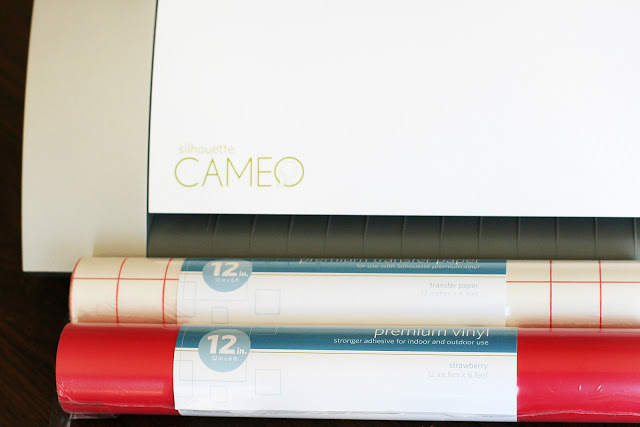 SUPPLIES
• 12 in x 6 ft strawberry Premium Vinyl
• 12 in x 6 ft Premiun Transfer Paper
• 7/8 in cup hooks (found at target)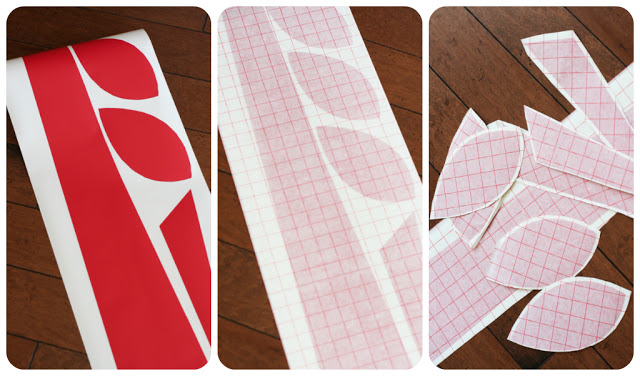 I opened a 60 in x 12 in page in the Silhouette Studio® and then opened the 3 Branch Tree shape from the online store. I wanted my tree to be at least 5 feet tall, but when I re-sized it, most of the branches went off the page. So I ungrouped the shape and deleted the circles and some of the leaves. I only wanted to use the smaller leaves so I had to duplicate a couple on there. Then I used the Knives feature (found in the Silhouette Studio® Designer Edition) and sliced off the branches so I could fit those and the leaves on the same page as my tree trunk.
Next, I cut my shape out with the vinyl. Turning the speed way down and keeping a very close eye on it so nothing messed up. Then I placed the transfer paper on, cut around all of the shapes and adhered it to the wall using the scraper tool. Once everything was put together, I screwed in a few of the hooks and hung the jewelry.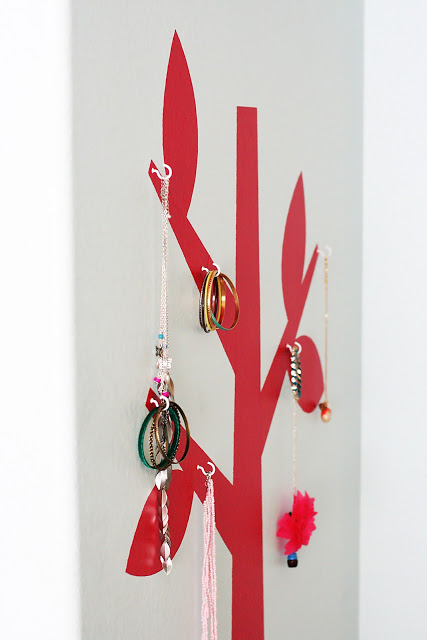 Now I'm thinking I need to do something like this in the boy's room.
He needs a place to hang all of his baseball caps.