Hello! I'm Jenn from Clean and Scentsible. I'm so excited to be back again for Spooktacular September and love seeing everyone's creations! I was never really into Halloween decorating until I came across this series when I first started blogging. I hope it inspires you to have some fun with the season as well!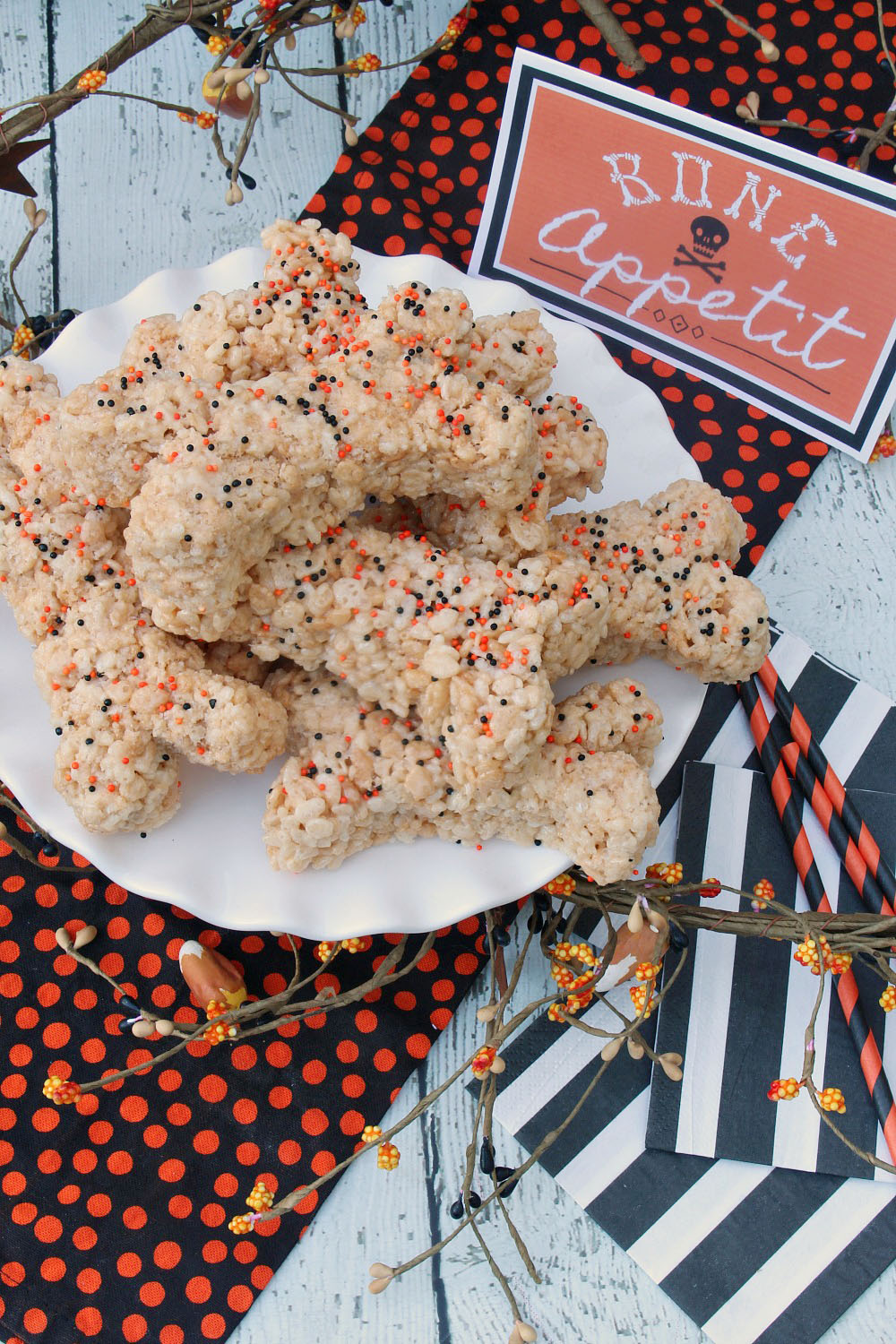 I love making Rice Krispie treats for the different seasons and holidays. They're quick and easy, can be molded into a variety of shapes, and the kids always have fun making them.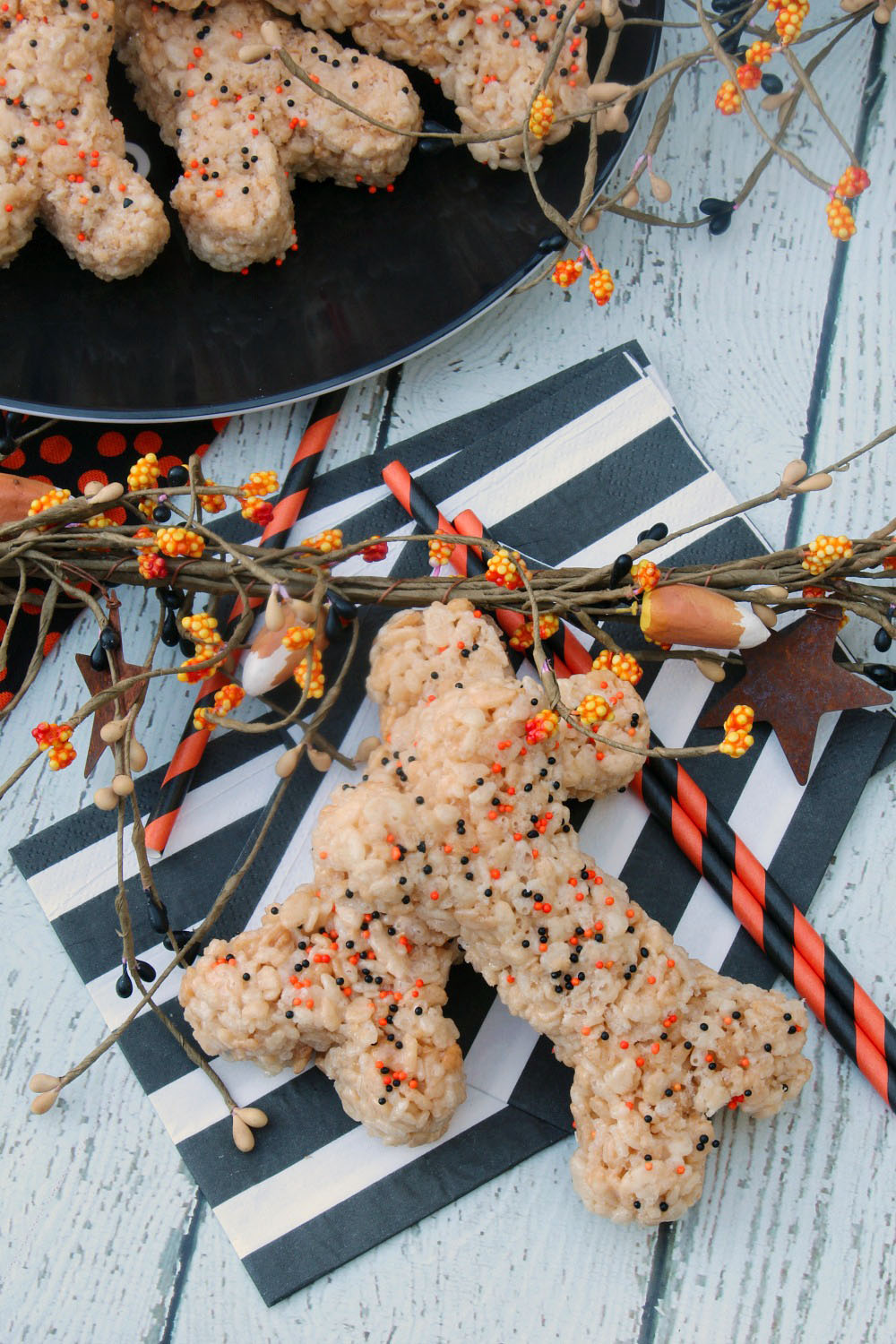 This year, we came up with these Halloween bones. They'd be perfect for Halloween parties or class treats and you can always adjust the size as needed. You could even mold one into a large "cake"!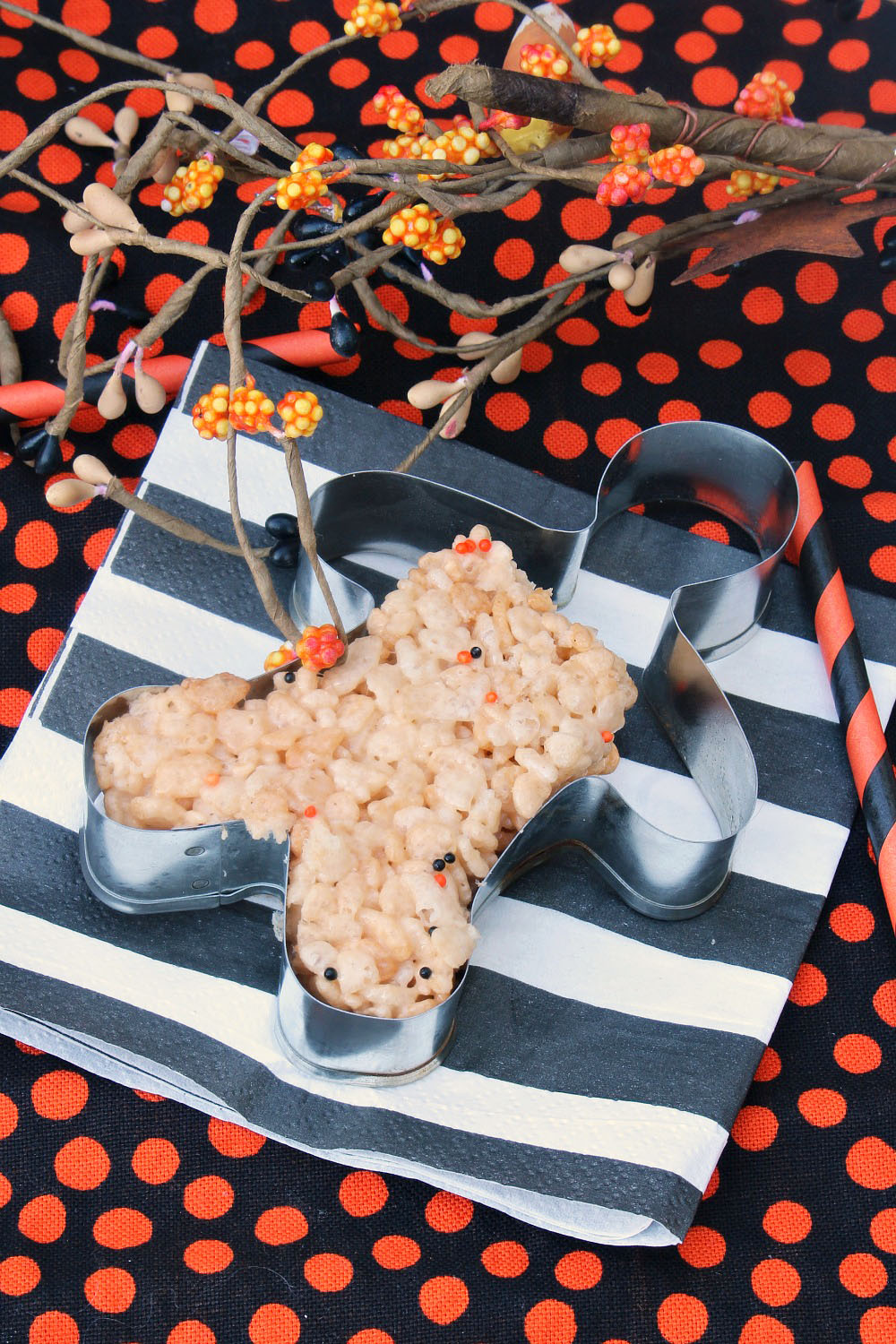 I was originally planning on just molding the bones on my own, but it gets quite sticky when you're dealing with Rice Krispie treats! I didn't want to buy a bone cookie cutter so I dug through my stash to see what I could come up with. I ended up using a gingerbread cookie cutter, filling it half way, and then pressing two halves together. It worked perfectly and it was much quicker to just press the Rice Krispie treats into a mold.
**NOTE: Be sure to keep your hands slightly damp with water and keep the cookie cutter greased to avoid sticking.
Halloween Bones Rice Krispie Treats
Prep time:
Cook time:
Total time:
These Halloween Bones Rice Krispie Treats are soft and gooey and perfect for those Halloween parties!
Ingredients
¼ cup butter + more for greasing
7 cups marshmallows
1 tbsp. vanilla
6¼ cups Rice Krispies
Halloween sprinkles (optional)
Instructions
Over low heat melt the butter. Add in the marshmallows and stir to melt. Combine with vanilla and remove from heat.
Stir in the Rice Krispies until combined.
Grease the inside of a gingerbread man cookie cutter and place on waxed paper or parchment paper. Press the Rice Krispie mixture firmly into the mold using just the legs and half of the body.
Remove the Rice Krispie treat from the cookie cutter and place on waxed paper or parchment paper. Take a second mold and press together in the middle until they form one complete bone. Mold the ends to your desired bone shape. Press firmly together.
Add the Halloween sprinkles and press lightly into the Rice Krispie mixture. You could also drizzle them with white chocolate if desired.
I also created these fun Bone Appetit printables to display your bones for a Halloween party or package them up for a cute Halloween treat. Even if you don't use them for the Rice Krispie treats, I have another version that you could display in your kitchen or dining room.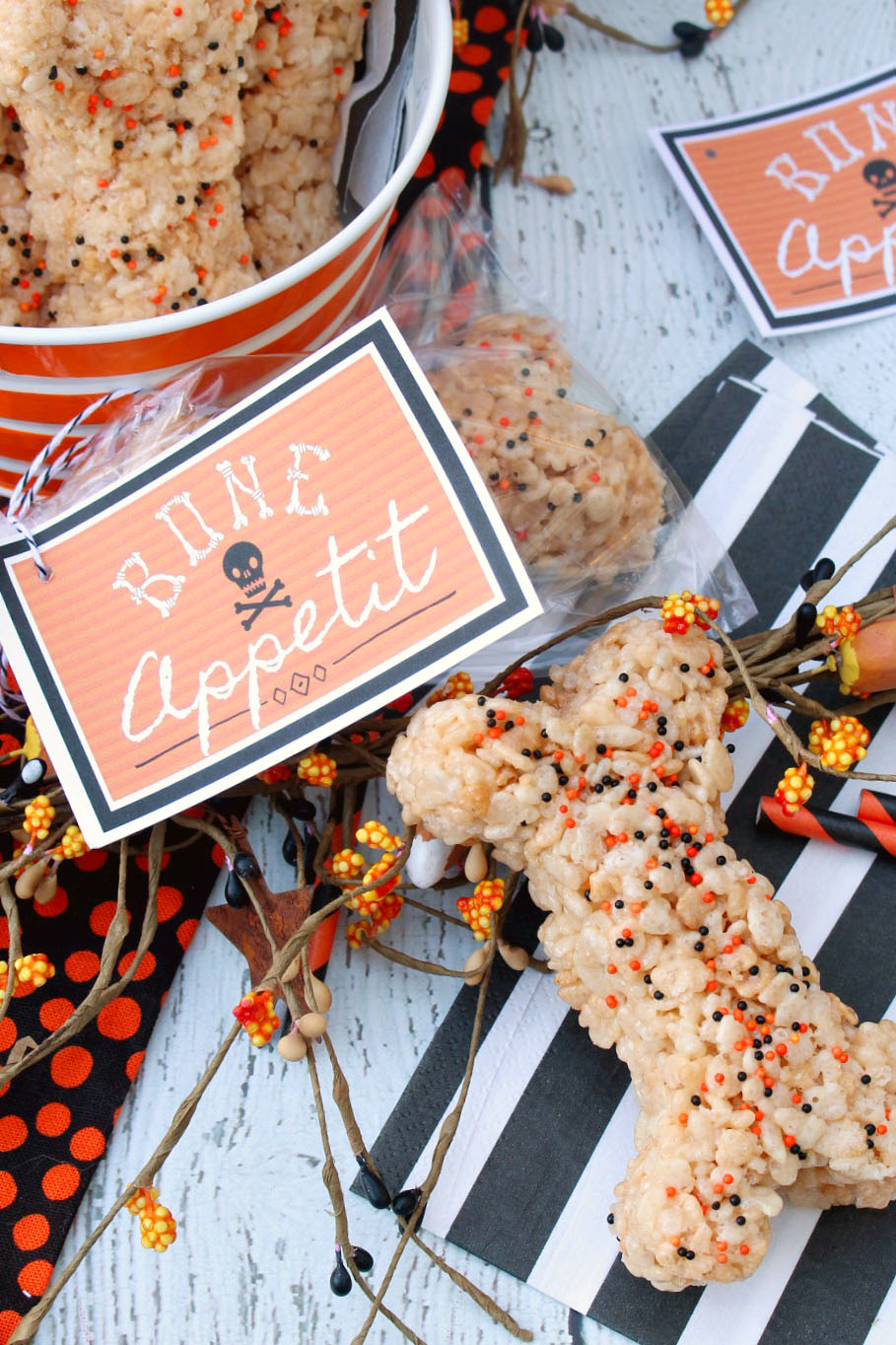 I hope you enjoy them!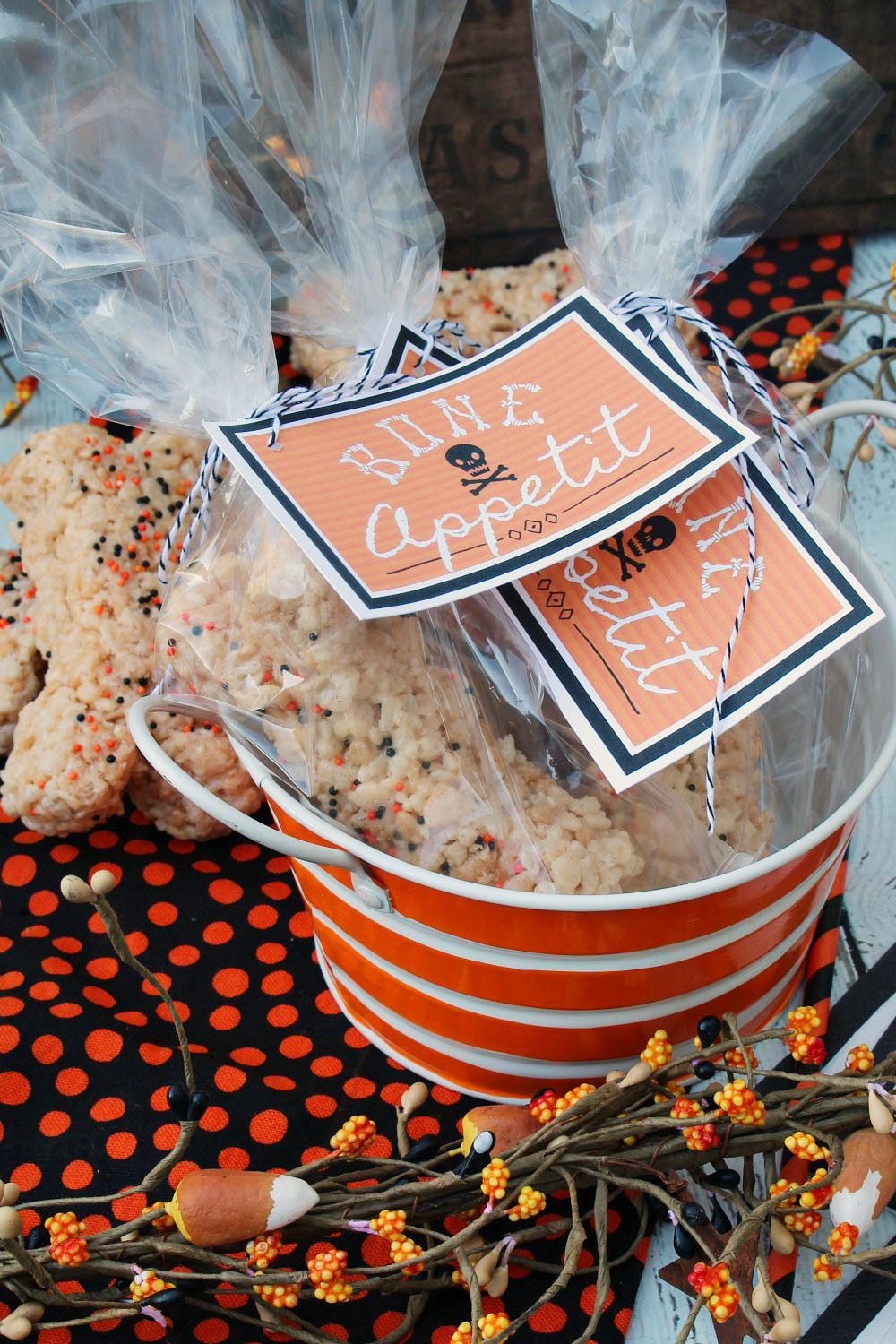 Over on my blog, I regularly share organization and simple DIY projects, cleaning tips, home decor, crafts, and seasonal inspiration. I hope you can drop on by for a visit!
Free Halloween Chalkboard Printables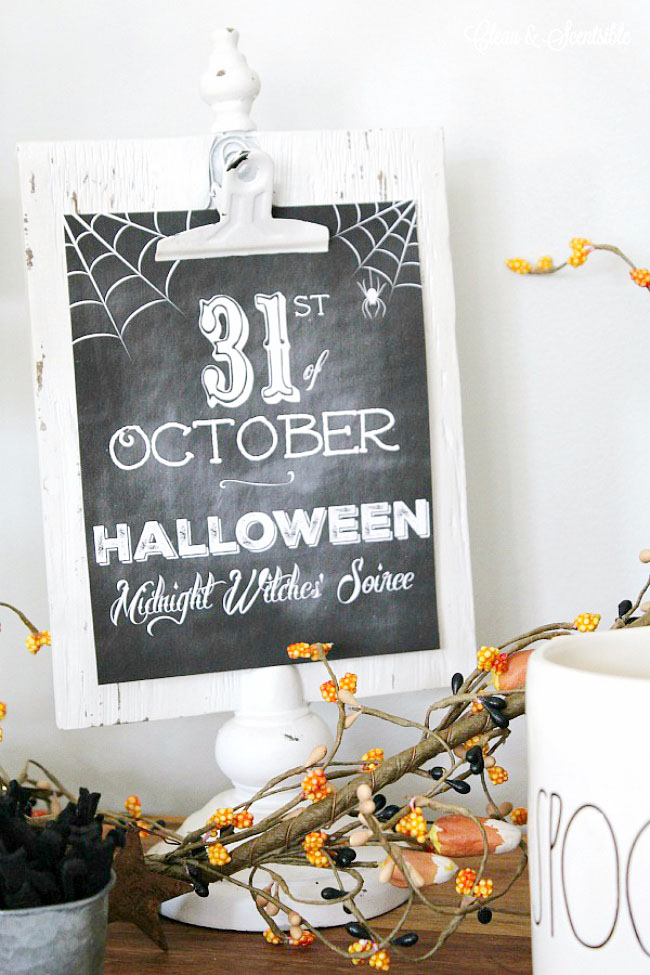 Halloween Hot Chocolate Bar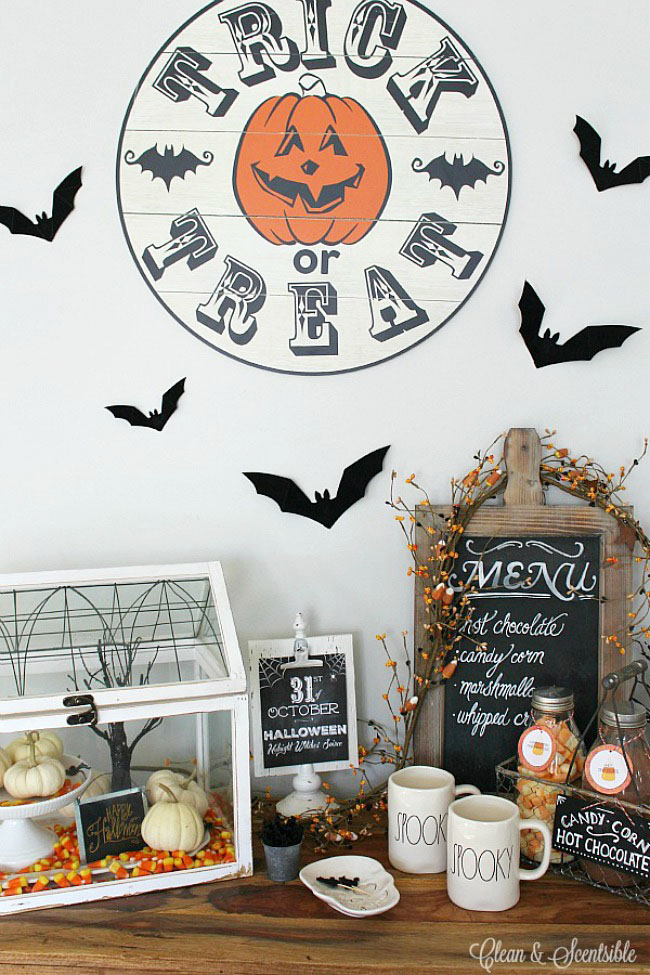 Thanks so much to Jen and Jodie for having me over. Happy Halloween to you all!

Visit Jenn on her BLOG | FACEBOOK | INSTAGRAM | PINTEREST
Here are a few more fun Halloween posts you can find on Eighteen25: