Hi guys! Kristyn from Lil' Luna here!! I'm so excited to be here for Spooktacular September!! I wasn't able to participate last year since I was having a baby the same week then, but am so thrilled to be here on Eighteen25.
In the past, I've shared cute crafts and decor in this series, but I'm changing it up this year by sharing a delicious recipe. And when I say delicious – I mean like mouth-watering-eat-the-whole-pan-by-yourself delicious!! I say that because this is what happened when I made these Pumpkin Swirl Brownies last month. We took the pictures and left the pan on the counter, and before I realized it, I had eaten most of the pan by myself. That tells you just how good they are!
These Pumpkin Brownies were so chewy and flavorful! With a pumpkin swirl through out, they are the epitome of fall goodness and must be tried, especially if you love both brownies and pumpkin treats!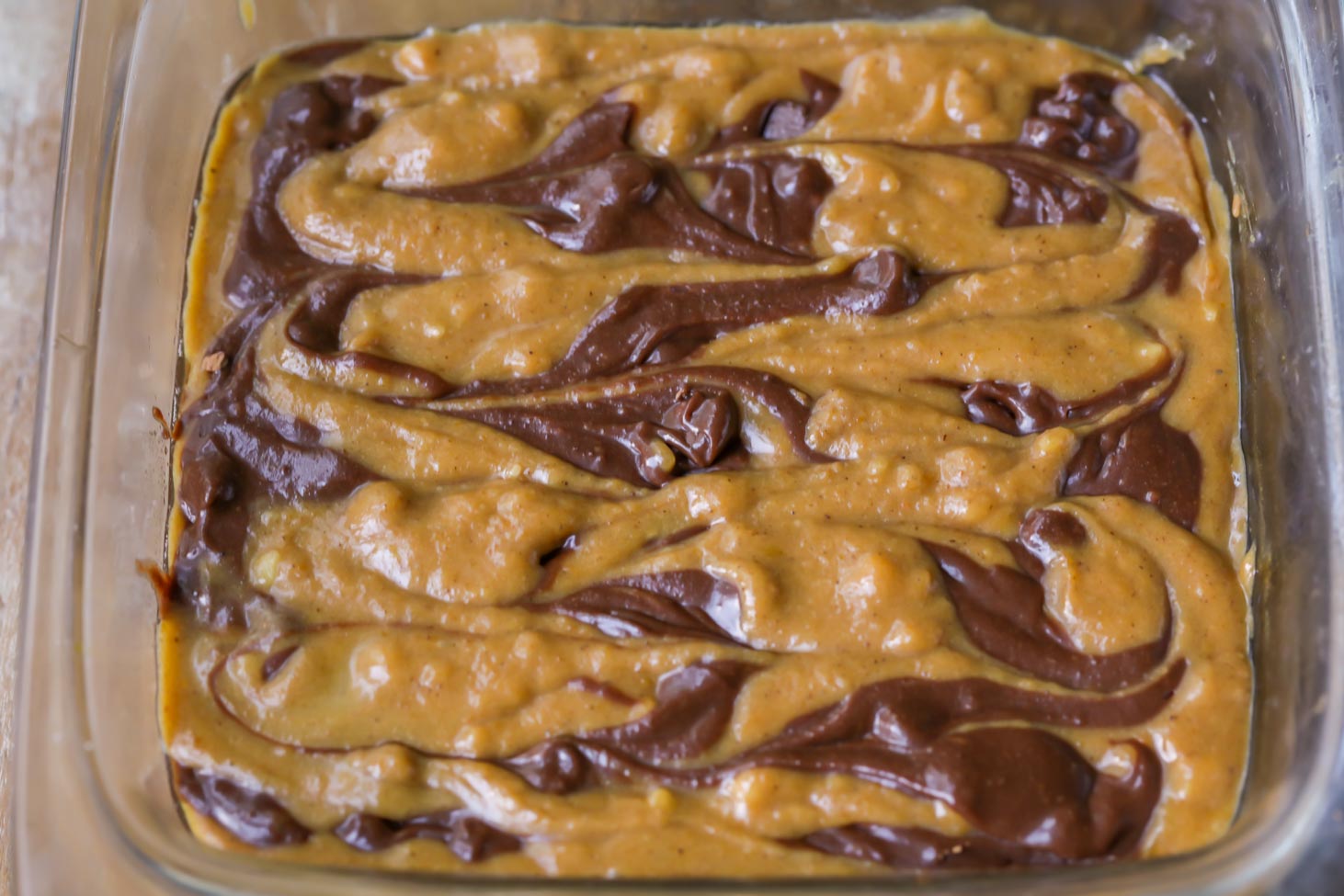 Get ready to make the most delicious fall brownies your mouth has ever tasted. They're simple and have the perfect flavor combo of chocolate and pumpkin!
To make these brownies, combine your dry ingredients in a bowl. In another bowl, mix the butter, sugar, vanilla, plus the eggs. Combine the dry and wet ingredients and then divide the batter evenly in two bowls.
In one bowl, stir in the chocolate and cocoa powder. In the second bowl stir in the pumpkin puree, walnuts, cinnamon, cloves, and nutmeg.
From here comes the SWIRLING! Take half of the chocolate batter and spread it onto the bottom of your baking pan. Then spread one half of the pumpkin batter on top of that. With the remaining two batters, drop dollops evenly into the baking pan. Take a kitchen knife and drag it gently through the batter to create a swirled top.
Bake at 350 for 45-48 minutes and you'll be thrilled with the yummy fall treat result!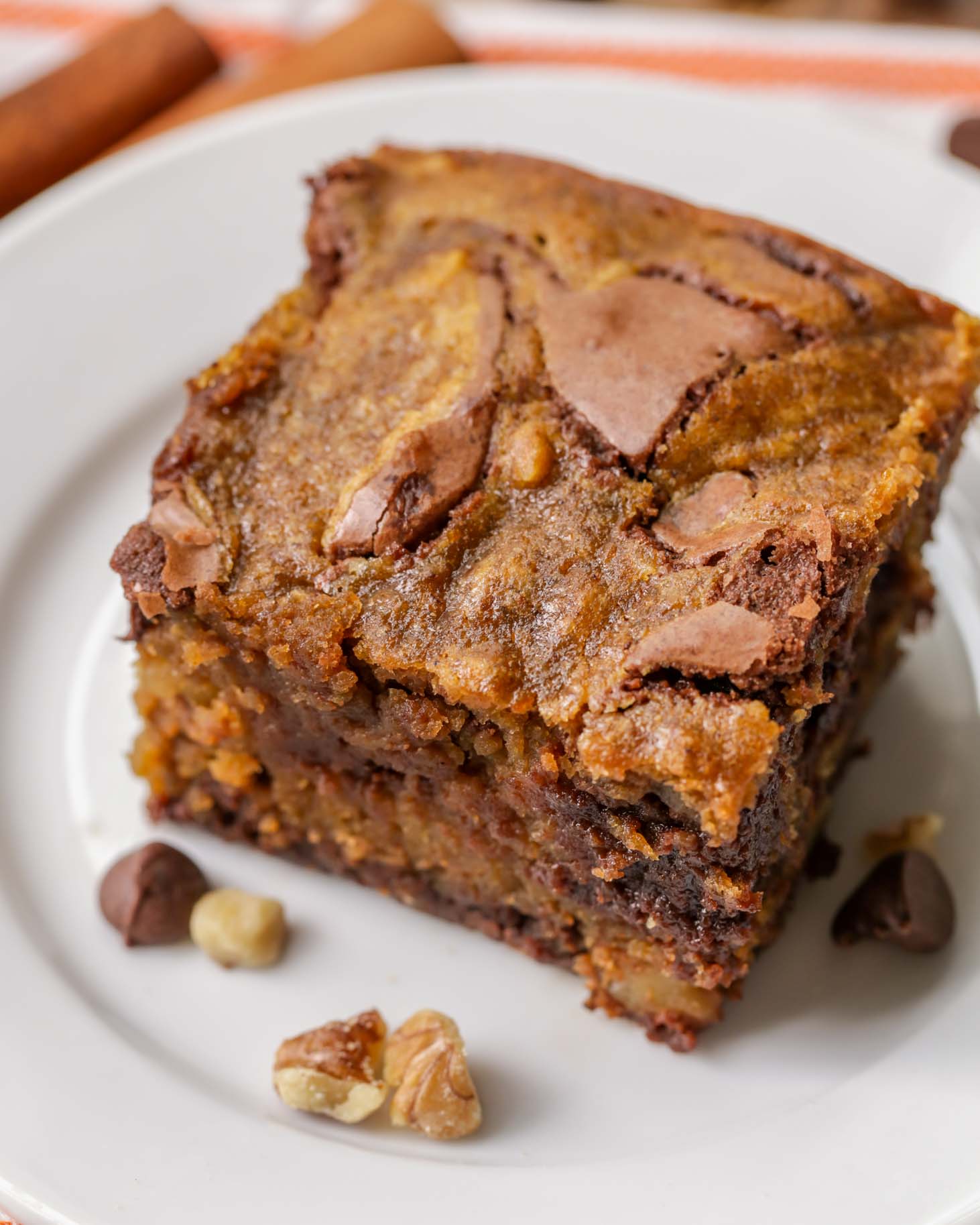 Here is the Pumpkin Brownies Recipe!! 😀

Pumpkin Swirl Brownies
Ingredients
¾ cup all purpose flour
½ tsp baking powder
½ tsp salt
¾ cup butter melted
1½ cups white sugar
2 tsp vanilla extract
3 eggs
¼ cup cocoa powder
½ cup semi sweet chocolate chips
½ cup pumpkin puree
½ cup chopped walnuts
¾ tsp ground cinnamon
½ tsp ground cloves
½ tsp ground nutmeg
Instructions
Preheat oven to 350 degrees F (175 degrees C).
Grease an 8x8 inch baking pan.
In a bowl, stir together the flour, baking powder, and salt.
In a separate bowl, stir together the melted butter, sugar, and vanilla. Using a spoon, mix in eggs one at a time. Gradually stir in your flour mixture, and divide the batter evenly amung two separate bowls.
Stir in cocoa powder and chocolate chips to one batter. In the second bowl of batter, stir in the pumpkin puree, walnuts, cinnamon, cloves, and nutmeg.
Spread ½ of the chocolate batter into the bottom of a greased 8x8 baking pan. Spread ½ of the pumpkin batter on top of that.
Add dollops of each of the remaining batters into the baking pan (this will make it easier to swirl). Then, drag a kitchen knife gently through the dollops of chocolate and pumpkin batter to create a swirled top.
Bake at 350 for 45-48 minutes. Enjoy!
I promise you guys are going to go nuts about these Pumpkin Brownies! They are perfect to enjoy all fall or even for Thanksgiving dessert.
For more of my favorite Pumpkin treats, check out: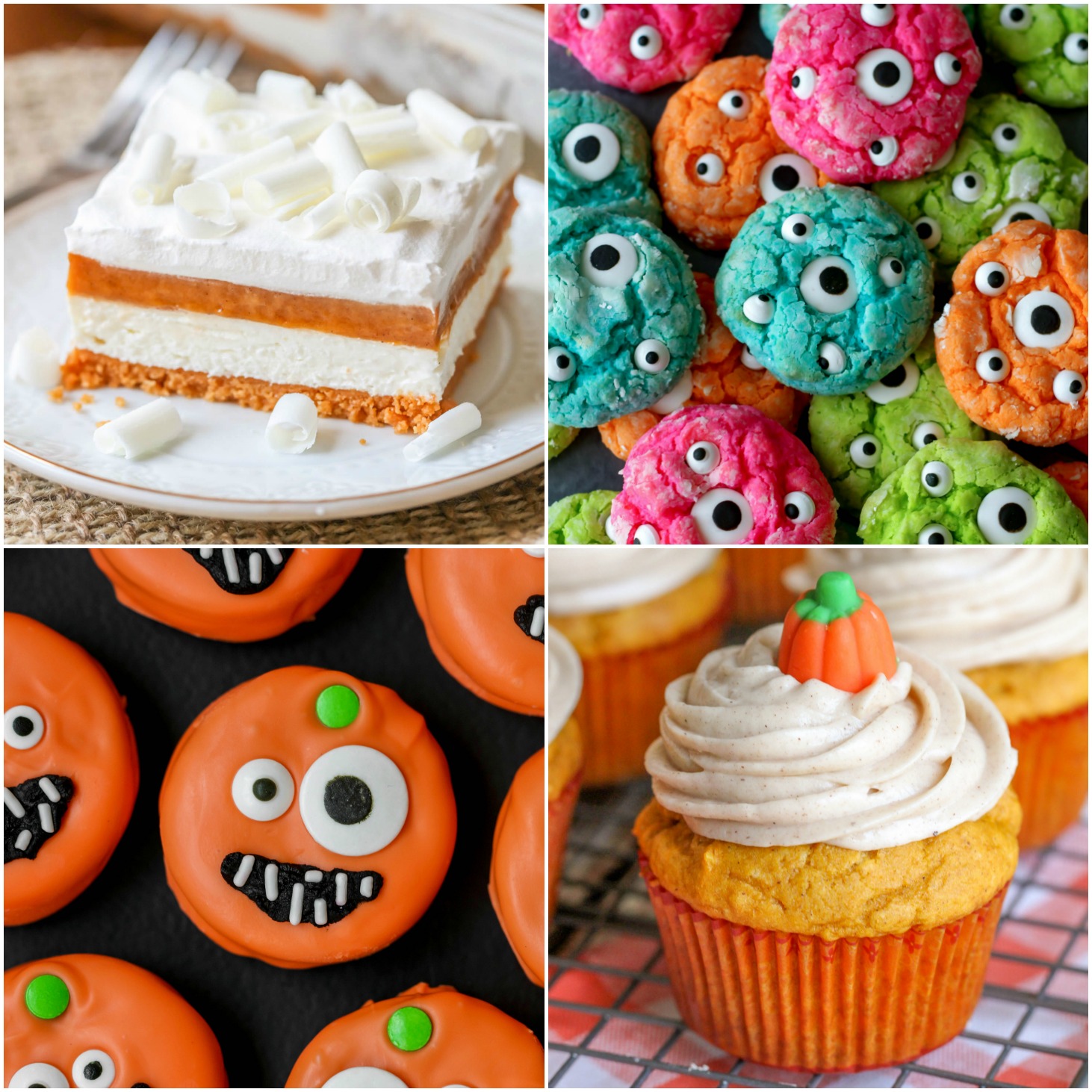 Pumpkin Lasagna – Gooey Monster Cookies – Pumpkin OREOS – Pumpkin Cupcakes
And like I said – I LOVE Halloween decor too. From wreaths to home decor ideas, we like to deck things out with all things spooky for the month of October. Here are some of our favorite DIY projects that we hope you like!!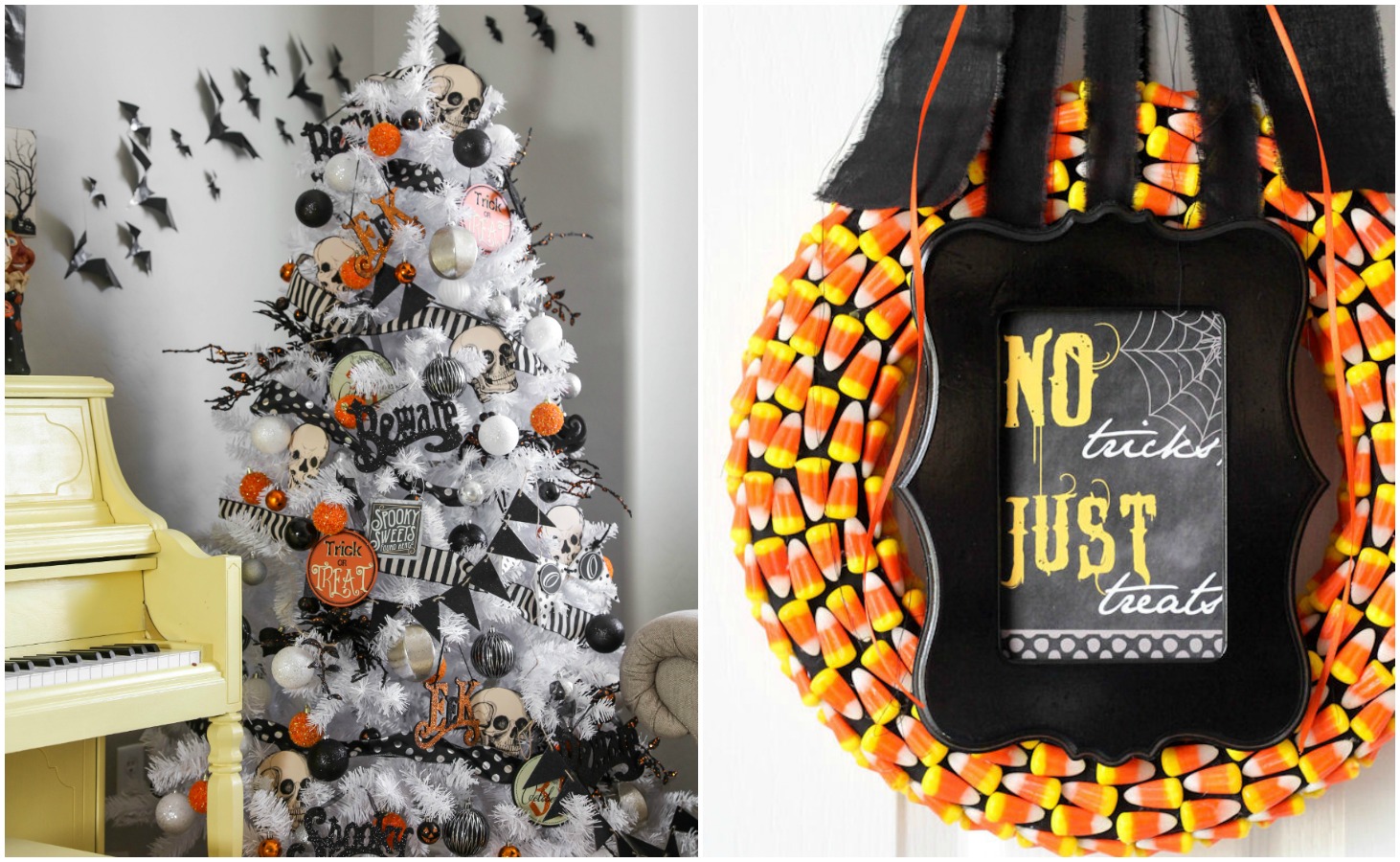 Halloween Tree – Candy Corn Wreath
We hope you love these brownies! For even more Halloween ideas, be sure to GO HERE.
Be sure to come on over to Lil' Luna to say hi!!
Thanks for having me, Jen and Jodie. 🙂

Visit Kristyn on her BLOG | INSTAGRAM | FACEBOOK | PINTEREST
Here are few more Halloween posts you'll love: